---
Corruption Perceptions Index – 2019
---
On 23rd January, 2020, Corruption Perceptions Index (CPI) was released by the Transparency International, which reveals that a majority of countries are showing little to no improvement in tackling corruption.
About the Index
First launched in 1995, the Corruption Perceptions Index has been widely credited with putting the issue of corruption on the international policy agenda.
The index ranks 180 countries and territories by their perceived levels of public sector corruption, according to experts and business people.
It uses a scale of zero to 100, where zero is highly corrupt and 100 is very clean. More than two-thirds of countries score below 50 on this year's CPI, with an average score of just 43.
The 2019 CPI draws on 13 surveys and expert assessments to measure public sector corruption in 180 countries and territories, giving each a score from zero (highly corrupt) to 100 (very clean).
Major Findings
Top Performers
The top countries are New Zealand and Denmark, with scores of 87 each, followed by Finland (86), Singapore (85), Sweden (85) and Switzerland (85).
Worst Performers
The bottom countries are Somalia, South Sudan and Syria with scores of 9, 12 and 13, respectively. These countries are closely followed by Yemen (15), Venezuela (16), Sudan (16), Equatorial Guinea (16) and Afghanistan(16).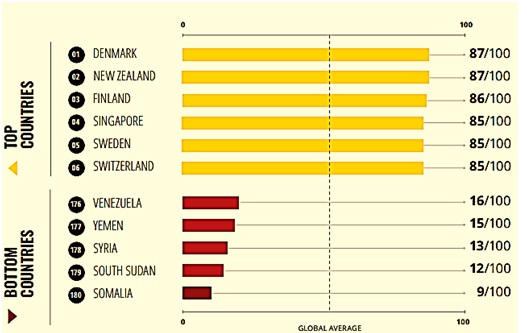 Source: Transparency International
Regional Findings and their Challenges
Americas Region
With an average score of 43 for the fourth consecutive year on the Corruption Perceptions Index (CPI), the Americas region fails to make significant progress in the fight against corruption.
Challenges
The region faces significant challenges from political leaders acting in their own self-interest at the expense of the citizens they serve.
Specifically, political party financing and electoral integrity are big challenges.
Asia-Pacific Region
A regional average of 45, after many consecutive years of an average score of 44, illustrates general stagnation across the Asia Pacific. Despite the presence of high performers like New Zealand (87), Singapore (85), Australia (77), Hong Kong (76) and Japan (73), the Asia Pacific region hasn't witnessed substantial progress in anti-corruption efforts or results.
India's ranking in the Corruption Perceptions Index (CPI-2019) has slipped from 78 to 80 compared to the previous year. Its score of 41 out of 100 remains the same.
Challenges
Many countries see economic openness as a way forward, however, governments across the region, continue to restrict participation in public affairs, silence dissenting voices and keep decision-making out of public scrutiny.
Opaque political financing, lobbying by corporate interests has caused control of corruption to fall in democracies like India and Australia, notes Transparency International.
Eastern Europe and Central Asia Region
With an average score of 35, this region is the second-lowest performing region on the CPI.
Challenges
Across the region, countries experience limited separation of powers, abuse of state resources for electoral purposes, opaque political party financing and conflicts of interest.
Middle East and North Africa Region
With the same average score of 39 as last year, there is little progress in improving control of corruption in the Middle East and North Africa region.
Challenges
The region faces significant corruption challenges that highlight a lack of political integrity.
Separation of powers is another challenge.
Sub-Saharan Africa
As the lowest-scoring region on the CPI, with an average of 32, Sub-Saharan Africa's performance paints a bleak picture of inaction against corruption.
Challenges
Across the region, money is used to win elections, consolidate power and further personal interests.
Tackling corruption in the context of fragile states presents unique challenges, as fragility is both a cause and an effect of any downward trends in development.
Western Europe & European Union
Fourteen of the top 20 countries in this year's CPI are from Western Europe and the European Union (EU), including nine countries from the EU alone.
Challenges
Issues of conflict of interest, abuse of state resources for electoral purposes, insufficient disclosure of political party and campaign financing, and a lack of media independence are prevalent in the region.
Most post-communist EU member states are struggling to address corruption effectively.
Recommendations
Transparency International recommends the following measures in order to prevent corruptions and foster the integrity of political systems:
Managing Conflicts of Interest: Governments should reduce the risk of undue influence in policy-making by tightening controls over financial and other interests of government officials.
Control Political Financing: In order to prevent excessive money and influence in politics, governments should improve and properly enforce campaign finance regulations. Political parties should also disclose their sources of income, assets and loans, and governments should empower oversight agencies with stronger mandates and appropriate resources.
Strengthen Electoral Integrity: For democracy to be effective against corruption, governments must ensure that elections are free and fair. Preventing and sanctioning vote-buying and misinformation campaigns are essential to rebuilding trust in government and ensuring that citizens can use their vote to punish corrupt politicians.
Regulate Lobbying Activities: Governments should promote open and meaningful access to decision-making and consult a wider range of groups, beyond well-resourced lobbyists and a few private interests. Lobbying activities should be public and easily accessible.
Tackle Preferential Treatment: Governments should create mechanisms to ensure that service delivery and public resource allocation are not driven by personal connections or are biased towards special interest groups at the expense of the overall public good.
Empower Citizens: Governments should protect civil liberties and political rights, including freedom of speech, expression and association. Governments should engage civil society and protect citizens, activists, whistleblowers and journalists in monitoring and exposing corruption.
Reinforce Checks and Balances: Governments must promote the separation of powers, strengthen judicial independence and preserve checks and balances.