---
Vizag Gas Leak: Styrene Gas
---
On 7th May, 2020, a gas leak claimed at least 11 lives and affected thousands of residents in five villages in Visakhapatnam in Andhra Pradesh.
The source of the leak was a styrene plant owned by South Korean electronics giant LG, located at RRV Puram near Gopalapatnam, about 15 kms from the coast city.
What is Styrene?
Styrene, also known as ethenylbenzene, vinylbenzene, and phenylethene, is an organic compound with the chemical formula C6H5CH=CH2.
It is a derivative of benzene (C6H6).
Styrene is named after storax balsam, the resin of Liquidambar trees of the Altingiaceae plant family.
It occurs naturally in small quantities in some plants and foods (cinnamon, coffee beans, and peanuts) and in coal tar and vehicle exhaust.
It is stored in factories as a liquid, but evaporates easily, and has to be kept at temperatures under 20°C.
Industrial Production
The vast majority of styrene is produced from ethylbenzene and almost all ethylbenzene produced worldwide is intended for styrene production.
Applications
It is a flammable liquid that is used in the manufacturing of polystyrene plastics, fiberglass, rubber, and latex.
Styrene is the main raw material for synthesis of polystyrene, or (C8H8)n.
It is also used as an intermediate to produce copolymers — which are polymers derived from one or more species of monomers such as styrene.
What happens when exposed to styrene?
Styrene is regarded as a known carcinogen.
It is the mucous membrane that is mainly affected by exposure to styrene gas
Short-term exposure to the substance can result in respiratory problems, irritation in the eyes, irritation in the mucous membrane, and gastrointestinal issues.
Long-term exposure could drastically affect the central nervous system and lead to other related problems like peripheral neuropathy.
What are the symptoms?
Symptoms include headache, hearing loss, fatigue, weakness, difficulty in concentrating etc.
Animal studies, according to the EPA, have reported effects on the CNS, liver, kidney, and eye and nasal irritation from inhalation exposure to styrene.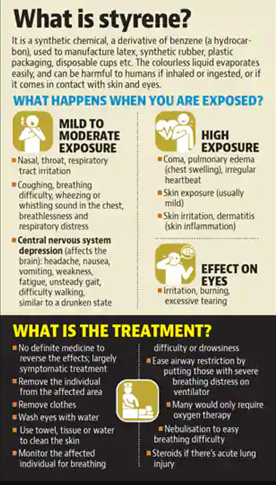 Source: HT
Safeguards against Chemical Disasters
At the time of the Bhopal gas tragedy, the Indian Penal Code (IPC) was the only relevant law specifying criminal liability for such incidents, reported PRS Legislative.
Soon after the tragedy, which had killed 2,000 people, the government passed a series of laws regulating the environment and prescribing and specifying safeguards and penalties. Some of these laws were:
Bhopal Gas Leak (Processing of Claims) Act, 1985, which gives powers to the central government to secure the claims arising out of or connected with the Bhopal gas tragedy. Under the provisions of this Act, such claims are dealt with speedily and equitably.
The Environment Protection Act, 1986, which gives powers to the central government to undertake measures for improving the environment and set standards and inspect industrial units.
The Public Liability Insurance Act, 1991, which is insurance meant to provide relief to persons affected by accidents that occur while handling hazardous substances.
The National Environment Appellate Authority Act, 1997, under which the National Environment Appellate Authority can hear appeals regarding the restriction of areas in which any industries, operations or processes or class of industries, operations or processes shall not be carried out or shall be carried out subject to certain safeguards under the Environment (Protection) Act, 1986.
National Green Tribunal, 2010, provides for the establishment of a National Green Tribunal for effective and expeditious disposal of cases related to environmental protection and conservation of forests.