---
Atmanirbhar Bharat Abhiyan
---
While addressing the nation on 12th May, , 2020, PM Narendra Modi announced an "Atmanirbhar Bharat Abhiyan" worth Rs 20 lakh crores ($265 billion) to tide over the economic downturn induced by the coronavirus crisis and emphasised on the need for India to become "self-reliant" as the pandemic sweeps across the world, paralysing economies in its wake.
Self-Reliant India Mission
In order to fulfill the dream of making the 21st century India's, the way forward is through ensuring that the country becomes self-reliant.
The mission is aimed towards cutting down import dependence by focusing on substitution while improving safety compliance and quality goods to gain global market share.
Five Pillars of a Self-Reliant India
A self-reliant India will stand on five pillars-
Economy, which brings in quantum jump and not incremental change
Infrastructure, which should become the identity of India
System, based on 21st century technology driven arrangements
Vibrant Demography, which is our source of energy for a self-reliant India
Demand, whereby the strength of our demand and supply chain should be utilized to full capacity.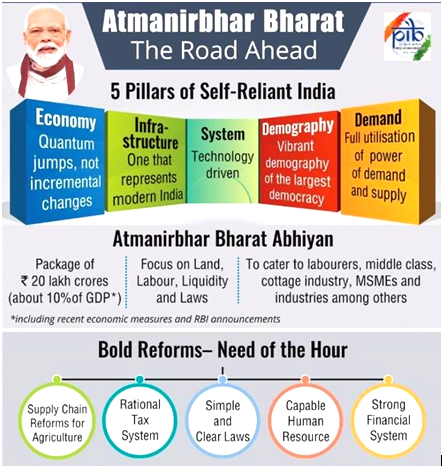 Atmanirbhar Bharat: COVID-19 Special Economic Package
The package, taken together with earlier announcements by the government during COVID crisis and decisions taken by RBI, is to the tune of Rs 20 lakh crore, which is equivalent to almost 10% of India's GDP.
The package will provide a much needed boost towards achieving 'Atmanirbhar Bharat'.
Key Points
The package will focus on land, labour, liquidity and laws.
It will cater to various sections including cottage industry, MSMEs, labourers, middle class, and industries, among others.
It will also focus on empowering the poor, labourers, migrants, etc., both from organized and unorganized sectors.
Emphasis has been given on the importance of local manufacturing, local market and local supply chains.
It's time to be vocal about the local products and help these local products become global.
Reforms towards Self-reliance
These reforms include –
supply chain reforms for agriculture,
rational tax system,
simple and clear laws,
capable human resource and
a strong financial system.
Impact
These reforms are expected to promote business, attract investment, and further strengthen Make in India.
Self-reliance will prepare the country for tough competition in the global supply chain, helping it to propel towards the goal of overall growth and development.
It will not only increase efficiency in various sectors but also ensure quality.
COVID-19 Stimulus Packages around the World
The US has committed to the largest rescue package by any country in pure dollar terms of USD 2.7 trillion but as percentage of GDP it trails behind Japan.
The US measures work out at an estimated 13 percent of GDP.
Japan has announced a package equivalent to 21.1 percent of its GDP.
It is followed by Sweden with a stimulus equal to 12 percent of its GDP and Australia (10.8 percent).
Germany has announced a spending of around USD 815 billion, equal to 10.7 percent of its GDP.
Spain and Italy have endured devastating coronavirus outbreaks, the size of stimulus packages are estimated to be 7.3 percent and 5.7 percent of GDP, respectively.
France announced a package equal to 9.3 per cent of its GDP.
Smaller countries like Luxembourg and Belgium have spent a fifth of their GDP on COVID-19 related stimulus measures, at 20.7 percent and 19.2 percent, respectively.

Way Forward
Atma Nirbhar Bharat resonates well with the core philosophy of ongoing Swadeshi, or being indigenous, and the PM's announcement was perceived as the first steps for reshaping this policy in keeping with their long-pending demand.
India would need to focus on six areas such as decentralising its policymaking; taking rural-centric decisions; keeping the poor at the core of its policies; moving away from jobless growth; formulating environment-friendly policies and also taking decisions that are rooted in swadeshi traditions.
To become truly self-reliant efforts must be made to not replicate the global work patterns that don't sit well with the traditional way of life and focus should be on ensuring that from raw material to the final production, the country relies only on its own resources.
Atmanirbhar Gujarat Sahay Yojana (Gujarat Self Reliant Scheme)
Taking Prime Minister's self-reliant India mission forward, the Gujarat government announced a scheme- Atmanirbhar Gujarat Sahay Yojna, on 14th May, 2002.
Aim
To benefit small businessmen and cross section of people falling under the lower middle income group.
Key Features
Rs. 1,00,000/- Loan provided Co-Operative Bank, Credit Society & District Bank
Only Based on Application done to bankers no additional documents submission
Unsecured Collateral Free Loan
The loan shall be available @ 2% Per Annum Interest Rate
6% Interest shall be borne by State Government
6-month Moratorium – No interest + Principal payable during that period
3 Years Loan Period
Quantum of Assistance:- 5000 Crore