Sex Ratio at Birth (SRB): SRS 2019
---
Sex Ratio at Birth (SRB): SRS 2019
---
The Registrar General of India has released the 2019 report of Civil Registration System (CRS) findings - "Vital Statistics of India based on the Civil Registration System".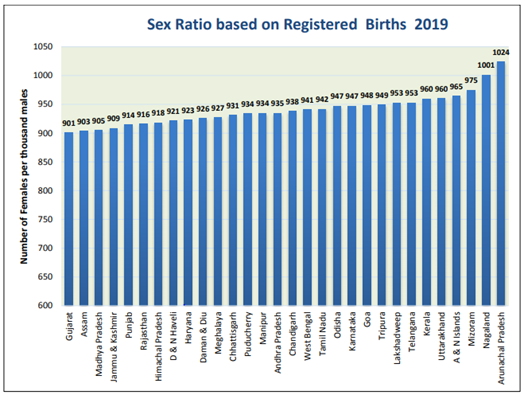 In a huge improvement from the previous census, none of the State/UT has recorded Sex ratio at birth below 901.
Arunachal Pradesh had the highest ratio of 1,024 – though this was a steep fall from 1,047 in 2017 – followed by Nagaland and Mizoram, which recorded 1,001 and 975 respectively, a significant improvement from 948 and 964 in 2017. In Kerala, though the SRB was still a high 960, it has worsened from 965 in 2017. Similarly, in Himachal Pradesh, it has been steadily worsening and is now 918.
Punjab and Chandigarh, notorious for sex-selective abortions, showed significant improvement as did Odisha, where it went up from 930 to 947.
The lowest SRB was reported by Gujarat (901), Assam (903) and Madhya Pradesh (905), followed by Jammu & Kashmir (909).