---
Global Hunger Report 2021- A Flawed One: India
---
In the 2021 Global Hunger Index, India ranks 101st out of the 116 countries. Last year India was ranked at 94th.
With a score of 27.5, India has a level of hunger that is 'serious'.
The report was prepared jointly by Irish aid agency Concern Worldwide and German organisation Welt Hunger Hilfe.

Three Dimensions & Four Indicators of GHI
The Index tracks four indicators on three dimensions to measure progress toward Zero Hunger by 2030 at national, regional, and global levels.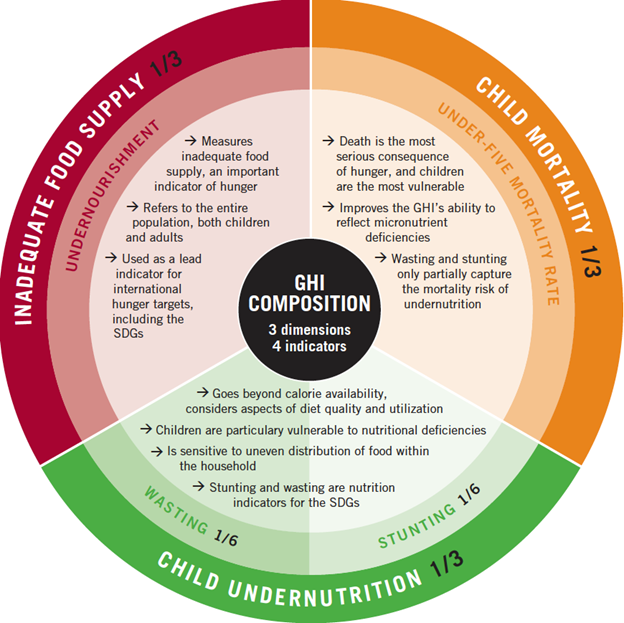 UNDERNOURISHMENT: the share of the population that is undernourished (that is, whose caloric intake is insufficient);
CHILD WASTING: the share of children under the age of five who are wasted (that is, who have low weight for their height, reflecting acute undernutrition);
CHILD STUNTING: the share of children under the age of five who are stunted (that is, who have low height for their age, reflecting chronic undernutrition); and
CHILD MORTALITY: the mortality rate of children under the age of five (in part, a reflection of the fatal mix of inadequate nutrition and unhealthy environments).
Based on the values of the four indicators the GHI determines hunger on a 100-point scale, where 0 is the best possible score (no hunger) and 100 is the worst.
Each country's GHI score is classified by severity, from low to extremely alarming.
Major Findings
Although GHI scores show that global hunger has been on the decline since 2000, progress is slowing. While the GHI score for the world fell 4.7 points, from 25.1 to 20.4, between 2006 and 2012, it has fallen just 2.5 points since 2012. After decades of decline, the global prevalence of undernourishment — one of the four indicators used to calculate GHI scores — is increasing. This shift may be a harbinger of reversals in other measures of hunger.
Somalia has the highest level of hunger according to the 2021 GHI ranking — its GHI score of 50.8 is considered extremely alarming.
It is preceded by five countries with levels of hunger that are alarming — Central African Republic, Chad, Democratic Republic of the Congo, Madagascar, and Yemen — and 31 countries that have serious levels of hunger.
India Specific Findings
As per this report, India's position on the first indicator, child mortality, has improved in 2021 compared with 2020. Position on two indicators, i.e., child wasting and child stunting, has remained unchanged in 2021 compared with 2020.
Only 15 Countries Fare Worse than India:These include Papua New Guinea (102), Afghanistan (103), Nigeria (103), Congo (105), Mozambique (106), Sierra Leone (106), Timor-Leste (108), Haiti (109), Liberia (110), Madagascar (111), Democratic Republic of Congo (112), Chad (113), Central African Republic (114), Yemen (115) and Somalia (116).
Behind Most of the Neighbouring Countries: Pakistan was placed at 92 rank, Nepal at 76 and Bangladesh also at 76.
India rejects GHI Findings
The Ministry of Women and Child Development termed the findings of the report "devoid of ground reality".
The factors that led to the criticism were
Unscientific Method: The methodology used by FAO is unscientific. They have based their assessment on the results of a 'four question' opinion poll, which was conducted telephonically by Gallup. The scientific measurement of undernourishment would require measurement of weight and Height.
Govt.'s Efforts not Considered: The report completely disregards Government's massive effort to ensure food security of the entire population during the covid period, verifiable data on which are available.
Questionable Questionnaire: The opinion poll does not have a single question on whether the respondent received any food support from the Government or other sources.
Representativeness in Question: The representativeness of even this opinion poll is doubtful for India and other countries. It is noted with surprise, from the FAO report 'The State of Food Security and Nutrition in the World 2021', that other four countries of this region – Afghanistan, Bangladesh, Nepal and Sri Lanka, have not been affected at all by Covid-19 pandemic induced loss of job/business and reduction in income levels, rather they have been able to improve their position on the indicator 'proportion of undernourished population'.