---
Production Gap Report 2021
---
On 20th October 2021, the United Nations Environment Programme (UNEP) released Production Gap Report 2021.
The Production Gap Report — first launched in 2019 — tracks the discrepancy between governments' planned fossil fuel production and global production levels consistent with limiting warming to 1.5°C or 2°C.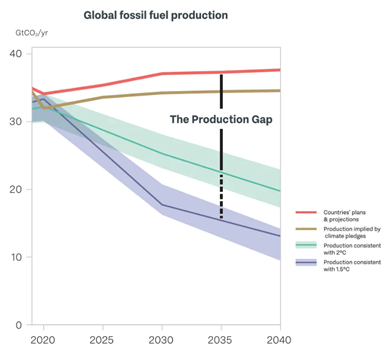 Key Findings
Governments plan to produce more than twice the amount of fossil fuels in 2030 than would be consistent with limiting warming to 1.5°C. The production gap has remained largely unchanged since first analysis in 2019.
The production gap is widest for coal in 2030: governments' production plans and projections would lead to around 240% more coal, 57% more oil, and 71% more gas than would be consistent with limiting global warming to 1.5°C.
G20 countries have directed more new funding to fossil fuels than clean energy since the beginning of the COVID-19 pandemic.
International public finance for the production of fossil fuels from G20 countries and multi-lateral development banks (MDBs) has significantly decreased in recent years.
Most major oil and gas producers are planning on increasing production out to 2030 or beyond, and several major coal producers are planning on continuing or increasing production.
Recommendations: Role of Governments
Governments have a primary role to play in closing the production gap and in ensuring that the transition away from fossil fuels is just and equitable.
The report recommends that global fossil fuel production must start declining immediately and steeply to be consistent with limiting long-term warming to 1.5°C.
Further, it charts out roles of Governments that they have a primary role to play in closing the production gap. In addition to strengthening measures to reduce the demand for fossil fuels, governments should also take actions to ensure a managed and equitable decline in production:

Acknowledge in their energy and climate plans that there is a need to wind down global fossil fuel production in line with the Paris Agreement's temperature limits.
oChart the course towards a rapid, just, and equitable wind-down of fossil fuel production as part of overall de-carbonization plans.
Place restrictions on fossil fuel exploration and extraction to avoid locking in levels of fossil fuel supply that are inconsistent with climate goals.
Phase out government support for fossil fuel production. Governments can end subsidies and other support for production, exclude fossil fuels from public finance, and direct greater support towards low-carbon development.
Leverage international cooperation to ensure a more effective and equitable global wind-down of production.
The Report on India
The report mainly flags India's push for coal production and lack of policy towards winding down of fossil fuel production as well as supporting a just and equitable transition away from fossil fuel production.
Government Views on Fossil Fuel Production: Under the Aatma Nirbhar Bharat (Self-Reliant India) campaign, the government seeks to "unleash the power of coal" and become self-reliant by 2023–24 and commits to "augment production through government companies. The government articulated this as "a paradigm shift in the approach from being oriented to maximum revenue from coal to making maximum coal available in the market at the earliest".
Plans and Projections for Domestic Fossil Fuel Production: In 2020, several ministries jointly produced a vision and action plan for developing India's resources. The plan outlines measures to expand coal production by nearly 60% from 2019 to 2024 (from 730 to 1,149 million tonnes), including through the removal of barriers to land acquisition and building capacity for exploration. India also aims to increase total oil and gas production by over 40% in the same period through measures such as accelerated exploration licensing, faster monetization of discoveries, and gas marketing reforms.
Government Support for Fossil Fuel Production

India provided tax breaks and budget expenditures for fossil fuel production.
In response to the COVID-19 crisis, the government provided a 50% rebate on revenue payable to the government for coal extraction projects
As part of structural reforms announced in 2020 amid the Self-Reliant India campaign, the government committed INR 500 billion (USD 7.1 billion) for coal extraction infrastructure.
In 2020, India opened up its coal mining sector to private and foreign investment, offering financial incentives and organizing large auctions of coal mining blocks. A 2020 auction included mines that would add an estimated 225 million tonnes at peak production, representing around 15% of India's projected coal output for 2025. It was opposed by the states of Jharkhand, Chhattisgarh and Maharashtra, with concerns about potential social and environmental impacts. A second auction took place in 2021.
Over the past decade, the Ministry of Environment, Forest and Climate Change has narrowed the public consultation process for coal mine projects.

Policies and Discourses towards a Managed Wind-Down of Fossil Fuel Production: No such government policies or discourses were identified at the federal level.
Policies and Discourses Supporting a Just and Equitable Transition away from Fossil Fuel Production: No such government policies or discourses were identified at the federal level.