Good Governance Index 2021
---
Good Governance Index 2021
---
On 25th December, 2021, the union government released the Good Governance Index 2020-21. The index has been prepared by Department of Administrative Reforms and Public Grievances (DARPG), Government of India.
About the Index
The Good Governance Index 2021 (GGI) covers 10 sectors and 58 indicators. It is a comprehensive and implementable framework that helps in assessing the status of governance across states and union territories, and enables ranking of states or districts.
GGI is prepared with the objective of creating a tool, which can be used uniformly across the States & UTs to assess the impact of the interventions taken up by the Central and State Governments.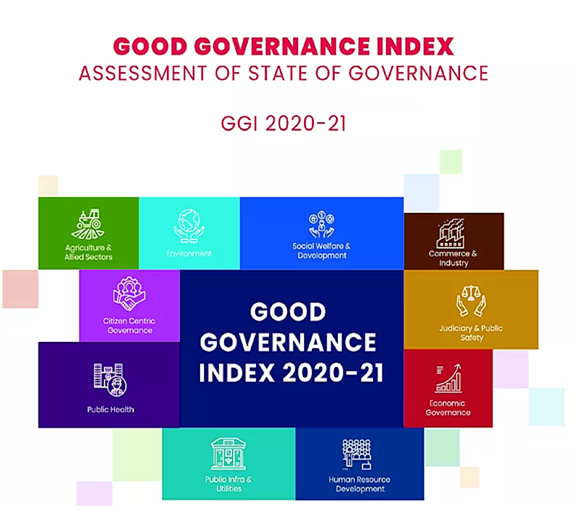 Key Highlights
Gujarat, Maharashtra and Goa top the list.
In this year's index, 20 states have improved their composite 'Good Governance Index' (GGI) scores.
Gujarat saw an increase of 12% while Goa registered around 25% increase on indicators recorded by these states as compared to 2019.
Uttar Pradesh has secured the top position in commerce & industry sector.
Uttar Pradesh has also improved in social welfare & development and judiciary & public safety sectors, besides in citizen-centric governance parameters.
Jammu & Kashmir recorded a 3.7% improvement in GGI indicators. The UT performed strongly in commerce & industry sector.
In the Northeast and Hill States category, Mizoram performed strongly in commerce and industry, public health, human resource development and economic governance.
In the Union Territory category, Delhi performed the best.