NITI Aayog Releases Second Edition of Export Preparedness Index 2021
---
NITI Aayog Releases Second Edition of Export Preparedness Index 2021
---
On 25th March, 2022, NITI Aayog, in partnership with the Institute of Competitiveness, released the Export Preparedness Index (EPI) 2021.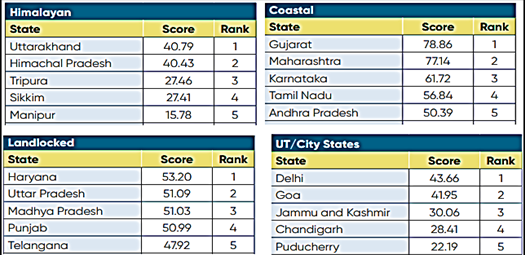 About the Report
The Export Preparedness Index is a data-driven endeavour to identify the fundamental areas critical for subnational export promotion.
Primary Goals-

To instil competition among all Indian states ('Coastal', 'Landlocked', 'Himalayan', and 'UTs/City-States')
To bring about favourable export-promotion policies,
Ease the regulatory framework to prompt subnational export promotion,
Create the necessary infrastructure for exports
Assist in identifying strategic recommendations for improving export competitiveness.
4 Pillars
Policy: A comprehensive trade policy provides a strategic direction for exports and imports.
Business Ecosystem: An efficient business ecosystem can help attract investments and create an enabling infrastructure for businesses to grow.
Export Ecosystem: This pillar aims to assess the business environment, which is specific to exports.
Export Performance: This is the only output-based pillar and examines the reach of export footprints of states and union territories.
Eleven Sub-pillars
Export promotion policy, institutional framework, business environment, infrastructure, transport connectivity, access to finance, export infrastructure, trade support, R&D infrastructure, export diversification, and growth orientation.
Top Performers
Gujarat has retained the top position at the NITI Aayog's second edition of the Export Preparedness Index 2021 followed by Maharashtra, Karnataka, Tamil Nadu, Haryana, Uttar Pradesh, Madhya Pradesh, Punjab, Andhra Pradesh and Telangana as among the states who are the top 10 performers.
Among union territories, Delhi has topped the index followed by Goa, Jammu, Kashmir, Chandigarh, and Puducherry while Uttarakhand, Himachal Pradesh, Tripura, Sikkim, and Manipur were at the top five spots among the Himalayan states.
Significance
The index can be used by states and union territories (UTs) to benchmark their performance against their peers and analyse potential challenges to develop better policy mechanisms to foster export-led growth at the subnational level.
The Export Preparedness Index provides a regulatory framework for the regional economies to inculcate a competitive industrial environment.
It will help the states and UTs in a long way to plan and execute sound export-oriented policies for ensuring a conducive export ecosystem, to make maximum utilization of their export potential.