First-ever Security, Defence Dialogue between India-EU

---
First-ever Security, Defence Dialogue between India-EU
---
India held the first-ever Security and Defence Consultations with European Union on 10th June 2022 at Brussels, capital city of Belgium.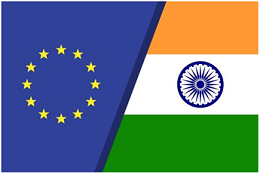 The two sides reviewed the entire gamut of their defence relations and evolving security situation in Europe, India's neighbourhood and the Indo-Pacific.
The two sides also discussed various means of increasing India-EU cooperation on maritime security, implementation of the European code of conduct on arms export to India's neighborhood, cooperation in co-development and co-production of defence equipment, including India's participation in Permanent Structured Cooperation (PESCO) in the area of security and defence policy.
Both sides agreed to increase India-EU defence and security cooperation as an important pillar of the bilateral strategic relations.
The next consultations will be held in Delhi at a mutually agreed convenient time.
India-EU: Recent Initiatives
Maritime Security Dialogue
The two sides have a number of positive developments in the area of security and defence cooperation in recent years, including the establishment of a regular maritime security dialogue, which met for the second time in February 2022.
Defence Exercise
The first-ever joint naval exercise between India and the EU was held during 18-19 June 2021 in the Gulf of Aden.
India-EU FTA
India and the EU are set to formally restart negotiations for a free trade agreement (FTA) soon.
India-EU FTA negotiations had been on the back burner after they were started in May 2013. However, an anti-China sentiment and the need for de-risking the supply chain amid geopolitical uncertainties have reignited several stalled trade talks this year.
Commerce and industry minister Piyush Goyal had said that India will conclude a FTA with the 27-nation group by next year.
Permanent Structured Cooperation (PESCO)
The Permanent Structured Cooperation (PESCO) is the part of the European Union's (EU) security and defence policy (CSDP) in which 25 of the 27 national armed forces pursue structural integration.
Based on Article 42.6 and Protocol 10 of the Treaty on European Union, introduced by the Treaty of Lisbon in 2009, PESCO was first initiated in 2017.
PESCO is similar to enhanced co-operation in other policy areas, in the sense that integration does not require that all EU member states participate.