---
India's Gig and Platform Economy: A Report by NITI Aayog
---
On 27th June, 2022, NITI Aayog launched a report titled 'India's Booming Gig and Platform Economy: Perspectives and Recommendations' on Future of Work'.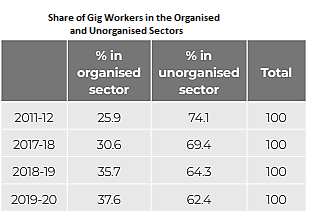 Objective
The objective of the study was to understand the significance of this sector to the economy, to employment generation and suggest measures to encourage employment in the sector, along with initiatives for social security.
Why Focus on Gig Economy
The rapidly burgeoning gig workforce is ushering in a new economic revolution globally.
India – with its demographic dividend of half-a-billion labour force and the world's youngest population, rapid urbanisation, widespread adoption of smartphones and associated technology – is the new frontier of this revolution.
Gig economy – transforming the way we move, work, and live – not just impacts how we do business but also affects our GDP.
Features of the Report
The report is a first-of-its-kind study that presents comprehensive perspectives and recommendations on the gig–platform economy in India.
The report provides a scientific methodological approach to estimate the current size and job-generation potential of the sector.
It highlights the opportunities and challenges of this emerging sector and presents global best practices on initiatives for social security and delineates strategies for skill development and job creation for different categories of workers in the sector.
Key Findings
The report estimates that in 2020–21, 77 lakh (7.7 million) workers were engaged in the gig economy. They constituted 2.6% of the non-agricultural workforce or 1.5% of the total workforce in India.
The gig workforce is expected to expand to 2.35 crore (23.5 million) workers by 2029–30.
Gig workers are expected to form 6.7% of the non-agricultural workforce or 4.1% of the total livelihood in India by 2029–30.
At present, about 47% of the gig work is in medium skilled jobs, about 22% in high skilled and about 31% in low skilled jobs.
Trend shows the concentration of workers in medium skills is gradually declining and that of the low skilled and high skilled is increasing.
Recommendations
To harness the potential of the gig-platform sector, the report recommends:
A. Policy Recommendations
1. Catalyse Platformization in India
Platformization of all occupations and industries must be catalysed.
Promote entrepreneurship, and ensure ease of starting and doing business in the platform economy.
Accelerate the platformization of the mobility economy.
Skilling, upskilling, and reskilling programmes must all be aligned to jobs of the 21st century, i.e. platform jobs of today and tomorrow.
2. Unlock Financial Support for Platform Businesses
3. Accelerate Financial Inclusion of Platform Workers
B. Recommendations for Future Estimation
Separate Enumeration: Undertake a separate enumeration exercise to estimate the size of the gig economy, and identify the characteristic features of gig workers.
Identify Gig Workers: During official enumerations (PLFS, NSS or otherwise), collect information to identify gig workers. This could include questions on the nature of contract between worker and job creator, use of technology in work, etc.
Gig & Platform Workers
Gig workers can be broadly classified into platform and non-platform workers.
Platform workers are those whose work is based on online software apps or digital platforms while non-platform gig workers are generally casual wage workers, working part-time or full- time.