Liz Truss becomes 3rd Woman PM of UK

---
Liz Truss becomes 3rd Woman PM of UK
---
Mary Elizabeth Truss has been appointed as the Prime Minister of the UK.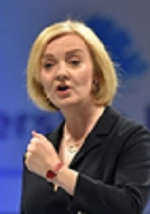 In the recently held election she defeated Rishi Sunak.
Truss had emerged as a contender for the prime ministerial role after her predecessor Boris Johnson agreed to step down.
The UK had two women Prime Ministers before Liz Truss:

Margaret Thatcher was the UK's first ever woman Prime Minister (1979-1990).
Theresa May was the UK PM from 2016-2019.