Deployment of 'Pralay' Missile
---
Deployment of 'Pralay' Missile
---
The defence ministry has cleared a proposal to procure around 120 Pralay ballistic missiles, which will be deployed along the borders with China and Pakistan.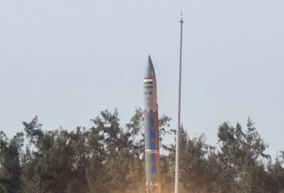 About the Missile
Type: 'Pralay' is a quasi-ballistic surface-to-surface missile.
Range: It can hit targets 150-500 kms away. The missile's range can be extended significantly if the need arises.
Ammunition: The missile can carry 350-700 kg high grade explosive, Penetration-Cum-Blast explosive, and Runway Denial Penetration Submunition.
Engine: Two stage rocket motor, with third stage MaRV (maneuverable reentry vehicle) is a type of warhead for ballistic missiles that is capable of maneuvring and changing its trajectory.
MaRV can be capable of autonomously tracking ground targets to make sure the missile does not miss the target, because of the frequent trajectory shifts. This often requires some terminal active homing guidance (like Pershing II active radar homing).
Special Utility
Target High Value Installations & Weapons: It is designed to target radar and communication installations, command and control centers and advance airfields using conventional warhead.
Defeat Interceptor Missiles: It has been developed to defeat interceptor missiles as it has the ability to change its path mid-air.