Current News National
Global Innovation Index 2020: India Ranks In Top 50 Countries For 1st Time
---
The 2020 edition of the Global Innovation Index (GII) presents the latest global innovation trends and the annual innovation ranking of 131 economies.
The index is compiled by World Intellectual Property Organisation (WIPO) and released on 2nd September 2020.
The theme of this year's GII - Who Will Finance Innovation? - is timely given the human and global economic damage wreaked by the COVID-19 global pandemic.
India on GII 2020
India jumped four positions to rank at 48th since 2019 and for the first time ranked in the top 50 countries.
Moving up four positions since last year, India became the third most innovative lower middle economy in the world.
The jump can be attributed to newly available indicators and improvements in various areas of GII.
India ranks in the top 15 in indicators such as ICT services exports, government online services, graduates in science and engineering and R&D-intensive global companies.
The report added that due to universities like IIT Delhi and Bombay, IIS Bengaluru and other top scientific publications, India is the lower middle-income economy with the highest innovation.
Current News National Polity & Governance
'Mission Karmayogi' For Civil Services Reforms
---
On 2nd September, 2020, the Union Cabinet gave its approval for Mission Karmayogi, a National Programme for Civil Services Capacity Building (NPCSCB).
Aim
To standardise training, and create shared faculty and resources that would offer officers and government employees an opportunity to improve their performance.
To prepare the Indian Civil Servant for the future by making him more creative, constructive, imaginative, innovative, proactive, professional, progressive, energetic, enabling, transparent and technology-enabled.
Background
Capacity of Civil Services plays a vital role in rendering a wide variety of services, implementing welfare programs and performing core governance functions.
A transformational change in Civil Service Capacity is proposed to be affected by organically linking the transformation of work culture, strengthening public institutions and adopting modern technology to build civil service capacity with the overall aim of ensuring efficient delivery of services to citizens.
Salient Features
Coverage
It will cover 46 lakh Central government employees at all levels.
Citizen Centric Civil Service:
The fundamental focus is the creation of a 'citizen centric civil service' capable of creating and delivering services conducive to economic growth and public welfare.
'Mission Karmayogi' shifts the focus from "Rule based training to Role based training". Greater thrust has been laid on behavioural change.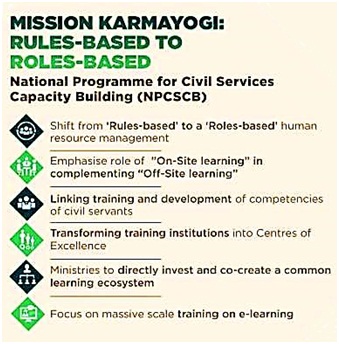 iGOT Karmayogi Platform
The Programme will be delivered by setting up an Integrated Government Online Training- iGOTKarmayogi Platform.
An appropriate monitoring and evaluation framework will also be put in place for performance evaluation of all users of the iGOT-Karmayogi platform so as to generate a dashboard view of Key Performance Indicators.
Special Purpose Vehicle (SPV)
A SPV will be set up as Section 8 – Not for Profit Company which will own and manage the iGOT-Karmayogi platform.
The SPV will own all Intellectual Property Rights on behalf of the Government of India.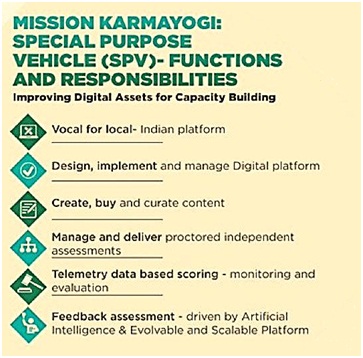 Public Human Resources Council
A Public Human Resources Council under the chairmanship of Prime Minister, with Union Ministers, Chief Ministers, eminent HR practitioners, national and international experts would oversee the entire capacity building exercise.
Capacity Building Commission
An expert body called Capacity Building Commission will be set up to harmonize training standards, create shared faculty and resources, and have supervisory role over all Central Training Institutions.
The Commission will also come out with an "Annual State of Civil Service Report".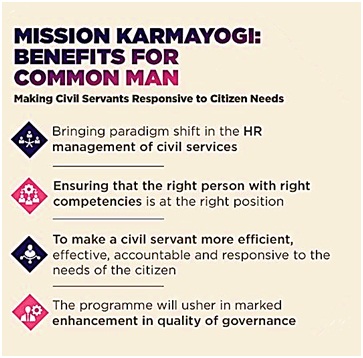 Significance
Improving Government's Human Resources: It will radically improve the government's human resource management practices and it will use state-of-the-art infrastructure to augment the capacity of civil servants.
Countering Existing Impediments: It will help in overcoming existing impediments like lack of lifelong & continuous learning environment, evolution of silos at department level preventing shared understanding of India's development aspirations and diverse and fragmented training landscape among others.
Value-Addition: It will provide a mechanism for continuous capacity building, a constant updating of the talent pool and also provide an equal opportunity of professional as well as personal growth and a stream of self-training for value addition at all levels.
Realising Vision of New India: The programme will also help in making the civil servants more professional, progressive, energetic, inculcating right attitude, technology-enabled which is aligned to the vision of a "New India".
---