Current News National Plan/Policy
Swachh Bharat Mission-Urban 2.0 & AMRUT 2.0
---
On 1st October, 2021, the government launched the Swachh Bharat Mission-Urban (SBM-U) 2.0 and Atal Mission for Rejuvenation and Urban Transformation (AMRUT) 2.0 .
In pursuance of the Prime Minister's vision, the schemes, with an outlay of about ₹ 4.4 Lakh Crore, will adopt 'Universal Approach' and make a move towards 'Saturation' in sanitation and water availability in all Urban Local Bodies (ULBs).
About Swachh Bharat Mission-Urban 2.0
SBM-U 2.0 envisions to make all cities 'Garbage Free' and ensure grey and black water management in all cities.
Focus
The Mission will focus on source segregation of solid waste, utilizing the principles of 3Rs (Reduce, Reuse, Recycle), scientific processing of all types of municipal solid waste and remediation of legacy dumpsites for effective solid waste management.
It will focus on ensuring complete access to sanitation facilities to serve additional population migrating from rural to urban areas in search of employment and better opportunities over the next 5 years.
Key Components
Complete liquid waste management in cities in less than 1 lakh population – a new component introduced under SBM-Urban 2.0 will ensure that all wastewater is safely contained, collected, transported and treated so that no wastewater pollutes our water bodies.
Under the Sustainable Solid Waste Management, greater emphasis will be on source segregation.
Material Recovery Facilities and waste processing facilities will be set up, with a focus on phasing out single use plastic.
Construction & demolition waste processing facilitieswill be set upand mechanical sweepers deployedin National Clean Air Programme cities and in cities with more than 5 lakh population. Remediation of all legacy dumpsites will be another key component of the Mission.
Impact
It is expected that under Swachh Bharat Mission-Urban 2.0, all statutory towns will become at least ODF+; and all cities with <1 lakh population ODF++. Systems and processes will be in place so that all waste water is safely treated and optimally reused and no untreated wastewater pollutes water bodies.
Regarding the Solid Waste Management, it is expected that all cities will achieve at least 3-star Garbage Free certification under SBM-U 2.0.


Atal Mission For Rejuvenation And Urban Transformation (AMRUT) 2.0
AMRUT 2.0 aims to provide 100% coverage of water supply to all households in around 4,700 urban local bodies by providing about 2.68 crore tap connections and 100% coverage of sewerage and septage in 500 AMRUT cities by providing around 2.64 crore sewer/ septage connections, which will benefit more than 10.5 crore people in urban areas.
Focus
Mission has a reform agenda, with focus on strengthening of urban local bodies and water security of the cities.
Major reforms include rejuvenation of water bodies, rain water harvesting, reducing Non-Revenue Water (NRW), meeting 40% industrial water demand through recycled used water, dual piping system for bulk users through building bye-laws, Unlocking value & improving land use efficiency through proper master planning, improving credit rating & accessing market finance including issuance of municipal bonds and implementation Online Building Permission System under EoDB.
Key Components
There will be several defining features of AMRUT-2.0. These include upscaling from 500 cities covered under AMRUT with 1 lakh+ population to all 4,372 cities, covering 100% urban India.
Urban Water Information System through NRSC will be developed, leading to Aquifer Management system. Information, Education and Communication campaign will spread awareness among masses about conservation of water.
'Pey Jal Survekshan' will be conducted to promote progressive competition among cities.
AMRUT 2.0 will adopt the principles of circular economy and promote conservation and rejuvenation of surface and groundwater bodies.
AMRUT 2.0 will adopt the principles of circular economy and promote conservation and rejuvenation of surface and groundwater bodies.
The Mission will promote data-led governance in water management and technology Sub-Mission to leverage latest global technologies and skills.
Impact
The mission signify a step forward in the march towards effectively addressing the challenges of rapidly urbanising India and will also help contribute towards achievement of the Sustainable Development Goals 2030.
The Mission seeks to promote AatmaNirbhar Bharat through encouraging Startups and Entrepreneurs.
It will lead to promotion of GIG economy and on-boarding of youth & women.
The AMRUT-2.0 Mission will promote Public Private Partnership (PPP). It has been mandated for cities having million plus population to take up PPP projects worth minimum of 10 percent of their total project fund allocation which could be on Annuity/ Hybrid Annuity / BOT Model.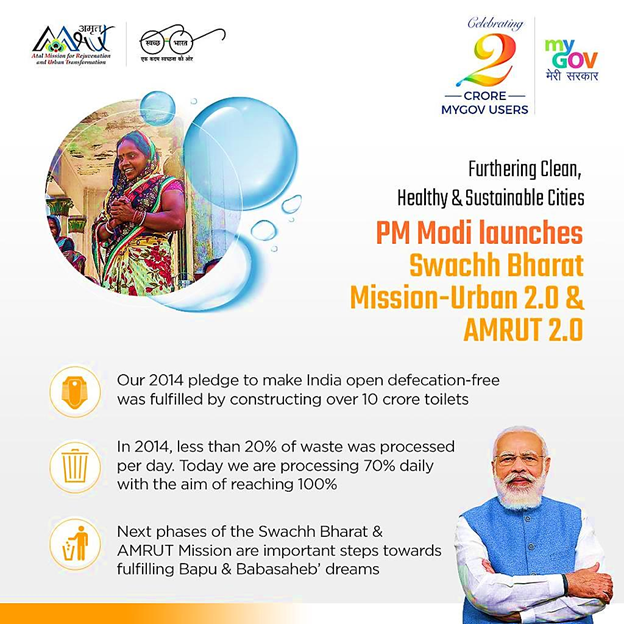 ---