Current News Science & Technology
Nobel Prize in Medicine 2021
---
Two U.S.-based scientists were awarded the Nobel Prize in physiology or medicine on October 4 for their discovery of the receptors that allow humans to feel temperature and touch.
David Julius and Ardem Patapoutian focused their work on the field of somatosensation that is the ability of specialised organs such as eyes, ears and skin to see, hear and feel.
David Julius utilised capsaicin, a pungent compound from chili peppers that induces a burning sensation, to identify a sensor in the nerve endings of the skin that responds to heat.
Ardem Patapoutian used pressure-sensitive cells to discover a novel class of sensors that respond to mechanical stimuli in the skin and internal organs.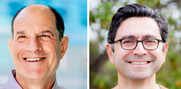 Current News Science & Technology
Nobel Prize in Physics 2021
---
The Nobel Prize in Physics 2021 was awarded "for groundbreaking contributions to our understanding of complex systems" with one half jointly to Syukuro Manabe (Japan) and Klaus Hasselmann (Germany) "for the physical modelling of Earth's climate, quantifying variability and reliably predicting global warming" and the other half to Giorgio Parisi (Italy) "for the discovery of the interplay of disorder and fluctuations in physical systems from atomic to planetary scales."
Syukuro Manabe and Klaus Hasselmann laid the foundation of our knowledge of the Earth's climate and how humanity influences it. Giorgio Parisi is rewarded for his revolutionary contributions to the theory of disordered materials and random processes.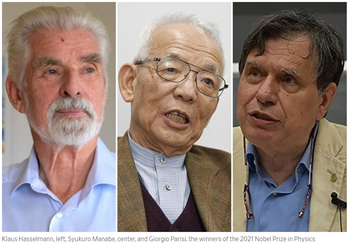 (Image Source: The Wall Street Journal)

What are Complex Systems?
Complex systems are characterised by randomness and disorder and are difficult to understand. This year's Prize recognises new methods for describing them and predicting their long-term behaviour.
Contribution of the Trio
Syukuro Manabe: One complex system of vital importance to humankind is Earth's climate. Syukuro Manabe demonstrated how increased levels of carbon dioxide in the atmosphere lead to increased temperatures at the surface of the Earth. In the 1960s, he led the development of physical models of the Earth's climate and was the first person to explore the interaction between radiation balance and the vertical transport of air masses. His work laid the foundation for the development of current climate models.
Klaus Hasselmann: Klaus Hasselmann created a model that links together weather and climate, thus answering the question of why climate models can be reliable despite weather being changeable and chaotic. He also developed methods for identifying specific signals, fingerprints that both natural phenomena and human activities imprint in the climate. His methods have been used to prove that the increased temperature in the atmosphere is due to human emissions of carbon dioxide.
Giorgio Parisi: He discovered hidden patterns in disordered complex materials. His discoveries are among the most important contributions to the theory of complex systems. They make it possible to understand and describe many different and apparently entirely random materials and phenomena, not only in physics but also in other, very different areas, such as mathematics, biology, neuroscience and machine learning.
Terms In-Vogue
Udyog Aadhaar
---
It is a twelve digit Unique Identification Number provided by the Ministry of Micro, Small and Medium Enterprises, Government of India for small and medium enterprises, beginning in September 2015. It is also known as Aadhaar for Business.
Terms In-Vogue
Firmina
---
It is a sub-sea cable network proposed by Google - that will connect the East Coast of the U.S. and Las Toninas, Argentina — with additional landings in Brazil and Uruguay. The idea here is to provide users in South America with improved low-latency access to Google's portfolio of consumer and cloud services.
Terms In-Vogue
'Matariki'
---
The New Zealand government has announced to celebrate 'Matariki' as a public holiday beginning on June 24, 2022.
Matariki signals the Māori New Year. It is a time of renewal and celebration in New Zealand that begins with the rising of the Matariki star cluster.
Terms In-Vogue
Heat Dome
---
According to National Oceanic and Atmospheric Administration (NOAA) of US department of commerce, a heat dome occurs when the atmosphere traps hot ocean air like a lid or cap.
The phenomenon begins when there is a strong change (or gradient) in ocean temperatures. In the process known as convection, the gradient causes more warm air, heated by the ocean surface, to rise over the ocean surface.
As prevailing winds move the hot air east, the northern shifts of the jet stream trap the air and move it toward land, where it sinks, resulting in heat waves.
Terms In-Vogue
Zen Garden
---
The Japanese rock garden or "dry landscape" garden, often called a zen garden, creates a miniature stylized landscape through carefully composed arrangements of rocks, water features, moss, pruned trees and bushes, and uses gravel or sand that is raked to represent ripples in water.
Zen is a Japanese school of Mahayana Buddhism emphasizing the value of meditation and intuition rather than ritual worship or study of scriptures. Zen in Japan is meditation in India.
---