Current News Science & Technology Space
FRB 20190520B: New Fast Radio Burst Detected by Scientists
---
Astronomers have detected a radio signal coming from space, the second of its kind, which raises more questions about their origins.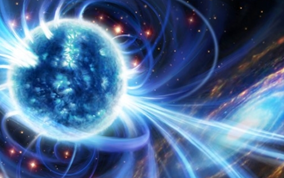 The signal is coming from a galaxy believed to be nearly 3 billion light-years away. The detection of the new Fast Radio Burst (FRB), termed FRB 20190520B, raises some important questions about the origin and source of these signals.
FRBs: These are intense but brief flashes of radio frequency emissions and these typically last milliseconds. These are known to send out repeat radio waves multiple times.
Discovery
FRB 20190520B was detected using the Five-hundred-meter Aperture Spherical radio Telescope (FAST) in Guizhou, China in May 2019.
Scientists followed this up with monthly observations and detected nearly 75 bursts between April 2020 and September 2020.
The researchers localised FRB 20190520B using the US National Science Foundation (NSF)'s Karl G Jansky Very Large Array (VLA), which is a radio astronomy observatory located in central New Mexico.
Key Points
The source of FRB 20190520B is "co-located with a compact, persistent radio source and associated with a dwarf host galaxy of high specific-star-formation."
The signal is supposed to be close to another unknown object, which is emitting a weaker radio signal.
This sort of combination has only been observed in another FRB. Researchers also observed that the object constantly emits weaker radio waves between bursts.
Current News International India And Its Bilateral Relations
India-Vietnam MoU on Logistics Support
---
During the recent visit of Indian Defence Minister to Vietnam, the two countries signed the 'Joint Vision Statement on India-Vietnam Defence Partnership towards 2030', which will significantly enhance the scope and scale of existing defence cooperation.
Also, a Memorandum of Understanding on Mutual Logistics Support was also inked.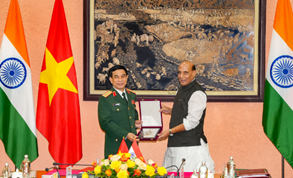 Significance
The Memorandum of Understanding (MoU) on mutual logistics support is the first such major agreement that Vietnam has signed with any country.
This is significant as it allows Indian warships and military planes to re-fuel and seek supplies at the Vietnamese bases.
Vietnam is one of the six countries locked in a dispute with China over territorial demarcation of the South China Sea.
With this agreement, India could get closure access to Chinese events in that area.
Other Developments
India and Vietnam agreed for early finalisation of $500 million defence line of credit extended to Vietnam.
India announced gifting of two simulators and monetary grant towards setting up of language and IT Lab at Air Force Officers Training School for capacity building of Vietnamese armed forces.
What are Logistic Agreements?
Logistics agreements are administrative arrangements facilitating access to military facilities for exchange of fuel and provisions on mutual agreement simplifying logistical support and increasing operational turnaround of the military when operating away from India.
News Crux Defence/Military Exercises
Ex RIMPAC: World's Largest Naval Exercise
---
The 2022 edition of the world's largest naval war games, the Rim of the Pacific (RIMPAC) exercises, will feature key US partners from around the globe, including India, Japan and Australia -- who have joined Washington in the Quad group -- and five nations bordering on the South China Sea, one of the world's most turbulent areas for military tensions.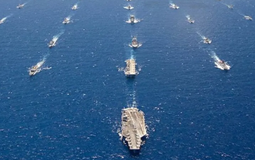 The exercises in Pacific waters reaching from the Hawaiian Islands all the way to southern California will see military units from 26 countries participating from June 29 to August 4.
A "free and open Indo-Pacific" has been a US mantra as China has been building up its forces and expanding its reach in the region, including militarizing islands in the South China Sea, almost all of which it claims as its sovereign territory.
Three nations with competing claims to China's -- the Philippines, Malaysia and Brunei -- will take part in RIMPAC 2022. Indonesia, which borders the South China Sea and has seen recent maritime tensions with China, will also take part, as will Singapore, which sits at the southwestern entrance to the 1.3 million-square-mile sea.
Meanwhile, the Quad countries -- the United States, India, Japan and Australia -- have been deepening military cooperation as all have seen increasing competition with China around the region.
RIMPAC 2022 also includes Canada, Chile, Colombia, Denmark, Ecuador, France, Germany, Israel, Mexico, the Netherlands, New Zealand, Peru, South Korea, Sri Lanka, Thailand, Tonga and the United Kingdom.
News Crux Survey/Index
Environment Performance Index 2022
---
In the biennial Environment Performance Index-2022, an international ranking system that measures environmental health and sustainability of countries, India came at the bottom (180th) out of 180 countries.

With a paltry score of 18.9, India's 180th ranking comes after Pakistan, Bangladesh, Vietnam and Myanmar — the bottom five together make up the poorest performing countries for environmental health.
In 2020, India was ranked 168th with a score of 27.6.
Denmark was the top performer in the 2022 Index.
Who Publishes the Index?
The EPI, a biennial index, is brought out by the World Economic Forum in collaboration with the Yale Center for Environmental Law and Policy and the Columbia University Center for International Earth Science Information Network.
India's Response to the Index
The Ministry of Environment, Forest and Climate Change rebutted the Environmental Performance Index 2022 saying it has many indicators based on unfounded assumptions. Some of these indicators used for assessing performance are extrapolated and based on surmises and unscientific methods.
News Crux Art/Culture/Heritage
Tran Quoc Pagoda: A cultural connect between India and Vietnam
---
India's Defence Minister recently visited Tran Quoc Pagoda, a revered Buddhist temple in Hanoi city of Vietnam.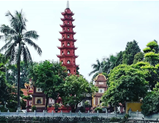 This pagoda is an example of age-old civilisational and people-to-people linkages between the two countries.
On the grounds of Tran Quoc is a Bodhi tree taken as cutting of the original tree in Bodh Gaya, India under which the Buddha sat and achieved enlightenment. The gift was made in 1959, marking the visit of the Indian president Rajendra Prasad.
In the Trấn Quốc pagoda they also worship female Buddhas, known as the "Mothers". Their shrines are in the front of the courtyard. The green Mother has domain over the mountains and forests. The white Mother has domain over the water. And lastly the red Mother has domain over the sky. These are some of the oldest gods or goddesses that have been worshiped in Vietnam and were in Vietnam before the Buddha.
---