Current News National Social Issue & Social Justice
Poor Utilisation of Funds in Beti Bachao, Beti Padhao Scheme
---
According to a latest report by the Committee on the Empowerment of Women, there has been poor utilisation of funds in the implementation of scheme in many States.
According to the report, almost 80 per cent of the funds for the scheme have been used for its advertising and not on sectoral interventions such as in health and education for women.
The committee further observed that out of a total of Rs 446.72 crore released during 2016- 2019, "a whopping 78.91% was spent only on media advocacy".
What is Beti Bachao, Beti Padhao Scheme?
Launched in January, 2015, it is a national initiative which aims to address the issue of the declining child sex ratio image (CSR).
This scheme is run jointly by the Ministry of Women and Child Development, the Ministry of Health and Family Welfare, and the Ministry of Human Resource Development.
Objectives
To prevent gender-biased sex selective elimination.
To ensure the protection and survival of the girl child.
Ensuring education and participation of the girl child.
Recommendation by the Committee
It recommended that the government should reconsider spending on advertisements and should focus on planned expenditure allocation for sectoral interventions in education and health.
Social workers must also be supported by local police, members of legislative assembly, and other influential people.
The campaign must extend to making parents, brothers and Indian be proud of a woman's autonomy.
It also must seek to educate men those women are their equal – not only at school but in every arena.
Current News Indian Economy Banking & Finance
SEBI Proposes Rules for Retail Algo Trading
---
On 9th December, 2021, Capital markets regulator Securities and Exchange Board of India (SEBI) proposed a regulatory framework for algorithmic trading (algo trading) by retail investors to make such trading safe and prevent market manipulations.
Need
At present, though the broker can identify the orders emanating from an Application Programming Interface (API), they are unable to differentiate between an algo and non-algo order emanating from an API.
This kind of unregulated algos pose a risk to the market and can be mis-used for systematic market manipulation as well as to lure the retail investors by guaranteeing them higher returns.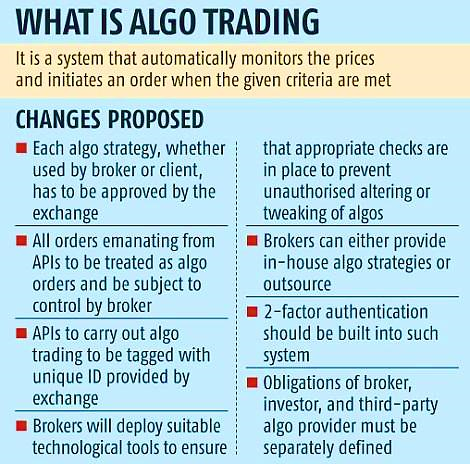 Image Source: Business Standard
About Algorithmic Trading (Algo Trading)
In market parlance, algo trading refers to any order that is generated using automated execution logic.
The algo trading system automatically monitors the live stock prices and initiates an order when the given criteria are met.
It is also known as automated or programmed trading since pre-programmed computer strategies execute buy and sell trades depending on set parameters, instructions or market pattern and conditions.
Benefits of Algorithmic Trading
Trades are executed at the best possible prices.
Trade order placement is instant and accurate (there is a high chance of execution at the desired levels).
Trades are timed correctly and instantly to avoid significant price changes.
Reduced transaction costs.
Simultaneous automated checks on multiple market conditions.
Reduced risk of manual errors when placing trades.
Reduced the possibility of mistakes by human traders based on emotional and psychological factors.
Current News Science & Technology New Technology
Supersonic Missile Assisted Torpedo System Gets Successfully Launched From Wheeler Island in Odisha
---
On 13th December, 2021, the supersonic missile assisted torpedo system – developed by the Defence Research and Development Organisation (DRDO) - was successfully launched from Wheeler Island in Odisha.
The system is a next generation missile-based standoff torpedo delivery system.
This canister-based missile system consists of advanced technologies viz. two stage solid propulsion, electro-mechanical actuators and precision inertial navigation. The missile is launched from ground mobile launcher and it can cover a range of distances.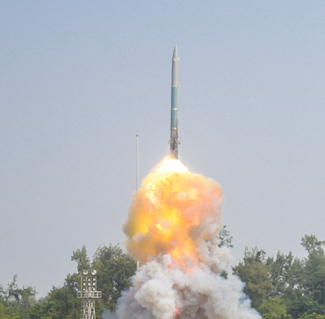 (Image Source: PIB)
During the mission, full range capability of the missile was successfully demonstrated.
This was a text book launch, where the entire trajectory was monitored by the electro optic telemetry system, various range radars, including the down range instrumentation and down range ships. The missile carried a torpedo, parachute delivery system and release mechanisms.
The system has been designed to enhance anti-submarine warfare capability far beyond the conventional range of the torpedo.
The system will further enhance the strength of the Indian Navy and promote self-reliance in defence, and harnessing of expertise and capabilities.
News Crux Science & Technology
Black Box
---
The Cockpit Voice Recorder (CVR) and Flight Data Recorder (FDR) has been recovered from recently crashed Mi-17V5 chopper of the Indian Air Force.
Black Box
It is a compressor shaped electronic device placed in aircraft.
It is mandatory for commercial airliner and armed forces.
It is kept at the back side of the aircraft for the security point of view.
Invented by- Australian scientist David Warren in 1950.
Purpose
To ascertain the cause of the crash of aircraft.
To preserve clues from cockpit sounds and data to help prevent future accidents.
The Black Box has two separate boxes:
Flight Data Recorder
It contains information about direction, altitude, fuel, speed, turbulence, cabin temperature.
It can withstand a temperature of about 11000°C for one hour and a temperature of 260°C for 10 hours.
Cockpit Voice Recorder
It records the sound of engine, emergency alarm, cabin and cockpit in order to predict the conditions of the plane before any accident occurred.
---