SEBI Proposes Rules for Retail Algo Trading
---
SEBI Proposes Rules for Retail Algo Trading
---
On 9th December, 2021, Capital markets regulator Securities and Exchange Board of India (SEBI) proposed a regulatory framework for algorithmic trading (algo trading) by retail investors to make such trading safe and prevent market manipulations.
Need
At present, though the broker can identify the orders emanating from an Application Programming Interface (API), they are unable to differentiate between an algo and non-algo order emanating from an API.
This kind of unregulated algos pose a risk to the market and can be mis-used for systematic market manipulation as well as to lure the retail investors by guaranteeing them higher returns.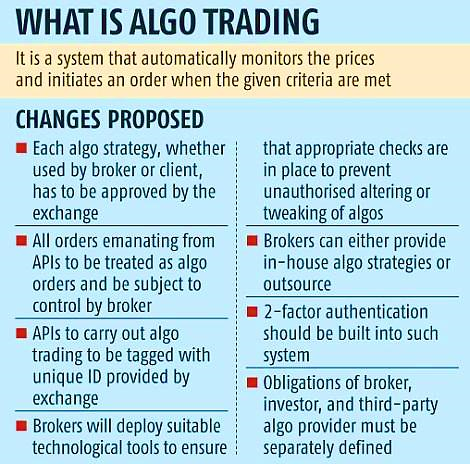 Image Source: Business Standard
About Algorithmic Trading (Algo Trading)
In market parlance, algo trading refers to any order that is generated using automated execution logic.
The algo trading system automatically monitors the live stock prices and initiates an order when the given criteria are met.
It is also known as automated or programmed trading since pre-programmed computer strategies execute buy and sell trades depending on set parameters, instructions or market pattern and conditions.
Benefits of Algorithmic Trading
Trades are executed at the best possible prices.
Trade order placement is instant and accurate (there is a high chance of execution at the desired levels).
Trades are timed correctly and instantly to avoid significant price changes.
Reduced transaction costs.
Simultaneous automated checks on multiple market conditions.
Reduced risk of manual errors when placing trades.
Reduced the possibility of mistakes by human traders based on emotional and psychological factors.