Current News National Polity & Governance
Biological Diversity (Amendment) Bill 2021
---
Recently, the Biological Diversity (Amendment) Bill, 2021 was introduced by the government.
The amendments seeks to facilitate access to biological resources and traditional knowledge by the Indian traditional medicine sector.
Key Amendments
Exempting AYUSH Practitioners: It exempts Ayush practitioners from intimating biodiversity boards for accessing biological resources or knowledge (Vaids and Hakims).
Research Promotion: Facilitates fast-tracking of research, simplify the patent application process.
Decriminalization: It seeks to decriminalise certain provisions in the chain of biological resources.
Foreign Investments: Seeks to bring more foreign investments in biological resources, research, patent and commercial utilisation, without compromising the national interest
Impact
It will help promoting the cultivation of medicinal plants and ancient Indian medicine by exempting Indians cultivating medicinal plants and manufacturing products using codified traditional knowledge from payment of Access and benefit sharing.
Current News National National Security
Cyber Surakshit Bharat Initiative
---
Recently, Ministry of Electronics and Information Technology (MeitY) organized 25th Chief Information Security Officers (CISOs) Deep Dive Training program under Cyber Surakshit Bharat initiative.
It aims to strengthen the cyber security ecosystem in Government organizations in the country.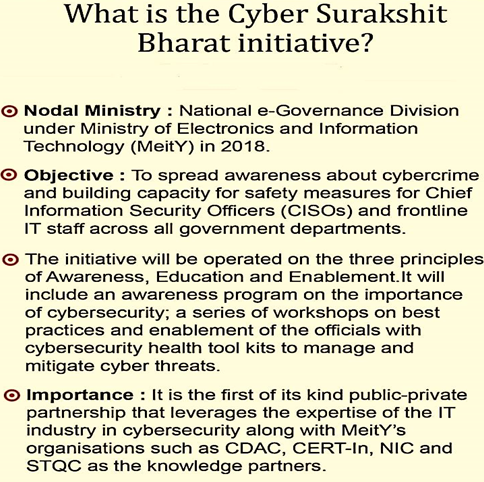 Need
Cyber fraudsters are using the COVID-19 pandemic as a cyber-attack vector for their own notorious gains.
During the COVID-19 time, there has been a surge in cyber incidences.
The primary set of attacks has been phishing attacks to steal information and drop malware.The attackers devise new strategies to target victims with scams or malware campaigns.
Impact
It is expected that the training will provide necessary exposure to latest tools and technologies in the cyber security and requirement for legal compliance.
The knowledge gained during training can help you to prepare cyber security policies and Cyber Crisis Management Plan for respective organizations.
About Cyber Surakshit Bharat Initiative
Launched in 2018, it aims to ensure awareness about cybercrime and adequate safety measures for Chief Information Security Officers (CISOs) and frontline IT staff across all government departments.
It includes an awareness program on the importance of cybersecurity; a series of workshops on best practices and enablement of the officials with cybersecurity health tool kits to manage and mitigate cyber threats.
It is operated on the three principles of Awareness, Education and Enablement.
---