Current News Ecology & Environment Biodiversity
Plant Discoveries 2020: Western Ghats gives More New Species
---
Recently, the Botanical Survey of India released its new publication 'Plant Discoveries 2020'. It has added 267 new taxa/ species to the country's flora.
The 267 new discoveries include 119 angiosperms; 3 pteridophytes; 5 bryophytes, 44 lichens; 57 fungi, 21 algae and 18 microbes.
In 2020, 202 new plant species were discovered across the country and 65 new records were added.
With these new discoveries the latest estimate of plant diversity in India stands at 54,733 taxa including 21,849 angiosperms, 82 gymnosperms, 1310 Pteridophytes, 2791 bryophytes, 2961 lichens, 15,504 fungi, 8979 algae and 1257 microbes.
This year one new monogeneric family Hanguanaceae has been recorded for the first time from India.
Most discoveries have been made from seed plants, with 1,199 (37%) taxa, followed by fungi 894 (27%).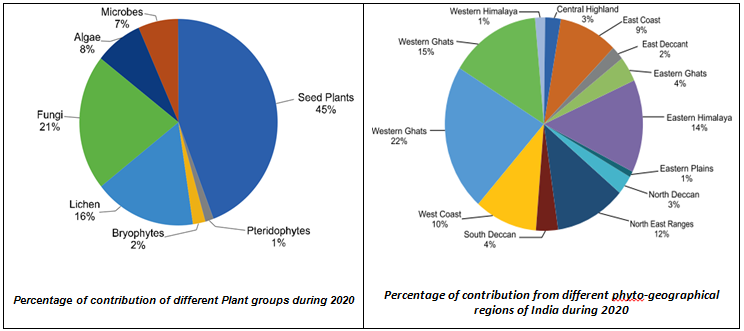 The following are some of the new discoveries this year
Nine new species of balsams (Impatiens)
One species of wild banana (Musa pradhanii) were discovered from Darjeeling
One species of wild jamun (Sygygium anamalaianum) from Coimbatore
Fern species (Selaginella odishana) were recorded from Kandhamal in Odisha
There are 14 new macro and 31 new micro fungi species recorded from various parts of India.
Note: The Global Strategy for Plant Conservation (GSPC) under the targets 2, 7 and 8 of Convention on Biodiversity (CBD) call for the status assessment of all known plant species and ex-situ or insitu conservation of 75 percent of the threatened species in every country. For this purpose, each country must have a working list of all plant species with data recorded for their distribution and occurrence. This can be achieved through systematic inventorization, exploration and documentation of the floristic wealth of the respective region.
News Crux Persons In News
Air Marshal V R Chaudhari to be the next Chief of Air Staff
---

Air Marshal Vivek Ram Chaudhari will take charge as the chief of the Indian Air Force after the incumbent, Air Chief Marshal RKS Bhadauria, retires on September 30.
Air Marshal V R Chaudhari, PVSM, AVSM, VM, was commissioned into the Fighter stream of Indian Air Force on 29th December 1982 and has held various Command, Staff and Instructional Appointments at various levels including the present one as Vice Chief of Air Staff.
PIB News Ecology & Environment
Two more Indian Beaches got International 'Blue Flag' Certification
---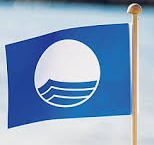 Two more Indian beaches - Kovalam in Tamil Nadu and Eden in Puducherry were accorded Blue Flag Certification.
Now India has 10 'Blue Flag' certified beaches – 8 such were certified last year.
Foundation for Environment Education in Denmark (FEE) which accords the globally recognized eco-label - Blue Flag certification, has also given re-certification for 8 nominated beaches Shivrajpur-Gujarat, Ghoghla-Diu, Kasarkod and Padubidri-Karnataka, Kappad-Kerala, Rushikonda- Andhra Pradesh, Golden-Odisha and Radhanagar- Andaman and Nicobar, which were awarded the Blue Flag certificate last year.
FEE Denmark conducts regular monitoring & audits for strict compliance of the 33 criteria at all times. A waving "Blue Flag" is an indication of 100% compliance to these 33 stringent criteria and sound health of the beach.
Initiatives of the MoEF&CC towards "Sustainable Development" of the Coastal Regions of India
The Ministry of Environment, Forest and Climate Change in its pursuit of "Sustainable Development" of the coastal regions of Indiaembarked upon a highly acclaimed & flagship program Beach Environment & Aesthetics Management Services (BEAMS) which is one of the initiatives under Integrated Coastal Zone Management (ICZM) approachthat the MoEF&CC has undertaken for the sustainable development of coastalregions of India,with aprime objectiveto protect and conserve the pristine coastal and marine ecosystems throughholistic management of the resources.
This was aimed for achieving the globally recognized and the coveted International eco-label "Blue Flag", accorded by International Jury comprising of members from IUCN, UNWTO, UNEP, UNESCO, etc.
The objective of BEAMS program is to abate pollution in coastal waters, promote sustainable development of beach facilities, protect & conserve coastal ecosystems & natural resources, and seriously challenge local authorities & stakeholders to strive and maintain high standards of cleanliness, hygiene & safety for beachgoers in accordance with coastal environment & regulations.
PIB News Indian Economy
National Single Window System for Investors and Businesses
---
On 22 September 2021, the Ministry of Commerce & Industry launched National Single Window System.
DPIIT (Department for Promotion of Industry and Internal Trade) along with Invest India have developed the portal as a National Single Window System (NSWS) to provide a single platform to enable investors to identify and obtain approvals and clearances needed by investors, entrepreneurs, and businesses in India.
The system is envisioned to address information asymmetry, duplication of information submitted across platforms and authorities and inefficient tracking of approvals and registration faced by investors.
Services (Online) provided by NSWS
Know Your Approval (KYA) Service: An intelligent information wizard that generates a list of approvals required by any business to commence operations. It does so by asking the investor a series of dynamic questions about their planned business activities and identifies the applicable approvals basis the responses provided. The questionnaire, simple and user friendly on the surface, has a complex, automated logic built into it to sieve through hundreds of approvals, and shortlists only those relevant to the specific investor or entrepreneur. This service is only for guidance purposes and does not constitute any legal advice.
Common Registration Form: To ensure a single point of submission of information and documents across Ministries and States, a unified information capturing system along with a common registration form has been introduced. Information is auto-populated on forms, eliminating the need to fill in the same information again.
State Registration Form: Enables investor to have seamless single click access to respective State Single Window System.
Applicant Dashboard: Provides a single online interface to apply, track and respond to the queries pertaining to approvals and registrations across ministries and States.
Document Repository: It is an online centralized storage service for investors to enable one-time document submission and use the same across multiple approvals. This eliminates the need to submit documents at multiple portals.
E-Communication Module: Enables online response to queries and clarification requests related to applications by Ministries and States.
News Crux Important Days/Weeks
10th Anniversary of 'World Rhino Day'
---
World Rhino Day is celebrated on September 22 to spread awareness about the work being done to save them.
This year (2021) marks its 10th Anniversary of World Rhino Day.
This year, the theme of World Rhino Day is "Keep the Five Alive." The theme was set keeping an eye on its vulnerable population.
There are five species of Rhinoceros - Black, White, Greater One-horned, Sumatran, and Javan Rhinoceros.
The Indian rhinoceros (Rhinoceros unicornis), also called greater one-horned rhinoceros or great Indian rhinoceros. It is listed as 'Vulnerable' on the IUCN Red List.
Kaziranga National Park has the highest population whereas Pobitora Wildlife Sanctuary in Assam has the highest density of Indian rhinos.
---