Current News National Study/Survey/Report/Index
Healthcare Equity in Urban India
---
Recently, a report "Healthcare equity in urban India" was released by Azim Premji University in collaboration with 17 regional NGOs across India.
The report explored health vulnerabilities and inequalities in cities in India. It also looked at the availability, accessibility and cost of healthcare facilities, and possibilities in future-proofing services in the next decade.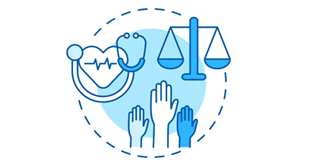 (Image Source: greenough.biz)

Findings
Rising Urban Population: A third of India's population lives in urban areas, with this segment seeing a rapid growth from about 18% (1960) to 28.53% (2001) and 34% (in 2019).
Urban Poor: Close to 30% of people living in urban areas are poor.
Life Expectancy: Among the poorest, life expectancy is lower by 9.1 years (men) and 6.2 years (women) from the corresponding figures for the richest in urban areas.
Urban Health Governance: Besides disproportionate disease burden on the poor, there is chaotic urban health governance - the multiplicity of healthcare providers both within and outside the Government without coordination are challenges to urban health governance.
Financial Burden: There is a heavy financial burden on the poor and less investment in healthcare by urban local bodies.
Recommendation
Strengthening community participation and governance;
Building a comprehensive and dynamic database on the health and nutrition status, including comorbidities of the diverse, vulnerable populations;
Strengthening healthcare provisioning through the National Urban Health Mission, especially for primary healthcare services; and putting in place policy measures to reduce the financial burden of the poor.
Better mechanism for coordinated public healthcare services and better governed private healthcare institutions as urbanisation is happening rapidly, the number of the urban poor is only expected to increase.
News Crux Awards In News
Indira Gandhi Peace Prize 2021
---
Pratham, a civil society organisation dedicated to improving the quality of education among underprivileged children in India and across the world, has been selected for the Indira Gandhi Prize for Peace, Disarmament and Development for 2021.

Awarded for
Pratham was awarded for its pioneering work over more than a quarter century in seeking to ensure that every child has access to quality education, for its innovative use of digital technology to deliver education, for its programmes to provide skills to young adults, for its regular evaluation of the quality of education, and for its timely response in enabling children to learn during the COVID-19 related school closures.
Chair of the Jury
Former Chief Justice of India, Justice T.S. Thakur was the chair of the international jury of the Indira Gandhi Prize for Peace, Disarmament and Development.
Last Recipient
Sir David Frederick Attenborough, an English broadcaster, natural historian and author was the last recipient (2019).
About Pratham
Set up in 1995 in Mumbai by Dr. Madhav Chavan and Ms. Farida Lambay, Pratham started work in Mumbai slums, setting up community based "Balwadis" or pre-schools and offering remedial education for students lagging behind their grade level curriculum.
Its Annual Status of Education Report (ASER), based on surveying 6,00,000 rural Indian children, is now used as a model to assess education outcomes and learning deficiencies in 14 countries over three continents.
About the Award
The Indira Gandhi Prize for Peace, Disarmament and Development, is accorded annually by Indira Gandhi Memorial Trust to individuals or organisations in recognition of creative efforts toward promoting international peace, development and a new international economic order; ensuring that scientific discoveries are used for the larger good of humanity, and enlarging the scope of freedom.
Sports In News Archery
Asian Archery Championships 2021
---
The 22nd Asian Archery Championships was held in Dhaka, Bangladesh from 14-19 November, 2021.
With seven medals, India took second place in the tournament. With 15 medals, South Korea topped the medal table. Host Bangladesh came at third place with 3 medals.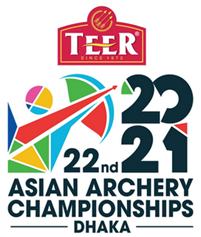 Indian Medal Winners
Gold
Jyothi Surekha Vennam (Women's individual compound event)
Silver
Pravin Jadhav, Kapil, and Parth Salunkhe (Men's team recurve event)
Ankita Bhakat, Ridhi and Madhu Vedwan (Women's team recurve event)
Abhishek Verma (Men's individual compound event)
Rishabh Yadav and Jyothi Surekha Vennam (Mixed Team compound event)
Bronze
Aman Saini, Abhishek Verma and Rishabh Yadav (Men's team compound event)
Ankita Bhakat, Kapil (Mixed team recurve event)
Medal Table
Rank

Nation

Gold

Silver

Bronze

Total

1

South Korea

9

3

3

15

2

India

1

4

2

7

3

Bangladesh

0

1

2

3

Kazakhstan

0

1

2

3

5

Iran

0

1

1

2
Sports In News Cricket
India-New Zealand T20 Series
---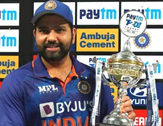 India took a clean-sweep over the Kiwis in the three match series 3-0.
Axar Patel was declared Player of the Match while Rohit Sharma was declared Player of the Series.
News Crux Important Days/Weeks
21 November: World Fisheries Day
---
The World Fisheries Day is observed on 21 November annually to highlights the importance of healthy oceans ecosystems and to ensure sustainable stocks of fisheries in the world.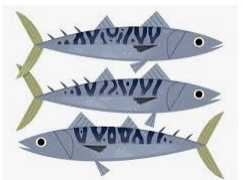 This Year's Observation (India)
The Govt. of India observed World Fisheries Day in Bhubaneswar, Odisha.
Awards at the Event
Best Marine State: Andhra Pradesh
Best Marine District: Balasore (Odisha)
Best Inland State: Telangana
Best Inland District: Balaghat (Madhya Pradesh)
Best Hilly and Northeastern State: Tipura
Best Hilly and Northeastern District: Bongaigaon (Assam)
News Crux Important Days/Weeks
21 November: World Day of Remembrance for Road Traffic Victims
---
The World Day of Remembrance for Road Traffic Victims is observed every year on third Sunday in the month of November to remember those killed and injured on the roads, together with their families, friends, and others affected.
The theme of the World Day of Remembrance for Road Traffic Victims 2021 puts the spotlight on the reduction of traffic speeds – low speeds, which have the potential to prevent many deaths and serious injuries, in particular those of pedestrians and all other vulnerable road users – children, elderly and the disabled.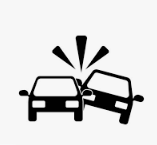 News Crux Awards In News
Swachh Survekshan Awards 2021
---
Swachh Survekshan Awards 2021 was recently presented by the President of India.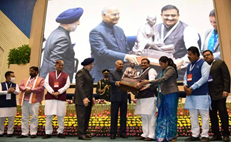 (Image Source: PIB)
Category/Winner
Cleanest State (With more than 100 Urban Local Bodies): Chhattisgarh
Cleanest State (With less than 100 Urban Local Bodies): Jharkhand
Cleanest City (With less than One Lakh Population): Vita City of Maharashtra
Cleanest Small City (1-3 Lakh Population): New Delhi Municipal Council
Cleanest Medium City (3-10 Lakh Population): Noida
Cleanest Big City' (10-40 Lakh Population): Navi Mumbai
Cleanest District: Surat
Cleanest City: Indore
Cleanest Ganga Town: Varanasi
Cleanest Cantonment Board: Ahmedabad Cantonment
Fastest Mover Small City: Hoshangawad, Madhya Pradesh
Best Small City in Citizens' Feedback: Triputi, Maharashtra
Top City in Safaimitra Suraksha Challenge: Navi Mumbai
---