News Crux Important Days/Weeks
National Mathematics Day
---
National Mathematics Day is observed in India every year on 22nd December since 2012.
The day is celebrated to commemorate the birth anniversary of Mathematician Srinivasa Ramanujan.
The key objective behind the celebration of National Mathematics Day is to make people aware of the development of mathematics and its importance in human progress.
PIB News National
AERV Inducted Into Indian Army
---
On 21st December, 2021, the first batch of Indigenous Armoured Engineer Reconnaissance Vehicles was inducted into the Indian Army.
Armoured Engineer Reconnaissance Vehicle (AERV)
These next-generation vehicles were inducted into the Corps of Engineers of the Indian Army.
AERV has been indigenously designed by Defence Research and Development Organisation (DRDO).
It was manufactured by Ordnance Factory, Medak in association with Bharat Electronics Limited, Pune.
These vehicles will be deployed with individual engineering formations, mainly on the Western front.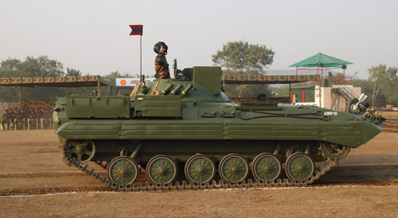 Significance
The vehicle is capable of carrying out reconnaissance of water obstacles and boggy patches for execution of engineer tasks with capabilities to carry out reconnaissance.
It can provide real time update to force commanders.
The system will enhance existing engineer reconnaissance capabilities of Indian Army and would be a major game changer in support of mechanised operations in future conflicts.
Current News National Polity & Governance
The National Anti-Doping Bill 2021
---
Recently, the National Anti-Doping Bill, 2021 was introduced in Lok Sabha.
It seeks to prohibit doping in sports and establish a National Anti-Doping Agency, which will replace the existing National Anti-Doping Agency.
Key Features
Prohibition of Doping
Prohibits athletes, athlete support personnel and other persons from engaging in doping in sport.
Support personnel include the coach, trainer, manager, team staff, medical personnel, and other persons working with or treating or assisting an athlete.
National Anti-Doping Agency
The Bill provides for constituting this National Anti-Doping Agency as a body corporate.
It will be headed by a Director General appointed by the central government.
Functions of the Agency include: (i) planning, implementing, and monitoring anti-doping activities, (ii) investigating anti-doping rule violations, and (iii) promoting anti-doping research.
National Board for Anti-Doping in Sports
It establishes a National Board for Anti-Doping in Sports to make recommendations to the government on anti-doping regulation and compliance of international commitments on anti-doping.
The Board will oversee the activities of the Agency and issue directions to it.
The Board will consist of a Chairperson and two members appointed by the central government.
Exemptions
If any athlete requires a prohibited substance or method due to a medical condition, they may apply to the National Anti-Doping Agency for a therapeutic use exemption.
Consequences of Violations
Anti-doping rule violation by an individual athlete or athlete support personnel may result in: (i) disqualification of results including forfeiture of medals, points, and prizes, (ii) ineligibility to participate in a competition or event for a prescribed period, (iii) financial sanctions, and (iv other consequences as may be prescribed.
Dope Testing Laboratories
The existing National Dope Testing Laboratory will be deemed to be the principal dope testing laboratory.
The central government may establish more National Dope Testing Laboratories.
---