News Crux Awards In News
"Tomb of Sand" wins International Booker Prize
---
Indian writer Geetanjali Shree and American translator Daisy Rockwell won the International Booker Prize 2022 for "Tomb of Sand".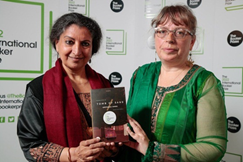 Originally written in Hindi – ('Ret Samadhi'), it's the first book in any Indian language to win the International Booker Prize.
Shree was the first Indian to get nominated to the International Booker Prize.
Shree is also the first Hindi novelist to achieve this feat.
The 50,000-pound ($63,000) prize money will be split between New Delhi-based Shree and Rockwell.
The book tells the story of an octogenarian widow who dares to cast off convention and confront the ghosts of her experiences during the subcontinent's tumultuous 1947 partition into India and Pakistan.
The International Booker Prize is awarded every year to a translated work of fiction published in the U.K. or Ireland. It is run alongside the Booker Prize for English-language fiction.
News Crux Persons In News
Captain Abhilasha Barak: First Woman Combat Aviator in Indian Army
---
On May 25, 2022, Captain Abhilasha Barak became the first woman combat aviator in the Indian Army.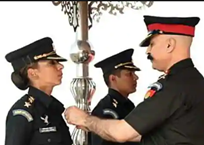 The Officer from Haryana has joined the Army Aviation Corps as a helicopter pilot after concluding a year-long course at the Combat Army Aviation Training School in Nashik, Maharashtra.
News Crux Survey/Index
Travel & Tourism Development Index 2021
---
India has been ranked at the 54th place in a global Travel and Tourism Development Index 2021, down from 46th in 2019, but still remained on the top within South Asia.

Japan has topped the global charts, followed by the US, Spain, France, Germany, Switzerland, Austraila, UK, Singapore and Italy in the top ten.
This biennial Index is brought out by the World Economic Forum with the theme "Rebuilding for a Sustainable and Resilient Future".
The Travel and Tourism Development Index assesses 117 economies, identifying key factors in enabling the sustainable and resilient growth of travel and tourism economies.
---