Sports In News Shooting
ISSF Junior World Cup 2022
---
International Shooting Sport Federation (ISSF) Junior World Cup 2022 was held at Suhl in Germany.

The Indian team came in first position overall. They won 33 medals (13 gold, 15 silver, and 5 bronze).
With four gold medals, Italy came in second place.
News Crux Awards In News
SEEDS gets UN Sasakawa Award 2022
---
SEEDS (Sustainable Ecological & Environmental Development Society), South Asia's foremost non-profit organisation working in the field of disaster risk reduction and climate change was awarded the United Nations Sasakawa Award 2022 for Disaster Risk Reduction at the 7th Session of Global Platform for Disaster Risk Reduction (GPDRR) 2022 held in Bali, Indonesia.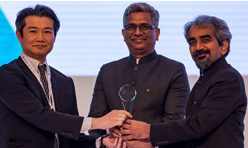 SEEDS was among the six laureates of the 2022 United Nations Sasakawa Award for Disaster Risk Reduction who have been recognised for initiatives which protect vulnerable communities from disaster risk.
About the Award
The United Nations Sasakawa Award for Disaster Risk Reduction was created more than 30 years ago and is jointly organised by the United Nations Office for Disaster Risk Reduction and the Nippon Foundation.
The central theme for the Sasakawa Award 2022 was "Building resilience through a multi-hazard approach."
About SEEDS
SEEDS (Sustainable Environment and Ecological Development Society) is a not-for-profit organisation that enables community resilience through practical solutions in the areas of disaster readiness, response and rehabilitation.
SEEDS is also India's first agency to be verified on the parameters of the global Core Humanitarian Standards (CHS) – an international certification system for quality and accountability in humanitarian response.
SEEDS has been awarded with the most prestigious annual Subhash Chandra Bose Aapda Prabandhan 2021 by the Government of India acknowledging the invaluable contribution and selfless service rendered by individuals and organisations in India in the field of Disaster Management.
News Crux Persons In News
Lovlina Borgohain elected Chair of IBA Athletes Committee
---
India's Tokyo Olympics bronze medallist Lovlina Borgohain has been elected as chairman and voting member on the Board of Directors for the International Boxing Association's (IBA) Athletes Committee

Further, Indian boxer Shiva Thapa has also been elected as a member of the IBA Athletes Committee following the election held during the 2021 IBA Men's World Championships.
---