Current News Indian Economy Survey And Index
India's Gig and Platform Economy: A Report by NITI Aayog
---
On 27th June, 2022, NITI Aayog launched a report titled 'India's Booming Gig and Platform Economy: Perspectives and Recommendations' on Future of Work'.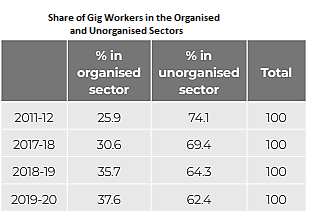 Objective
The objective of the study was to understand the significance of this sector to the economy, to employment generation and suggest measures to encourage employment in the sector, along with initiatives for social security.
Why Focus on Gig Economy
The rapidly burgeoning gig workforce is ushering in a new economic revolution globally.
India – with its demographic dividend of half-a-billion labour force and the world's youngest population, rapid urbanisation, widespread adoption of smartphones and associated technology – is the new frontier of this revolution.
Gig economy – transforming the way we move, work, and live – not just impacts how we do business but also affects our GDP.
Features of the Report
The report is a first-of-its-kind study that presents comprehensive perspectives and recommendations on the gig–platform economy in India.
The report provides a scientific methodological approach to estimate the current size and job-generation potential of the sector.
It highlights the opportunities and challenges of this emerging sector and presents global best practices on initiatives for social security and delineates strategies for skill development and job creation for different categories of workers in the sector.
Key Findings
The report estimates that in 2020–21, 77 lakh (7.7 million) workers were engaged in the gig economy. They constituted 2.6% of the non-agricultural workforce or 1.5% of the total workforce in India.
The gig workforce is expected to expand to 2.35 crore (23.5 million) workers by 2029–30.
Gig workers are expected to form 6.7% of the non-agricultural workforce or 4.1% of the total livelihood in India by 2029–30.
At present, about 47% of the gig work is in medium skilled jobs, about 22% in high skilled and about 31% in low skilled jobs.
Trend shows the concentration of workers in medium skills is gradually declining and that of the low skilled and high skilled is increasing.
Recommendations
To harness the potential of the gig-platform sector, the report recommends:
A. Policy Recommendations
1. Catalyse Platformization in India
Platformization of all occupations and industries must be catalysed.
Promote entrepreneurship, and ensure ease of starting and doing business in the platform economy.
Accelerate the platformization of the mobility economy.
Skilling, upskilling, and reskilling programmes must all be aligned to jobs of the 21st century, i.e. platform jobs of today and tomorrow.
2. Unlock Financial Support for Platform Businesses
3. Accelerate Financial Inclusion of Platform Workers
B. Recommendations for Future Estimation
Separate Enumeration: Undertake a separate enumeration exercise to estimate the size of the gig economy, and identify the characteristic features of gig workers.
Identify Gig Workers: During official enumerations (PLFS, NSS or otherwise), collect information to identify gig workers. This could include questions on the nature of contract between worker and job creator, use of technology in work, etc.
Gig & Platform Workers
Gig workers can be broadly classified into platform and non-platform workers.
Platform workers are those whose work is based on online software apps or digital platforms while non-platform gig workers are generally casual wage workers, working part-time or full- time.
News Crux Ecology & Environment
Carnivorous Plant found in Uttarakhand
---
An ultra-rare carnivorous plant Utricularia Furcellata has been found in Uttarakhand (in the western Himalayan region) for first time.

It was found in Uttarakhand's Mandal valley, Chamoli district, at an altitude of 4,800 feet.
The plant was last seen in the country in northeastern Meghalaya state in 1986.
The plant belongs to a genus, commonly known as bladderworts, which uses one of the most sophisticated and developed plant structures for trap and its targets range from protozoa to insects, mosquito larvae and even the young tadpoles.
Its operation is simply based on a mechanical process that is by creating a vacuum or negative pressure area to draw prey inside the trap door. These plants are mostly found in fresh water and wet soil.
The species face threat due to heavy biotic pressure because of being at a tourist spot.
News Crux Awards In News
Vijay Amritraj honoured with Golden Achievement Award
---
India's Vijay Amritraj has been named the 2021 recipient of the Golden Achievement Award.

The Golden Achievement Award is presented annually by the International Tennis Hall of Fame and International Tennis Federation.
He is first recipient of this award from India.
The award is given to a person who has made important contributions internationally to tennis in the fields of administration, promotion, or education and has devoted long and outstanding service to the sport.
Amritraj was the first Indian player to turn professional on the ATP Tour.
News Crux Appointment & Resignation
Nitin Gupta appointed as the Chairman of CBDT
---
IRS officer Nitin Gupta has been appointed as the new Chairman of Central Board of Direct Taxes (CBDT).

He will replace Ms. Sangeeta Singh who was given the additional charge.
About CBDT
The Central Board of Direct Taxes is a statutory authority functioning under the Central Board of Revenue Act, 1963.
It is the administrative body for the Income Tax department.
The CBDT is headed by a Chairman and can have six members who are in the rank of special secretary.
News Crux Miscellaneous
India's Largest Floating Solar Power Project
---
Tata Power Solar, a wholly-owned subsidiary of Tata Power has commissioned India's largest floating solar power project of 101.6 Megawatt Peak (MWp) in Kerala backwaters.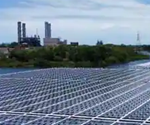 The project is installed on a 350-acre water body in Kayamkulam, Kerala.
This project is the first in the Floating Solar Photovoltaic (FSPV) through power purchase agreement category.
The project reinforces to India's transition towards a greener future and achieving the collective vision of realizing 500 GW of energy through solar power by 2030.
---