Current News National Study/Survey/Report/Index
First Multidimensional Poverty Index (MPI) of India
---
NITI Aayog has released the first-ever Multi-dimensional Poverty Index (MPI) of India.
This baseline report of the national MPI measure is based on the reference period of 2015-16 of the National Family Health Survey (NFHS).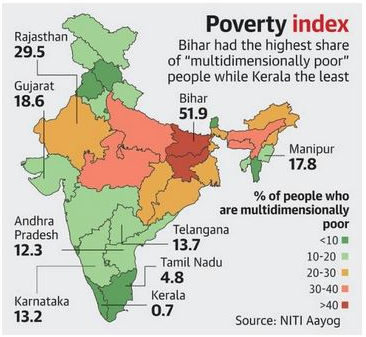 Objective
The MPI seeks to measure poverty across its multiple dimensions and in effect complements existing poverty statistics based on per capita consumption expenditure.
Dimensions & Indicators
The Index is based on three equally weighted dimensions – health, education, and standard of living – which in turn are represented by 12 indicators such as nutrition, school attendance, years of schooling, drinking water, sanitation, housing, bank accounts among others.
The MPI uses the globally accepted methodology developed by the Oxford Poverty and Human Development Initiative (OPHI) and the United Nations Development Programme (UNDP). The dimensions of the index have proven to help identify and achieve targeted policy interventions.
Key Findings
Overall, 25% of the population in India is Multi-dimensionally poor.
Performance of States/UTs
Highest Poverty
States: Bihar has the highest proportion of people, at 51.91 per cent of the state's population, who are multi-dimensionally poor, followed by Jharkhand at 42.16 per cent and Uttar Pradesh at 37.79 per cent.
UTs: Among the Union Territories (UTs), Dadra and Nagar Haveli (27.36 per cent), Jammu & Kashmir, and Ladakh (12.58), Daman & Diu (6.82 per cent) and Chandigarh (5.97 per cent), have emerged as the poorest UTs in India.
Lowest Poverty
States: Kerala, Goa, and Sikkim have the lowest percentage of population being multi-dimensionally poor at 0.71 per cent, 3.76 per cent and 3.82 per cent, respectively.
UTs: The proportion of poor in Puducherry at 1.72 per cent is the lowest among the Union Territories, followed by Lakshadweep at 1.82 per cent, Andaman & Nicobar Islands at 4.30 per cent and Delhi at 4.79 per cent.
Global Multidimensional Poverty Index 2021
According to Global MPI 2021, released recently by the United Nations Development Programme (UNDP) and Oxford Poverty & Human Development Initiative (OPHI), India's rank is 66 out of 109 countries.
The Index Uses Three Dimensions and Ten Indicators:
Education: Years of schooling and child enrollment
Health: Child mortality and nutrition
Standard of Living: Electricity, flooring, drinking water, sanitation, cooking fuel and assets
Major Findings on India
In India five out of six multi-dimensionally poor people are from lower tribes or castes (ST-9.4%; SC-33.3%; and OBC- 27.2%).
---