Current Affairs - Meghalaya
On 17th September 2021, Meghalaya Enterprise Architecture Project (MeghEA) was launched.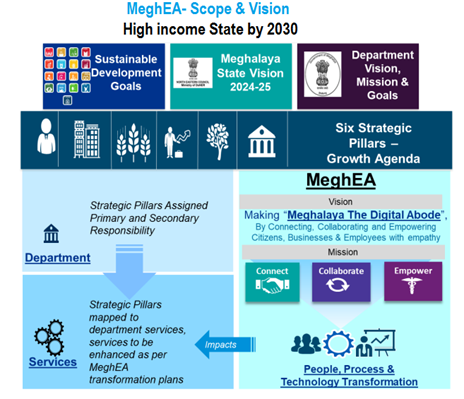 Meghalaya has become the first state to implement IndEA as MeghEA and promote Enterprise Architecture to digitise governance process.
Aim of this Project
The project aims to improve service delivery and governance for the people using power of Digital technologies at grassroots level.
About IndEA
IndEA is an initiative of the Centre to promote digital governance in the country and aims to expedite the delivery service system in the governance process.
IndEA was notified as an e-Governance standard by the Ministry of Electronics and Information Technology (MeitY) in October 2018.
The primary purpose of IndEA is to help state governments, ministries and departments in the governments at various levels to adopt a structured approach for developing their enterprise architecture.