Current News International WHO
Immunity Passport
---
As countries around the world are struggling to lift lockdowns due to the novel coronavirus pandemic, policymakers are deliberating how to deal with future outbreaks as and when they emerge.
Among the ideas being considered is an "immunity certificate" or "immunity passport", whose holders would be able to get back to work.
Need
Lockdowns around the world have severely impacted the global economy, with many governments facing glaring challenges such as high unemployment and fall in production.
Under increasing pressure to reopen their economies, parts of Europe and the US have been considering issuing immunity certificates to people who have recovered from COVID-19 and have its antibodies– thus presumed to be immune to the disease.
What is Immunity passport or certificate?
Idea behind the concept is that the people who are issued these certificates would be allowed to go back to work and move about freely.
In Germany, researchers have suggested testing 1 lakh people, and issuing certificates to those who have antibodies for the novel coronavirus.
UK has suggested that such a certificate could be in the form of a wristband.
The idea has also become popular in Italy, where the lockdown exit strategy includes compulsory antibody tests as the country seeks to set up the certificate system.
Why WHO is against Immunity Passport?
The World Health Organization (WHO) has warned against issuing "immunity passports" to people who have recovered from Covid-19, as there is no evidence that they will be protected from a second infection.
Instead, the certificates could pose a health risk by providing unjustified assurances of protection to individuals and their communities.
People who assume that they are immune to a second infection because they have received a positive test result may ignore public health advice.
The use of such certificates may therefore increase the risks of continued transmission.
There have been reports, including from China and South Korea, of patients who appeared to have recovered from the disease testing positive again.
Further it said that the issue of false negative and false positive both hinder the efforts to stop the public transmission of the disease and in the circumstances when accuracies of different models of testing across different countries are not 100 percent, the issuance of Immunity passport will further deepen the crisis.
Would such a certificate be reliable?
Experts have cautioned governments against acting in haste, since much still remains to be understood about the spread of the virus, as well as immunity to it.
Lack of necessary information would make categorising between immune and non-immune persons a challenging as well as potentially dangerous task, they insist.
There are also logistical problems, as not enough test kits are still available around the world to be able to issue such certificates on a large scale.
Also, many researchers continue to remain sceptical about entirely relying on antibody tests to issue certificates.
At the same time, experts have said that issuing such certificates would create resentment among members of the community, and raise the possibility of stigmatisation.
As younger populations are known to be more resilient to the virus, they would be more favoured to get immunity certificates, as opposed to older people, leading to divisions.
How would this help in the response to the Coronavirus pandemic?
If everything works, the antibody tests and the assumption that recovered people get enough immunity to not get COVID-19 again, then immunity passports would help us get out of stay-at-home orders and economic shutdown.
In theory, people who have an immunity passport could safely return to work because they would not get sick again and start passing the virus around.
As tests become available, then business and activity could slowly return to normal.
Current News Indian Economy Plan Policy
Amendments To FDI Policy
---
On 18th April, 2020, the government amended the extant Foreign Direct Investment (FDI) policy, mandating neighbouring countries to require government approval, effectively closing the "automatic route" used by firms and individuals to set up business in the country.
Need
India's move was attributed to the rising possibility of "opportunistic takeovers" of its companies, as the coronavirus pandemic wreaks havoc on the economy.
Several Indian start-ups have existing investment from Chinese investors. For instance, Flipkart has an investment from Tencent (about 5 percent) and Alibaba owns a significant stake in Paytm.
The decision came days after China's central bank, the People's Bank of China (PBoC) had raised its shareholding in HDFC to over 1 percent.
It is to be noted that China's FDI has grown five-fold since 2014 and, as of December 2019, its cumulative investment in India exceeded $8 billion — "far more" than investments by other countries that share borders with India.
Present FDI Norms for Neighbouring Countries
FDI in India is allowed under two modes - automatic (companies don't need government approval) or via the government (companies need a go-ahead from the centre).
A non-resident entity can invest in India, subject to the FDI Policy except in those sectors/activities which are prohibited.
However, a citizen of Bangladesh or an entity incorporated in Bangladesh can invest only under the Government route.
Further, a citizen of Pakistan or an entity incorporated in Pakistan can invest, only under the Government route, in sectors/activities other than defence, space, atomic energy and sectors/activities prohibited for foreign investment.
Changes Made
The existing FDI policy as applicable to investments from India's neighbourhood, was confined to Bangladesh and Pakistan, while the new policy brings China, Nepal, Bhutan and Myanmar within its ambit.
Firms in neighbouring countries wanting to invest in Indian companies would first need its approval.
An entity of a country that shares a land border with India can now invest in firms here "only under the Government route".
This also applies to "beneficial" owners — even if the investing company is not located in a neighbouring country, it would still be subject to these conditions if its owner is a citizen or resident of such a country.
In the event of the transfer of ownership of any existing or future FDI in an entity in India, directly or indirectly, resulting in the beneficial ownership, such subsequent change in beneficial ownership will also require Government approval.
China's response
China said that the additional barriers set by Indian side for investors from specific countries violate WTO's (World Trade Organization) principle of non-discrimination, and go against the general trend of liberalization and facilitation of trade and investment.
China has called for India to revise these "discriminatory practices" and treat investments from different countries equally.
Further, China said that the new norms do not conform to the consensus of G20 leaders and trade ministers to realize a free, fair, non-discriminatory, transparent, predictable and stable trade and investment environment, and to keep our markets open.
India's Argument
India maintains the policy is not aimed at any one country and that the move is aimed at curbing "opportunistic" takeovers of Indian firms, many of which are under strain.
The amendments are not prohibiting investments. There are many sectors in India that are already subject to this approval route.
International Measures
On March 25, 2020, the European Commission issued guidelines to ensure "a strong EU-wide approach" to foreign investment screening at such a time. The aim was to preserve EU companies and critical assets, notably in areas like health, medical research, biotechnology and infrastructures essential for security and public order, without undermining the EU's general openness to foreign investment.
On March 30, 2020, Australia temporarily tightened rules on foreign takeovers over concerns that strategic assets could be sold off cheaply. This followed warnings that distressed Australian companies in the aviation, freight and health sectors could become vulnerable to buyouts by state-owned enterprises, especially China. All foreign takeover and investment proposals will now be scrutinised by Australia's foreign investment review board.
Spain, Italy and the US too has implemented investment-related restrictions.
Concerns and Unintended Effects
The amended policy makes every type of investment by Chinese investors subject to government approval. Such a blanket application could create unintended problems.
It does not distinguish between Greenfield and Brownfield investments. It may pose obstacles to Greenfield investments where Chinese investors bring fresh capital to establish new factories and generate employment in India.
Further, the amendments do not distinguish between the different types of investors, such as industry players, financial institutions, or venture capital funds.
The restrictions on Venture capital funds may impact the prospects of many start-ups in the Indian market.
According to the experts, there are different sets of procedures for the same set of investments based on which country the company is investing from. This is where the potential issue of discrimination arises. While India can discriminate in favour of domestic investment, discrimination against certain countries for non-security reasons may not be seen favourably on the global stage.
Current News Science & Technology Health & Disease
Chitra GeneLAMP-N Test Kit
---
Sree Chitra Tirunal Institute for Medical Sciences and Technology, Trivandrum, an Institute of National Importance, of the Department of Science and Technology (DST), has developed a diagnostic test kit that can confirm COVID19 in 2 hours at low cost.
About Chitra GeneLAMP-N
The test kit, funded by the DST called Chitra GeneLAMP-N, is highly specific for SARS-CoV-2 N-gene and can detect two regions of the gene.
It will help ensure that the test does not fail even if one region of the viral gene undergoes mutation during its current spread.
Mode of Working
The confirmatory diagnostic test detects the N Gene of SARS- COV2 using reverse transcriptase loop-mediated amplification of viral nucleic acid (RT-LAMP).
The tests performed at NIV Alappuzha (authorized by ICMR) show that Chitra GeneLAMP- N has 100% accuracy and match with test results using RT-PCR.
The results can be read from the machine from the change in fluorescence.


Benefits
Current PCR kits in India enable detection of E gene for screening and RdRp gene for confirmation.
Chitra GeneLAMP-N gene testing will allow confirmation in one test without the need for a screening test and at much lower costs.
The cost of testing with the new device for LAMP testing and the test kit for 2 regions of N gene( including RNA extraction) will be less than Rs 1000/test for the laboratory.
The detection time is 10 minutes, and the sample to result time (from RNA extraction in swab to RT-LAMP detection time) will be less than 2 hours.
A total of 30 samples can be tested in a single batch in a single machine allowing a large number of samples to be tested each day.
The testing facility can be easily set up even in the laboratories of district hospitals with limited facilities and trained laboratory technicians.
Reverse Transcription Loop-mediated Isothermal Amplification (RT-LAMP)
Loop-mediated isothermal amplification (LAMP) is a single-tube technique for the amplification of DNA and a low-cost alternative to detect certain diseases.
RT-LAMP) combines LAMP with a reverse transcription step to allow the detection of RNA.
RT-LAMP is used in the detection of viruses.
This method is very effective in detecting viruses with an RNA genome (Group II, IV, and V based on the Baltimore Virus Classification system).
Advantages
This method is specifically advantageous because it can all be done quickly in one step.
There is no need for expensive thermocycling equipment that is necessary for other methods like PCR, which makes RT-LAMP very cost effective.
Current News Science & Technology Health & Disease
Post-Intensive Care Syndrome
---
Recently, various news reports in recent weeks have pointed out that for some Covid-19 patients who needed intensive care, the journey to recovery is a long one.
After leaving the ICU, they may suffer from what is known as post-intensive care syndrome (PICS), which can happen to any person who has been in the ICU.
What is post-intensive care syndrome?
PICS is defined as new or worsening impairment in physical (ICU-acquired neuromuscular weakness), cognitive (thinking and judgment), or mental health status arising after critical illness and persisting beyond discharge from the acute care setting.
It comprises impairment in cognition, psychological health and physical function of a person who has been in the ICU.
Further, such patients may experience neuromuscular weakness, which can manifest itself in the form of poor mobility and recurrent falls.
Psychological disability may arise in a person in the form of depression, anxiety and post-traumatic stress disorder (PTSD).
Causes
PICS may be induced if a person was on prolonged mechanical ventilation, experienced sepsis, multiple organ failure and a prolonged duration of "bed-restore deep sedation".
Nearly, 33 percent of the people on ventilators may develop ICU-acquired muscle weakness (ICUAW).
Along with this, 50 percent of those who develop sepsis and up to 50 percent of the patients who stay in the ICU for at least one week are also prone to ICUAW.
Further, after leaving the ICU, over 30-80 percent may develop problems related to cognitive function and other mental health issues, including difficulty in falling and staying asleep.
Symptoms
The most common PICS symptoms are generalised weakness, fatigue, decreased mobility, anxious or depressed mood, sexual dysfunction, sleep disturbances and cognitive issues.
These symptoms may last for a few months or many years after recovery.
Treatment
It is recommended that to avoid PICS, patients' use of deep sedation is limited and early mobility is encouraged, along with giving them "aggressive" physical and occupational therapy.
Further, patients should be given the lowest dose of pain medications when possible, and should be put on lung or cardiovascular rehabilitation treatments along with treatments for depression, anxiety and PTSD.
Current News National National Security
India To Get MK 54 Torpedoes And AGM-84L Harpoon Missiles
---
On 13th April, 2020, , the US Department of State approved a possible Foreign Military Sale to India of 16 MK 54 all round up lightweight torpedoes and ten AGM-84L Harpoon Block II air-launched missiles.
India intends to use the equipment on the Indian Navy's Boeing P-8I maritime aircraft.
MK 54 Lightweight Torpedos
Previously, known as the Lightweight Hybrid Torpedo (LHT), it weighs around 608 pounds, while its warhead weighs around 96.8 pounds and is highly explosive.
These torpedoes are used by US surface ships, fixed-wing aircraft and helicopters and are their primary anti-submarine warfare weapon.
The primary use of this equipment is for offensive purposes when deployed by anti-submarine warfare aircraft and helicopters, and for defensive purposes when deployed by ships and against fast, deep-diving nuclear submarines and slow-moving, quiet, diesel-electric submarines.
AGM-84L Harpoon Block II Air-Launched Missiles
The Harpoon missile system will be integrated into the P-8I aircraft to conduct anti-surface warfare missions in defense of critical sea lanes.
It uses GPS-aided inertial navigation to hit the designated target.
Its warhead weighs over 500 pounds and is capable of delivering lethal firepower against targets, including land-based targets, coastal defence sites, surface-to-air missile sites, exposed aircraft and industrial or port facilities.
P-8I Aircraft
Boeing's P-8s are designed for long-range anti-submarine warfare, anti-surface warfare and intelligence, surveillance and reconnaissance missions.
The P-8s India version is called the P-8I, and helps the Indian Navy carry out important maritime operations.
India currently has eight of these aircraft and is scheduled to receive four more by 2022. One of these is expected to be delivered this year.
Impact
Improving Bilateral Relation
The proposed sale will support the foreign policy and national security of the United States by helping to strengthen the U.S.-Indian strategic relationship.
It will further help to improve the security of a major defensive partner, which continues to be an important force for political stability, peace, and economic progress in the Indo-Pacific and South Asia region.
Enhancing India's Strategic Capabilities
It will help improve India's capability to meet existing and future threats from enemy weapon systems.
The Harpoon missile system can perform anti-surface warfare missions to defend critical sea lanes when integrated into the P-8I aircraft.
The MK 54 lightweight torpedo will provide the capability to conduct anti-submarine warfare missions.
The enhanced capability will be used by India as a deterrent to regional threats and to strengthen its homeland security.
Current News Science & Technology Health & Disease
Pool Testing
---
Now with the number of cases spiking and the fear of community spread in some areas the Indian Council of Medical Research (ICMR), on 14th April, 2020, issued an advisory for using pooled samples for testing of COVID-19 across the country.
Objective
The objective is to increase the capacity of the laboratories to screen increased numbers of samples using molecular testing for COVID-19 for the purpose of surveillance.
About Pool Testing
In a pooled testing algorithm, samples of multiple individuals are put together in a tube and screened through the Polymerase Chain Reaction (PCR) test.
In case the pooled test turns out to be positive, individual samples are tested, which is referred to as pool de-convolution.
If there's no positive result, all individual samples in the pool are regarded as negative, resulting in substantial cost savings.
Criteria for Pool Testing
This method can be used in areas where the prevalence of COVID-19 is low, which means a positivity rate of less than two percent.
Pooling of sample is not recommended in areas or population with positivity rates of over five per cent.
According to the ICMR, more than two samples can be pooled together; the number should not exceed five samples to avoid sample dilution, which can lead to false negatives.
Samples of individuals with known contact with confirmed cases or healthcare workers should not be included in the pooled samples.
Deconvoluted testing (testing individual samples) is recommended if any of the pool is positive.
Benefits of Pool Testing
Cost and Resource Effective
It increases the capacity of testing and it saves a lot of resources — time, cost and manpower.
For instance, if a pooled sample consists of the samples of five individuals and it tests negative, the cost of four testing kits is saved and more number of people are covered with fewer resources.
But in case the sample tests positive, all individuals need to be tested separately.
Help in Tracking Community Transmission
Significantly, pooled screening can also help in tracking down the asymptomatic cases of the disease, thereby tracking community transmission.
Current News National Indian Art, Culture & Heritage
Nihangs
---
Recently, in Patiala (Punjab), a group of Nihangs attacked a Punjab police party, has put the spotlight on the Nihangs.
About Nihang
Nihang is an order of Sikh warriors, characterised by blue robes, antiquated arms such as swords and spears, and decorated turbans surmounted by steel quoits.
Etymologically the word nihang in Persian means an alligator, sword and pen but the characteristics of Nihangs seem to stem more from the Sanskrit word nihshank which means without fear, unblemished, pure, carefree and indifferent to worldly gains and comfort.
Origin
The Nihangs trace their origins to the founding of the Khalsa Panth by the 10th Sikh Guru, Gobind Singh, around 1699.
Many claim the sect to be "guru di laadli fauj" (the guru's favourite army).
The armed sect is believed to have emerged from the Akaal Sena, a band of soldiers of Guru Hargobind, the sixth guru.
Later, the Akaal Sena metamorphosed into the 'Khalsa Fauj' of the 10th guru.
Social Structure
The Nihangs are not one consolidated sect or group
There are very divided and while following the same traditions and norms, they have their own independent deras, some of which are at loggerheads with one another for prominence,
Men and women both train in horsemanship, swordsmanship, and in the Punjabi martial art known as gatka.
Difference with other Sikh warriors
Nihangs did not consider themselves subordinate to any Sikh chief and thus maintained their independent existence.
They observe the Khalsa code of conduct in its strictest sense. They do not profess any allegiance to an earthly master.
Instead of saffron they hoist a blue Nishan Sahib (flag) atop their shrines.
Nihangs use the slogans 'chhardi kala' (forever in high spirits) and 'tiar bar tiar' (state of ever preparedness) for unforeseen events.
The Nihangs are fond of a popular drink called shardai or sharbati degh (sacrament drink) which contains grounded almonds, cardamom seeds, poppy seeds, black pepper, rose petals and melon seeds.
When a small measure of cannabis is added to it, it is termed sukhnidhan (treasure of comfort).
A higher dose of cannabis in it was known as shaheedi deg, sacrament of martyrdom. It was taken (while) battling enemies.
Role in Sikh History
Nihangs had a major role in defending the Sikh panth after the fall of the first Sikh rule (1710-15) when Mughal governors were killing Sikhs, and during the onslaught of Afghan invader Ahmed Shah Durrani (1748-65).
Nihangs also took control of the religious affairs of the Sikhs at Akal Bunga (now known as Akal Takht) in Amritsar.
Their clout came to an end after the fall of Sikh Empire in 1849 when the British authorities of Punjab appointed a manager (sarbrah) for the administration of the Golden Temple in 1859.
Current News Indian Economy Plan Policy
Helicopter Money
---
With no quick escape in sight for Covid-ravaged economies, authorities the world over are going back to the drawing board to find strategies to deal with this nightmare.
In India, Telangana chief minister K. Chandrashekhar Rao suggested printing of currency and called for implementing a 'Helicopter Money' scheme.
Key Points
Telengana CM urged the Centre to make RBI pump at least 5% per cent of Gross Domestic Product (GDP) which was ₹203 lakh crore.
At this rate, the RBI could inject ₹10 lakh crore into the economy. Otherwise, neither the Centre nor the State governments had the money to revive the economy.
Citing the example, he said US was releasing 2% and UK 15% GDP, in order to provide some ease to their sagging economies.
About Helicopter Money
Helicopter money is the term used for a large sum of new money that is printed and distributed among the public, to stimulate the economy during a recession or when interest rates fall to zero.
It is also referred to as a helicopter drop, in reference to a helicopter scattering supplies from the sky.
American economist Milton Friedman coined this term in 1969.
Difference with Quantitative Easing (QE)
Central banks use quantitative easing to increase the money supply and lower interest rates by purchasing government or other financial securities from the market to spark economic growth.
While, Helicopter money basically means non-repayable money transfer from the central bank to the government, central banks use QE to create money and then purchase assets using the printed money.
QE does not have a direct impact on the public, while helicopter money is made directly available to consumers to increase consumer spending.
Recent Example
If a country faces slow or no growth, it could consider a helicopter drop.
For example, in 2016, Japan considered using helicopter money to assist with the country's slowing growth.
Financial markets showed concerned with the decision, as participants feared hyperinflation and currency devaluation.
So, the Bank of Japan (BoJ) opted for an alternative method to increase monetary supply.
This included different partnerships and purchases such as government bonds, infrastructure outlays and payments to lower-income earners.
Benefits of Helicopter Money
Helicopter money does not rely on increased borrowing to fuel the economy, which means that it doesn't create more debt and interest rates can remain unchanged.
Generally, it boosts spending and economic growth more effectively than quantitative easing because it increases aggregate demand – the demand for goods and services – immediately.
While government money drops that come from debt might not boost consumer spending, due to the debt needing to be repaid, it is often thought that 'money finance' will stimulate the economy.
Will Helicopter Money Help Indian Economy?
Helicopter money refers to a last resort type of monetary stimulus strategy used to spur inflation and output to boost the economy.
Here the basic principle is to increase broader economic activity and pushing the inflation up by putting more money in circulation in the market.
As printing of money to finance deficit increases inflation and is believed to be an attempt to extract more output in an underperforming economy, it is potentially loaded with huge risks.
One of the primary risks associated with helicopter money is that the policy may lead to significant currency devaluation in the international foreign exchange markets.
The currency devaluation would be primarily attributed to the creation of more money.
For eg, in August 1921, Germany began to buy foreign currency with Marks at any price, but that only sped up devaluing the Mark considerably. In 1923, the Mark had lost meaning with the exchange rate of one trillion Marks to one dollar.
Zimbabwe too was caught in this precarious situation in the first part of this century. The facts reveal that there was a time when a 100 trillion Zimbabwe dollar bill wasn't enough to buy a bus ticket in the country's capital.
And this kind of hyperinflation scenario has gripped Venezuela right now.
As this helicopter money boosts inflation, increases interest rates and borrowing costs, it then becomes a dire need to print money every year to fund burgeoning deficit.
So, while looking at the experience of printing currency in other countries, it can easily be concluded that such a move doesn't increase economic output in any way, it merely causes inflation.
And this increase in inflation is not good for economic health of the country.
Need of the Hour
The government or central bank could implement a version of helicopter money by spending money on tax cuts, and thereafter, the central bank would deposit money in a Treasury account.
Additionally, the government could issue new bonds that the central bank would purchase and hold, but the central bank would return the interest back to the government to distribute to the public.
Therefore, these forms of helicopter money would provide consumers with money and theoretically spark consumer spending.
Current News Science & Technology New Technology
Fly Ash
---
Recently, two people died and four were missing after a dyke of a fly ash pond of Reliance's Sasan Ultra Mega Power Project in Singrauli breached , causing spillage on several acres of agricultural fields.
The project, owned by Anil Ambani's Reliance Power, is 780 kilometres northeast of the state capital of Bhopal.
Singrauli houses various power projects, including NTPC, Coal India, Reliance Power and Essar Power.
About Fly Ash
Also known as flue ash and pulverised fuel ash, fly ash is a fine powder that is a byproduct of burning pulverized coal in electric generation power plants.
Production
It is produced by coal-fired electric and steam generating plants. Typically, coal is pulverized and blown with air into the boiler's combustion chamber where it immediately ignites, generating heat and producing a molten mineral residue.
Boiler tubes extract heat from the boiler, cooling the flue gas and causing the molten mineral residue to harden and form ash.
Coarse ash particles, referred to as bottom ash or slag, fall to the bottom of the combustion chamber, while the lighter fine ash particles, termed fly ash, remain suspended in the flue gas.
Properties
Physical Properties
It depend on the nature of coal; mineral matter chemistry and mineralogy, furnace design, furnace operation and method of particulate control; such as Sulphur Oxide (SOx) and Nitrogen Oxide (NOx) control technologies.
Fly ash particles are generally spherical in shape and ranging from 0.5 µm to 100 µm.
Chemical Properties
Major Constituents: Fly ash is a pozzolan, a substance containing aluminous and siliceous material that forms cement in the presence of water. In addition, it contains ferric oxide and calcium oxide.
Minor Constituents: Arsenic, beryllium, boron, cadmium, chromium, hexavalent chromium, cobalt, lead, manganese, mercury, molybdenum, selenium, strontium, thallium, and vanadium, along with very small concentrations of dioxins and PAH compounds.
Classification
Basically, there are two classes of fly ash: Class F and Class C fly ash.
The chief difference between these classes is the amount of calcium, silica, alumina, and iron content in the ash.
Class F
The burning of harder, older anthracite and bituminous coal typically produces Class F fly ash.
This fly ash is pozzolanic in nature, and contains less than 7% lime (CaO).
Class C
Fly ash produced from the burning of younger lignite or sub-bituminous coal, in addition to having pozzolanic properties, also has some self-cementing properties.
Class C fly ash generally contains more than 20% lime (CaO).
Unlike Class F, self-cementing Class C fly ash does not require an activator.
Applications of Fly Ash
Fly-ash pellets which can replace normal aggregate in concrete mixture
Embankments and other structural fills (usually for road construction)
Grout and Flowable fill production
Waste stabilization and solidification
Cement clinker production - (as a substitute material for clay)
Mine reclamation
Stabilization of soft soils
Road subbase construction
As aggregate substitute material (e.g. for brick production)
Mineral filler in asphaltic concrete
Agricultural uses: soil amendment, fertilizer, cattle feeders, soil stabilization in stock feed yards, and agricultural stakes
Loose application on rivers to melt ice
Loose application on roads and parking lots for ice control
Benefits
Fly ash can be a cost-effective substitute for Portland cement in many markets.
It is also recognized as an environmentally friendly material because it is a byproduct and has low embodied energy, the measure of how much energy is consumed in producing and shipping a building material.
Fly ash utilization, especially in concrete, has significant environmental benefits including:
increasing the life of concrete roads and structures by improving concrete durability,
net reduction in energy use and greenhouse gas and other adverse air emissions when fly ash is used to replace or displace manufactured cement
reduction in amount of coal combustion products that must be disposed in landfills
conservation of other natural resources and materials.
Environmental Hazard
When ash is disposed in dry landfills or wet ponds, there are associated environmental effects. Wet surface impoundments account for a fifth of coal ash disposal.
These wet impoundments can be an issue if they do not have proper liners for the landfill or pond to prevent leaking and leaching.
Both leaking and leaching lead to groundwater contamination.
This groundwater contamination can be harmful to human heath if the groundwater is a source of drinking water.
In addition to leaching, fly ash toxics are able to travel through the environment as a result of erosion, runoff, or through the air as fine dust.
Application of flyash, particularly unweathered ones, shows a tendency of accumulating elements like B, Mo, Se and Al. The accumulations of these elements to toxic levels are responsible for reductions in the crop yields and consequently influence animal and human health.
Health Hazard
Fly ash contains crystalline silica which is known to cause lung disease, in particular silicosis, if inhaled.
It impacts on the nervous system, causing cognitive defects, developmental delays, and behavioral problems while also increasing a person's chance of developing kidney disease, and gastrointestinal illness.
Current News Indian Economy Plan Policy
Currency Swap Line
---
In the wake of the coronavirus pandemic, India is working with the United States to secure a dollar swap line that would help in better management of its external account and provide extra cushion in the event of an abrupt outflow of funds.
Current Status of India's Foreign Exchange Reserves
As per the latest data reported by the RBI, India's foreign exchange reserves have fallen by nearly $13 billion — from $487.23 billion on March 6 to $474.66 billion as on April 3, 2020.
According to RBI, 7% of India's foreign currency assets — or $256.17 billion — are held in overseas securities, mainly in the US treasury.
Reason
Despite the slump in global crude oil prices and reduction in imports due to the pandemic outbreak, a sharp outflow of funds resulting from foreign portfolio investors (FPIs) looking for safer havens amidst the current global uncertainty, has pulled down India's foreign exchange reserves.
While India is largely expected to tide over any challenge posed by continued outflows of funds from the markets, a swap line with the US Federal Reserve provides additional comfort to the forex markets.
About Swap Facility
In a swap arrangement, the US Fed provides dollars to a foreign central bank, which, at the same time, provides the equivalent funds in its currency to the Fed, based on the market exchange rate at the time of the transaction.
The parties agree to swap back these quantities of their two currencies at a specified date in the future, which could be the next day or even three months later, using the same exchange rate as in the first transaction.
Most swap lines are bilateral, which means they are only between two countries' banks.
Purpose
The purpose of a swap line is to keep liquidity in the currency available for central banks to lend to their private banks to maintain their reserve requirements.
It reassures banks and investors that it's safe to trade in that currency.
It also confirms that the central banks won't let the supply of that currency dry up.
It's another monetary policy tool.
India Swap Line with Other Country
In 2019, India signed a $75 billion bilateral currency swap line agreement with Japan, which has the second largest dollar reserves after China.
This facility provides India with the flexibility to use these reserves at any time in order to maintain an appropriate level of balance of payments or short-term liquidity.
In November, 2019, the RBI put in place a revised framework on currency swap arrangement for SAARC countries for 2019-22 in order to provide financial stability and economic cooperation within the SAARC region.
RBI Framework Regarding Swap Line
This facility originally came into operation on November 15, 2012 to provide a backstop line of funding for short-term foreign exchange liquidity requirements or balance of payment crises until longer term arrangements were made.
Under the framework for 2019-22, RBI will continue to offer a swap arrangement within the overall corpus of $2 billion.
Other countries can withdraw funds in the US dollar, the euro, or the Indian rupee.
US Swap Line with Other Country
The Fed already has permanent swap arrangements with the Bank of Canada, the Bank of England, the European Central Bank, the Bank of Japan, and the Swiss National Bank.
On March 19, 2020, the U.S. Federal Reserve( Fed) opened temporary swap arrangements with the central banks of Australia, Brazil, Denmark, South Korea, Mexico, Norway, New Zealand, Singapore, and Sweden, to be in place for at least six months for a combined $450 billion.
Other large economies including India, China, Russia, Saudi Arabia and South Africa — all part of the G-20 grouping — currently do not have a currency swap line with the US.
Significance of Swap Line
While swap lines were initially used by central banks to fund certain market interventions, in recent years they have become an important tool for preserving financial stability and preventing market tension from affecting the real economy.
Benefits
These swap operations carry no exchange rate or other market risks, as transaction terms are set in advance.
The absence of an exchange rate risk is the major benefit of such a facility.
Drawing on the swap line increases the dollar money supply. Because this meets an increase in demand for dollars by recipient country banks, it is in principle consistent with controlling inflation.
Current News Science & Technology Health & Disease
Pre-Conception & Pre-Natal Diagnostic Techniques Act
---
Recently, a section of the media is speculating that the (Pre Conception and Pre Natal Diagnostic Techniques (PC&PNDT) Act 1994 has been suspended by the Ministry of Health and Family Welfare (MoHWF).
About the Issue
In view of the ongoing lockdown, due of COVID19 pandemic, the Health Ministry has issued a Notification dated April 4, 2020 to defer/suspend certain provisions under the PC&PNDT Rules 1996.
These Rules pertain to applying for renewal of registration if falling due in this` period, submission of reports by diagnostics centres by 5th day of the following month and submission of quarterly progress report (QPR) by the States/UTs.
There is no exemption (to the diagnostic centres) from compliance to theprovisions of the PC&PNDT Act.
So, the MoHFW has to clarify that it has not suspended the PC&PNDT Act, which prohibits sex selection before or after conception.
Pre-conception & Pre-natal Diagnostics Techniques (PC & PNDT) Act, 1994
It was enacted in response to the decline in Sex ratio in India, which deteriorated from 972 in 1901 to 927 in 1991.
In 1988, the State of Maharashtra became the first in the country to ban pre-natal sex determination through enacting the Maharashtra Regulation of Pre-natal Diagnostic Techniques Act.
At the national level the Pre-natal Diagnostic Techniques (Regulation and Prevention of Misuse) Act was enacted on September 20, 1994. This act came into force in the year 1996.
Objectives
To ban the use of sex selection techniques before or after conception
To prevent the misuse of pre-natal diagnostic techniques for sex selective abortion and to regulate such techniques
Provisions
Registration: All bodies under the PC & PNDT Act, 1994, namely Genetic Counselling Centres, Genetic Laboratories or Genetic Clinics cannot function unless registered.
Prohibitions: It prohibits sex selection before or after conception and misuse of pre-natal diagnostic techniques for determination of the sex of the foetus as also advertisements in relation to such techniques for detection or determination of sex.
Implementation: The Act is implemented through the following agencies -Central Supervisory Board (CSB); State Supervisory Boards (SSBs) and Union Territory Supervisory Boards (UTSBs); Appropriate Authority for the whole or a part of the State/Union Territory; State Advisory Committee (SAC) and Union Territory Advisory Committee (UTAC).
Maintenance & Preservation of Records: It deals elaborately with the maintenance and preservation of proper records. The records can help in establishing compliance while non-maintenance itself can give rise to a cause of action indicating probable misuse of diagnostic techniques.
Search, Seizure & Sealing Powers: It provides power to search any place suspected to be conducting pre-natal diagnostic techniques. The scope of the powers of the Appropriate Authorities are very wide and they are empowered with the powers of Civil Court for search, seizure and sealing the machines, equipments and records of the violators of law including sealing of premises and commissioning of witnesses.
Offences under the Act
Conducting or associating or helping in the conduct of PND techniques/tests in an un-registered unit.
Sex selection on a woman or a man or both or on any tissue, embryo, conceptus fluid or gametes derived from either or both of them.
Conducting a PND test for any purpose other than those mentioned as permissible in the Act.
Sale, distribution, supply, renting, allowance or authorization of use of any ultrasound machine or any other equipment capable of detecting sex of a foetus to non-registered units.
Advertisement or communication in any form on the availability of sex determination and sex selection in the form of services, medicines, or any kind of techniques, methods or ayurvedic medicines.
The offences under the Act are cognizable, non-bailable and non-compoundable.
Amendments
The Act was amended in 2003 to improve regulation of technology capable of sex selection.
With effect from February 14, 2003, due to the amendments, the Act is known as the Pre-conception and Pre-natal Diagnostic Techniques (Prohibition of Sex Selection) Act, 1994.
Implications of the Amendment
Amendment of the act mainly covered bringing the technique of pre conception sex selection within the ambit of the act
Bringing ultrasound within its ambit
Empowering the central supervisory board, constitution of state level supervisory board
Provision for more stringent punishments
Empowering appropriate authorities with the power of civil court for search, seizure and sealing the machines and equipments of the violators
Regulating the sale of the ultrasound machines only to registered bodies
Current News National ON THE HOT SEAT
Shivraj Singh Chouhan
---
Shivraj Singh Chouhan was sworn in as Chief Minister of Madhya Pradesh. He took oath for the fourth time as Chief Minister. Former Chief Minister of Madhya Pradesh Kamal Nath resigned just before the Supreme Court's deadline to prove his majority in a trust vote.
Current News National FACES ONLY IN MEMORY
Philip W. Anderson
---
Philip W. Anderson, was an American physicist (Anderson localization, Anderson Hamiltonian, Anderson orthogonality theorem), Nobel Prize laureate (1977).
Current News National FACES ONLY IN MEMORY
Satish Gujral
---
Noted Indian painter, sculptor, muralist and writer of the post-independent era Satish Gujral has passed away.
He was awarded the Padma Vibhushan, the second-highest civilian award of the Republic of India, in 1999.
His elder brother, Inder Kumar Gujral, was the Prime Minister of India between 1997 and 1998.
Current News National FACES ONLY IN MEMORY
Chandan Singh Rathore
---
Retired Air Vice Marshal Chandan Singh Rathore has passed away.
He was recipient of Maha Vir Chakra (MVC) and contributed during the Sino-India 1962 war and the 1971 Indo-Pak war
Current News National FACES ONLY IN MEMORY
Nemai Ghosh
---
Noted Indian photographer and Padma Shri awardee in 2010, Nemai Ghosh has passed away. He is most known for working with Satyajit Ray.
Current News National FACES ONLY IN MEMORY
E. Harikumar
---
Malayalam novelist and short story writer E. Harikumar has passed away.
He was awarded Kerala Sahitya Akademi Award for anthology of short stories titled Dinosarinte Kutty (The Dinosaur's Baby).
Current News National FACES ONLY IN MEMORY
Tony Lewis
---
Tony Lewis, one of the men behind the Duckworth-Lewis-Stern method used in weather-affected limited overs cricket matches, has died.
Tony, alongside fellow mathematician Frank Duckworth, devised the Duckworth-Lewis method which was introduced in 1997 and adopted officially by the ICC (International Cricket Council) in 1999.
Current News National FACES ONLY IN MEMORY
Pradip Kumar Banerjee
---
Former Indian footballer who played as a striker for the Indian national football team has passed away.
He captained the national team and later on became the coach of the national team.
He was one of the first recipients of Arjuna Award, when the awards were instituted in 1961. He was awarded the prestigious Padma Shri in 1990 and was named Indian Footballer of the 20th century by IFFHS. In 2004, he was awarded the FIFA Order of Merit, the highest honour awarded by FIFA.
Current News National FACES ONLY IN MEMORY
Abdul Latif
---
Former India midfielder Abdul Latif, who was also a key member of bronze medal winning team at the 1970 Bangkok Asian Games has passed away.

Current News National FACES ONLY IN MEMORY
Hansraj Bhardwaj
---
Former Governor of Karnataka and Kerala Hansraj Bhardwaj has passed away.
He holds the record of having the second longest tenure in Law Ministry since independence, after Ashoke Kumar Sen.
Current News National FACES ONLY IN MEMORY
Joseph Lowery
---
Veteran US civil rights leader Joseph Lowery who helped in establishing the Atlanta-based Southern Christian Leadership Conference, passed away.
The Atlanta-based Southern Christian Leadership Conference, an African-American civil rights organisation was set up to promote racial equality.
Current News National FACES ONLY IN MEMORY
Beni Prasad Verma
---
Former Union Minister Beni Prasad Verma has passed away.
He served as the telecom minister, steel minister and was also a Lok Sabha member from 1996 to 2014. He also served as the Minister of State for Parliamentary Affairs during his career.
Current News National STATES IN NEWS
Centre For Internet Of Ethical Things
---
To bring together aspects of Artificial Intelligence (AI), Internet of Things (IoT) and Ethics on a single platform, Karnataka Government has decided to set up a Centre for Internet of Ethical Things in Bengaluru.
It is a collaboration with the World Economic Forum (WEF).
Current News National STATES IN NEWS
Hubli-Ankola Railway Project
---
The Government of Karnataka has approved the Hubballi-Ankola railway line project despite opposition by several members of the State Board of Wildlife.
The railway line passes through two major protected areas — Kali Tiger Reserve and Bedthi Conservation Reserve which are part of Western Ghats.
Kali Tiger Reserve comprises two important protected areas of the region namely Dandeli Wildlife Sanctuary and Anshi National Park.
Current News National STATES IN NEWS
Gujarat First State To Equip Police With Taser Guns
---
Gujarat has become the first state in India to introduce Taser Guns to its Police Force.
Taser Guns (electrical weapon) use compressed nitrogen to fire, by sending electricity through attached wires, which disrupt voluntary control of muscles.
Current News National Survey/Study/Report
Poshan Abhiyan: Andhra Pradesh Tops In Overall Implementation
---
NITI Aayog has released a report on the performance of States in the implementation of Poshan Abhiyan.
Andhra Pradesh ranked 1st in country for the overall implementation of Poshan Abhiyan.
Tamil Nadu topped the list of the states in terms of the number of participants in the programme.
The Prime Minister's Overarching Scheme for Holistic Nutrition or POSHAN Abhiyan or National Nutrition Mission was launched in 2018. It is implemented by the Ministry of Women and Child Development.
The scheme aims at achieving improvement in nutritional status of Children (0-6 years) and Pregnant Women and Lactating Mothers (PW&LM) in a time-bound manner and ensure attainment of malnutrition free India by 2022.
Current News National Survey/Study/Report
A New Era For Girls: Taking Stock Of 25 Years Of Progress
---
UNICEF along with Plan International and United Nations Women has released a report titled "A New era for girls: Taking stock on 25 years of progress".
The report is issued in the context of the Generation Equality campaign and to mark the 25th anniversary of the Beijing Declaration and Platform for Action.
Current News National Art/Culture/Heritage
Namda Traditional Art
---
Arifa Jan who revived a Kashmiri traditional art called 'Namda' was awarded Nari Shakti Puraskar and was also among the seven women who took control of the Prime minister's Twitter account.
Namda comes from the root word Namata (Sanskrit for woollen stuff). It is a local term used for felted wool floor coverings made out of coarse variety of wool.
The art consists of floral patterns which provide the themes for these masterpieces and flowers, leaves, buds and fruits are the essence of the designs.
It is practiced as a craft in several cultures especially the countries throughout Asia such as Iran, Afghanistan and several places in Ladakh, Kutch and Kashmir and Rajasthan in India.
Current News National Plan/Policy/Scheme
Three Schemes For Electronics Manufacturing In India
---
The Union Cabinet has approved three schemes to boost large-scale electronics manufacturing in India.
Electronics Manufacturing Clusters (EMC2.0) Scheme: To create world class infrastructure along with common facilities and amenities through setting up of Electronics Manufacturing Clusters (EMCs) and Common Facility Centers (CFCs).
Scheme for Promotion of manufacturing of Electronic Components and Semiconductors (SPECS): To offer financial incentive of 25% of capital expenditure for the manufacturing of goods that constitute the supply chain of an electronic product.
Production Incentive Scheme (PLI) for Large Scale Electronics Manufacturing: To attract large investments in mobile phone manufacturing and specified electronic components, including assembly, testing, marking and packaging (ATMP) units.
Current News National Plan/Policy/Scheme
National Innovations In Climate Resilient Agriculture (NICRA)
---
The Government of India is implementing programmes such as National Innovations in Climate Resilient Agriculture (NICRA) to tackle the impact of climate change on agriculture.
It was launched by the Indian Council of Agricultural Research (ICAR) in 2011.
To enhance resilience of Indian agriculture to climate change and climate vulnerability through strategic research and technology demonstration.
The research on adaptation and mitigation covers crops, livestock, fisheries and natural resource management.
It consists of four components namely a) Strategic Research b) Technology Demonstration c) Capacity Building and d) Sponsored or Competitive Grants.
Current News National Notable Judicial Verdicts
Centre Can't Brand An Organisation As 'Political': SC
---
The Supreme Court of India has held that the central government cannot brand an organisation as political and deprive it of its right to receive foreign funds for using legitimate forms of dissent to aid a public cause.
The Court observed that an organisation which supports the cause of a group of citizens agitating for their rights without a political goal or objective cannot be penalised by being declared as an organisation of a political nature.
However, foreign funding could be stopped if an organisation took recourse to these forms of protest to score a political goal.
Current News National Notable Judicial Verdicts
Rights Of An Accused To Be Defended
---
The Karnataka High Court has observed that it is unethical and illegal for lawyers to pass resolutions against representing accused in court.
Constitutional Provisions for the the Rights of an Accused
Article 22(1): It gives the fundamental right to every person not to be denied the right to be defended by a legal practitioner of his or her choice.
Article 14: It provides for equality before the law and equal protection of the laws within the territory of India.
Article 39A: It is part of the Directive Principles of State Policy. It states that equal opportunity to secure justice must not be denied to any citizen by reason of economic or other disabilities, and provides for free legal aid.
Current News National National Security
NCTC & Cri-MAC
---
Union Minister for Home affairs has launched the Crime Multi Agency Centre (Cri-MAC) and National Cybercrime Training Centre (NCTC).
NCTC: The National Cybercrime Training Centre (NCTC) is meant for professional quality eLearning services on cyber crime investigation on large scale to police officers, judges, prosecutors and other stakeholders.
Cri-MAC: Crime Multi Agency Centre (Cri-MAC) aims to share information between various police forces on heinous crimes and other issues related to inter-state coordination.
Current News National MISCELLANEOUS
SAREX-2020
---
The Indian Coast Guard (ICG) has conducted the National level Search and Rescue Exercise (SAREX-2020) in Goa to test the efficiency of operations and coordination of the stakeholders involved in Search and Rescue in the Indian Ocean Region.
Current News National MISCELLANEOUS
Swavalamban Express
---
Small Industries Development Bank of India (SIDBI) has announced the start of Swavalamban Express- a train journey to promote budding business aspirants and entrepreneurs.
Current News National MISCELLANEOUS
Native Fury
---
"Native Fury" is a biennial military exercise between the US Marines and UAE Emirati forces. The latest 2020 edition was conducted at Abu Dhabi.
Current News National MISCELLANEOUS
India, France Conduct Joint Patrols From Reunion Island
---
India and France have conducted joint patrols from the Reunion Island for the first time.
Reunion Island is a remote Indian Ocean island located between Madagascar and Mauritius. It is an overseas region of France.
Current News National MISCELLANEOUS
UK Apologises For Windrush Scandal
---
The UK Government has apologised for the Windrush Scandal which involved Windrush generation - the immigrants who came to the UK between 1948 and 1971 from Caribbean countries - being wrongly detained or deported.
The immigrants came at the invitation of the British government which was facing a labour shortage due to the destruction caused by World War II in a ship - named 'Windrush'.
Current News National MISCELLANEOUS
50 Years Of NPT
---
The Non-proliferation Treaty is an international treaty signed in 1968 and came into force in 1970.
The five permanent members (P5) of the UN Security Council issued a statement on the successful 50 years of the Nuclear Non-Proliferation Treaty (NPT) which came into force on March 5, 1970.
The treaty defines nuclear-weapon states as those that have built and tested a nuclear explosive device before 1 January 1967; these are the United States, Russia, the United Kingdom, France, and China.
The other nuclear armed states—India, Israel and Pakistan have not joined the treaty. Further, North Korea and South Sudan have also not signed the treaty.
Current News National MISCELLANEOUS
UN CSW Adopts Political Declaration On Women's Rights
---
The United Nations Commission on the Status of Women has adopted a political declaration to reaffirm the 1995 Beijing Declaration to achieve gender equality.
Beijing Declaration: It was a resolution adopted by the United Nations (UN) at the Fourth World Conference on Women in 1995.
Commission on the Status of Women (CSW): The Commission on the Status of Women (CSW) was established in 1946 as a functional commission of the United Nations Economic and Social Council (ECOSOC). It is the principal global intergovernmental body exclusively dedicated to the promotion of gender equality and the empowerment of women.
Current News National MISCELLANEOUS
Wasp 76b
---
It is an exoplanet (planet which orbits a star outside the solar system) named Wasp-76b where they suspect it rains iron instead of water.
Current News National MISCELLANEOUS
Hydroxychloroquine Now A Schedule H1 Drug
---
The government has notified hydroxychloroquine, an anti-malarial drug, under Schedule-H1 to regulate and restrict the sale and distribution of the drug.
The Drugs and Cosmetics Rules, 1945, under the Drugs and Cosmetics Act, 1940, provides for classification of drugs into different schedules.
Current News National MISCELLANEOUS
Torreites Sanchezi
---
The study of fossil shells of Torreites sanchez, an extinct mollusk species of rudist clam that lived during the Cretaceous period, some 70 million years ago, Earth spun 372 times a year 70 million years ago compared to the current 365.This means the day was 23½ hours long compared to 24 hours.
The mollusk used to grow fast laying down daily growth rings. The rings allowed the scientists to determine the number of days in a year and more accurately calculate the length of a day 70 million years ago.
Current News National MISCELLANEOUS
International Day Of Forests
---
International Day of Forests is celebrated every year on 21 March to raise awareness of the importance of all types of forests.
The theme for International Day of Forests 2020 is "Forests and Biodiversity".
Current News National MISCELLANEOUS
New Environment Impact Norm
---
Ministry of Environment, Forest and Climate Change has released draft EIA notification.
It proposes an update to Environment Impact Assessment (EIA) notification of 2006.
The current EIA specifies a "minimum of 30 days" for people to respond. The draft EIA notification gives a "minimum of 20 days" of notice period.
It also requires that the public-hearing process be wrapped up in 40 days, as opposed to the existing norm of 45 days.
Current News National MISCELLANEOUS
IOC: 1st Company To Supply BS-VI Fuel Across India
---
Indian Oil Corporation Limited has become 1st company to begin supply of BS-VI fuel across its 28,000 petrol pumps.
The Government of India has set 01st April 2020 as the deadline to start the supply of BS-VI emission compliant fuels.
BS (Bharat Satge)-VI grade fuel is the world's cleanest fuel containing just 10 parts per million of sulphur.
Current News National WORLD OF AWARDS
Abel Prize 2020
---
Hillel Furstenberg from Hebrew University of Jerusalem, Israel and Gregory Margulis from Yale University, the USA won the Abel Prize 2020 for their "pioneering use of methods from probability & dynamics in group theory, number theory and combinatorics".
The Abel Prize was established by the Norwegian government in 2002. The Norwegian Academy of Science and Letters gives the award.
Current News National WORLD OF AWARDS
Nari Shakti Puraskars 2020
---
Sixteen Nari Shakti Puraskars were presented this year by President Ram Nath Kovind on International Women's Day.
The Nari Shakti Puraskar is the country's highest civilian honour for women, and recognizes services towards the cause of women empowerment.
The Achievers and their Field of Work
Man Kaur: A centenarian sprinter. Dubbed as the "Miracle Mom from Chandigarh", 104-year-old Man Kaur started running when she was 91 years old.
Mohana Singh, Bhawana Kanth, and Avani Chaturvedi: IAF's first women fighter pilots
Padala Bhudevi and Bina Devi: Popular as the 'Mushroom Mahila' for popularising mushroom cultivation.
Arifa Jaan: An artisan from Kashmir she took up the task of the revival of the lost art of Numdha handicrafts. Numdha is a traditional felted Kashmir carpet, made by rolling and pressing wool by the application of moisture.
Chami Murmu: Hailed as the Lady Tarzan of Jharkhand, Chami Devi Murmu has been mobilizing women to plant Eucalyptus, Sal and Acacia trees, among others, to replenish the forests in Jharkhand that had been destroyed by the timber mafia.
Nilza Wangmo: She runs a restaurant in Alchi, near Leh town and is taking the Ladakh cuisine to the world.
Rashmi Urdhwareshe: An automotive research professional
Kalavati Devi: A lady mason, who acted as a driving force in reducing open defecation in the district of Kanpur. She went door to door to tell people about the ills of open defecation and has built over 4,000 toilets across the city and around it.
Tashi and Nungshi Malik: Tashi and Nungshi Malik from Uttrakhand were the first female twins to scale Mt Everest in 2013. They have climbed Mt Kilimanjaro, Africa in 2015 and Mt Vinson, Antarctica in 2014, Puncak Jaya in Australia in 2014 and Mt Elbrus in Europe in 2013.
Kaushiki Chakroborty: A Khayal and Thumri exponent and is one of the few people to keep Indian classical music alive.
Karthyayini Amma and Bhageerathi Amma: Karthyayini Amma scored 98 marks out of 100 in the 4th standard equivalency course under the Kerala Literacy Mission's Aksharalaksham scheme. Bhageerathi Amma has created history by becoming the oldest woman to sit for the same exam.
Current News National WORLD OF AWARDS
Zoya Akhtar
---
Indian filmmaker Zoya Akhtar has been honoured with IIFTC Tourism Impact Award 2020 for her outstanding contribution to world tourism through her cinema.
The 8th India International Film Tourism Conclave (IIFTC) was held in Mumbai, Maharashtra.
Current News National WORLD OF SPORTS
Olympic Games Tokyo 2020 Rescheduled
---
The Olympic Games Tokyo 2020 have been postponed by one year and will be held from 23 July to 8 August, 2021. The Olympic Games Tokyo 2020 were earlier scheduled to be held from 24 July to 9 August 2020.
The decision has been taken by the IOC amid the COVID-19 pandemic.
Current News National WORLD OF SPORTS
Two Indians Named In International Panel Of ICC Development Umpires
---
Vrinda Rathi and Janani Narayanan have been named in the International Panel of ICC Development Umpires.
Tamil Nadu's Janani Narayanan is a software engineer while, Vrinda Rathi of Mumbai is a former varsity player who has been umpiring in Indian domestic cricket from 2018.
Current News National WORLD OF SPORTS
Wimbledon Cancelled
---
Wimbledon organizers have cancelled the Wimbledon Championships 2020 due to the coronavirus pandemic.
This cancelation has happened for the first time since 1945 since World War II.
The French Open Tennis has been postponed due to the coronavirus pandemic and will take place from 20th September to 4th October.
Current News National WORLD OF SPORTS
Tiger Woods To Be Inducted Into World Golf Hall Of Fame In 2021 Class
---
American golfer Tiger Woods will be inducted into the World Golf Hall of Fame as part of the class of 2021.
The hall of fame, located in St. Augustine, Florida, released a statement saying Woods, winner of 15 major titles, will be inducted in the male competitor category.

Current News National Newsmakers
Ranjan Gogoi
---
Former Chief Justice of India Ranjan Gogoi became a member of Rajya Sabha.
He was nominated to Rajya Sabha by the President of India Ram Nath Kovind.
Twelve members are nominated to the Rajya Sabha by the President of India for six-years term for their contributions towards arts, literature, sciences, and social services. This right has been bestowed upon the President according to the Fourth Schedule (Articles 4(1) and 80(2)) of the Constitution of India.
Current News National Newsmakers
Sunil Chhetri
---
Indian footballer Sunil Chhetri has been chosen for FIFA campaign against Covid-19.
FIFA and the World Health Organization (WHO) have teamed up to combat the coronavirus by launching a new awareness campaign led by world-renowned footballers.
The 'Pass the message to kick out coronavirus' campaign promotes five key steps for people to follow to protect their health in line with WHO guidance, focused on handwashing, coughing etiquette, not touching your face, physical distance and staying home if feeling unwell.
Current News National Newsmakers
Tedros Adhanom Ghebreyesus
---
The World Health Organisation's Director General Dr. Tedros Adhanom Ghebreyesus has become the public face of Global fight against the coronavirus.
He was elected in May 2017 as the WHO's first African director-general. Prior to this, Dr Tedros served as Ethiopia's Minister of Foreign Affairs from 2012–2016 and Health Minister from 2005-2012.
The World Health Organization (WHO), established on 7th April 1948, is a specialized agency of the United Nations that acts as a coordinating authority on international public health. It is headquartered at Geneva in Switzerland.
Current News International International Organizations
USA Threatens To Stop WHO Funding
---
Recently, USA threatened to cut US funding to the World Health Organisation (WHO), saying the international group had "missed the call" on the coronavirus pandemic.
It is to be noted that at present, the US is the World Health Organization's biggest contributor, making up 14.67 per cent of total funding.
Reasons
The organization's initial response to the outbreak has been increasingly scrutinized as global cases soar over 1 million.
The US accused WHO of being very China centric in its approach to tackle the spread of COVID-19.
WHO, an international body which promotes healthcare and improves access to medicine, had "called it wrong" on the pandemic, appearing to suggest it failed to alert other countries quickly enough.
Further, WHO has came under fire for a slow response as the virus spread and for pushing Chinese misinformation.
US also criticized WHO for giving faulty recommendation against curtailing international travel to stop the virus which first spread from China.
WHO's Reaction
In response to US threat, WHO Head defended the organization's response to the coronavirus pandemic, at one point directly responding to criticisms leveled US.
Still in the acute phase of a pandemic, WHO said that this is not the time to cut back on funding and called for unity and a halt to "politicization" of the global health crisis, specifically urging China and the United States to show "honest leadership".
WHO's Suggestion
In order to combat with COVID-19, the world should follow the example of what the former Soviet Union and the United States did in 1967 when they launched a 10-year global campaign that eradicated smallpox, a disease then killing 2 million people annually.
The United States and China should come together and fight this dangerous enemy, they should come together to fight it and the rest of G-20 should come together to fight it, and the rest of the world should come together to focus on working in solidarity to stop the virus.
Analysis
Is this really the failure of WHO?
WHO works in coordination with the International Health Regulations (IHR 2005) in order to assess whether the outbreak constituted a public health emergency of international concern.
The organization performs an after-action assessment when confronted with a new and serious public health concern like corona virus.
So, it will be absolutely unjust to blame WHO actions in handling the COVID-19.
On the other hand, one may fault the WHO for not calling it a public health emergency of international concern (PHEIC) during its first meeting on January 22-23, 2020, and for the delay in calling the outbreak a pandemic.
After all, it is important to note that the WHO is only an advisory and not a regulatory body and it would be naive to fault it for China or any other country not being transparent.
US Administrative Failure
The US government itself has been widely criticized for initially downplaying the virus, which he likened to an ordinary flu and said was under control in the United States, before later accepting that it was a national emergency.
By making WHO a scapegoat, the Trump administration is trying to its cover the failures of his own administration in containing the spread of COVID-19.
With now around 14000 deaths due to COVID-19, the issue looks set to dominate the campaign for the US election, now seven months away.
WHO Funding
The WHO is funded not only by nations, but also nonprofit organizations, foundations, companies, universities and governmental alliances.
Types of Funds
There are four kinds of contributions that make up funding for the WHO.
Assessed Contributions: These constitute the dues countries pay in order to be a member of the Organization. The amount each Member State must pay is calculated relative to the country's wealth and population.
Specified Voluntary Contributions: These come from Member States (in addition to their assessed contribution) or from other partners. They can range from flexible to highly earmarked.
Core Voluntary Contributions: Core voluntary contributions allow less well-funded activities to benefit from a better flow of resources and ease implementation bottlenecks that arise when immediate financing is lacking.
Pandemic Influenza Preparedness (PIP) Contributions: It was started in 2011 to improve and strengthen the sharing of influenza viruses with human pandemic potential, and to increase the access of developing countries to vaccines and other pandemic related supplies.
Current Funding Pattern
In recent years, assessed contributions to the WHO have declined, and now account for less than one-fourth of its funding.
These funds are important for the WHO, because they provide a level of predictability and minimise dependence on a narrow donor base.
Voluntary contributions make up for most of the remaining funding.
The United States is currently the WHO's biggest contributor, making up 14.67 per cent of total funding by providing $553.1 million.
The US is followed by the Bill & Melinda Gates Foundation forming 9.76 per cent or $367.7 million.
The third biggest contributor is the GAVI Vaccine Alliance at 8.39 per cent, with the UK (7.79 per cent) and Germany (5.68 per cent) coming fourth and fifth respectively.
The four next biggest donors are international bodies: United Nations Office for the Coordination of Humanitarian Affairs (5.09 percent), World Bank (3.42 percent), Rotary International (3.3 percent), and the European Commission (3.3 percent).
India makes up 0.48 percent of total contributions, and China 0.21 percent.
Fund Allotment
Out of the total funds, the largest share goes to the Africa region, then Eastern Mediterranean region, followed by the WHO headquarters, South East Asia, Europe, Western Pacific and Americas regions respectively.
The biggest programme area where the money is allocated is polio eradication (26.51 percent), followed by increasing access to essential health and nutrition services (12.04 percent), and preventable diseases vaccines (8.89 percent).
International Health Regulations (IHR)-2005
It represents an agreement between 196 countries including all WHO Member States to work together for global health security.
The purpose and scope of IHR are to prevent, protect against, control and provide a public health response to the international spread of disease in ways that are commensurate with and restricted to public health risks, and which avoid unnecessary interference with international traffic and trade.
Through IHR, countries have agreed to build their capacities to detect, assess and report public health events.
WHO plays the coordinating role in IHR and, together with its partners, helps countries to build capacities.
Current News National Polity & Governance
Lockdown Withdrawal In 3 Phases
---
An expert committee, under chairmanship of former chief secretary K Abraham, appointed by Kerala government to review Covid-19 nationwide lockdown has suggested a phased relaxation of the lockdown to contain COVID-19 for areas outside the seven hotspot districts in the state from April 15, 2020.
The committee has also come up with health-related and non-health-related objectives for the withdrawal strategy and steps for management of hotspots and vulnerable population.
Strategy Adopted
According to the committee, the phased withdrawal is sustainable only if there is a steady recovery and decline in the number of cases leading to initial flattening of the infection curve and then gradual tapering of the curve to zero infection cases.
Lockdown relaxation to be provided in 3 phases-
Phase I
For qualifying for Phase 1 relaxation, there has to be not more than one new case in the district for the entire week prior to the date of review on April 14, 2020.
No increase more than 10% of the number of persons under home surveillance in the district
No hotspots of COVID-19 anywhere in the district as identified by the Health Department are the other criteria fixed.
Restrictions & Relaxations
No outdoor travelling without face masks, occupancy of government vehicles should be restricted to two persons per vehicle excluding the driver, vehicles carrying frontline care workers or other public servants should not exceed the seating capacity of the vehicle.
Only one person per house will be allowed to go out at a time for a specific purpose and for not more than 3 hours at a time.
Any person above age of 65 years with history of co-morbidity or undergoing any treatment for cancer or major ailments will not be permitted to go out.
Phase II
A district will qualify for Phase II relaxation at the time of second review only if there is no more than one new case for the entire fortnight prior to the date of review.
Not more than a 5% increase in the number of persons under home surveillance from the date of the previous review and no infection hotspots are the additional criteria.
Restrictions & Relaxations
Autos and Taxis may be allowed but restricted to one and three passengers, respectively.
Travelling by bus for short distance within a city or town may be permitted but with one person per seat.
Activities under National Rural Employment Guarantee Act, 2005 (NREGA) to be allowed with protocols like use of masks and sanitisers.
All Micro, Small and Medium Enterprises (MSMEs) shall be allowed to reopen.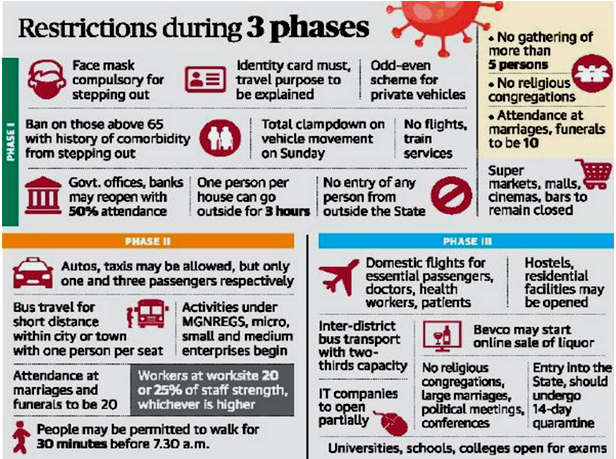 Source: The Hindu
Phase III
A district will qualify for Phase III relaxation only if there is no new case of infection in that district for the fortnight prior to the date of review.
In addition, a decrease of more than 5% of the number of persons under home surveillance in the district from the date of the previous review and no hotspots anywhere in the district are needed.
Restrictions & Relaxations
Inter-district bus transport may be allowed with two-third capacity with maintaining social distancing protocols.
Domestic flights for doctors, health workers, patients etc.
International trips and travelling from other parts of India should not be allowed till full relaxation of the lockdown.
For educational sector, universities, schools and colleges shall be instructed to open for examination holding purpose.
Religious congregations in and outside worship places, weddings, political meetings or conferences or cultural gatherings shall continue to be prohibited during this phase.
Current News Ecology & Environment Agriculture & Allied Sector
Biofortified Carrot Variety
---
Madhuban Gajar, a biofortified carrot variety with high β-carotene and iron content developed by Shri Vallabhhai Vasrambhai Marvaniya, a farmer scientist from Junagadh district, Gujarat is benefitting more than 150 local farmers in the area.
The variety is being cultivated in more than 1000 hectares of land in Gujarat, Maharashtra, Rajasthan, West Bengal, Uttar Pradesh during the last three years.
Background
National Innovation Foundation (NIF), India an autonomous institute under the Department of Science and Technology conducted validation trials for this variety at Rajasthan Agricultural Research Institute (RARI), Jaipur, between 2016 and 2017.
In the trials, it was found that Madhuban Gajar carrot variety possesses a significantly higher root yield (74.2 t/ha) and plant biomass (275 gm per plant) as compared to check variety.
About Madhuban Gajar
It is a highly nutritious carrot variety developed through the selection method with higher β-carotene content (277.75 mg/kg) and iron content (276.7 mg/kg) dry basis and is used for various value-added products like carrot chips, juices, and pickles.
Among all the varieties tested, beta-carotene and iron content were found to be superior.
National Innovation Foundation (NIF)
NIF, set up in March 2000 with the assistance of Department of Science and Technology, is India's national initiative to strengthen the grassroots technological innovations and outstanding traditional knowledge.
Its mission is to help India become a creative and knowledge-based society by expanding policy and institutional space for grassroots technological innovators.
It helps grassroots innovators and outstanding traditional knowledge holders get due recognition, respect and reward for their innovations.
It also tries to ensure that such innovations diffuse widely through commercial and/or non-commercial channels, generating material or non-material incentives for them and others involved in the value chain.
Current News Science & Technology Health & Disease
Swasth Ke Sipahi
---
Pharmacists, popularly known as "Swasth ke Sipahi", of Pradhan Mantri Jan Aushadhi Kendra (PMJAK), are deliverying essential services and medicines at doorstep of patients and elderly under Pradhan Mantri Bhartiya Janaushadhi Pariyojana (PMBJP).
Working as part of PMJAK, they are extending essential services by making available quality generic medicines at affordable prices to the common People of the country and the elderly persons at their doorstep to fight Corona pandemic.
This is supporting the government's initiative of practicing social distancing in order to combat the COVID-19.
Pradhan Mantri Bhartiya Janaushadhi Pariyojana (PMBJP)
With a view to achieve the objective of making available quality generic medicines at affordable prices to all, 'Jan Aushadhi Scheme' was launched by the Government in November, 2008 across the country.
In September 2015, the 'Jan Aushadhi Scheme' was revamped as 'Pradhan Mantri Jan Aushadhi Yojana' (PMJAY).
In November, 2016, to give further impetus to the scheme, it was again renamed as "Pradhan Mantri Bhartiya Janaushadhi Pariyojana" (PMBJP).
Vision
To bring down the healthcare budget of every citizen of India through providing Quality generic Medicines at Affordable Prices.
Implementation
The Scheme is being implemented through an registered society namely Bureau of Pharma PSUs of India (BPPI) which is working under the administrative control of Department of Pharmaceuticals, Ministry of Chemicals & Fertilizer.
Salient Features
Ensure access to quality medicines.
Extend coverage of quality generic medicines so as to reduce the out of pocket expenditure on medicines and thereby redefine the unit cost of treatment per person.
Create awareness about generic medicines through education and publicity so that quality is not synonymous with only high price.
A public programme involving Government, PSUs, Private Sector, NGO, Societies, Co-operative Bodies and other Institutions.
Create demand for generic medicines by improving access to better healthcare through low treatment cost and easy availability wherever needed in all therapeutic categories.
Benefits
Will make available quality drugs at affordable prices through dedicated stores selling generic medicines which are available at lesser prices but are equivalent in quality and efficacy as expensive branded drugs.
Promote greater awareness about cost effective drugs and their prescription.
Make available unbranded quality generic medicines at affordable prices through public-private partnership.
Encourage doctors, more specifically in government hospital to prescribe generic medicines.
Enable substantial savings in health care more particularly in the case of poor patients and those suffering from chronic ailments requiring long periods of drug use.
Current News National Polity & Governance
Salary Cut And Suspension Of MPLADS
---
As a part of Government's continued efforts to contain spread of COVID 19, the Union Cabinet on 6th April, 2020, decided to cut in the salaries of all Members of Parliament and not to operate Members of Parliament Local Area Development Scheme (MPLADS) for two years (2020-21 and 2021-22).
These funds will be used to strengthen Government's efforts in managing the challenges and adverse impact of COVID19 in the country
Key Points
The Cabinet approved an ordinance to amend the Salaries, Allowances and Pension of Members of Parliament Act, 1954.
It will cut the salaries of Members of Parliament (MPs) by 30%, effective from 1st April 2020.
The consolidated amount of MPLAD Funds for 2 years – Rs 7,900 crores – will go to Consolidated Fund of India.
The amendment will only cut MPs' salaries, not allowances or the pensions of ex-MPs.
About MPLAD Scheme
Launched during the Narasimha Rao Government in 1993, the objective is to enable the Members of Parliament (MP) to suggest and get executed developmental works of capital nature based on locally felt needs with emphasis on creation of durable assets.
The Ministry of Rural Development initially administered the scheme. Since October 1994, it has been transferred to the Ministry of Statistics and Programme Implementation (MoSPI).
Funds Allotted
The MPs were entitled to recommend works to the tune of Rs. 1 crore annually between 1994-95 and 1997-98, after which the annual entitlement was enhanced to Rs. 2 crore.
The UPA government in 2011-12 raised the annual entitlement to Rs 5 crore per MP.
Salient Features
In the case of Lok Sabha, the scheme is implemented in the districts falling within the constituency of the concerned
In the case of Rajya Sabha, the MP can suggest works in one or more districts within the State from which he is elected.
As far as the nominated MPs are concerned, they can suggest works anywhere in India.
It recommend MPs to suggest works costing at least 15 percent of their MPLADS entitlement for the year for areas inhabited by Scheduled Caste population and 7.5 per cent for areas inhabited by ST population.
In case there is insufficient tribal population in the area of Lok Sabha Member, they may recommend this amount for the creation of community assets in tribal areas outside of their constituency but within their State of election.
The scheme can be converged in individual/stand-alone projects of other Central and State Government schemes provided such works of Central/State Governments Schemes are eligible under MPLADS.
Types of Recommended Work
Key Priority Sectors: Drinking water facility, education, electricity facility, non-conventional energy resources, healthcare and sanitation, irrigation facilities, railways, roads, pathways and bridges, sports, agriculture and allied activities, self-help group development, urban development.
Works Prohibited: construction of office and residential buildings for public and private agencies, land acquisition or paying compensation, naming assets after individuals, grants or loans to state/central relief fund, assets for individual benefits, works on lands belonging to religious groups, execution of works in unauthorized colonies.
Implementation
To implement their plans in an area, MPs have to recommend them to the District Authority of the respective Nodal District.
The District Authorities then identify Implementing Agencies which execute the projects.
The respective District Authority is supposed to oversee implementation, and has to submit monthly reports, audit reports, and work completion reports to the Nodal District Authority.
All recommended eligible works should be sanctioned within 75 days from the date of receipt of the recommendation, after completing all formalities.
The District Authority shall, however, inform MPs regarding rejection, if any, within 45 days from the date of receipt of recommendations, with reasons thereof.
Issues with MPLADS
Corruption Issue
There have been cases of widespread corruption and misappropriation of funds. In a lot of cases, private contractors (which are not permitted) are engaged to implement the works.
Also, there have been instances where expenditure has been incurred on works which are prohibited under the scheme.
Transparency and Accountability Issue
Lack of transparency and accountability in the execution of this scheme has come in for adverse comment from a variety of institutions, including the National Commission to Review the Working of the Constitution (NCRWC), the Second Administrative Reforms Commission and the Comptroller and Auditor-General General of India.
There are large amounts of unspent balances rising over the years, low utilisation of funds and an expenditure bias towards a particular sector.
However, despite the severe indictment of this scheme from various quarters, there has been no visible effort by Parliament to stop the misuse of funds and to remove the anomalies.
Implementation Issue
There are weaknesses in the process of sanction. The District Authorities tend to execute works without receiving any recommendations from MPs concerned or on the recommendation of the representatives of the MPs rather than the MPs themselves.
Further, there are lapses on the monitoring and supervision front, with the District Authorities failing to inspect the required number of sanctioned works as well as in sending regular monitoring reports.
Sustainability Issue
There have been charges that the scheme goes against the spirit of the 73rd and the 74th Amendment, with MPs enjoying the privilege of an uninterrupted yearly flow of funds to do the work which local bodies are better placed to deliver.
The constitutionality of the scheme has also been questioned, with the argument that the scheme erodes the notion of separation of powers, as the legislator directly becomes the executive.
In 2002, the National Commission to Review the Working of the Constitution recommended immediate discontinuation of the MPLAD scheme on the ground that it was inconsistent with the spirit of federalism and distribution of powers between the centre and the state.
Suggestive Measures for Effective Implementation
There needs to be a greater focus on regular monitoring by the District Authorities.
Implementing agencies could involve the local community in the voluntary supervision of works.
Since maintenance of public assets is where the system breaks down, arrangements can be made for the maintenance of assets or maintenance can be outsourced.
In order to better assess the needs of the constituents, surveys can be conducted across the constituency. For this purpose, NGOs and local community can be involved.
For the scheme to be more effective, an impact assessment study should be undertaken at the constituency level, on a yearly basis, to assess the benefits of the works implemented to the community at large.
To tackle the issue of large unspent balances which have accumulated and are rising over the years, fund can be made lapsable. This way funds lying unused can be put to other uses.
Thrust areas could be also modified so as to reflect the needs of the constituency, rather than taking a generic view.
Current News Science & Technology Health & Disease
Bhilwara Model: Coping With COVID-19
---
Almost two weeks into the nationwide lockdown, with the case count from the novel coronavirus disease still soaring up, the government is now looking forward to adopt the Bhilwara model as a containment strategy to curb the spread of new coronavirus in areas that have been identified as hotspots.
Bhilwara in Rajasthan was one of the early hotspots of the COVID-19 outbreak. The containment strategy was found to be successful in Bhilwara, and since then health officials in both Rajasthan and the Centre have been unofficially terming this specific containment plan as the "Bhilwara model".
About Bhilwara Model of COVID-19 Containment
It refers to the steps taken by the administration in Rajasthan's Bhilwara district to contain the disease, after it emerged as a hotspot for coronavirus positive cases.
Strategies Adopted under the Model
The Bhilwara model of containment worked in phases.
The first task was to isolate the district, second was screening strategy in city and rural areas and third was quarantine and isolation wards, followed by monitoring mechanism for rural areas.
Ruthless Containment
District and state-level officials toiled hard to ensure that community or cluster spread of the novel coronavirus, which would have wrecked havoc, did not happen in Bhilwara. For this, the state government deployed 3000 teams of health workers in the district.
For isolating the district, curfew was imposed in the district on the day the first case was reported. This was from March 20 to April 2, 2020.
During this period, essential services were exempted from the order.
Door to, door survey was started in order to map the positive cases, followed by the contact tracing.
The administration defined the containment zone of one km from the epicenter – the private hospital, whose doctors and staffs were the first ones to test positive – and a buffer zone of three km. Similar, containment and buffer zones were also created around the house of a positive patient.
A screening and testing centre was established at a hospital, which was dedicated as COVID hospital.
During this time, disinfection of the following was done on a daily basis: containment zone and buffer zone; locality of positive cases; all ambulances and police vehicles; screening centre and quarantine centre; collectorate, police line and public dealing offices; and city wards.
Borders Sealed
On the administrative front, strict measures were undertaken. The immediate step was to seal the boundaries and impose a curfew in entire city.
The district administration then acquired all hotels in the district and brought it under its jurisdiction. These hotels were turned into quarantine centres where nearly a thousand people were quarantined.
Total Lockdown
Meanwhile, lockdown restrictions, which were place since March 20, were tightened to curfew-like levels from April 3. Between March 20 and April 2, stores selling essential commodities were allowed to stay open.
However, on April 3, 2020, even these stores were ordered shut and only home delivery of essentials is currently allowed. And, nobody was permitted to venture out of their homes without prior permission.
Source: ToI
Challenges Faced by the Administration
The biggest challenge that the administration faced was containing the rising number of cases after the initial outbreak.
After the first case of COVID-19 was detected in the district, several other cases, mostly contact of the doctors and the infected hospital staff were reported with each passing day.
The government also had an uphill task ahead of them assembling the teams of doctors, auxiliary nurse and midwives and nursing students who went to conduct the house-to-house surveys.
Owing to the fact that Bhilwara, a thriving textile city with an estimated population of 30 lakh, it was also a difficult task for the government to strictly impose the curfew uniformly in all areas.
Implementing Bhilwara Model across the Country
The government has drawn a plan for containment of the virus in hotspots based on the steps taken in Bhilwara.
Geographical areas will be quarantined under this model.
Clusters of infections will be identified within the quarantined area and steps, which were taken in Bhilwara, will be taken in these clusters.
The Disaster Management Act of 2005 and the Epidemic Diseases Act of 1897 can be used to implement the model. CrPc and IPC sections can be used to book violators.
People will be checked for influenza-like symptoms. They will be monitored actively and tested.
Way Forward
India's fight against COVID-19 can only be tackled if it is decentralised down to the unit level and policy-makers let specific geographies and local dynamics decide how things could work best at a cluster.
The non-pharmaceutical intervention is the best way to contain the crisis given India's non-existent health infrastructure and Bhilwara has shown how to bring the virus out of hiding.
The faster we do it, the easier it will be for us to get back on the road to recovery and get the economy going.
Current News National Polity & Governance
National Security Act
---
Recently, the Madhya Pradesh government invoked the National Security Act (NSA), 1980, against four persons accused of instigating residents of a locality to pelt stones and chase away health workers.
Similarly, an order was passed by the Uttar Pradesh government to detain under any person under the NSA, who are found guilty of attacking police and other officials.
About National Security Act (NSA), 1980
The NSA is an act that empowers the government to detain a person if the authorities are satisfied that he/she is a threat to national security or to prevent him/her from disrupting public order.
The goal is to prevent the individual from committing a crime.
History
The first preventive detention rule was passed by government of Prime Minister Jawaharlal Nehru when it enacted the Preventive Detention Act of 1950.
The NSA is a close iteration of the 1950 Act.
After the Preventive Detention Act expired on December 31, 1969, the then Prime Minister, Indira Gandhi, brought in the controversial Maintenance of Internal Security Act (MISA) in 1971 giving similar powers to the government.
Finally, NSA was promulgated on September 23, 1980, during the Indira Gandhi government.
Constitutional Provisions
Article 22 (3) (b): It allows for preventive detention and restriction on personal liberty for reasons of state security and public order.
Article 22(4): It states that no law providing for preventive detention shall authorise the detention of a person for a longer period than three months unless: An Advisory Board reports sufficient cause for extended detention.
The 44th Amendment Act of 1978 reduced the period of detention without obtaining the opinion of an advisory board from three to two months.
However, this provision has not yet been brought into force, hence, the original period of three months still continues.
Grounds for Preventive Detention of a Person
Acting in any manner prejudicial to the defence of India, the relations of India with foreign powers, or the security of India.
Regulating the continued presence of any foreigner in India or with a view to making arrangements for his expulsion from India.
Preventing them from acting in any manner prejudicial to the security of the State or from acting in any manner prejudicial to the maintenance of public order or from acting in any manner prejudicial to the maintenance of supplies and services essential to the community it is necessary so to do.
Key Provisions
Time Period for Detention
Under the Act, an individual can be detained without a charge for up to 12 months; the state government needs to be intimated that a person has been detained under the NSA.
A person detained under the Act can be held for 10 days without being told the charges against them.
Appeal
The detained person can appeal before a high court advisory board but they are not allowed a lawyer during the trial.
Criticism of the Act
Denial of Basic Rights
In the normal course, if a person is arrested, he or she is guaranteed certain basic rights.
Additionally, Article 22(1) of the Constitution says an arrested person cannot be denied the right to consult, and to be defended by, a legal practitioner of his choice.
But none of these rights are available to a person detained under the NSA.
A person could be kept in the dark about the reasons for his arrest for up to five days and in exceptional circumstances not later than 10 days.
Even when providing the grounds for arrest, the government can withhold information which it considers to be against public interest to disclose.
The arrested person is also not entitled to the aid of any legal practitioner in any matter connected with the proceedings before an advisory board, which is constituted by the government for dealing with NSA cases.
No Recorded Figure
The National Crime Records Bureau (NCRB), which collects and analyses crime data in the country, does not include cases under the NSA in its data as no FIRs are registered.
Hence, no figures are available for the exact number of detentions under the NSA.
Way Forward
According to the experts, the governments sometimes use NSA as an extra-judicial power.
India's parliament and judiciary must revisit the NSA to close any loopholes that permit law enforcement to abuse constitutional and statutory rights.
Current News International WHO
Cytokine Storm Syndrome
---
Recently, there has been emerging evidence that a subset of the infected patients develop severe COVID-19 because of an overreaction of their immune systems, which triggers what is known as a "Cytokine Storm Syndrome" (CSS).
Till now, various studies have shown that the disease has more severe consequences for those above the age of 60 years, especially those with existing complications such as heart disease, chronic respiratory disease and cancer.
But some countries have also reported deaths of younger people, including teenagers, after catching the infection.
First let's know, what are Cytokines?
Cytokines are cell signalling molecules that aid cell to cell communication in immune responses and stimulate the movement of cells towards sites of inflammation, infection and trauma.
Examples of cytokines include the agents interleukin and the interferon which are involved in regulating the immune system's response to inflammation and infection.
There are more specific names given to cytokines based on either the type of cell that makes them or the action they have in the body:

Lymphokines (made by lymphocytes)
Monokines (made by monocytes)
Chemokines (associated with chemotactic actions)
Interleukins (made by one leukocyte but act on other leukocytes)
Functions
Acute inflammation
Chronic inflammation
Regulation of metabolic pathways within cells of muscle, adipose tissue, central nervous system, and liver.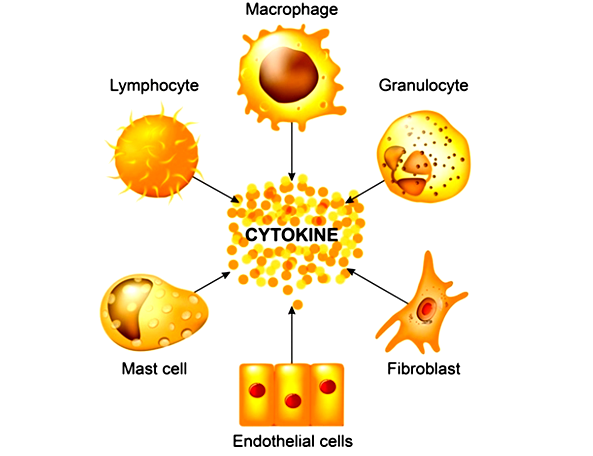 About Cytokines Storm Syndrome (CSS)
Cytokine Storm Syndromes (CSS) are a group of disorders representing a variety of inflammatory etiologies with the final common result of overwhelming systemic inflammation, hemodynamic instability, multiple organ dysfunction, and potentially death.
CSS is seen as a likely major cause of mortality in both the 1918-20 Spanish Flu , the H1N1 (swine flu) and H5N1 (bird flu) outbreaks in recent years
An elevated serum ferritin test is usually done for screening for CSS.
Explanation
The immune system gets activated by things that the body does not recognize as its own. These things are called antigens, and include bacteria, fungi and viruses.
An effective immune system response involves inflammation, an important and indispensable part of the process.
For example, one hurt his knee or ankle — the area of this external injury becomes red and swollen, and the immune system in response deploys white blood cells to the injured area to begin work on repairs.
Without such an immune response, injuries would not heal, and infections would become deadly.
The release of inflammatory mediators increases the blood flow to the area, which allows larger numbers of immune system cells to be carried to the injured tissue, thereby aiding the repairing process.
However, if this inflammatory response is not regulated, very dangerous consequences can follow. This is when a 'cytokine storm' can be triggered.
The damage to the surrounding cells can be catastrophic, leading to sepsis and potentially, death.
Role of Cytokines in Immune System
Cytokines are signalling proteins that are released by cells at local high concentrations — a CSS is characterised by the overproduction of immune cells and the cytokines themselves because of a dysregulation in the process.
A severe immune reaction, leading to the secretion of too many cytokines in the bloodstream, can be harmful since an excess of immune cells can attack healthy tissue as well.
According to the United States National Cancer Institute (NCI), a cytokine storm can occur due to an infection, auto-immune condition, or other diseases.
Signs and symptoms include high fever, inflammation (redness and swelling), severe fatigue, and nausea.
CSS Impact in COVID-19 Patient
Cytokine storms are not exclusive to coronavirus patients.
In the case of any flu infection, a cytokine storm is associated with a surge of activated immune cells into the lungs, which, instead of fighting off the antigen, leads to lung inflammation and fluid build-up, and respiratory distress.
Increased pro-inflammatory cytokine responses against human coronaviruses such as SARS-CoV-1 (which caused SARS), SARS-CoV-2 (which is responsible for the current COVID-19 pandemic), and MERS can result in acute lung injury and acute respiratory distress syndrome (ARDS).
If the clinical features of CSS are not recognised and adequate treatment is not promptly instituted, it may result in multiple organ failure.
Current News Ecology & Environment Agriculture & Allied Sector
New Features Added To E-NAM
---
On 2nd April, 2020, the Centre launched new features on the electronic national agriculture market (e-NAM) platform to make it more convenient for farmers to sell their produce at warehouses and collection centres set up by farmer producer organisations (FPOs).
Need
The features have been launched at the time when there is a critical need to decongest mandis to effectively fight against COVID-19.
To strengthen agriculture marketing by farmers across the country.
New Features
Electronic-Negotiable Warehouse Receipt (e-NWRs) Module
Warehouse (Registered with WDRA) trading module with payment feature is to enable small & marginal famers to directly trade their stored produce from selected WDRA registered warehouses which are declared deemed market by the State.
Farmers will be able to place their produce in WDRA accredited warehouses.
Benefits of eNWRs integration with e-NAM
Depositor can save the Logistics expenses and will have better income.
Farmers can sell the produce across the Nation to get better Price and at the same time can save himself from hassle of mandi.
Farmers will be able to place their produce in WDRA accredited warehouses avail the benefit of pledge loan if required.
Price stabilization by matching supply and demand through time and place utility.
Farmers Producer Organisation (FPO) Trading Module
FPO trading module will help to enable FPOs to upload their produce from their premise/ collection centres for bidding.
FPOs have the option for delivery of produce either from their premises or by bringing to mandi premise after successful bidding.
Facility provided to FPO to upload assaying report / photo of their produce from their premise to enable traders to visualise the produce before bidding.
Benefits of FPO trading module
This will not only decongest the mandis but also reduce the hassle of FPOs to deal with mandis.
This will help FPOs by reducing transaction costs (Transportation) and enhancing their bargaining power.
Facilitates FPOs to avail online payment facility with ease of doing business.
Logistic Module
As s a quantum response to logistic need by traders, provision has been made for linking large logistic aggregator platforms, which will provide choices to users.
Traders would be able to use the link to navigate to the logistics provider's website and select appropriate services.
Benefits of Logistic Module
Will help in seamless transportation of agri produce.
Will promote inter-State trade under e-NAM by providing online transport facilities for distant buyers.
National Agriculture Market (eNAM)
Launched in 2016, eNAM is a pan-India electronic trading portal which networks the existing APMC mandis to create a unified national market for agricultural commodities.
Small Farmers Agribusiness Consortium (SFAC) is the lead agency for implementing eNAM under the aegis of Ministry of Agriculture and Farmer's Welfare.
SFAC through open tender selected Nagarjuna Fertilizers and Chemicals Ltd / Ikisan Division as Strategic Partner (SP) to develop, operate and maintain the NAM e-platform.
Vision
To promote uniformity in agriculture marketing by streamlining of procedures across the integrated markets.
Removing information asymmetry between buyers and sellers and promoting real time price discovery based on actual demand and supply.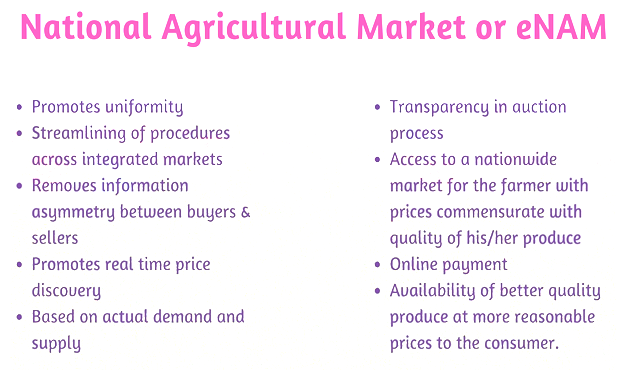 Salient Features
It allows states to have their own agri-marketing platforms that can be linked with NAM.
The highlight of the scheme is the single point levy of market fees, i.e. on the first wholesale purchase from the farmer.
The provision lets farmers to showcase their produce in nearby markets and facilitate traders from anywhere to quote price.
Under the scheme, a provision of Soil Testing Laboratories in or near the selected mandi (market) has been set up. This will help visiting farmers access the facility in the mandi itself.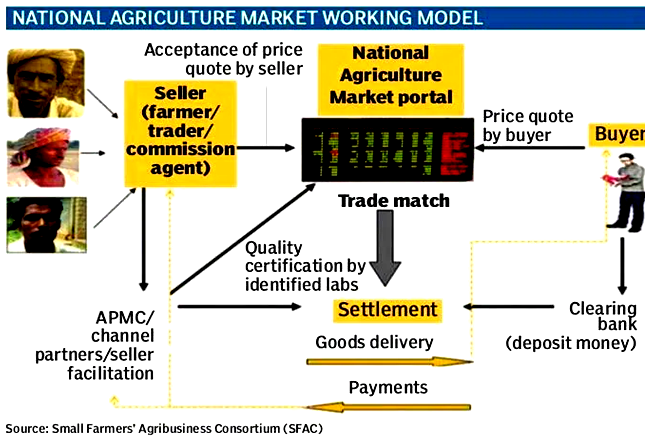 Benefits
Farmers
They can sell products without the interference of any brokers or middlemen thereby making competitive returns out of their investment.
Traders
Traders will be able to do secondary trading from one APMC to another one anywhere in India.
Local traders can get access to the larger national market for secondary trading.
Buyers, Processers & Exporters
Buyers like large retailers, processors or exporters will be able to source commodities from any mandi in India thereby reducing the inter-mediation cost.
Their physical presence and dependence on intermediaries will not be needed.
Consumers
NAM will increase the number of traders and the competition among them increases. This translates into stable prices and availability to the consumers.
Mandis
There will be a reduction in bookkeeping and reporting system as it will be generated automatically.
Monitoring and regulation of traders and commission agents become easy.
Transparency in the process eliminates the scope of manipulation of tendering/auctioning process.
Market allocation fee will increase due to an accounting of all transactions taking place in the market.
It will reduce the manpower requirements as the tendering/auctioning process is carried out electronically.
Others
With one license for the entire state and single point levy, an entire state becomes a market and the market fragmentation within the same state gets abolished.
It will improve the supply chain of commodities and reduces wastages.
Current News Indian Economy Banking & Finance
Merger Of Banks
---
The merger of 10 public sector undertaking banks into four came into effect from 1st April, 2020.
Background
In the biggest consolidation exercise in the banking space, the government in August 2019 had announced mergers of public sector banks, a move aimed at making state-owned lenders global sized banks.
The Cabinet Committee on Economic Affairs (CCEA) approved consolidation of 10 state-run banks into four on 4th march, 2020.
It is to be noted that in 2019, Dena Bank and Vijaya Bank were merged with Bank of Baroda.
Prior to this, the government had merged five associate banks of SBI and Bharatiya Mahila Bank with the State Bank of India.
Key Points
The banks are being amalgamated with a larger bank, referred to as the anchor bank.
Account holders of merging banks will now be treated as customers of the anchor banks
Oriental Bank of Commerce (OBC) and United Bank of India will be merged into Punjab National Bank (PNB). After the merger, these together will form the second-largest public sector bank (PSB) in the country, after State Bank of India (SBI).
Syndicate Bank will be merged into Canara Bank, which will make it the fourth-largest public sector lender.
Indian Bank will be merged with Allahabad Bank.
Union Bank of India will be merged with Andhra Bank and Corporation Bank.
Customers, including depositors of merging banks will be treated as customers of the banks in which these banks have been merged with effect from 1st April, 2020.
For multiple bank accounts with both merging as well as anchor banks, there might be a single customer ID now
There will be no change in the existing interest rates and fixed deposits after the merger. It will just be transferred to the anchor bank.
New cheque books will be issued by the anchor banks and the existing ones will no longer be effective.
After the merger, there will be 12 PSUs - six merged banks and six independent public sector banks.
Six Merged Banks
SBI, Bank of Baroda, Punjab National Bank, Canara Bank, Union Bank of India, Indian Bank.
Six Independent Banks
Indian Overseas Bank, Uco Bank, Bank of Maharashtra, Punjab and Sind Bank, Bank of India, Central Bank of India.
Impact
Smooth Functioning & Better Delivery of Services
The mega consolidation would help create banks with scale comparable to global banks and capable of competing effectively in India and globally.
Greater scale and synergy through consolidation would lead to cost benefits which should enable the PSBs enhance their competitiveness and positively impact the Indian banking system.
In addition, consolidation would also provide impetus to amalgamated entities by increasing their ability to support larger ticket-size lending and have competitive operations by virtue of greater financial capacity.
Boost to Financial Inclusion
The adoption of best practices across amalgamating entities would enable the banks improve their cost efficiency and risk management, and also boost the goal of financial inclusion through wider reach.
Competitive Advantage
Further, with the adoption of technologies across the amalgamating banks, access to a wider talent pool, and a larger database, PSBs would be in a position to gain competitive advantage by leveraging analytics in a rapidly digitalising banking landscape.
Associated Challenges
Integration Challenge
The main hurdle will be to the smooth process of integration. All banks have their own importance in terms of origin, growth, expansion and geographical , and have been contributing to economic development in their own way.
Merger of banks will take away their identity and customers will find it difficult to deal with the new bank.
It might create a lot of problems for employees in inter-se seniority, transfers to their place of choice, etc. This will pose a challenge to the unions dealing with these problems.
Loss of Job
Branch rationalisation and branch closures are bound to happen on account of mergers, which would lead to job losses and back room operations may reduce face to face interaction of the service providers with the customers.
Better Service Delivery Challenge
By merging branches in a certain locality, the number of customers to be taken care of by the merged branch will double or treble. Hence, customer attention and quality of customer service are bound to be affected adversely. When every customer wants better service, the branch will face a big hurdle in this regard.
Further, there are many welfare schemes, fringe benefits and other schemes that vary from bank to bank. Mergers will impact these benefits and schemes and unionists have to address these issues to harmonise these benefits.
Mergers will totally divert the attention of the banks from loan recovery and it is bound to take a back sea
High-Cost Model
The merged entity would not get any benefit of efficiencies. The PSBs have a very high-cost structure. The biggest challenge in PSB merger is to cut costs, bring efficiencies, improve profit per branch and profit per employee.
High Cost of Funds
The cost of funds plays a very important role in the competitive banking landscape. The weak entities that are merging tend to have a higher cost of funds.
While the private banks are using the digitisation and also digital modes to raise deposits and target new customers, the PSBs have this challenge of reducing the cost of the deposit.
At the same time, they have to deploy their resources to high yielding assets to earn high interest.
Way Forward
With the introduction of financial service convergence and competitions from outside and within, it is quite justifiable that to bring a sound transparent, efficient, and effective and culture friendly banking practices should be on the anvil of the government as well as policy makers.
The legal implications combined with the ethical and governance issues need to be redefined very soon so that the positive impact of mergers may be ensured.
Mergers strategies should be designed to improve the financial and operational soundness of existing small and capital needy banks and these should not be focused merely to gut the beautiful entities.
Current News Science & Technology Health & Disease
National Teleconsultation Centre
---
On 28th March, 2020, the government launched the National Teleconsultation Centre (CoNTeC).
About CoNTeC
The project CoNTeC, an acronym for COVID-19 National Teleconsultation Centre, has been conceptualised by the Ministry of Health & Family Welfare and has been implemented by the All India Institute of Medical Sciences, New Delhi.
Mode of Operation
The CoNTeC is a Telemedicine Hub, wherein expert doctors from various clinical domains will be available 24x7 to answer the multifaceted questions from specialists from all over the country.
The modes of communication will include simple mobile telephony as well as two way video communications, using WhatsApp, Skype and Google Duo.
A single mobile number (+91 9115444155) can be dialled from anywhere in the coutnry/world by COVID-19 treating doctors to reach the CoNTeC which has six lines that can be used simultaneously at present.
The incoming calls will be picked up by the CoNTeC Managers, who will then handover the call to the appropriate expert doctors from the clinical domains as desired by the calling specialists managing the COVID-19 cases anywhere in the country.
Benefits
India is a vast country and technology can play a pivotal role for the medical assistance to reach the poor. With the present facility, the poor would be able to get benefit of consultation form the topmost doctors of the country.
Further, it will help to deliver the best possible treatment to the poorest of the poor of the country.
With the help of digital platform and technology, the public at large will get the benefit not only for COVID- 19 but other diseases also.
Current News Science & Technology Health & Disease
Rapid Test
---
In order to tackle suspicions of whether the novel coronavirus has spread into the community and if not prevent such a scenario, the Kerala government recently announced 'rapid tests' that will ensure speedy results within half an hour.
About Rapid Test
Essentially, a rapid test is conducted to determine whether there has been any kind of recent viral infection in a person's body.
When a pathogen enters a human body, specific antibodies are released as a response to the virus.
A rapid test can detect the presence of such antibodies in blood, serum or plasma samples quickly, indicating a viral infection.
Rapid testing is conducted usually to check for community transmission of a virus during an epidemic.
Indian Council of Medical Research Guidelines Regarding Rapid Test
The ICMR guidelines released on March 28th, 2020, clearly say the rapid antibody kits are not recommended for diagnosis of coronavirus infection.
It can only be a preliminary screening test. Positive test indicates exposure to SARS-CoV-2. Negative test does not rule out Covid-19 infection.
The person still has to be subjected to the polymerase chain reaction (PCR) test for confirmation of the SARS-CoV-2 virus.
Advantages of Rapid Test
It will help screen more people in a mass way on a daily basis and is much cheaper than the present RT-PCR testing method.
Moreover, it can be repeated when a patient is in isolation/quarantine to check IgG AB levels, which can reveal the extent of recovery.
Drawback
Even though a rapid test can be extremely helpful to check for community transmission during a global pandemic such as this, it is not a confirmatory test for SARS-CoV-2 that causes the coronavirus infection.
Rapid Test Vs Reverse Transcriptase Polymerase Chain Reaction
So far, India has used the reverse transcriptase polymerase chain reaction(RT-PCR ) test on nasal or throat swab samples of suspected patients to test for Covid-19.
The PCR test checks for the presence of the virus genetic material in an individual's blood. However, they can take anywhere between 12-24 hours to show results.
In comparison, the rapid antibody tests identify disease-fighting antibodies in blood samples and can deliver results in 45 minutes to two hours.
However, since antibodies are usually detectable only after around 7-10 days of being infected by the virus, such tests could throw up false negatives – an infected person may appear normal in the blood test.
Reverse Transcription Polymerase Chain Reaction (RT-PCR)
RT-PCR is a laboratory technique combining reverse transcription of RNA into DNA (in this context called complementary DNA or cDNA) and amplification of specific DNA targets using polymerase chain reaction (PCR).
It is primarily used to measure the amount of a specific RNA.
This is achieved by monitoring the amplification reaction using fluorescence, a technique called real-time PCR or quantitative PCR (qPCR).
Applications
RT-PCR is used in research laboratories to study gene expression, for example in experiments to distinguish exons from introns, and can be used clinically to diagnose genetic diseases and monitor drug therapy.

So, why is Kerala insisting for Rapid Test?
According to the Kerala government, while the rapid tests cannot determine if there is an active infection of the coronavirus, it will determine if there has been any viral infection in the recent past.
The use of the rapid tests in the community will also be able to help determine if there is any community transmission of the coronavirus disease.
It will help to identify those with suspected infection, put them under observation and if required, subject them to the PCR test for coronavirus confirmation.
PIB News National India
INTERNATIONAL GANDHI AWARDS FOR LEPROSY
---
The President of India presented the International Gandhi Awards for Leprosy to Dr N.S. Dharmashaktu under the Indian nomination (individual) category and the Leprosy Mission Trust under the institutional category on February 6, 2020).
Gandhi Memorial Leprosy Foundation, a pioneering organisation established in 1951 in the field of leprosy in India, has instituted the award titled "International Gandhi Award" in 1986.
The Award is presented once in two years and consists of Rs. 2 lakhs as cash award, a Medallion and a Citation. Two awards are presented either to individuals or institutions.
The Award is given to a Leprosy Worker or Institution who/which has undertaken work in the field of leprosy for a period of not less than 10 years and made significant contribution in any aspect of leprosy work, resulting in the amelioration of the suffering of leprosy patients and enabling them to lead normal life.
PIB News National India
Ekam Fest
---
Week long exhibition-cum-fair "EKAM Fest" was organised by National Handicapped Finance Development Corporation (NHFDC) under M/o Social Justice & Empowerment at New Delhi.
EKAM Fest is an effort for promoting entrepreneurship and knowledge among Divyangjan community, generating awareness among society about potentialities of Persons with Disabilities (PwDs); providing a major marketing opportunity to PwDs entrepreneurs.
NHFDC Foundation is making efforts for development of a brand and platform for marketing of products of these determined entrepreneurs. Accordingly, name of the brand has been arrived at Ekam (Entrepreneurship, Knowledge, Awareness, Marketing).
PIB News National India
Second Phase Of Swachh Bharat Mission Gets Nod
---
The Centre will begin implementing the second phase of its Swachh Bharat mission in rural areas from April, focusing on solid and liquid waste management and the sustainability of the abolition of open defecation. The scheme will be implemented by the States, with a fund sharing pattern of 60:40 between the Centre and the States. In the north-eastern and Himalayan states, the Central share will be 90%.
In February 2020, the Union Cabinet approved an allocation of Rs 52,497 crore for the Mission from the budget of the Department of Drinking Water and Sanitation over the next four years.
The remaining outlay of Rs 88,384 crore until 2024-25 will come via a convergence model, depending on funds released under the 15th Finance Commission and money allocated to the rural jobs guarantee scheme, as well as a revenue generation model being developed for solid and liquid waste management.
PIB News National Economy
Enhanced Access And Service Excellence (EASE) 3.0
---
On 26th February, 2020, Union Finance Ministry launched the Ease (Enhanced Access and Service Excellence) 3.0, the new reform agenda for tech-enabled banking.
EASE 3.0 agenda aims at providing smart, tech-enabled public sector banking for aspiring India.
It seeks to enhance ease of banking in all customer experiences, using technology, fintech, alternate data and analytics.
It will include facilities like Palm Banking for end-to-end digital delivery of financial service, Banking on Go via EASE banking outlets, digitalised branch experience, tech-enabled agriculture lending among others.
It emphasizes on the use of digital, analytics & AI, FinTech partnerships across customer service, convenient banking, end-to-end digitalised processes for loan sourcing and processing, analytics-driven risk management.
PIB News National Economy
US Now India's Top Trading Partner
---
According to the 2018-19 data from the Commerce Ministry, the United States has become India's top trading partner surpassing China.
China was India's top trading partner since 2013-14 till 2017-18.
The bilateral trade between the US and India amounted to USD 87.95 billion as compared to USD 87.07 billion with China.
America is one of the few countries with which India has a trade surplus. While dealing with the US, India had a surplus of 16.85 billion in the year 2018-19 alone.
Currently, the top five trading partners of India are - US, China, UAE, Saudi Arabia and Hong Kong.
PIB News National Economy
India Now World's 5th Largest Economy
---
India has emerged as the fifth-largest world economy in 2019 with a gross domestic product (GDP) of $2.94 trillion, overtaking the UK and France, as per a report by US-based think tank World Population Review.
The size of the UK economy is $2.83 trillion and that of France is $2.71 trillion.
In terms of purchasing power parity (PPP) terms, India's GDP (PPP) is USD 10.51 trillion, exceeding that of Japan and Germany. Due to India's high population, India's GDP per capita is USD 2,170 (for comparison, the US is USD 62,794).
PIB News National Economy
SPICe+ Web Form
---
As part of the Government of India's Ease of Doing Business (EODB) initiatives, the Ministry of Corporate Affairs notified a new Web Form christened 'SPICe+' (pronounced 'SPICe Plus') replacing the existing SPICe form.
SPICe+ would be an integrated Web Form and would have two parts viz.: Part A-for Name reservation for new companies and Part B offering a bouquet of services.
It would offer 10 services by 3 Central Government Ministries & Departments (Ministry of Corporate Affairs, Ministry of Labour & Department of Revenue in the Ministry of Finance) and One State Government (Maharashtra).
It aims to save as many procedures, time and cost for starting a Business in India and would be applicable for all new company incorporations.
The new web form would facilitate onscreen filing and real-time data validation for the seamless incorporation of companies.
PIB News National World
INDIA-ICELAND: MOU ON SUSTAINABLE FISHERIES DEVELOPMENT
---
India and Iceland signed a Memorandum of Understanding in the field of fisheries.
The salient features of the MoU are:
Creation of facilities for exchange of scientists and technical experts and their proper placement, especially in areas of estimating Total Allowable Catches in off shore and deep sea areas;
Provision of training to fisheries professionals from key fisheries institutions in the various management aspects on areas of modern fisheries management and fish processing.
Exchange of scientific literature research findings and other information.
Exchange of experts / expertise to study the prospects of fishing. Processing and marketing of products from high seas fisheries for entrepreneurship development.
PIB News National World
India-Brazil: Important Pacts
---
Brazilian President JM Bolsonaro was the chief guest for Republic Day, 2020. During his visit India and Brazil signed 13 agreements.
Investment Cooperation and Facilitation Treaty is the first agreement signed by India on resolving bilateral disputes post India adopting the new draft template for investment treaty in 2015. As per the new draft, a new investor state dispute settlement mechanism that required foreign investors to exhaust local remedies before going for international arbitration was proposed.
Mutual Legal Assistance Treaty which is an agreement between two or more countries for the purpose of gathering and exchanging information in an effort to enforce public or criminal laws was also signed.
A decision to resolve 'Brazil's objection to support given by India to its sugar-cane growers (earlier taken to WTO)' bilaterally.
Other important agreements include – MoU on Bio-energy Co-operation, Early Childhood, Traditional Systems of Medicine and Homeopathy etc.
PIB News National World
UN Chief Issues 7 Point 'Call On Action' On Human Rights
---
UN Secretary General Antonio Guterres on 23rd Feb., 2020 issued a 'call of action' to countries, businesses and all people to help renew and revive human rights across the globe, laying out a seven-point plan amid concerns about climate change, conflict and repression.
The appeal was made in the latest session of Human Rights Council in Geneva. His seven-point plan involves linking human rights to issues like sustainable development, crisis prevention, gender equality, the development of the digital age, and freedom of expression and civil society, among other things.
PIB News National World
Raisina Dialogue, 2020
---
It is a geo-political event in a form of multilateral conference committed to addressing the most challenging issues facing the global community. It is organized by ORF (Observer Research Foundation) and Ministry of External Affairs.
The theme of 5th Raisina Dialogue, 2020 – ''21@20: Navigating the Alpha Century''.
The three-day conclave from 14thJanuary- 16th January, brought together 700 international participants in New Delhi, out of which 40 per cent of the speakers were women, emphasizing India's commitment to gender equality.
Raisina hill is a metonym used for the seat of Government of India. It includes important government offices along with the Presidential Palace or Rashtrapati Bhavan.
PIB News National Science & Technology
Synechococcus Sp. PCC 7002 To Boost Biofuel Production
---
In a Department of Biotechnology, sponsored research, scientists at the International Centre for Genetic Engineering and Biotechnology (ICGEB) have developed a method to improve the growth rate and sugar content of a marine cyanobacterium called Synechococcus sp. PCC 7002.
They successfully engineered Synechococcus sp. PCC 7002 which showed a higher growth rate and sugar (glycogen) content. When grown on air, the growth was doubled and the glycogen content of the cells increased by about 50%.
Biotechnological processes such as biofuel production are dependent on the availability of low-cost and sustainable supply of sugars and a nitrogen source. Plants, through the process of photosynthesis, convert carbon dioxide in the atmosphere into biological components such as sugars, proteins and lipids.
The cyanobacteria (blue-green algae) can also perform photosynthesis and produce sugar by fixing the carbon dioxide in the atmosphere. Apart from higher yield of sugars, cyanobacterial biomass also provides a nitrogen source in the form of proteins.
Synechococcus sp. PCC 7002 is a model marine cyanobacterium. There are other Synechococcus species and related organisms where this work can be extended.
The present finding will help improve the economic feasibility of marine cyanobacteria-based sugar, and consequently, biofuel production.
PIB News National Science & Technology
Chatbot ASKDISHA: Now In Hindi
---
Indian Railways Catering & Tourism Corporation Limited (IRCTC) has enabled Artificial Intelligence based chatbot ASKDISHA to converse with customers in Hindi language, apart from English, on their e-ticketing site. The customers can now ask queries to ASKDISHA in Hindi language by voice as well as text.
In order to resolve queries of railway passengers over the internet pertaining to various services offered, Indian Railways had introduced the services of ASKDISHA in October, 2018.
IRCTC plans to launch ASKDISHA in more languages along with many other additional features in the near future.
The chatbot is a special computer programme designed to simulate conversation with users, over the internet. Since its initial launch, more than 150 million passengers have been benefited by ASKDISHA with 10 billion interactions for seeking help on reservation of tickets, cancellation, enquiry of refund status, fare, PNR search, train running status, enquiry about retiring rooms and tourism products.
PIB News National Science & Technology
RAISE 2020
---
The Ministry of Electronics and Information Technology will organize the first Global AI Summit in India- 'RESPONSIBLE AI FOR SOCIAL EMPOWERMENT' (RAISE 2020), during 11th -12th April with a focus on harnessing AI for social transformation, inclusion, and empowerment.
The summit will bring together the innovators, investors and collaborators of the technology.
RAISE 2020 will have the following three key features:
AI Startup Pitchfest: It will be an exclusive closed door pitching for a select few before the best of investor community and potential customers.
AI Startup Theatre: It will provide a great opportunity for select start-ups to showcase their offerings at the centre stage of a premium and one of its kind summits to audience from around the globe.
AI Startup Awards: The awards will recognize the potentially high impact, champion startups for using AI as a solution and enabler.
PIB News National Ecology & Environment
CARBON AS OLD AS 8,000 YEARS FOUND IN DEEPEST BLUE HOLE
---
Carbon more than 8,000 years old has been found inside the world's deepest blue hole — the Yongle Blue Hole (YBH) — which was recently discovered in the South China Sea.
This finding will help in studying carbon cycling and potential mechanisms controlling it.
Blue holes are marine caverns filled with water and are formed following dissolution of carbonate rocks, usually under the influence of global sea level rise or fall. What distinguishes them from other aquatic caverns is that they are isolated from the ocean and don't receive fresh rainwater. They are generally circular, steep-walled and open to surface.
YBH has a depth of 300 metres, far deeper than the previously recorded deepest blue hole, Dean's Blue Hole in Bahamas, which had a depth of 202 metres.
PIB News National Ecology & Environment
Animal Culture Linked To Conservation For The First Time
---
A report on conserving Sperm Whales and Chimpanzees based on their culture was presented in the 13th Conference of Parties CMS (Convention on the Conservation of Migratory Species of Wild Animals (CMS)). This is the first time that a conservation strategy based on animal culture was considered in CMS.
Animal Culture is the learning of non-human species through socially transmitted behaviour. It is believed that animals learn from their adults or peers, the ability of acquiring knowledge, choosing optimal migration routes, etc.
PIB News National Ecology & Environment
Warming, Acidic Oceans May Nearly Eliminate Coral Reef Habitats By 2100
---
Rising sea surface temperatures and acidic waters could eliminate nearly all existing coral reef habitats by 2100, and restoration of projects in these areas will likely meet serious challenges, according to a new research presented in the Ocean Sciences Meeting, 2020.
The study further states that cleaning beaches, combating land pollution are decent but not concrete enough measures in ensuring sustenance of coral reefs. The preliminary findings, as per the report, suggest sea surface temperature and acidity are the most important factors in determining if a site is suitable for restoration.
PIB News National Ecology & Environment
Vulture Population Down From 4 Crore To 4 Lakh In 3 Decades
---
While addressing the media before CoP 13 (CMS), Environment Minister said that the number of vultures reduced from 4 crore to 4 lakh in three decades .
The major reason for decline in the population of vultures has been the use of 'Diclofenac', a veterinary drug used to treat cattle.
Vultures are known to be of vital importance for ecosystem as they feed on dead cattle. This scavenging act helps in allaying diseases caused by animal leftovers like rabies, anthrax, etc.
Vulture is listed as 'Critically Endangered' under IUCN Red List since 2002.
Diclofenac application on cattle is not yet banned Pan-India except Tamil Nadu which has put a ban on application of Diclofenac for cattle treatment.
PIB News National Ecology & Environment
NGT Calls For Scientific Disposal Of Fly Ash
---
The National Green Tribunal has directed thermal power plants in the country to take prompt steps towards scientific disposal of fly ash (a by-product of thermal power plant).
It asked the thermal power plants to follow the statutory notification of MoEFCC under Environment Protection Act, 1986 (requiring 100% utilization and disposal of fly ash).
---