Current News Indian Economy Plan Policy
National Technical Textiles Mission
---
On 26th February, 2020, the Cabinet Committee on Economic Affairs gave its approval to set up a National Technical Textiles Mission.
The Mission would have a four year implementation period from FY 2020-21 to 2023-24.
Aim
To promote research, export and skill development
Encourage manufacturing facilities and use of Technical Textiles
Reduce Technical Textiles imports of India
Need for the Mission
Low Penetration Level: The penetration level of technical textiles is low in India, varying between 5-10% against the level of 30-70% in developed countries.
Insignificant Share in World Market: Indian technical textiles segment is estimated at $16 billion which is approximately 6% of the $250 billion global technical textiles market.
Salient Features
The Mission will have four components:
Component One
Focus will on Research, Innovation and Development.
This component will promote both (i) fundamental research at fibre level aiming at path breaking technological products in Carbon Fibre, Aramid Fibre, Nylon Fibre, and Composites and (ii) application based research in geo-textiles, agro-textiles, medical textiles, mobile textiles and sports textiles and development of bio­degradable technical textiles.
Component Two
Focus will be on Promotion and Market Development.
It will aim at average growth rate of 15-20% per annum taking the level of domestic market size to 40-50 Billion USD by the year 2024; through market development, market promotion, international technical collaborations, investment promotions and 'Make in India' initiatives.
Component Three
Focus will be on Export Promotion
It aims at export promotion of technical textiles enhancing from the current annual value of approximately Rs.14000 Crore to Rs.20000 Crore by 2021-22 and ensuring 10% average growth in exports per year upto 2023-24.
An Export Promotion Council for Technical Textiles will be set up for effective coordination and promotion activities in the segment.
Component Four
Focus will be on Education, Training and Skill Development
It will promote technical education at higher engineering and technology levels related to technical textiles and its application areas covering engineering, medical, agriculture, aquaculture and dairy segments.
Skill development will be promoted and adequate pool of highly skilled manpower resources will be created for meeting the need of relatively sophisticated technical textiles manufacturing units.
Subcomponent
A sub-component of the research will focus on development of bio degradable technical textiles materials, particularly for agro-textiles, geo-textiles and medical textiles. It will also develop suitable equipment for environmentally sustainable disposal of used technical textiles, with emphasis on safe disposal of medical and hygiene wastes.
There is another important sub-component in the research activity aiming at development of indigenous machineries and process equipment for technical textiles.
Significance
Making Self-Reliant: The step would position the country as a global leader in technical textiles,making self-dependent in technical textile sector and to nullify the burden of technical textiles segment on India's trade deficit within the next one year.
Holistic Growth and Development:The use of technical textiles in agriculture, aquaculture, dairy, poultry, JalJivan Mission, Swachch Bharat Mission, Ayushman Bharat will bring an overall improvement in cost economy, water and soil conservation, better agricultural productivity and higher income to farmers per acre of land holding in addition to promotion of manufacturing and exports activities in India.
Technical Textile
Technical textiles are textiles materials and products manufactured primarily for technical performance and functional properties rather than aesthetic characteristics.
Technical Textiles products are divided into 12 broad categories - Agrotech, Buildtech, Clothtech, Geotech, Hometech, Indutech, Mobiltech, Meditech, Protech, Sportstech, Oekotech and Packtech.
Raw Material for Technical Textile
Natural Fiber: Cotton, Silk, Sisal, Rax, Wool
Man Made Fibers and Polymers: Viscose, PolyarTiide, Polyolefin, Flax, Polyester, Aramid, UMHW Polyethylene, Carbon, Glass
Applications
Technical textiles have specialized applications in diverse areas such as production of fire-resistant vests, bulletproof jackets, high altitude combat gear, as well as space applications. They are also used in automobile and medical industries.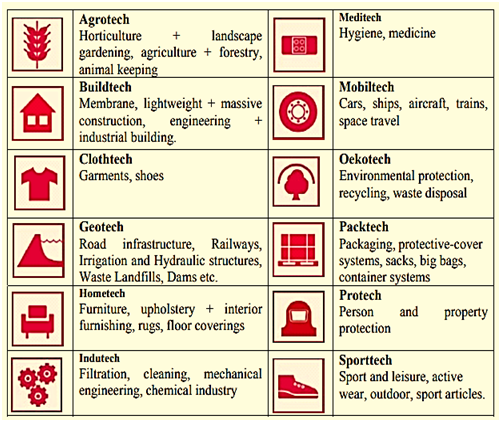 Indian Technical Textile Indusrty
Technical textile industry in India is import dependent. Many products like specialityfibres/yarns, medical implants, sanitary products, protective textiles, webbings for seat belts, etc. are mostly imported.
As per the Baseline Survey of technical textile industry by Ministry of Textiles, Indian technical textile industryis estimated to grow at a CAGR of 20 percent to INR2,00,823 crore by 2020-21 from INR1,16,217 crore in 2017-18.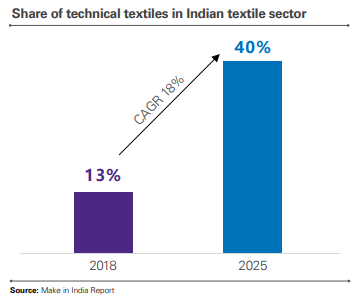 Analysis of Indian Technical Textile Industry
Strengths
Availability of Young and Cheap Manpower: India has one of the largest working-agepopulation (people between 15 and 64 yearsof age) in the world. Based on the country'scurrent demographics, the abundant workforce isexpected to work until 2055. Abundant workforcewith relatively lower average manpower costsprovides India a distinct edge as key globalmanufacturing destination.
Strong Textiles Value Chain: India is the onlycountry in the region, other than China, with entiretextile value chain in both natural and syntheticfibres. Due to availability of raw materials fortechnical textiles sub-segments, India is wellpositioned to capitalize on opportunities presentedby both domestic and international markets.
Active Promotion from Government: Government has been activelyworking towards development of technical textilesin India. For the purpose, Government of Indiahas launched several programs (for investmentpromotion, subsidies, creation of infrastructure,stimulating consumption etc.) such as Schemefor growth and development of technical textiles(SGDTT), Technology mission on technicaltextiles (TMTT), Scheme for promoting usageof Agro-textiles in north east region, Schemefor promoting usage of geotechnical textiles innorth east region, Technology up-gradation fundsscheme (TUFS) and Scheme for integrated textile parks (SITP).
Availability of Manufacturing Infrastructure: India is a rapidly growing industrial economy withavailability of key resources such as land, power,water, manpower and conducive regulatoryframework for industries to thrive and grow.Technical textiles manufacturing set up can beestablished easily with an attractive and growingmarket to spur demand.
Weaknesses
Import Dependence for Machinery Currently,majority of machinery used to manufacturetechnical textiles products is not available in India.In order to attract investments in technical textiles,Government needs to promote manufacturing ofhigh-tech machinery to boost technical textilessector.
Low Awareness about Technical Textile Products in End Users: In India, majority ofintended end users of technical textile productsare still unaware of the benefits of usage of suchproducts, thereby leading to lack of adoption.
Lack of Standardization and Related Regulations: Currently, several technical textile products do nothave Standard Benchmarks, resulting in availabilityof sub-standard cheaper products. Further, safetyand other related regulations need to be enforcedacross industries to propel demand for technicaltextiles products.
Little or No Domestic Manufacturing of Specialty Fibres: Currently, majority of specialtyfibres are imported in India, thus making India globally uncompetitive in high-value technical textiles products.
Suggestive Measures
Raising awareness of end-use applications
Regulatory reforms supporting the usage of standardised technical textile products
Development and implementation of standards
for technical textile products
Incentivisingresearch and development in the field of technical textiles
Dedicated courses on technical textiles for entrepreneurship training
Improving availability of skilled manpower
Promoting indigenous manufacturing of high performance specialty fibres
Promoting institutional buying
Incentivising production of technical textiles machinery
Promotion of exports of technology intensive technical textiles
Way Forward
The future of the technical textile industry in India has a positive outlook and is mirrored by increasingly strong consumption rates in the domestic market as well as the growing demand for exports.
With the appropriate measures, the industry has potential to emerge as a global hub for technical textile manufacturingas well as to contributesignificantly to the government's vision to become a USD 5 trillion economyin the next few years.
Current News Indian Economy Plan Policy
ADB Lists Masala Bonds On India INX
---
On 25th February, 2022, Asian Development Bank (ADB) listed its 10-year Masala Bonds worth Rs 850 crore on the Global Securities Market (GSM) of the India International Exchange (INX) at GIFT City, Gujarat.
The proceeds would be used to support local currency lending and investment in India.
Key Points
GSM, the primary market platform of India INX, has evoked significant interest since its establishment in 2018 and has more than $48 billion medium-term notes established and over $21 billion of bond listings till date.
ADB's Masala Bonds are listed on both Luxembourg exchange and India INX.
The listing rules and processes at India INX are modelled on global standards making time to market fast and efficient.
Bonds were distributed to investors in the US (21 per cent) and Europe (79 per cent), with 28 per cent placed with banks and 72 per cent with fund managers.
India International Exchange Limited (India INX)
INX is India's first international exchange in International Financial Services Centre (IFSC) located at the Gujarat International Finance-Tec City (GIFT City).
India INX is a subsidiary of Bombay Stock Exchange (BSE) Limited.
Operating on an advanced technology platform of EUREX T7, the Exchange is the fastest in the world with a turn-around time of 4 micro seconds.
The exchange offers a first of its kind single segment approach for all asset classes - equities, currencies, commodities, fixed income securities providing significant cost advantages to participants.
Impact
This is the first time a foreign issuer and a supranational is doing a primary listing with India INX. This will help further in making GIFT IFSC a global hub for fund raising by Indian and Foreign issuers.
What are Masala Bonds?
Masala Bonds are the bonds which are issued by the Indian firms (in rupee denomination) to foreign investors with an aim to attract funds for projects.
Since these bonds are issued outside of India, they are settled in US dollars (USD) in markets.
The term was used by International Finance Corporation (IFC) to popularise the culture and cuisine of India on foreign platforms.
The first Masala Bond was issued by IFC in November 2014 when it raised 1,000 crore bonds to fund infrastructure projects in India.
The framework for issuance of these bonds falls within the External Commercial Borrowings (ECB) policy.
Who Issues these Bonds?
Any corporate or body corporate, Indian banks, Real Estate Investment Trusts (REITs) and Infrastructure Investment Trusts (InvITs) are eligible to issue these denominated bonds overseas.
Resident entities like Limited Liability Partnerships and Partnership firms are, however, not eligible to issue these bonds.
Where can these bonds be issued and who can subscribe?
Masala Bonds can be issued only in countries that have an arrangement for Financial Action Task Force (FATF) or are a member of a FATF-Style Regional body along with securities market regulator is a signatory to the International Organization of Securities Commission's (IOSCO's) or a signatory to bilateral MoU with the SEBI for information sharing arrangements.
While residents of such countries can subscribe to the bonds, it can also be subscribed by multilateral and regional financial institutions where India is a member country.
Who is eligible to invest in these Bonds?
Investors from outside of India who would like to invest in Indian assets can invest in Masala Bonds.
Indian entities like HDFC, NTPC, and Indiabulls Housing have raised funds via Masala Bonds.
What is the minimum maturity period of such bonds?
According to RBI, the minimum maturity period for Masala Bonds raised up to Rupee equivalent of USD 50 million in a financial year should be 3 years and for bonds raised above USD 50 million equivalent in INR per financial year should be 5 years.
The conversion for such bonds happens at the market rate on the date of settlement of transactions undertaken for issue and servicing of the bonds, including its redemption.
What are the benefits of Masala Bonds?
Benefits to Economy
Masala Bonds help to internationalize the Indian Rupee and give value to the Indian Financial system and economy
Liquid rupee-denominated debt markets stimulate financial stability.
It helped to open up new avenues for Bond investments by retail savers by increasing their rupee structure.
These bonds help in building up foreign investor's confidence in Indian economy and currency which will strengthen the foreign investments in the country.
Benefits to the Issuer
The issuer of these bonds is shielded against the risk of currency fluctuation, typically associated with borrowing in foreign currency. In simpler words, as Masala Bonds are rupee-denominated bonds, the risk goes directly to the investor.
Benefits to the Investors
Investor can earn more money as interest rate of Masala Bond is higher compared to developed countries.
Current News Ecology & Environment Agriculture & Allied Sector
One Year Of PM-KISAN Scheme
---
Pradhan Mantri Kisan Samman Nidhi, popularly known as (PM-KISAN) scheme completed one year on 24th February, 2020.
The scheme was launched by the government on 24th February, 2019, in Gorakhpur district, Uttar Pradesh.
About PM-KISAN Scheme
PM-KISAN is a Central Sector scheme with 100% funding from Government of India with an aim to increase the income of farmers by offering income support to all landholding farmers' families across India.
The Scheme is effective from 1st December, 2018.
Under the Scheme an amount of Rs.6000/- per year is transferred in three 4-monthly installments of Rs. 2000/- directly into the bank accounts of the farmers, subject to certain exclusion criteria relating to higher income status.
The financial benefits are released to the beneficiaries on the basis of the data of farmers prepared and uploaded by them on the PM-Kisan web-portal.
At present, all states except West Bengal are implementing the scheme.
Eligibility Criteria
It initially provided income support to all Small and Marginal Farmer's (SMF) families across the country, holding cultivable land upto 2 hectares.
Later, its ambit was expanded e.f. 1st June, 2019 to cover all farmer families in the country irrespective of the size of their land holdings.
Exceptions
Affluent farmers have been excluded from the scheme such asIIncome Tax payers in last assessment year, professionals like Doctors, Engineers, Lawyers, Chartered Accountants, etc. and pensioners drawing at least Rs.10,000/- per month (excluding Multi Tasking Staff (MTS)/Class IV/Group D employees).
Special provisions have been made for the North-Eastern States where land ownership rights are community based, Forest Dwellers, and Jharkhand, which does not have updated land records and restrictions on transfer of land.

Progress So Far
The Central Government has already released more than Rs. 50850 crores till now.
Total number of beneficiaries to be covered under the scheme is about 14 crore, based on estimates of the Agriculture Census 2015-16.
As on 20th February 2020, farmer families of 8.46 crores have been given the benefits.
Significance
The significance of PM-KISAN is that, for the first time, an attempt has been made to transfer income directly to farmers without using price policy (of either inputs or output).
In most of the programmes in the past, the policy instrument used has always been price.
Advantages
The main advantage is that the benefits are not linked to production of any crop. And since the benefits are not linked to production, the resultant supply-demand imbalance is expected to be minimal, unlike in the case of minimum support prices (MSPs).
Also, there is no need of procurement, storage and distribution of all the commodities. Instead, procurement can be limited to only those commodities that are needed for public distribution system. This should lead to much lower fiscal costs and lesser storage infrastructure.
Issues with PM-KISAN

Implementation Issue
In India, majority of the States have incomplete tenancy records and land data are not digitized.
For example, Bihar has registered only one third of its farmers because of lack of digital data. Madhya Pradesh, Rajasthan, Maharashtra, Andhra Pradesh and Karnataka have identified 55-60% of their farmers as beneficiaries while Chhattisgarh has verified less than half of its farmers. Uttar Pradesh has verified 85% of the 25 million farmers it has, as per the agricultural census of 2016, while Rajasthan has registered 80% of its farmers.
Difficulty in Identifying Beneficiary Farmers
According to agricultural census of 2015-16, number of landholdings in the country was projected at Rs 14.65 crore. But, landholdings do not determine the number of farmer families present in the country, as there are multiple owners for a single land. In such scenario, all the farmer families which own the land are eligible for the scheme.
It may also happen that a single farmer holds multiple lands. The agricultural census may record multiple landholdings which PM-Kisan scheme would otherwise recognise as single farmer.
Infrastructure Issues
PM-KISAN payments have to be direct bank transfers. This involves, inter alia, two big problems: (i) lack of last-mile banking connectivity in the country and (ii) possibility of banks offsetting the transferred amount to settle outstanding loans of the beneficiary, leaving the beneficiary high and dry.
Way Forward
PM-KISAN is an ambitious scheme that has the potential to deliver significant welfare outcomes. However, the current top-down, rushed approach of the government ignores governance constraints and is therefore likely to result in failure.
An alternative bottom-up strategy and well-planned implementation mechanism would allow weaknesses to be identified and rectified at the local level. The most effective modalities can then be scaled nationally ensuring success.
Despite the initial challenges, the scheme can pave the way for a slew of fresh measures in near future to support the farm sector and help to achieve the target of doubling farmers' income by the year 2022.
Current News Ecology & Environment Pollution
Scrapping Of Jalyukta Shivar Abhiyan
---
Recently, the Maharashtra Government scrapped the flagship water conservation project-Jalyukta Shivar.
Reasons for Scrapping the Project
Corruption: One of the main corruption charges levied against the previous government in Maharashtra was against the Jalyukta Shivar project. The then CM had announced completion of 10,094 tasks in January, 2019. But in March, charges of discrepancies were levelled against 1,300 tasks carried out under the Jalyukta Shivar scheme, which the then government later accepted.
Improper Fund Allocation: Another reason is improper fund allocation during the final leg of the scheme which led to the substandard quality of work being carried out during the last three years.
Niti Aayog Report: According to the NITI Aayog's Composite Water Management Index-2019, Maharashtra's performance in preserving existing water sources, restoring encroached water bodies, water distribution through canals and irrigation management has worsened since 2015. Despite the Jalyukta Shivar programme, the state has performed poorly in the groundwater recharge. This emboldened government's decision to scrap the project.
Jalyukta Shivar
Launched in December 2014 after Maharashtra experienced consecutive droughts. The project was aimed at rolling out measures that could potentially mitigate water scarcity in the most drought-prone villages in a systematic manner.
Objectives
To arrest maximum runoff in the village area
To create Decentralized Water Bodies
To increase the Groundwater Level in Drought areas
Rejuvenation of the water storage capacity of various existing structures like Village Tank, Percolation Tank Cement Nalla Bandh (CNB) through repairs and renovations
To increase storage capacity of water bodies by removing silt through people's participation.
To sensitize the concept of Water Budgeting
Need for Jalyukta Shivar
Since 2014, hundreds of villages in Marathwada, Madhya Maharashtra and Vidarbha have experienced droughts for consecutive years.
About 82 per cent area of Maharashtra falls is rainfed sector while 52 per cent of area is drought prone. This, when coupled with natural rainfall variability and long dry spells during the monsoons, severely hampers agricultural activities.
Key Features
The project was targeted at strengthening and streamlining existing water resources like canals, bunds and ponds by arresting maximum run-off rainwater during monsoon.
To widen and deepen natural water streams and connect them to nearby water storage facilities like earthen or concrete check-dams was proposed.
Success of Jalyukta Shivar
By January 2019, the scheme had transformed 16,000 drought-prone villages of Maharashtra. The irrigation cover had been increased by 34 lakh hectares. In the process, thereby, increasing the crop yield each year, particularly the kharif crops. Until mid-2019, interventions resulted in stocking of water measuring 24 lakh trillion cubic metres.
Villages that gained called the scheme a game changer, but critics raised issues like sustainability, the contractor-based model and even the lack of data gathering to show the utility of the scheme while the state-run ground water and survey development agency had submitted a report, saying water levels in 31,000 villages had drastically gone down.
Future of Water Conservation in Maharashtra
Geologists and hydrologists, who worked on implementing the project, shared similar views and hailed Jalyukta Shivar programme. This was mainly due to the interventions undertaken in the existing water reserves, planned de-silting activities, among many others.
However, experts agreed that the scheme was not appropriately implemented. Now with Jalyukta Shivar no longer in existence, focused efforts of the past five years, in most likelihood, will go down the drain unless a similar scheme is introduced.
With rainfall variations getting more pronounced, in addition to depleting groundwater reserves, the state will need concrete interventions to tackle its future water requirements.
Current News Ecology & Environment Agriculture & Allied Sector
Revamping Of Crop Insurance Schemes
---
On 19th February, 2020, the Union Cabinet approved revamping of "PradhanMantri Fasal Bima Yojana (PMFBY)" and "Restructured Weather Based Crop Insurance Scheme (RWBCIS)" to address the existing challenges in implementation of Crop Insurance Schemes.
These changes are proposed to be implemented from Kharif2020 Season throughout the country.
Aim
The move is aimed at increasing the coverage rate and enabling farmers to manage their agricultural risk in a better way.
Need
The Centre was under pressure to make necessary changes in PM FasalBimaYojana after Andhra Pradesh, West Bengal and Bihar decided to exit the scheme citing high costs and the need to customize it based on geographical diversities.
Major Changes Made
Reduced Premium Share of Centre
Until now, farmers pay a fixed share of the premium: 2% of the sum insured for kharif crops, 1.5% for rabi crops and 5% for cash crops. Currently, the Centre and State split the balance of the premium equally.
Now it is decided to cap the Centre's premium subsidy under these schemes for premium rates up to 30% for un-irrigated areas/crops and 25% for irrigated areas/crops.
Districts having 50% or more irrigated area will be considered as irrigated area/district for both the schemes.
However, Central share in Premium Subsidy to be increased to 90% for North Eastern States from the existing sharing pattern of 50:50.
Advance Technology Solution for Loss Estimation
For estimation of crop losses/admissible claims, two-Step Process to be adopted based on defined Deviation Matrixusing specific triggers like weather indicators, satellite indicators, etc. for each area along with normal ranges and deviation ranges.
Crop Cutting Experiments (CCEs) will not be mandatory for crop estimation, which is used to determine claim payouts.
Only areas with deviations will be subject to Crop Cutting Experiments (CCEs) for assessment of yield loss (PMFBY).
Cut-off Date

Now cut-off dates for states to release their share of premium subsidy has been fixed.
Cut-off dates for invoking this provision for Kharif and Rabi seasons will be 31st March and 30th September of successive years respectively.
If states don't release their share before the stipulated date, they won't be allowed to implement the scheme.
Flexibility for States to Select Risk Cover

The government has given flexibility to states/UTs to implement PMFBY and RWBCIS, and given them the option to select any number of additional risk covers/features like prevented sowing, localised calamity, mid-season adversity, and post-harvest losses. Earlier, these risk covers were mandatory.
Further, States/UTs can offer specific single peril risk/insurance cover, like hailstorm, etc. under PMFBY even with or without opting for base cover.
Voluntary Enrollment

In another significant change, enrolment in the two schemes has also been made voluntary for all farmers, including those with existing crop loans. When the PMFBY was launched in 2016, it was made mandatory for all farmers with crop loans to enroll for insurance cover under the scheme.
Compulsory Time Period for Insurance Companies
It is proposed to modify certain parameters and provisions of the ongoing schemes of PMFBY and RWBCIS under which allocation of business to insurance companies will be done for three years.
Currently, the tenders floated by the States are for one-year, two-year or three-year periods.
Expected Benefits
Stabilizing Farm Income:With these changes it is expected that farmers would be able to manage risk in agriculture production in a better way and will succeed in stabilizing the farm income.
Better Risk Management and Increased Coverage:Further, it will increase coverage in north eastern region enabling farmers to manage their agricultural risk in a better way.
Accurate Loss Estimation:The proposed two-step loss estimation processwill enable quick and accurate yield estimation leading to faster claims settlement.
Analysis
The Centre's decision has invited criticismfrom many with some saying the move foretells the impending death of the scheme.According to the critics, reduction in premium subsidy means that the states will have to bear extra burden on premiums. As such, many states have been unable to bear their share of premiums.
By capping the subsidy for premium rates up to 30%, the Centre wants to dis-incentivise certain crops in such areas where growing these crops involve high risks in terms of crop insurance premiums.
Additionally, it will lead to a rise in the rates of premium, as the area covered under insurance and the number of enrolled farmers is expected to come down significantly.
Further, making participation voluntary is one way of lifting the security net of farmers.Non-loanee farmers under the crop insurance schemes are much fewer than loanee farmers. If the latter opt out of the schemes, the number of insured farmers will drastically come down.
PMFBY drew flak from a wide variety of stakeholders. Farmer groups and opposition politicians have claimed that private insurance companies have made windfall gains on the scheme.
Contrarily, several major insurers, including ICICI Lombard and Tata AIG, have opted out of the scheme in 2019-20, reportedly due to losses because of high claims ratios.
Pradhan Mantri Fasal Bima Yojana (PMFBY)
PMFBY was launched in 2016, after scraping down the earlier insurance schemes viz. Modified National Agricultural Insurance Scheme (MNAIS),Weather-based Crop Insurance Scheme and the National Agriculture Insurance Scheme (NAIS).
Objectives
To provide insurance coverage and financial support to the farmers in theevent of failure of any of the notified crop as a result of natural calamities,pests & diseases.
To stabilise the income of farmers to ensure their continuance in farming.
To encourage farmers to adopt innovative and modern agricultural practices.
To ensure flow of credit to the agriculture sector.
Restructured Weather Based Crop Insurance Scheme (RWBCIS)
Launched in 2016, RWBCIS aims to mitigate the hardship of the insured farmers against the likelihood of financial loss on account of anticipated crop loss resulting from adverse weather conditions relating to rainfall, temperature, wind, humidity, etc.
WBCIS uses weather parameters as "proxy" for crop yields in compensating the cultivators for deemed crop losses.
Pay-out structures are developed to the extent of losses deemed to have been suffered using the weather triggers.
Coverage of Crops
Food Crops (Cereals, Millets and Pulses)
Oilseeds
Commercial/ Horticultural Crops
Current News Indian Economy Plan Policy
India-Norway Task Force On Blue Economy
---
On 19thFebruary, 2020, India along with Norway opened the India-Norway Task Force on Blue Economy, in order to promote Sustainable Development, of both the countries.
Background
The idea of Task Force on Blue Economy was mooted during the visit of Norwegian Prime Minister in January, 2019.
Both the countries signed a MoU on India-Norway Ocean Dialogue and the establishment of the Joint Task Force on 'Blue Economy' in order to promote multi-sectoral cooperation in various aspects of Blue Economy.
Key Points
The purpose of the task force is to develop and follow up joint initiatives between the two countries. The bilateral collaboration intends to manage the resources in the oceans in a sustainable manner.
The ultimate goal is to promote sustainable value creation and employment in the ocean-based industries.
The strength and value added of the India-Norway Joint Task Force on Blue Economy is its ability to mobilise relevant stakeholders from both Norway and India at the highest level, and ensure continued commitment and progress across ministries and agencies.
The two countries also commenced a new collaboration on Integrated Ocean Management & Research.
Blue Economy
The idea was introduced by Gunter Pauli in his 2010 book- "The Blue Economy: 10 years, 100 innovations, 100 million jobs".
The term 'Blue Economy' was first coined by representatives of Small Island Developing States (SIDS) and other coastal countries during the 2012 Rio Summit.
The Blue Economy aims to move beyond business as usual and to consider economic development and ocean health as compatible propositions.
It seeks to promote economic growth, social inclusion, and the preservation or improvement of livelihoods while at the same time ensuring environmental sustainability of the oceans and coastal areas. At its core it refers to the decoupling of socioeconomic development through oceans-related sectors and activities from environmental and ecosystems degradation.
Sustainable Development Goal (SDG) 14 intends to conserve and sustainably use the oceans, seas and marine resources for sustainable development.
Components of Blue Economy
The Blue Economy has diverse components, including established traditional ocean industries such as fisheries, tourism, and maritime transport, but also new and emerging activities, such as offshore renewable energy, aquaculture, seabed extractive activities, and marine biotechnology and bio-prospecting.
In order to qualify as components of a Blue Economy, activities need to:

provide social and economic benefits for current and future generations
restore, protect, and maintain the diversity, productivity, resilience, core functions, and intrinsic value of marine ecosystems
be based on clean technologies, renewable energy, and circular material flows that will reduce waste and promote recycling of materials.
Components of Blue Economy
Importance of Blue Economy
Key to Food Security
Fisheries, which is a vital oceanic resource forms the core of the Blue Economy, provides food to hundreds of millions of people and greatly contribute to the livelihoods of coastal communities. It plays an important role in ensuring food security, poverty alleviation and also has a huge potential for business opportunities.
Immense Source of Renewable Ocean Energy
The world population is expected to increase to an estimated 9 billion people in 2050, which is 1.5 times greater than the current population, resulting in an increase in countries' demands on fossil fuels.
In this scenario, Blue Economy could be a major source of clean energy, where large renewable energy is not tapped.
Coastal Tourism Opportunities
Coastal tourism, a major sector of Blue Economy, presents huge potential for job creation and economic growth.
Sustainable coastal tourism can assist with the preservation of artisanal fishing communities, allow for subsistence fishing, protect the environment, and make positive contributions to sustainable economic development.
Shipping, Port infrastructure and Logistics
The seaport and maritime transport sector is one of the important priority sectors under the Blue Economy.
Sea is a cost-effective and carbon-friendly mode of transportation for global trade. About 90 per cent of world trade is conducted through the sea routes.
Seabed Mining
With the decreasing inland mineral deposits and increasing industrial demands, much attention is being focused on mineral exploration and mining of the seabed.
Deep-sea mining is viewed as a potential sector for promotion of Blue Economy. The seabed contains minerals that represent a rapidly developing opportunity for economic development in both the Exclusive Economic Zones (EEZs) of coastal nations and beyond the limits of national jurisdiction.
Marine Industry
Marine manufacturing, electricity generation from offshore sources, gas and water constitute the industrial sectors of Blue Economy. Marine manufacturing sector covers a wide range of activities such as boat manufacturing, sail making, net manufacturing, boat and ship repair, marine instrumentation, aquaculture technology, marine industrial engineering, etc.
Marine Biotechnology Research & Development
Marine biotechnology (or Blue Biotechnology) is considered an area of great interest and potential due to the contribution for the building of an eco-sustainable and highly efficient society.
A fundamental aspect is related to aquaculture, whereby new methodologies will help in: selective breeding of species; increasing sustainability of production; and enhancing animal welfare, including adjustments in food supply, preventive therapeutic measures, and use of zero-waste recirculation systems.
Challenges to Blue Economy
Unsustainable Exploitation of Marine Resources
Unsustainable extraction of marine resources, such as unsustainable fishing as a result of technological improvements coupled with poorly managed access to fish stocks and rising demand. The Food and Agriculture Organization (FAO) estimates that approximately 57 per cent of fish stocks are fully exploited and another 30 per cent are over-exploited, depleted, or recovering.
Fish stocks are further exploited by illegal, unreported, and unregulated fishing, which is responsible for roughly 11–26 million tons of fish catch annually or US$10-22 billion in unlawful or undocumented revenue.
Threat to Marine Ecology
Physical alterations and destruction of marine and coastal habitats and landscapes due largely to coastal development, deforestation, and mining. Coastal erosion also destroys infrastructure and livelihoods.
Unplanned and unregulated development in the narrow coastal interface and near shore areas has led to significant externalities between sectors, overlapping uses of land and marine areas, marginalization of poor communities, and loss or degradation of critical habitats.
Marine Pollution
Sea water is continuously getting polluted in the form of excess nutrients from untreated sewerage, agricultural runoff, and marine debris such as plastics.
Climate Change
Impacts of climate change, for example, in the form of both slow-onset events like sea-level rise and more intense and frequent weather events pose major challenges to Blue Economy. The changes in sea temperature, acidity, and major oceanic currents, among others, already threatening marine life, habitats, and the communities that depend on them.
Unfair and Unregulated Trade Practices
Many times fishing agreements allow access to an EEZ of country to foreign operators. These operators restrict transfer of specific fishing knowledge to national stakeholders leading to low appropriation of fisheries export revenues by national operators. So, the potential for national exploitation of those resources is reduced in the long run.
Blue Economy in India
Despite being surrounded by water on three sides, India is unable to utilise its marine resources due to lack technological advancement and skilled manpower.
For India, Blue Economy assumes high priority. The Indian Government has an integrated maritime development programme called Sagarmala Programme which is central on the government's maritime vision.
The Deep Ocean Mission, on the other hand, aims to explore the 75,000 sq km sea bed that comes under India's purview.
Sagarmala Programme
It was announced in 2015 and aims to turn the coastal areas into economic centers for regional and global maritime connectivity for trade to achieve the broad objective of promoting port-led development in India.
Components of Sagarmala Programme
Port Modernization & New Port Development: De-bottlenecking and capacity expansion of existing ports and development of new greenfield ports.
Port Connectivity Enhancement: Enhancing the connectivity of the ports to the hinterland, optimizing cost and time of cargo movement through multi-modal logistics solutions including domestic waterways (inland water transport and coastal shipping).
Port-linked Industrialization: Developing port-proximate industrial clusters and Coastal Economic Zones to reduce logistics cost and time of export-import and domestic cargo.
Coastal Community Development: Promoting sustainable development of coastal communities through skill development & livelihood generation activities, fisheries development, coastal tourism, etc.
Coastal Shipping & Inland Waterways Transport: Impetus to move cargo through the sustainable and environment-friendly coastal and inland waterways mode.
Current News National Polity & Governance
Delimitation Commission For Jammu & Kashmir
---
In a move that will pave the way for assembly elections in the Union Territory of Jammu & Kashmir (J&K), the Centre has begun the process of fresh delimitation of assembly seats as well as readjustment of boundaries of parliamentary constituencies.
Based on a request from the Ministry of Legislative Affairs (MLA), Chief Election Commissioner (CEC) has nominated Election Commissioner Sushil Chandra as his representative in the proposed Delimitation Commission for J&K.
Prior to 2019, the State of Jammu and Kashmir had a bicameral legislature with a Legislative Assembly (lower house) and a Legislative Council (upper house). The Jammu and Kashmir Reorganisation Act, passed by the Parliament of India in August 2019, replaced this with a unicameral legislature while also reorganised the state into a union territory.
Need
Even though the population in Jammu has increased over the years, Kashmir continues to have a disproportionately larger share of Assembly constituencies. This has effectively meant that only a party strong in Kashmir Valley is able to lead the state government.
History of Delimitation in Jammu & Kashmir
Delimitation of Jammu & Kashmir's Lok Sabha seats is governed by the Indian Constitution, but delimitation of its Assembly seats (before special status was abrogated) was governed separately by the Jammu & Kashmir Constitution and Jammu and Kashmir Representation of the People Act, 1957.
As far as delimitation of Lok Sabha seats is concerned, the last Delimitation Commission of 2002 was not entrusted with this task. Hence, J&K parliamentary seats remain as delimited on the basis of the 1971 Census.
The last time a delimitation exercise took place in the state was also under President's Rule, as far back as 1995 in extremely difficult circumstances by Justice KK Gupta Commission.
Further, the government headed by Farooq Abdullah, in 2002, pushed for a freeze on delimitation till 2026 by amending the J&K Representation of the People Act, 1957, and Section 47(3) of the Constitution of J&K.
Composition of the Commission
According to Section 3 of the Delimitation Commission Act, 2002, the Delimitation Commission appointed by the Centre has to have three members:

A serving or retired judge of the Supreme Court as the chairperson
The Chief Election Commissioner or Election Commissioner nominated by the CEC
The State Election Commissioner as ex-officio member
Tasks Assigned
The delimitation panel will determine the assembly constituencies into which the UT shall be divided; the extent of such constituencies and which of these shall be reserved for SCs/STs.
It is also tasked with adjustment of boundaries and description of the extent of parliamentary constituencies in each UT.
Increase in Seat
According to the Act, the number of seats in the Assembly of J&K would be increased from 107 to 114 after delimitation, on the basis of the 2011 Census.
Notably, 24 of the total seats in J&K remain perennially vacant as they are allotted to Pakistan-occupied Kashmir (PoK).
The Lok Sabha will have five seats from the UT of J&K, while Ladakh will have one seat.
What is Delimitation?
Delimitation literally means the act or process of fixing limits or boundaries of territorial constituencies in a country or a province having a legislative body.
The job of delimitation is assigned to a high power body. Such a body is known as Delimitation Commission or a Boundary Commission.
Objective
To provide equal representation to equal segments of a population.
It also aims at a fair division of geographical areas so that one political party doesn't have an advantage over others in an election.
Constitutional Provision
Under Article 82 of the Constitution, the Parliament by law enacts a Delimitation Act after every census. After coming into force, the Central Government constitutes a Delimitation Commission, comprising of a retired Supreme Court judge, the Chief Election Commissioner and the respective State Election Commissioner.
Process of Delimitation
The Commission is also tasked with identifying seats reserved for Scheduled Castes and Scheduled Tribes; these are where their population is relatively large. All this is done on the basis of the latest Census and, in case of difference of opinion among members of the Commission, the opinion of the majority prevails.
After hearing the public, it considers objections and suggestions and carries out changes, if any, in the draft proposal.
The final order is published in the Gazette of India and the State Gazette and comes into force on a date specified by the President.
Delimitation Commissions Till Now
So far, Delimitation Commissions have been constituted 4 times :

in 1952 under the Delimitation Commission Act, 1952
in 1963 under Delimitation Commission Act, 1962
in 1973 under Delimitation Commission Act, 1972
in 2002 under Delimitation Commission Act, 2002.

There was no delimitation after the 1981 and 1991 Censuses.
Significance
Delimiting electoral boundaries can have major consequences for the voters, political groups and communities of interest residing within these constituencies as well as for the representatives elected to serve these constituencies. Ultimately, the election outcome and the political composition of the legislature may be affected by the constituency boundaries.
A failure to recognize the importance of the electoral boundary, delimitation process, and its impact can have serious ramifications: If stakeholders suspect that electoral boundaries have been unfairly manipulated – benefiting some groups at the expense of others – this will affect the credibility and the legitimacy of the election process and its outcome.
To sum up, delimitation is an integral part of the drive to achieve effective representation and governance in a democracy. The fewer the constraints it operates within, the more it will be able to contribute to this objective.
Current News Ecology & Environment Agriculture & Allied Sector
Five Years Of Soil Health Card Scheme
---
The Central government's flagship programme - Soil Health Card Scheme completed 5 years of its implementation.
Soil Health Card Scheme (Swasth Dhara Khet Hara)
The International year of soils was celebrated in 2015 and the same year India's unique programme of 'Soil Health Card' was launched on February 19, 2015, from Suratgarh (Rajasthan) to assess the nutrient status of every farm holding in the country.
The scheme is promoted by the Department of Agriculture & Co-operation under the Ministry of Agriculture and Farmer's Welfare. It is being implemented through the Department of Agriculture of all the State and Union Territory Governments.
Punjab became the first state in India to issue Soil Health Cards (SHCs) to its farmers in May, 2015
Objective of the Programme
To issue soil health cards to farmers every 2 years so as to provide a basis to address nutritional deficiencies in fertilization practises.
To diagnose soil fertility related constraints with standardized procedures for sampling uniformly across states.
To develop and promote soil test based nutrient management in the districts for enhancing nutrient use efficiency.
To strengthen functioning of Soil Testing Laboratories (STLs) through capacity building
Need
Due to rapid industrialization & urbanization, over exploitation of natural resources, excessive use of agro-chemicals, unauthorized cutting of forest, intensive & extensive cultivation, intensive cropping pattern, high yielding varieties of crops and increased use of high analysis chemically pure fertilizers, etc., soil fertility is depleting at an alarming rate, across the country.
Key Features
Soil Health Card is field-specific detailed report of soil fertility status and other important soil parameters that affect crop productivity.
Details in a Soil Health Card-

Information regarding soil fertility
Dosage of fertilizer application in crops
Information on soil amendments of saline or alkaline soil
Recommendation on integrated nutrient management

Soil Test Laboratory (STL): It provides the status of soil with respect to 12 parameters:

Macro nutrients – Nitrogen, Phosphorus, Potassium
Secondary nutrient – Sulphur, Calcium
Micro nutrients – Zinc, Ferrous, Manganese, Copper
Physical parameters – pH, electrical conductivity (EC) and organic carbon (OC)

Soil samples are being drawn in a grid of 2.5 ha in irrigated area and 10 ha in rain-fed area with the help of GPS tools and revenue maps.
Based on this, the SHC provides information to farmers on nutrient status of their soil along with recommendation on appropriate dosage of nutrients to be applied for improving soil health and its fertility.
SHC provides two sets of fertilizer recommendations for six crops including recommendations of organic manures. Farmers can also get recommendations for additional crops on demand. SHC portal has farmers' database of both the cycles and is available in 21 languages for the benefit of the farmers.
Significance
SHC will ensure that farmers do not spend money unnecessarily on purchase of fertilizers by adding more than required and will help in restoring the degraded status of soil profile across the country.
Impact
According to a study conducted by the National Productivity Council (NPC), the overall impact of the scheme has been positive, leading to maximisation and sustainable growth at farm level by cost minimisation and through efficient utilisation of resources.
Application of fertilisers as per the recommendation of SHC led to savings in nitrogen fertilisers like urea thereby reduction in cost of cultivation. For example, Paddy- the cost of cultivation has been reduced by 16-25% and savings of nitrogen is found to be around 20kg/acre.
Savings on fertilisers and increase in production also resulted in increased income to the farmers. For example, Paddy: Increase in income around Rs.4500/- per acre.
Judicious use of fertilisers also resulted in increased production of crops. For example, increase in production 10 - 20 % in paddy, 10 -15 % in wheat and jowar.
Challenges
The scheme is lagging behind due to gaps in manpower, both technical and non-technical staff, for collecting soil samples and thereafter testing them in labs.
No uniform norms are followed in the country for soil analysis and distribution of soil health cards. Farmers often complain irregularity in soil sample collection and the soil test values are not representative of their fields.
States are responsible in some cases for poor implementation; Uttar Pradesh, Bihar and West Bengal didn't have coherence and coordination with the policies of the Central Government, they didn't release ample funds for the project and hence poor facilities like lack of STLs and unfilled vacancies in labs.
In addition, many farmers are unable to understand the content, hence unable to follow the recommended practices.
Way Forward
Through Soil Health Card Scheme, the Government is promoting integrated nutrient management (INM)e. balanced and judicious use of chemical fertilizers, along with bio-fertilizers and locally available organic manures based on soil testing to maintain soil health and crop productivity.
This, in turn, ushering a new era of healthy soil management, leading closer achieving the goal of 'Doubling the Farmer's Income' as well sustainable development across the country.
Current News National Polity & Governance
Direct Tax Vivad Se Vishwas Bill, 2020
---
On 5th February, 2020, the Finance Minister introduced The Direct Tax Vivad se Vishwas (from dispute to trust) Bill, 2020, in order to provide for a mechanism to settle disputed tax cases across the country.
However, on suggestions received during the post-budget industry consultation, the Union Cabinet decided to introduce amendments with a view to increase its scope to cover litigations pending in various debt recovery tribunals (DRTs). With the amendments made, the scheme now includes coverage of search and seizure cases where the recovery is up to Rs 5 crore.
It is to be noted that, Sabka Vishwas Scheme was brought in to reduce litigation in indirect taxes in 2019, which resulted in settling over 1,89,000 cases.
Aim
Resolving direct tax related disputes in a speedy manner.
Need
According to the Finance Ministry, at present there are as many as 4,83,000 direct tax cases, having collective amount of nearly 9 lakh crore worth, pending in various appellate forums i.e. Commissioner (Appeals), Income Tax Appellate Tribunal (ITAT), High Courts and Supreme Court. The idea behind the scheme is to reduce litigation in the direct tax arena.
Salient Features
Wide Coverage
It has provisions to cover tax disputes pending at the level of Commissioner (appeals), Income Tax Appellate Tribunals (ITAT), High Courts and the Supreme Court.
Resolution Mechanism
Under the proposed scheme, taxpayers willing to settle disputes shall be allowed a complete waiver of interest and penalty if they pay the entire amount of tax in dispute by March 31 this year, following which a 10 per cent additional disputed tax shall have to be paid over and above the tax liability.
In case the tax dispute is over penalty, interest or fee, the settlement amount payable is 25% of the dues if paid before the end of March, 2020, beyond which the same shall be enhanced to 30 %.
Immunity to Appellant
Once a dispute is resolved, the designated authority cannot levy interest or penalty in relation to that dispute. Further, no appellate forum can make a decision in relation to the matter of dispute once it is resolved. Such matters cannot be reopened in any proceeding under any law, including the IT Act.
Revival of Disputes
The declaration filed by an appellant will become invalid if: (i) its particulars are found to be false, (ii) he violates any of the conditions referred to in the IT Act, or (iii) he seeks any remedy or claim in relation to that dispute. Consequently, all proceedings and claims withdrawn based on the declaration will be deemed to have been revived.
Disputes Not Covered
The proposed mechanism will not cover certain disputes. These include disputes: (i) where prosecution has been initiated before the declaration is filed, (ii) which involve persons who have been convicted or are being prosecuted for offences under certain laws (such as the Indian Penal Code), or for enforcement of civil liabilities, and (iii) involving undisclosed foreign income or assets.
Sabka Vishwas (Legacy Dispute Resolution) Scheme, 2019
Introduced in 2019, the scheme aims to resolve all disputes relating to the erstwhile Service Tax and Central Excise Acts, as well as 26 other Indirect Tax enactments (now subsumed under Goods and Services Tax). Hence, the term 'legacy'.
Components
Dispute Resolution Component: It is aimed at liquidating the legacy cases of Central Excise and Service Tax that are subsumed in GST and are pending in litigation at various forums.
Amnesty Component: It offers an opportunity to the taxpayers to pay the outstanding tax and be free of any other consequence under the law.
Benefits
Taxpayers can pay the outstanding tax amounts due and be free from any other consequences under the Law.
Taxpayers will get substantial relief in the form of full waivers of interest, penalties and fines.
There will be complete amnesty from prosecution proceedings.
Impact
Revenue Generation: The scheme will reduce the litigation expenditure for the government and at the same time, may help in generating revenue.
Criticism
However, the Bill has been criticized on two grounds:
Using Hindi Words in Scheme Name: On use of Hindi words in its name, it is argued that this was government's way to impose Hindi on the non-Hindi speakers. Some political parties objected to its name, saying that the name of Bills should be in English, considering the diversity of languages used by the population in the country.
Violation of Fundamental Right: The Bill is criticized for treating both honest and dishonest people on equal footing. The Bill endorses the idea of exempting the defaulting taxpayers of their penalty and interest on the aggregate amount and getting away with the payment of the disputed tax alone. This violates the fundamental right to equality since it is arbitrary and treats equals unequally which leads to an unreasonable classification.
Way Forward
With the new scheme, the government hopes to recover a big chunk of money involved in direct tax litigation in a swift and simple way, while offering the taxpayers the relief of not having to fight the case endlessly. For a government that is staring at a big shortfall in revenues, especially tax revenues, the scheme makes a lot of sense.
Current News International Bilateral, Regional And Global Groupings
India Out Of US' Developing Nations List
---
On 10th February, 2020, the office of the United States Trade Representatives (USTR) updated its list of developing and least-developed countries, removing India from the list of countries that are designated as developing.
The USTR has also updated its list of countries that are least-developed under the US countervailing duty (CVD) laws.
Now, India, along with several other countries has been barred from getting special preferences under the US CVD law.
Other countries removed from the list includes: Albania, Argentina, Armenia, Brazil, Bulgaria, China, Colombia, Costa Rica, Georgia, Hong Kong (SAR of China), Indonesia, Kazakhstan, the Kyrgyz Republic, Malaysia, Moldova, Montenegro, North Macedonia, Romania, Singapore, South Africa, South Korea, Thailand, Ukraine, and Vietnam.
Background
In the Uruguay Round Agreements Act (URAA-1994), the US had amended the CVD law in order to confirm US obligations under the World Trade Organisation (WTO) Agreement on Subsidies and Countervailing Measures (SCM).
Under this SCM agreement, countries that had not yet reached the status of a developed country were entitled to special treatment for purposes of countervailing measures.
To harmonise the U.S. law with the WTO's SCM Agreement, the USTR had, in 1998, come up with lists of countries classified as per their level of development. The list designated Subsidy Agreement countries eligible for special de minimis countervailable subsidy and negligible import volume standards under the CVD law.
USTR is also required to publish this list of designations and update it if necessary in the Federal Register.
Criteria for de minimis
The USTR used the following criteria to determine whether a country was eligible for the 2% de minimis standard:
Per capita Gross National Income(GNI)
Share of world trade
Other factors such as Organisation for Economic Co-operation and Development (OECD) membership or application for membership, EU membership, and Group of Twenty (G20) membership.
According to the USTR, the criterion of eligible countries has now turned obsolete.
The US had in January, 2019, proposed withdrawal of special rights and exemptions for emerging economies such as India and China, which are members of the Organisation for Economic Cooperation and Development (OECD), G20, classified as "high income" by the World Bank or account for more than 0.5% of global merchandise trade.
Further, for the purposes of the de minimis threshold, there will be no distinction between developing and least-developed countries, since both such countries will be subject to the same threshold.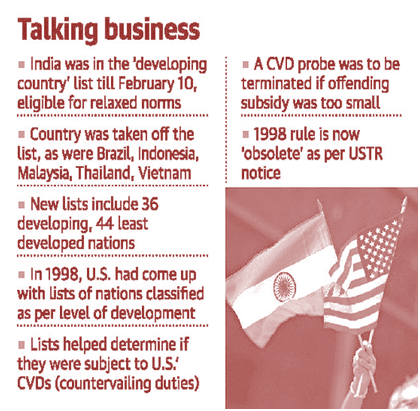 Source: The Hindu
Reasons for India's Removal
Being a G-20 Member
The US removed India from the list on account of it being a member G-20, an international forum primarily consisting of developed nations.
Accordingly, India will be now considered as a developed country, even if its per capita GNI is below $12,375 or Rs 8.82 lakh.
Increased Global Trade Share
It is to be noted that the USTR office suspended India's GSP benefits in June 2019.
GSP is given to countries with lower than 0.5 % share (as per US government estimates) in global trade.
But, India's share in global exports was 1.67% while in global imports, it was 2.57%, making India ineligible for special preference.
Impact on India
End of GSP Benefits
Under the GSP, Indian exporters could export their products to the US tariff-free. However, with the change of rules, Indian exporters will no longer get this benefit.
India Open to Investigation
The CVD laws also allow the US to hold an investigation into the trade policies of other countries to determine whether they are harming the US trade. With India no longer in the list of beneficiaries, the US can now hold an investigation.
If the investigation finds that India's policies allow exporters to sell their products in the US at a lower rate and consequently harm the domestic traders there, the US can impose CV duty, to make the Indian goods more expensive in the US markets.
Increase in Competition and Decrease Market Share
The move would have negative impact on Indian export as it will lead to increasing competition from low-cost rivals, and that surrendering GSP claims would mean handing away market share, impacting Indian market.
Countervailing Duties (CVD)
Duties that are imposed in order to counter the negative impact of import subsidies to protect domestic producers are called countervailing duties.
The objective of CVD is to nullify or eliminate the price advantage (low price) enjoyed by an imported product when it is given subsidies or exempted from domestic taxes in the country where they are manufactured.
These duties can be imposed under the specifications given by the WTO (World Trade Organization) after the investigation finds that exporters are engaged in dumping. These are also known as anti-dumping duties.
Current News Ecology & Environment Agriculture & Allied Sector
Pesticide Management Bill – 2020
---
On 12th February, 2020, the Union Cabinet approved the Pesticides Management Bill, 2020, which seeks to replace the Insecticides Act, 1968, for regulating the pesticide sector by fixing prices and setting up an authority.
Objective
To regulate the business of pesticides and to promote the use of organic pesticides in the country.
Need
The current state of regulation of pesticides in India, using the extant law called Insecticides Act, 1968, has not caught up with post-modern pest management science nor has taken cognizance of a huge body of scientific evidence on the ill effects of synthetic pesticides.
It is reported that eight states consume more than 70% of the pesticides used in India. Amongst the crops, paddy accounts for the maximum share of consumption (26-28%), followed by cotton (18-20%).
The acute pesticide poisoning deaths and hospitalizations that Indian farmworkers and farmers fall prey to are ignominious by now. It is not just human beings but wildlife and livestock that are poisoned routinely by indiscriminate use of toxic pesticides across the country.
Background
The centre had released a draft of the Pesticides bill in February 2018 to replace the existing Insecticides Act of 1968. The draft bill proposed to raise penalties on the sale of prohibited pesticides to Rs. 50 lakh and a jail term up to five years from the current fine of Rs 2,000 and jail term up to three years.
However, the Centre for Science and Environment, in 2018, had criticised the Bill for falling short as it provided inadequate representation to States in both pesticide board and the registration committee. According to it, the states should have a say in final decision making on pesticide, as they have the best understanding on the agro-ecological climate, environment and soil conditions.
Key Features
Complete Information: It provides farmers to be empowered to get all information about the strength and weakness of pesticides, the risk and alternatives as the data would be in open source and available in all languages. The information will also include details on the pesticide's potential effects on the environment.
Compensation Provision: It provides for compensating farmers in case of losses from use of spurious agro chemicals or low quality of pesticides. For this, if required, the government will form a central fund which will take care of compensation.
Registration Requirement: Any person who wants to import, manufacture, or export pesticides would have to register under the new bill and provide all details regarding any claims, expected performance, efficacy, safety, usage instructions, and infrastructure available to stock that pesticide.
Strict Regulatory Norms: It intends regulate pesticide-related advertisements to prevent manufacturers from making false claims about their products.
Impact
Way to Sustainable Development: It will provide an opportunity to set right many shortcomings of the existing regulatory regime around pesticides in India and to clean up our food and farming systems, leading towards the sustainable development of the country.
Current News National Polity & Governance
Medical Devices Notified As Drug
---
On 11th February, 2020, the Ministry of Health and Family Welfare notified changes in the Medical Devices Rules, 2017, bringing a range of products from instruments to implants to even software intended for medical use in human beings or animals under the purview of the Drugs and Cosmetics Act,1940.
The ministry, through a gazette notification, also released the Medical Devices Amendment Rules, 2020, for mandatory registration of medical devices.
The changes made will be effective from 1st April, 2020.
Aim
To ensure all medical devices in the Indian market follow safety and quality standards.
Background
The country's highest advisory body on technical issues related to drugs and medical devices, the Drugs Technical Advisory Board (DTAB), had in April 2019 recommended that all medical devices should be notified as drugs under the Drugs and Cosmetics Act.
Need for Such Move
Past few years, the health sector has been at the centre of attention following revelations about faulty hip implants marketed by pharma major Johnson & Johnson. This has caused major embarrassment to the government, too, as it exposed the lack of regulatory teeth when it came to medical devices.
Presently, only 23 categories of medical devices are regulated under the Act.
Key Changes
Wider Coverage
It will cover all devices, including instruments, apparatus, appliance, implant, material or other articles -whether used alone or in combination, including software or an accessory - intended by its manufacturer to be used especially for human beings or animals.
Host of Devices
A list of 37 devices has been drawn up including syringes, needles, stents, catheters, intraocular lenses, intravenous cannulae, prosthetic replacements, ligatures, sutures, staplers, condoms, blood bags, nebulizers, blood pressure monitoring machines and digital thermometers.
Online Documentation & Identification
The manufacturer or importer will have to upload the generic name, model number, intended use, class of medical device, material of construction, dimensions, shelf life and brand name on the online portal of the Central Drugs Standard Control Organisation (CDSCO).
Timeline for Various Classes of Medical Devices
Further, the notification also provides timelines for medical devices that will be notified under the Act with effect from April 1 - the low to moderate risk category A and B devices from 30 months after the notification and moderate to high risk category C and D devices 42 months onwards. Upon the expiry of these time periods, all provisions of the Medical Devices Rules 2017 will apply to the respective devices.
Central Drugs Standard Control Organisation (CDSCO)
CDSCO under Directorate General of Health Services, Ministry of Health & Family Welfare, is the National Regulatory Authority (NRA) of India.
CDSCO along with state regulators, is jointly responsible for grant of licenses of certain specialized categories of critical Drugs such as blood and blood products, I. V. Fluids, Vaccine and Sera.
Functions: Under the Drugs and Cosmetics Act, CDSCO is responsible for approval of New Drugs, Conduct of Clinical Trials, laying down the standards for Drugs, control over the quality of imported Drugs in the country and coordination of the activities of State Drug Control Organizations.
Risk-Based Classifications for Medical Devices
CDSCO has classified the medical devices according to the risks associated

Class A (Low Risk) - Absorbent cotton wools, surgical dressing, alcohol swabs
Class B(Low Moderate Risk) - Thermometer, BP monitoring device, disinfectants
Class C(Moderate High-Risk) - Implants, hemodialysis catheter
Class D(High Risk) - Angiographic guide wire, heart valve
Expected Impact
Ensuring Accountability and Transparency: It will make medical device companies accountable for quality and safety of their products being provided across the country. The temporary registration application for devices that are currently unregulated will now become regulated ensuring transparency, leading to better growth of the medical device industry.
Criticism
According to the Association of Indian Medical Device Industry (AIMED), the move is going to impact small manufacturers as it would not be sustainable for them to hire a qualified quality management system(QMS) manager with biomedical engineering for quality check.
Almost all low-risk Class A category products like orthopaedic collars and pillows, spectacles and wheel-chairs and stretchers, etc, are made by MSMEs. Most small manufacturers can't comply with and have qualified regulatory staff to meet the Medical Device and Diagnostic Rules (MDR) Schedule 5.
However, the hi-tech diagnostic imaging sector is dominated by large players and will be the least impacted.
Further, under the Drugs Act, any non-conformity to guidelines can be treated as a criminal offence by any drug inspector at his discretion and hauled before a court and there is no risk proportionate penalties.
The Surgical Manufacturers and Traders Association, another body that represents wholesale traders and MSME device manufacturers, has also criticised the government's move, saying it may lead to the closure of thousands of small and micro units and impact consumers by way of high prices as imports will become multiple times costlier.
Way Forward
On the whole, the move is a positive step. However, consumer groups remained sceptical about the ability of the Central Drugs Standard Control Organisation to regulate devices under the wider scope.
There is need for comprehensive reforms to strengthen the regulatory mechanism in relation to patients' safety, which includes guidelines for the approval of devices including clinical investigation requirements, oversight of marketing and promotion, putting in place a robust and functioning system of adverse event reporting accessible to the public, rules for voluntary and statutory recalls, and patient compensation scheme.
Current News National Polity & Governance
Special Category Status
---
Recently, the Andhra Pradesh government urged the Central government to grant Special Status Category (SCS) to Andhra State as being promised earlier by the Centre.
Background
Andhra Pradesh was promised Special Category Status by the Congress government, which was at the Centre during the state bifurcation, and by the BJP during the course of its 2014 election campaign. The then ruling government promised special category status would be extended to Andhra Pradesh for five years to help put the state on a firmer footing.
Other than Andhra Pradesh, Bihar, Odisha, Rajasthan and West Bengal are demanding the status of special category.
Why Andhra Pradesh is demanding Special Category Status?
Andhra sought special category status on the grounds that it was at a disadvantage, since it would lose a significant amount of revenue as a result of Hyderabad going to Telangana.
Why the Central Government is denying Andhra SCS demand?
The 14th Finance Commission, tabled in Parliament in February 2015, did away with the distinction between states with SCS and other states and instead recommended a higher share of taxes — 42% instead of 32% — for states and revenue-deficit grants for those states in need, like Andhra. It meant that SCS had ceased to exist so there was no question of granting Andhra the status.
Recently, the 15th Finance Commission, in its interim report for 2020-21, has made it clearly that the special category status demand remained entirely in the domain of the Union government, which can take an appropriate decision after due consideration.
Further, despite the disadvantage of losing Hyderabad, an information technology and pharma hub, in the bifurcation, Andhra has grown at nearly 10% annually between 2013-14 and 2017-18, compared with Telangana's 8.6%, and is estimated to have a fiscal deficit of 2.8% in 2018-19, compared with Telangana's 3.5%.
What is Special Category Status?
Special Category Status (SCS) is a classification given by Centre to assist in the development of those states that face geographical and socio-economic disadvantages like hilly terrains, strategic international borders, economic and infrastructural backwardness, and non-viable state finances.
The Constitution does not include any provision for categorisation of any State in India as a Special Category Status (SCS) State.
Historical Background
The concept of a special category status was first introduced in 1969 when the fifth Finance Commission sought to provide certain disadvantaged states with preferential treatment in the form of central assistance and tax breaks, establishing special development boards, reservation in local government jobs, educational institutions, etc.
This formula was named after the then Deputy Chairman of the Planning Commission, Dr Gadgil Mukherjee and is related to the transfer of assistance to the states by centre under various schemes.
Initially, three states; Assam, Nagaland and Jammu & Kashmir were granted special status but from 1974-1979, five more states were added under the special category. These include Himachal Pradesh, Manipur, Meghalaya, Sikkim and Tripura.
In 1990, with the addition of Arunachal Pradesh and Mizoram, the states increased to 10. The state of Uttarakhand was given special category status in 2001.
But after the dissolution of the planning commission and the formation of NITI Aayog in 2015, the recommendations of the 14th Finance Commission were implemented which meant the discontinuation of the Gadgil formula-based grants.
Note: Jammu and Kashmir (J&K) enjoyed a special status as per Article 370 and also Special Category Status. But now that Article 35A has been scrapped and it has become a union territory with legislature, SCS doesn't apply to J&K anymore.
Criteria for SCS
Hilly and difficult terrain
Geographical isolation
Low population density or sizeable share of tribal population
Strategic location along borders with neighbouring countries
Economic and infrastructural backwardness
Economic and infrastructure backwardness
Non-viable nature of state finances

Benefits under SCS
Economic Benefits
The central government allocates 30 percent of its plan expenditure to special category states while the remaining 70 percent goes to other states.
In the case of the centrally-sponsored schemes (CSS) and external aid, special category States get 90 percent as grant and 10 percent as loan. For general category States, it is 30 percent grant and 70 percent loan.
Unspent funds don't lapse and get carried forward in the case of special category States while they lapse in the case of non-special category States.
Tax Benefits
The central government offers a host of tax benefits for the new industrial units set up in the special category States.
They include capital investment subsidy, income tax exemption for five years, interest subsidy, comprehensive insurance subsidy, central excise duty exemption and transport subsidy.
Further, these states avail the benefit of debt-swapping and debt relief schemes.
Special Provisions
The Part XXI of the Constitution consists of articles on Temporary, Transitional and Special Provision to states listed in Articles 371 and 371(A-J).
These set of provisions were incorporated into the Constitution by Parliament through amendments under Article 368, which lays down the power of the Parliament to amend the Constitution and procedure therefor.

Article 371 - Maharashtra and Gujarat
Article 371 A - Nagaland
Article 371 B - Assam
Article 371 C - Manipur
Article 371 D - Andhra Pradesh
Article 371 E - Establishment of Central University in Andhra Pradesh
Article 371 F - Sikkim
Article 371 G - Mizoram
Article 371 H - Arunachal Pradesh
Article 371 I - Goa
Article 371 J - Karnataka
Way Forward
The Andhra Pradesh and other State's government demanding for SCS should explore other options to put their state on faster development, put its finances in order in order to develop their respective states, rather than sticking to and crying over the SCS.
States must understand their industrial strengths and create a policy environment to leverage their exclusive resources instead of relying on Centre's support.
Current News Science & Technology New Technology
Genome India Project
---
On 7th February, 2020, the government gave clearance to an ambitious gene-mapping project- Genome India Project (GIP), which has been described as the "first scratching of the surface of the vast genetic diversity of India".
Need
Indian ethnicity is under-represented in genomic datasets currently according to experts and the diverse population of the country interest's genome-mining researchers across the globe.
This has been found necessary as over 95% of the genome samples available, which are the basis of new, cutting-edge research in medicine and pharmacology, use the white, Caucasian genome as the base.
Mapping of India's genetic landscape is critical for next generation medicine, agriculture and for biodiversity management.
About Genome India Project
The GIP will be spearheaded by the Centre for Brain Research at Bengaluru-based Indian Institute of Science as the nodal point of about 20 institutions, each doing its bit in collecting samples, doing the computations, and then the research.
The project hopes to form a grid after collecting 10,000 samples in the first phase from across India, to arrive at a representative Indian genome.
To support this development, government will initiate two new national level Science Schemes, to create a comprehensive database.
Genome
A genome is an organism's complete set of Deoxyribose Nucleic Acid (DNA), including all its genes.
Each genome contains all of the information needed to build and maintain that organism.
In humans, a copy of the entire genome — more than 3 billion DNA base pairs — is contained in all cells that have a nucleus.
Impact of GIP
Building Indian Reference Genome
The GIP will help vastly to add to the available information on the human species and advance the cause, both because of the scale and the diversity of the Indian population.
Its aim is to ultimately build a grid of the Indian "reference genome", to understand fully the type and nature of diseases and traits that comprise the diverse Indian population. For example, if the Northeast sees a tendency towards a specific disease, interventions can be made in the region, assisting public health, which make it easier to battle the illness.
Healthcare Genomics
The most obvious use would be in personalized medicine, anticipating diseases and modulating treatment according to the genome of patients.
For instance, cardiovascular disease generally leads to heart attacks in South Asians, but to strokes in most parts of Africa.
If such propensities to disease can be mapped to variations across genomes, it is believed public health interventions can be targeted better, and diseases anticipated before they develop.
Agriculture Genomics
It would help to develop a better understanding of the genetic basis of susceptibility to blights, rusts and pests and to improve and design crops with enhanced resistance.
Further, it may become possible to deter them genetically, and reduce dependence on chemicals.
Contribution to Global Science
Global science would also benefit from a mapping project in one of the world's most diverse gene pools, which would provide data useful for the mapping of the spread and migration of a range of life forms in the Old World, from plants to humans.
Issues Involved
Medical Ethics: In a project that aims only to create a database of genetic information, gene modification is not among the stated objectives. Recently China-based scientist, who helped create the world's first gene-edited babies, was sentenced to three years in prison exposes the risk of doctors privately running away with the idea of fixing genetic issues.
Data & Storage Issue: Anonymity of the data and questions of its possible use and misuse is another challenge which would need to be addressed. Keeping the data on a cloud is fraught with problems and would raise questions of ownership of the data.
India is yet to pass a Data Privacy Bill with adequate safeguards. Launching a Genome India Project before the privacy question is settled could give rise to another set of problems.
Social Issues: India has been plagued with the question of heredity and racial purity and more scientific studies of genes and classifying them could reinforce stereotypes and allow for politics and history to acquire a racial twist. A Genome India Project would further add a genetic dimension to the ongoing debate of being indigenous and non-indigenous.

Genome Mapping
Genome mapping essentially means figuring out the location of a specific gene on a particular region of the chromosome and also determining the location of and relative distances between other genes on that chromosome.
The first ever genetic map was created by Alfred Strutevant while he worked on Drosophila melanogaster with Thomas Hunt Morgan.
Genome mapping provided a critical starting point for the Human Genome Project.
A Centimorgan is a unit used to measure genetic linkage. One centimorgan equals a one percent chance that a marker on a chromosome will become separated from a second marker on the same chromosome due to crossing over in a single generation.
Types
Genetic Mapping: It looks at how genetic information is shuffled between chromosomes or between different regions in the same chromosome during meiosis (a type of cell division).
Physical Mapping: It looks at the physical distance between known DNA sequences (including genes) by working out the number of base pairs (A-T, C-G) between them.
Human Genome Project (HGP)
HGP was an international programme that led to the decoding of the entire human genome.
Beginning on October 1, 1990 and completed in April 2003, the HGP gave us the ability, for the first time, to read nature's complete genetic blueprint for building a human being.
The project was able to identify the locations of many human genes and provide information about their structure and organisation.
ELSI Program
The Ethical, Legal, and Social Implications (ELSI) program was founded in 1990 as an integral part of the HGP.
The mission of the ELSI program was to identify and address issues raised by genomic research that would affect individuals, families, and society.
Four Focus Areas
Privacy and fairness in the use of genetic information, including the potential for genetic discrimination in employment and insurance.
The integration of new genetic technologies, such as genetic testing, into the practice of clinical medicine.
Ethical issues surrounding the design and conduct of genetic research with people, including the process of informed consent.
The education of healthcare professionals, policy makers, students, and the public about genetics and the complex issues that result from genomic research.

Difference between Genome Mapping and Genome Sequencing
The main difference between gene mapping and gene sequencing is that the gene mapping identifies the locus of genes and their relative distance within the genome whereas the gene sequencing spells out the order of the nucleotides, which makes up the genes in the genome.
Furthermore, gene mapping results in a less-detailed outcome while gene sequencing results in a fully-detailed outcome.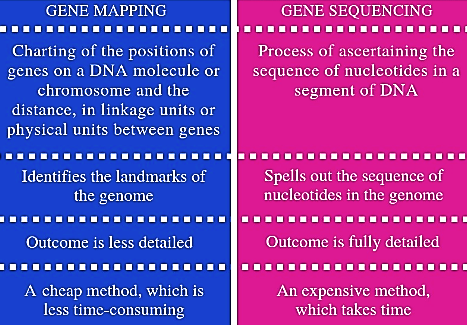 Current News National Polity & Governance
Lucknow Declaration
---
The first India-Africa Defence Minister's Conclave was held on 6th February, 2020, on the sidelines of the ongoing Def Expo 2020 (5th to 9th February) in Lucknow.
During the conclave, India, along with counterparts from 12 African nations and heads of delegations from 38 other African countries adopted the Lucknow Declaration.
Background
India and African nations had previously adopted declarations during the India-Africa Forum Summit in New Delhi in April 2008, India-Africa Forum Summit-II in Addis Ababa in May 2011 and the Third India-Africa Forum Summit, held in Delhi in October 2015 and the India-Africa Framework for Strategic Cooperation.
All these declarations had worked to strengthen the multi-faceted partnership between India and Africa.
Major Highlights of the Declaration
Peace and Security
Emphasizing the need for peace and security in both India and African region, the countries committed to continue their collaboration in the fields conflict prevention, resolution, management and peace building through-

exchange of expertise and training
strengthening regional and continental early warning capacities and mechanisms
enhancing the role of women in peace keeping and propagating the culture of peace.

In this regard, establishment of the African Union's International Centre for Conflict Resolution, Peace keeping and Peace building in Cairo as a major contribution to peace and security in Africa has been lauded by the countries.
Terrorism
Stating that terrorism is a major threat in the region, the declaration urged all the signatories' countries to take resolute action in rooting out terrorism in all its forms and manifestations, terrorist safe havens and infrastructure, disrupting terrorist networks and eliminating financing channels and halting cross-border movement of terrorists.
This must be done by enhancing cooperation and coordination between Africa and India to combat terrorism in all its forms and manifestations and to combat transnational crime.
In order to strengthen the UN Counter-Terrorism mechanisms and to ensure strict compliance with the UN Security Council sanctions regime on terrorism, it was urged that international community to envisage the adoption of Comprehensive Convention on International Terrorism in the United Nations General Assembly.
Maritime Security
It emphasized to strengthen the Maritime security across both the region as it is a pre-requisite for the development of Blue and Ocean economy.
It was decided to increase mutual cooperation in securing sea lines of communication, preventing maritime crimes, disaster, piracy, illegal, unregulated and unreported fishing through sharing of information and surveillance.
Indo-Pacific Region
Regarding the aligning views of India and the African nations on the importance of the Indo-Pacific, the declaration stated that all member countries to encourage enhanced cooperation between India and Africa on the evolving concept of Indo-Pacific.
It welcomed the African Union (AU) vision for peace and security in Africa that coincides with India's vision of Security and Growth for all in the Region (SAGAR).
Defence Cooperation
The countries called for deeper cooperation in the domain of defence industry including through investment, joint ventures in defence equipment software, digital defence, research & development, provisioning of defence equipment, spares and their maintenance on sustainable and mutually beneficial terms.
The leaders also appreciated the initiation of Africa -India Field Training Exercises (AFINDEX) and agreed to further strengthen cooperation in defence preparedness and security.
Africa-India Joint Field Training Exercise (AFINDEX)
First ever AFINDEX between the Indian Army and 17 African nations was conducted in Pune, Maharashtra, from March 18 to 27 March, 2019.
Participants: Contingents of the 17 African Nations i.e. Benin, Botswana, Egypt, Ghana, Kenya, Mauritius, Mozambique, Namibia, Niger, Nigeria, Senegal, South Africa, Sudan, Tanzania, Uganda, Zambia and Zimbabwe along with a contingent of Maratha Light Infantry (Jangi Paltan).
African Union (AU)
AU is a continental body consisting of the 55 member states that make up the countries of the African Continent. It was officially launched in 2002 as a successor to the Organisation of African Unity (1963-1999).
Vision: An Integrated, Prosperous and Peaceful Africa, driven by its own citizens and representing a dynamic force in the global arena.
Agenda 2063
AGENDA 2063 is Africa's blueprint and master plan for transforming Africa into the global powerhouse of the future.
The AU adopted the agenda in 2015 with the aim of having a roadmap for a strong, peaceful, integrated and prosperous Africa by 2063, 100 years after the establishment of AU's predecessor, the Organization for African Unity (OAU) It is the continent's strategic framework that aims to deliver on its goal for inclusive and sustainable development and is a concrete manifestation of the pan-African drive for unity, self-determination, freedom, progress and collective prosperity pursued under Pan-Africanism and African Renaissance.
Impact
The Lucknow Declaration will provide a major impetus to the India-Africa relation and will further help both the region to deal effectively against the critical challenges such as terrorism and extremism, piracy, human trafficking, drug trafficking, weapon smuggling, etc. and maintaining order and peace across both the regions.
Importance of Africa
Africa is a continent on the move, characterised by rapid economic growth, rising educational and health standards, increasing gender parity, and expanding infrastructure and connectivity.
In recent years, the African continent has been accorded top priority in Indian foreign and economic policy; there has been an unprecedented intensification of political engagemen.t
A resurging Africa and a rising India can give a strong impetus to South-South Cooperation, especially when it comes to addressing challenges in areas like clean technology, climate-resilient agriculture, maritime security, connectivity, and Blue economy.
On Economy side. African subcontinent provides a good market for Indian companies of different sectors whether it is automobile, IT or defence sector.
Trade between Africa and India has increased more than eight-fold from USD 7.2 billion in 2001 to USD 59.9 billion in 2017, accounting for over 8 percent of India's total trade.
To meet its energy security, India sources nearly 18% of its crude oil and also LNG requirement mostly from the West African region.
Primary commodities and natural resources account for around 75 percent of Africa's total exports to India.
In the perspective of geopolitics, having these 54 African nations as allies in the United Nations is favourable to India as these nations might support in passing any resolution.
Current News National Judiciary
Second National Judicial Pay Commission
---
After the First Judicial Pay Commission report (1996) and the Sixth Central Pay Commission (2006), the Supreme Court (SC) constituted the Padmanabhan Commission in 2009 to give recommendations on pay scales, allowances and perquisites of judicial officers.
However, due to some anomalies, the All India Judges Association filed a writ petition in the SC for constitution of a separate pay commission for judicial officers.
The SC, under the Article 32, allowed constitution of the Second Judicial Pay Commission in May 2017.
First National Judicial Pay Commission(NJPC)
The First National Judicial Pay Commission was appointed in year 1996, headed by Justice K. Jagannatha Shetty.
The Commission submitted its report in the year 1999, covering not merely the pay structure, allowances and conditions of service of Judicial Officers, but also various other aspects concerning the Courts and judicial administration.
Padmanabhan Commission
The One Man Commission was appointed by the Supreme Court in April 2009 under Justice E.Padmanabnan to determine the pay scales of all the Judicial Officers working and retired throughout the country on the basis of First National Judicial Pay Commission.
The Commission, which submitted its report in July 2009, recommended an average 3.07-fold hike in the existing salaries of Judicial Officers.
About Second Judicial Pay Commission
Following the SC order, the Union cabinet approved the appointment of a second national judicial pay commission for the subordinate judiciary in November, 2017, headed by Justice J P.Venkatrama Reddi, former Judge of Supreme Court.
The Interim Report was submitted by the Commission in 2018.
Objective
To recommend a uniform pay scale for the service of judicial officers of the subordinate judiciary throughout the country.
Need
Given the virtue of duties performed by judicial officers they are not equated with state government officers, even though it is essentially a state subject.
Though there is revision of pay scales for employees of the central government, Judges and judicial officers of subordinate courts got their last pay hike in 2010.
Term of References
To evolve the principles governing the pay structure and emoluments of Judicial Officers belonging to the Subordinate Judiciary all over the country.
To examine the present structureof emoluments and conditions of services of Judicial Officers in the States and Union Territories and to make suitable recommendations including post-retirement benefits such as pension, having regard among other relevant factors to the existing relativities in the pay structure between the Officers of Subordinate Judiciary and other civil servants.
To make recommendations regarding setting up of a permanent mechanism to review the pay and service conditions of members of Subordinate Judiciary periodically by an independent Commission.
Major Recommendations
Pay
Having considered various alternative methodologies has recommended the adoption of Pay Matrix which has been drawn up by applying the multiplier of 2.81 to the existing pay, commensurate with the percentage of increase of pay of High Court Judges @ 3% cumulative has been applied.
As per the revised pay structure evolved by the Commission, the Junior Civil Judge/First Class Magistrate whose staring pay is Rs.27,700/- will now get Rs.77,840/-.
The percentage of Selection Grade and Super Time Scale District Judges proposed to be increased by 10% and 5% respectively.
The revised pay and pension will be effective from 1st January, 2016.
Arrears will be paid during the Calendar year 2020 after adjusting the interim relief.
Pension
Pension at 50% of last drawn pay worked out on the basis of proposed revised pay scales is recommended w. e. f. <str1st January, 2016.
The family pension will be 30% of the last drawn pay. Additional quantum of pension will commence on completing the age of 75 years (instead of 80 years) and percentages at various stages thereafter are increased.
Nodal officers will be nominated by the District Judges to assist the pensioners/family pensioners.
Recommendation has been made to discontinue the New Pension Scheme (NPS) which is being applied to those entering service during or after 2004.The old pension system, which is more beneficial, will be revived.
Allowances
The existing allowances have been suitably increased and certain new features have been added.
However, the City Compensatory Allowance (CCA)is proposed to be discontinued.
House Rent Allowance (HRA) proposed to be increased uniformly in all states.
Certain new allowances viz. children education allowance, home orderly allowance, transport allowance in lieu of pool car facility has been proposed.
Medical Facilities
Improvement in the medical facilities and simplification of the reimbursement procedure.
Medical facilities to be granted to pensioners and family pensioners also.
Significance
Making Judiciary More Efficient: The recommendations of the Commission will help in promoting efficiency in Judicial Administration, optimizing the size of judiciary and to remove anomalies created in implementation of earlier recommendations.
Subordinate Judiciary – Its Pivotal Role in Justice System
The Subordinate Judiciary is the backbone of the Judicial System. Most of the common people, especially those living in the rural areas, know of the Courts at the lowest level in judicial hierarchy,e., the Courts located in taluka or mandal areas.The "dynamics of judicial processes" are witnessed by the public mostly in these Courts.
The Subordinate Courts and the Districts are the eyes and ears of the Judiciary. The image of Judiciary depends much on their efficient functioning and the capacity to dispense justice to the best of their ability.
The Subordinate Courts play a prominent role in preserving law and order in the society. It is the public confidence in the judicial system that sustains the credibility of the Judiciary. In generating and fostering the public confidence, the role of the District and Subordinate Judiciary is therefore significant.
Ensuring adequate emoluments and proper working conditions for the Judges constituting subordinate Judiciary will help in promoting judicial independence which is a basic feature of the Constitution.
Current News Science & Technology New Technology
National Mission On Quantum Technologies & Applications
---
The government in its budget-2020 has announced a National Mission on Quantum Technologies & Applications (NM-QTA) for developing quantum computing linked technologies in the country.
Aim
It aims at harnessing the potential of QTA and keep the country in league with the ones taking the lead in the domain
Need for NM-QTA
Quantum technology is opening up new frontiers in computing, communications, cyber security and encryption with wide-spread applications.It is expected that lots of commercial applications would emerge from theoretical constructs which are developing in this area.
It is perceived that the countries who achieve an edge in this emerging field will have a greater advantage in garnering multifold economic growth and dominant leadership role.
With such notion, it has become imperative both for government and industries to be prepared to develop these emerging and disruptive technologies in order to secure our communications, financial transactions, remain competitive, drive societal progress, generate employment, foster economic growth and to improve the overall quality of life.
About NM-TQA
The mission will be implemented by the Department of Science & Technology (DST) for a period of five years.
Focus Area:The areas of focus for the Mission will be in fundamental science, translation, technology development, human and infrastructural resource generation, innovation and start-ups to address issues concerning national priorities.
The next generation transformative technologies that will receive a push under this mission include quantum computers and computing, quantum communication,quantum key distribution, encryption, crypt analysis, quantum devices, quantum sensing, quantum materials, quantum clock, etc.
Digital platform will be created which will facilitate seamless application and capture Intellectual Property Rights (IPRs) and also in an institute of excellence, a centre will be established that will work in the field of intellectual property.
Knowledge translation clusters will be set up across different technology sectors including in new and emerging sectors for designing, fabrication and proof of concept.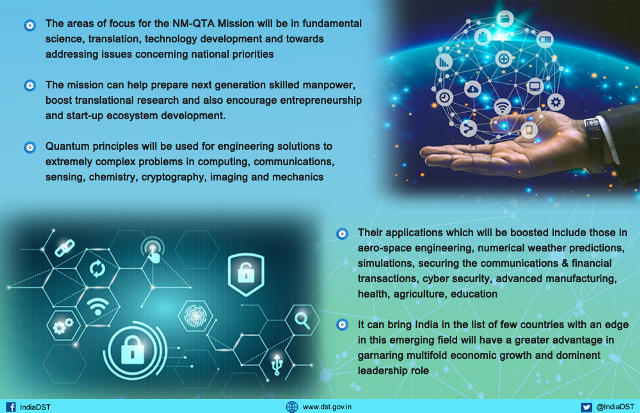 QuEST Programme
The seeds for the national commitment to quantum computing was sown in mid-2017, when the DST's Interdisciplinary Cyber-Physical Systems (ICPS) division invited proposals for projects related to quantum computing as part of the new Quantum-Enabled Science and Technology (QuEST) programme.
Phase-1 of the problem involvedhiring research experts and establishing teams with the know-how to physically build such systems.
Broad Objectives
Development and demonstration of quantum computers.
Development and demonstration of quantum communication & cryptography.
Development of quantum-enhanced and inspired technology.
Development of advanced mathematical quantum techniques, algorithms and theory ofquantum information systems.
Impact
Help in Development of Next Generation Technology
The Mission will be able address the ever increasing technological requirements of the society, and take into account the international technology trends and road maps of leading countries for development of next generation technologies.
It will help prepare next generation skilled manpower, boost translational research and also encourage entrepreneurship and start-up ecosystem development.
Boost to Quantum Technology
It would help develop and bring quantum computers, secured communications through fibre and free space, quantum encryption and crypt-analysis and associated technologies within reach in the country and help address India specific national and regional issues.
Bringing India in line with Advance Countries
By promoting advanced research in quantum science and technology, India can be brought at par with other advanced countries and can derive several direct and indirect benefits, leading to overall development of country.
Quantum Technologies
Quantum technologies comprise quantum computing, quantum communication, quantum optics, quantum information processing, quantum internet and quantum artificial intelligence.
It is based on the principles of quantum theory, which explains the nature of energy and matter on the atomic and subatomic level. It concerns the control and manipulation of quantum systems, with the goal of achieving information processing beyond the limits of the classical world.
Quantum Computing
Quantum computing is essentially harnessing and exploiting the amazing laws of quantum mechanics to process information.
A traditional computer uses long strings of "bits," which encode either a zero or a one. A quantum computer, on the other hand, uses quantum bits, or qubits.Quibits are subatomic particles such as electrons and photons.
Operation of quantum computer is based on two key principles of quantum physics: Superposition and Entanglement.
Types
There are three primary types of quantum computing.
Quantum annealing
Quantum simulations
Universal quantum computing
Each type differs by the amount of processing power (qubits) needed and number of possible applications, as well as the time required to become commercially viable.
Advantages
Very Fast Performance:The basic advantage is speed as it is able to simulate several classical computers working in parallel.Exploiting the principles of quantum mechanics, they can easily tackle computational problems that may be tough for the classical computer as the size of the numbers and number of inputs involved grows bigger.
Highest Level of Accuracy:its highest level of accuracy makes it suitable for big data handling and cases concerned with national security, cyber security, etc.
Energy Efficient: In addition to holding the potential to solve some of the world's most computationally challenging problems, quantum computers use significantly less energy, which could lead to lower costs.
Quantum Supremacy
Quantum supremacy refers to quantum computers being able to solve a problem that a classical computer cannot.
The term was coined by John Preskillin 2012.
In October, 2019, Google's quantum computer- Sycamore, claimed to achieve supremacy as it reportedly did the task in 200 seconds that would have apparently taken a supercomputer 10,000 years to complete.
Challenges
High Construction Cost
The cost of construction and handling of errors in qubitsis quite huge, posing a great challenge in development of quantum computer.
Another major obstacle in the construction of quantum computers has been the physical realisation of chips that can process qubits.
Decoherence
To create a quantum computer, it is essential to keep an object in an overlapping state long enough to carry out the number of processes that are required. Unfortunately, this is not always possible since it continually loses this state of superposition, which is known as
Decoherence, caused by vibrations, temperature fluctuations, electromagnetic waves and other interactions with the outside environment, ultimately destroys the exotic quantum properties of the computer.
Applications
Optimization, planning, and logistics
Forecasting
Financial modeling
Drug design and discovery
Genomics
Cyber security and cryptography
Molecular modeling
Chemistry modeling, computational chemistry
Material design and modeling
Aerospace physics
Quantum simulation — simulation of physical systems at the quantum mechanical level
Random number generation
Current News National Polity & Governance
Purified Terephthalic Acid
---
In the Budget 2020, the government announced abolition of anti-dumping duty on the import of Purified Terephthalic Acid (PTA) from seven countries, providing a huge relief to polyester industry.
It is to be noted that Mono Ethylene Glycol (MEG), another raw material used in the manufacturing of polyester, is currently the subject of another anti-dumping duty investigation initiated by Directorate General of Trade Remedies (DGTR) recently.
Objective
To make domestic market more competitive
Need for Abolition
PTA is a critical input for textile fibres and yarns, and its easy availability at competitive prices is desirable to unlock immense potential in the textile sector, which is a significant employment generator in the country.
PTA attracts anti-dumping duty ranging between $27 and $160 per tonne, depending upon the country of origin and the country often faces shortage of PTA that curtail the capacity utilization of the polyester segment industry.
Reasons for Imposing Anti-Duty
The anti-dumping duty on PTA was imposed after two domestic manufacturers, MCC PTA India Corp Pvt Ltd and Reliance Industries Ltd, approached the DGTR in October 2013.
The companies, which submitted that they accounted for over 50% of the domestic PTA industry, had argued that some countries had been exporting the product to India at prices lower than its value in their own domestic markets.
In its final findings, the DGTR,found that Purified Terephthalic Acid has been exported to India from China, Iran, Indonesia, Malaysia and Taiwan below its normal value which has resulted in dumping.
Following an investigation, DGAD imposed anti-dumping duties on PTA imported from South Korea and Thailand in 2014 and 2015, and from China, Indonesia, Taiwan, Iran and Malaysia in 2015 and 2016.
Dumping
Dumping is a process where a company exports a product at a price lower than the price it normally charges in its own home market.
This is an unfair trade practice which can have a distortive effect on international trade.
Parameters to Access Dumping
There are two fundamental parameters used for determination of dumping- the normal value and the export price.
Both these elements have to be compared at the same level of trade, generally at ex-factory level, for assessment of dumping.
Anti-Dumping Duty
An anti-dumping duty is a protectionist tariff that a domestic government imposes on foreign imports that it believes are priced below fair market value.
Thus, the purpose of anti-dumping duty is to rectify the trade distortive effect of dumping and re-establish fair trade.
The first Indian Anti-dumping legislation came into existence in 1985 when the Customs Tariff (Identification, Assessment and Collection of duty or Additional duty on Dumped Articles and for Determination of Injury) Rules, 1985 were notified.
Anti-dumping and anti-subsidies & countervailing measures in India are administered by the Directorate General of Anti-dumping and Allied Duties (DGAD) functioning in the Dept. of Commerce in the Ministry of Commerce and Industry.
While DGAD recommends the duty, the Finance Ministry imposes it.
Controversy over Imposition of Anti-Duty
Against Government's Vision: Companies using PTA to manufacture polyester products claimed that the move went against the government's vision of making the textiles sector a globally competitive industry.
Cost Ineffective: The companies had alleged that the product's cost had become more expensive domestically, which made their own products pricier and less attractive for their domestic and international buyers. This had led to a drop in exports of some of these products during 2014-16, and an increase in imports of the products they had been producing, as there was no safeguard against imports of cheaper versions of these downstream polyester-based products.
Unable to Cater Domestic Demand: The domestic industry had argued that domestic PTA producers had not only been unable to ramp up capacity to cater to demand for the product, shutdowns of their manufacturing facilities once a year for maintenance purposes had also led to shortages of the raw material. PTA users claim that they had not been manufacturing as much polyester as they were capable of, operating at 70% of their capacity at any given time.
Impact
Enhance Global Competitiveness
The removal of the anti-dumpting duty would greatly help the country to enhance the global competitiveness, boost exports and also enable the domestic manufacturers to compete with the cheaper imports.
Boost to Domestic Users
It will help attract imports from China and South-East Asia and might create competition in the market. This would be a boost for PTA users and the entire man-made fibre textiles and clothing segment.
It could open up the manmade fibre value chain, benefiting technical textiles, home furnishing, the sportswear industry, sarees and dress materials.
Setting Standard Price
Abolition of anti-dumping duty will bring polyester price in India on a par with international price, which is considered the future engine of growth for the Indian textile industry.
Purified Terephthalic Acid (PTA)
PTA is a very important raw material as is it a precursor to mostly vastly used plastics polyethylene terephthalate (PET), poly butyl terephthalate (PBT), polyester fibers and is produced by oxidizing paraxylene.
It is a crucial raw material used to make various products, including polyester staple fibre and spun yarn. Some sportswear, swimsuits, dresses, trousers, curtains, sofa covers, jackets, car seat covers and bed sheets have a certain proportion of polyester in them.
Properties
Excellent weathering
Resistance towards chemicals & stains
Hard & Flexible
Good glass transition temperature range
Efficient powder flow & fluidizing characteristics
Current News International International Relations
Brexit
---
On 31st January, 2020, at the stroke of 11.00 pm, the United Kingdom (UK) ceased to be the member of the European Union (EU), allowing it to become the first country to leave the EU, after 47 years of membership.
In 1973, the UK joined the European Economic Community (EEC), the precursor to the European Union.
Background
The first public vote on Brexit happened on June 23, 2016, when 52 per cent of voters chose to leave the EU.
On 29th March, 2017 the UK formally notified the European Council of its intention to leave the EU by triggering of Article 50 of the Lisbon Treaty.
On 17th October, 2019, the European Council endorsed the Withdrawal Agreement as agreed by the negotiators of both sides. It also endorsed the revised political declaration on the framework of the future EU-UK relationship.
The Withdrawal Agreement Bill (WAB) became law on January 23, 2020 when it was passed all stages in Parliament and was given the Royal Assent. WAB gives the UK government provisions through which it can ratify the Brexit process.
As of February 1, 2020, a transition period has come into force under the terms of the exit deal.
Reasons for Brexit
Threat to British Sovereignty
One important reason for Brexit can be attributed to rise of nationalism. There's a growing distrust of multinational financial, trade, and defense organizations created after World War II.
Britons believe that these institutions no longer serve a purpose. Not only that these organizations take control away from individual nations. Mistrust and fear of losing control made Brexit a reasonable solution to them.
Changing Role of EU
Over the past few decades, a series of EU treaties have shifted a growing amount of power from individual member states to the central EU bureaucracy in Brussels. On subjects where the EU has been granted authority — like competition policy, agriculture, and copyright and patent law, etc., goes against the British interests as EU rules override national laws.
Immigration Issue
As EU's membership expanded, more Europeans, especially from poorer EU nations, started migrating to U.K. using the "freedom of movement" clause.
The eurozone has struggled economically, and workers from eurozone countries such as Ireland, Italy, and Lithuania (as well as EU countries like Poland and Romania that have not yet joined the common currency) have flocked to the UK in search of work.
Faced with rising immigration locals worried about their jobs and the erosion of the English way of life, Britons wanted their government to clamp down on immigration.
Economic Issue
The EU has failed to address the economic problems that had been developing since 2008 financial crisis and the Eurozone crisis of late 2009, which had fueled British intention of moving away from EU.
Further, Brexit will allow the UK to negotiate its own trade deals with other countries - something that would not have been possible remaining with EU.
Contribution to EU
The EU doesn't have the power to directly collect taxes, but it requires member states to make an annual contribution to the central EU budget. Currently, the UK's contribution is worth about £13 billion ($19 billion) per year, which is about $300 per person in the UK.
Although the funds are again used on Britain, the BREXIT supporters say, the money could be used more efficiently, if Britain is out of EU.
What Changes and What Remains the Same After Brexit?
Out of EU Politics
The UK leaves all of the European Union's political institutions. British ministers will no longer attend regular EU meetings, and the Prime Minister will no longer be an automatic attendee at EU Council summits, although he can still join if he is given a special invitation.
EU Rules Apply
During the transition period, the UK will continue to obey EU rules and make payments to the EU. If it is involved in a legal dispute with an EU member country, the European Court of Justice will continue to have the final say.
New Trade Equations
Out of the EU, Britain will have to build new trade relationships with countries outside the Union. While it was still in EU, Britain was not allowed to hold formal trade negotiations with countries such as the US and Australia. Now that it will have that freedom, Brexit supporters see that as a positive —Britain setting its own trade policy.
Passports
Now, the country will return to the blue passports it used to issue before adopting the EU design.
No Change
Travel: Flights, boats and trains will operate as they did while Britain was in the EU. Driving licences will continue to be accepted, as long as they are valid.
European Health Insurance Card: European Health Insurance Card will remain valid inside Britain, and in the EU countries, during the transition.
Freedom of Movement: During the transition, UK nationals will continue to live and work in European Union countries. EU nationals who want to live and work in the UK, too, can do so.
EU Budget: The UK will for now continue to contribute to the EU Budget. Existing schemes that are funded by EU grants will continue to be funded.
Transition Period
The transition period and other aspects of the UK's departure were agreed in a separate deal called the Withdrawal Agreement.
The period is meant to give both sides some breathing space while a new free trade agreement is negotiated.
This is needed because the UK will leave the single market and customs union at the end of the transition.
Aside from trade, many other aspects of the future UK-EU relationship will also need to be decided. For example:

Law enforcement, data sharing and security
Aviation standards and safety
Access to fishing waters
Supplies of electricity and gas
Licensing and regulation of medicines
Current News Indian Economy Plan Policy
Abolition Of Dividend Distribution Tax
---
In order to increase the attractiveness of the Indian Equity Market, to provide relief to large class of investors and to make India an attractive destination for investment, the Union Budget proposed to remove the Dividend Distribution Tax (DDT).
Reasons to Abolish
India charges tax on domestic companies on the amount of dividends distributed by them. As a corollary, dividends are exempt in the hands of shareholders. It is a tax that has created much consternation among corporates.
The system of levying DDT results in increase in tax burden for investors and specially those who are liable to pay tax less than the rate of DDT, if the dividend income is included in their income.
Further, non-availability of credit of DDT to most of the foreign investors in their home country results in reduction of rate of return on equity capital for them.
DDT is considered as a surrogate tax and it obstructs the flow of foreign direct investment. Therefore, doing away with this tax can give a major push to investment.
Background
It is to be noted that removal of DDT was mooted Direct Tax Code Panel (Chairman –Akhilesh Ranjan) which was set up by the government to formulate a new direct tax code to replace the existing Income Tax Act.
The idea behind removal of DDT is to remove the cascading impact of taxation and the panel favoured no preferential treatment for any class of investor.
Key Changes
The dividend distribution tax (DDT) has been abolished at both the company and mutual fund levels.
It has been proposed to abolish DDT on dividends paid by the corporates and transfer the tax burden completely in the hands of the recipient.
Instead, dividends will be taxable in the hands of investors and will be taxed at their slab rates. In addition, tax will be deducted at source (TDS) on mutual fund dividends in excess of Rs 5,000 per year at the rate of 10%.
DDT has also been abolished on dividends paid out by mutual funds.Now, this amount will flow directly into the net asset value (NAV) of mutual funds.
While the Budget also proposed a 10% tax would be deducted at source for 'income' above Rs 5,000 in a year, there is a lack of clarity on whether the levy would be only on dividend income or overall equity returns.
Impact
Positive
Benefits to Investors
The move to abolish DDT and make dividend income taxable in the hands of individuals will benefit debt fund investors who are in the lower tax bracket.
Abolition of DDT would encourage low-income earners, who have total income up to Rs 5 lakh, to invest in capital market as the person with total income up to Rs 5 lakh will not have to pay tax on dividend income as against 20.56 percent paid by them indirectly.
Benefits to Mutual Fund Industry
The move could also lead to a churn in the mutual fund(MF) industry with investors likely moving from dividend plans to growth plans of equity mutual funds.
Negative
According to the experts of MF industry, the change can, however, would an adverse effect on the attractiveness of mutual funds.
The TDS provision also extends to capital gains on mutual funds. What was earlier an invisible tax will now be perceptibly deducted. Those who don't want the deduction will have to submit paperwork, as with other types of TDS. This could negatively affect the perception towards the dividend option of funds.
Further, abolishing DDT will not only impact tax collection, but also affect the investment cycle.
What is Dividend Distribution Tax (DDT)?
It is a tax levied on dividends that a company pays to its shareholders out of its profits, which is taxable at source, and is deducted at the time of the company distributing dividends. The dividend is the part of profits that the company shares with its shareholders.
India's DDT provisions were introduced in the Finance Act 1997.Interestingly, DDT was scrapped in 2002 only to be re-introduced in the next year on grounds of ease of tax administration.
Other than DDT, the Securities Transaction Tax (STT) and Long-Term Capital Gains (LTCG) tax are other major taxes levied on market instruments.
Who is required to Pay DDT?
Under Section 115-O, the Income Tax Act, any domestic firm which is declaring or distributing dividend has to pay DDT at the rate of 15 percent on the gross amount of dividend.
What are the Different Rates Charged?
DDT for distribution of income by debt fund was 25% for individuals and Hindu undivided family (HUF) and 30% for others.
While the rate of DDT by companies in India is 15%, which after grossing up, comes to 17.65% and taking the impact of surcharge at 12% and cess at 4%, this comes to 20.56%.
In 2017 an additional income tax of 10% became applicable if the aggregate dividend income exceeds Rs 10 lakh per annum. It is applicable on the excess amount above Rs 10 lakh.
Budget 2018 introduced dividend distribution tax on equity oriented mutual funds. It is taxed at 10% and including 12% surcharge and 4% cess it adds up to 648%.
On debt oriented mutual funds, DDT is 25% and after including 12% surcharge and 4% cess it adds up to 12%.
When is the Dividend Distribution Tax paid?
The tax has to be paid to the government within 14 days of the dividend declaration, distribution or payment whichever is earliest.
If DDT is not paid within the given time period, interest at a rate of 1 percent per month or part thereof starts getting accumulated till the amount is paid. The tax is paid separately, over and above the company's income tax liability.
Current News Ecology & Environment Agriculture & Allied Sector
16 Action Points
---
Reiterating the government's commitment towards "Sabka Saath, Sabka Vikas , Sabka Vishwas" and "Ease of Living" for people of India, the Finance Minister, in Budget 2020-21, proposed 16 action points focusing on doubling Farmers income, Horticulture sector, Food storage, Animal Husbandry and Blue economy.
Doubling Farmers Income
Resource efficiency is the first step in doubling farmer's income and keeping this in mind, stress will be given on the balanced use of all kinds of fertilizers and Zero Budget Natural Farming (ZBNF)
With the aim of doubling farmers' income by 2022, it proposed to expand PM-KUSUM to 20 lakh farmers for setting up standalone solar pumps and help another 15 lakh farmers solarise their grid connected pump sets.
Operationalize scheme to enable farmers to set up solar power generation capacity on their fallow/barren lands and to sell it to grid.
The portal on "Jaivikkheti" – online national organic products market will also be strengthened.
Integration of negotiable warehousing receipts (e-NWR) and National Agricultural Market (e-NAM).
Water Related Stress
To address concerns related to water stress in various parts of the country, government proposed comprehensive measures for one hundred water stressed districts.
Storage and Logistics
To promote storage infrastructure and reduce wastage of food grains, creation of warehouses through viability gap funding on a PPP mode at block level has been proposed.
Warehouse construction will be done by Food Corporation of India (FCI) and Central Warehousing Corporation (CWC). As a backward linkage, village storage scheme to be run by Self Help Groups (SHG). Women SHGs can use this opportunity to regain their position as "DhanLakshi" and they can avail Mudra loans for opening storage facilities.
To build a seamless national cold supply chain for perishables, inclusive of milk, meat, Indian Railways will set up Kisan Rail-through PPP arrangements.
To help improve value realization especially in North-East and tribal districts Krishi Udaan will be launched by the Ministry of Civil Aviation.

Animal Husbandry
Recognizing the contribution of animal husbandry sector in farmer's income, government aimed to eliminate Foot and Mouth disease, brucellosis in cattles and peste des petits ruminants (PPR) in sheep and goat by 2025 and to increase coverage of artificial insemination from 30 percent to 70 percent.
Agriculture Credit
Setting agriculture credit target of rupees 15 lakh crore for the year 2020-21.
All eligible beneficiaries of Pradhan Mantri Kisan Samman Nidhi (PM-KISAN) will be covered under the Kisan Credit Card (KCC) scheme.
Horticulture
For better marketing and export, government will support the states which, adopting a cluster basis will focus on one product one district.
Blue Economy
Government proposes to put in place a framework for development, management and conservation of marine fishery resources and promotion of algae, sea weed and cage culture that will assist in raising fish production to 200 lakh tonnes by 2022-23.
Further, government will involve youth in fishery extension through Sagar Mitras and fish farmer producer organizations.
Current News International WHO
Coronavirus Declared Public Health Emergency Of International Concern
---
Recently, an outbreak of the Wuhan coronavirus in China has caused global concern.
With the rise in new coronavirus cases outside China, the World Health Organization (WHO) on 30th January, 2020, decided to declare the novel coronavirus outbreak, a public health emergency of international concern (PHEIC).
What is Coronavirus?
Coronaviruses are a large family of viruses that typically attack the respiratory system. The name comes from the Latin word corona, meaning crown, because of the spiky fringe that encircles these viruses.
2019 Novel Coronavirus (2019-nCoV)
The 2019 Novel Coronavirus, or 2019-nCoV, is a new respiratory virus first identified in Wuhan, Hubei Province, China, belongs to the coronavirus family, which includes SARS (severe acute respiratory syndrome) and MERS (Middle East respiratory syndrome).
Origin of nCov
Several people in Wuhan, the capital and largest city in Hubei province, report symptoms caused by a virus that is later tied to the Huanan Seafood Market, which sells primarily fish and shellfish, but also wild game like beavers, porcupines and snakes.
Since the outbreak was detected about a month ago, scientists have been able to piece together considerable amount of information about the origin, transmission and lethality of the 2019-nCoV, but several questions are still being investigated.
Types
Coronaviruses belong to the family Coronaviridae, and there are seven types that can infect humans.
Common Human Coronaviruses
The following four types are often referred to as community-acquired coronaviruses because they are common and infect people all over the world-
229E (alpha coronavirus)
NL63 (alpha coronavirus)
OC43 (beta coronavirus)
HKU1 (beta coronavirus)
Other Human Coronaviruses
The other three coronaviruses are more worrisome because they have been linked to severe complications, like pneumonia and death. These are-
MERS-CoV (the beta coronavirus that causes Middle East Respiratory Syndrome, or MERS)
SARS-CoV (the beta coronavirus that causes severe acute respiratory syndrome, or SARS)
2019 Novel Coronavirus (2019-nCoV)
Severe Acute Respiratory Syndrome (SARS)
SARS is a viral respiratory illness caused by a coronavirus called SARS-associated coronavirus (SARS-CoV).
It first appeared in China in November 2002 and was identified in February 2003.
Middle East Respiratory Syndrome (MERS)
MERS is viral respiratory illness that is new to humans. It was first reported in Saudi Arabia in 2012 and has since spread to several other countries, including the United States.
Most people infected with MERS-CoV developed severe respiratory illness, including fever, cough, and shortness of breath.
Mode of Transmission
Usually Coronaviruses are zoonotic, meaning they are transmitted between animals and human beings possibly through the food chain. This happened during the 2003 outbreak of SARS (Severe Acute Respiratory Syndrome), which too was caused by a coronavirus and originating in China.
Human-to-human transmission has been confirmed in case of 2019-nCoV.
But a new study, published in The New England Journal of Medicine on 30th January, 2020, has documented the first case in which the virus was transmitted from one person to the other, even before the symptoms had become evident in the first person. Such transmissions are called
Symptoms
Like other coronaviruses, 2019-nCoV manifests itself initially in the form of mild fever and cough, and affects mainly the respiratory system in human beings.
The most common symptoms were fever, cough, muscle pain, and fatigue; less common were headache, diarrhea, and coughing up mucus or blood.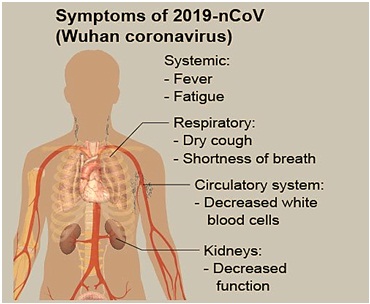 Treatment
To date, there is no specific medicine recommended to prevent or treat the new coronavirus (2019-nCoV).
Impact on Global Economy
The World Health Organization's declaring the novel coronavirus PHEIC could stoke investor's fears about the disease and the economic risks it poses, mainly impacting travel, entertainment, hospitality sectors across the globe.
It is affecting China's economy, the world's second-largest, with a growing number of countries advising their citizens to avoid all non-essential travel to the country.
The economic impact is likely to be magnified by the on-going US-China trade frictions. Trade between the US and China has already been disrupted by trade wars and imposition on tariffs on US and Chinese exports. Although tensions have been eased by a signing of the phase-one trade deal, the underlying dispute has had an important impact in disrupting supply chains and underlying exports.
The main short-term impacts will be weaker global equities and a decline in oil prices.
However, declaring an emergency means the WHO sees the disease as a serious global threat and will ramp up international resources to develop treatments and a vaccine for nCoV as soon as possible.
Public Health Emergency of International Concern(PHEIC)
The WHO declares a Public Health Emergency of International Concern when there is an extraordinary event which is determined to constitute a public health risk to other states through the international spread of disease.
Objective
The declaration aims to prevent or reduce the cross-border spread of disease while averting needless obstruction of trade and travel.
It also aims to accelerate the development of vaccines and treatments, while stopping the spread of rumours and misinformation.
Measures under Declaration
Under the designation, the WHO is able to review public health measures carried out by countries to ensure they meet proper health standards.
WHO issues temporary recommendations. These recommendations are not enforceable, but there is pressure on countries to follow them, as member states are bound by the WHO's 2005 International Health Regulations.
The designation pushes nations to coordinate funding, personnel and other resources, and helps countries persuade residents to follow health recommendations.
Previous Declared Global Public Health Emergencies
Swine flu, 2009 - The H1N1 virus spread across the world in 2009, with death toll estimates ranging from 123,000 to 575,400.
Polio, 2014 - Although closer than ever to eradication in 2012, polio numbers rose in 2013.
Zika, 2016 - The WHO declared Zika a public health emergency in 2016 after the disease spread rapidly through the Americas.
Ebola, 2014 and 2019 - The first emergency over the virus lasted from August 2014 to March 2016 as almost 30,000 people were infected and more than 11,000 died in West Africa. A second emergency was declared last year as an outbreak spread in DR Congo.
Significance
A PHEIC is meant to mobilize international response to an outbreak.
It gives the WHO capabilities to hasten the response of governments and organisations globally that are rushing to contain an outbreak.
It also tells the world that the outbreak is a serious health emergency.
---