Current News International International Organizations
World Bank's STARS Program
---
On 28th June, 2020, the World Bank Board of Executive Directors has approved USD 500 million Strengthening Teaching-Learning and Results for States Program (STARS) to improve quality and governance of school education in six Indian states.
Background
The STARS program builds on the long partnership between India and the World Bank (since 1994), for strengthening public school education and to support the country's goal of providing 'Education for All'.
Prior to STARS, the Bank had provided a total assistance of more than $3 billion towards this goal.
Need
According to the official release, despite improvements in India's education system, the quality of education still remains sub-par.
The number of children attending schools between 2004-05 and 2018-19, has increased to 248 million from 219 million.
However, the learning outcomes of students across all age groups continue to remain below par
Key Details
Implementation
The project will be implemented through the Samagra Shiksha Abhiyan, the flagship central scheme of India
Coverage
Six states included in the project are Himachal Pradesh, Kerala, Madhya Pradesh, Maharashtra, Odisha, and Rajasthan.
Series of Reform Initiatives under STARS
Focusing more directly on the delivery of education services at the state, district and sub district levels by providing customized local-level solutions towards school improvement.
Addressing demands from stakeholders, especially parents, for greater accountability and inclusion by producing better data to assess the quality of learning.
Giving special attention to students from vulnerable sections – with over 52 percent (as a weighted average) of children in the government-run schools in the six project states belonging to vulnerable sections, such as Scheduled Caste (SC), Scheduled Tribe (ST), and minority communities.
Equipping teachers to manage this transformation by recognizing that teachers are central to achieving better learning outcomes.
Investing more in developing India's human capital needs by strengthening foundational learning for children in classes 1 to 3 and preparing them with the cognitive, socio-behavioral and language skills to meet future labor market needs.
Benefits
Aid to India's Response: India recognizes the need to significantly improve its learning outcomes to fuel future growth and meet the demands of the labor market. STARS will support India's response to this challenge by strengthening implementation at the local level, investing in teacher capacity and ensuring that no child of any background is left behind from the right to education.
Improving Education System: The project will help improve the learning assessment systems, strengthen classroom instruction and remediation, facilitate school-to-work transition, and strengthen governance and decentralized management.
Holistic Approach: It will help state's implement evidence-based planning to factor in the needs of the most deprived, strengthen accountability at all levels, and thereby adopt a holistic approach to improve education outcomes.
Improving Gender Parity: Furthermore, in order to improve gender parity in terms of education, STARS will also improve the completion rate for secondary education.
Fulfilling SDG Goal: In line with the Sustainable Development Goal for education (SDG 4), the programme will help produce better data on learning levels by improving the National Achievement Survey (NAS).
Nurturing Students: It will also address the 'learning outcome' challenge and help students better prepare for the jobs of the future.
Samagra Shiksha
Launched in 2018, is an integrated scheme for school education extending from pre-school to class XII to ensure inclusive and equitable quality education at all levels of school education.
It subsumes the three Schemes of Sarva Shiksha Abhiyan (SSA), Rashtriya Madhyamik Shiksha Abhiyan (RMSA) and Teacher Education (TE).
Major Objectives
Provision of quality education and enhancing learning outcomes of students;
Bridging Social and Gender Gaps in School Education;
Ensuring equity and inclusion at all levels of school education;
Ensuring minimum standards in schooling provisions;
Promoting Vocationalisation of education;
Support States in implementation of Right of Children to Free and Compulsory Education (RTE) Act, 2009; and
Strengthening and up-gradation of SCERTs/State Institutes of Education and DIET as a nodal agencies for teacher training.
Key Points
The scheme envisages the 'school' as a continuum from pre-school, primary, upper primary, secondary to Senior Secondary levels.
The vision of the Scheme is to ensure inclusive and equitable quality education from pre-school to senior secondary stage in accordance with the Sustainable Development Goal (SDG) for Education.
The main emphasis of the Scheme is on improving quality of school education by focussing on the two T's – Teacher and Technology.
It proposes to give flexibility to the States and UTs to plan and prioritize their interventions within the scheme norms and the overall resource envelope available to them.
Funds are proposed to be allocated based on an objective criteria based on enrolment of students, committed liabilities, learning outcomes and various performance indicators.
Current News Indian Economy Infrastructure
Government Initiatives To Boost Infrastructure Across Sectors
---
On 24th June 2020, the Union Cabinet took several landmark decisions, which will go a long way providing a much needed boost to infrastructure across sectors, which are crucial in the time of pandemic.
Animal Husbandry Infrastructure Development Fund
Background
In pursuance of recently announced Atma Nirbhar Bharat Abhiyan stimulus package, government approved setting up of Animal Husbandry Infrastructure Development Fund (AHIDF).
Government had earlier approved the Dairy Infrastructure Development Fund (DIDF) for incentivizing investment by cooperative sector for development of dairy infrastructure.
Need
The MSMEs and Private companies need to be promoted and incentivized for their participation in processing and value addition infrastructure in the animal husbandry sector.
Key Points
Size of the fund is 15000 crore.
The eligible beneficiaries under the Scheme would be Farmer Producer Organizations (FPOs), MSMEs, Section 8 Companies, Private Companies and individual entrepreneur with only 10% margin money contribution by them.
The balance 90% would be the loan component to be made available to them by scheduled banks.
Government of India will provide 3% interest subvention to eligible beneficiaries.
There will be 2 years moratorium period for repayment of loan with 6 years repayment period thereafter.
Government of India would also set up a Credit Guarantee Fund of Rs. 750 crore to be managed by NABARD which would provide credit guarantee to the projects which are covered under the MSME defined ceilings.
Guarantee Coverage would be upto 25% of the Credit facility of borrower.
Impact
Increasing Farmer's Income
Since almost 50-60% of the final value of dairy output in India flows back to farmers, the growth in this sector can have significant direct impact on farmer's income.
The investment of Rs. 15,000 crores through AHIDF would not only leverage several times more private investment but would also motivate farmers to invest more on inputs thereby driving higher productivity leading to increase in farmers income.
Livelihood Creation
The measures approved today through AHIDF would also help in direct and indirect livelihood creation for about 35 lakh persons.
Benefits
Incentivizing Investment: The AHIDF would incentive infrastructure investments in dairy, meat processing and animal feed plants.
Ensuring Credit Availability: The AHIDF with the interest subvention scheme for private investors will ensure availability of capital to meet upfront investment required for these projects and also help enhance overall returns/ pay back for investors.
Export Promotion: Such investments in processing and value addition infrastructure by eligible beneficiaries would also promote exports.
Kushinagar Airport Declared as International Airport
Union Cabinet has approved the proposal to declare Kushinagar Airport in Uttar Pradesh as an International Airport.
Need
On any given day, around 200-300 devotees from Thailand, Cambodia, Japan, Burma, etc are coming and offering their prayers at Kushinagar. However, this International tourist destination has no direct connectivity, which has been a long pending demand of the visitors.
Historical Significance of Kushinagar
Kushinagar is an important Buddhist pilgrimage site, where Gautama Buddha attained Mahaparinirvana.
It is dotted with several other Buddhist sites in the nearby surroundings like Sravasti (238 km), Kapilvastu (190 km) and Lumbini (195 km) that makes it an attraction for both followers and visitors alike.
Kushinagar already serves as the presenting site for Buddhist circuit pilgrimage spanning across India and Nepal.
Benefits
Boosting Tourism
Declaration of Kushinagar Airport as an 'International Airport' will offer improved connectivity resulting in boosting of domestic/international tourism in the region.
Economic Development
Increase flow of tourists would further provide impetus to economic development of the region.
Shwe oil & gas project in Myanmar
Government has approved additional investment of US$ 121.27 million by ONGC Videsh Ltd (OVL) towards further development of Shwe oil & gas project in Myanmar.
Background
ONGC Videsh (OVL) has been associated with exploration and development of Shwe gas project in Myanmar since 2002, as part of a consortium of companies from South Korea, India and Myanmar.
The Indian PSU, GAIL, is also a co-investor in this project.
The first gas from Shwe Project was received in July 2013 and plateau production was reached in December 2014.
Benefits
Promoting Act East Policy: The participation of Indian PSUs in oil & gas exploration and development projects in neighbouring countries is aligned with India's Act East Policy.
Strengthening Energy Security: It also part of India's strategy to develop Energy Bridges with its neighbours in addition to further strengthening India's energy security needs.
About Shwe Gas Project
Shwe gas project comprises the development of three fields, namely Shwe, Shwe Phyu, and Mya, which are located in the Bay of Bengal, offshore Myanmar.
The gas project is located in Blocks A-1 and A-3 in the Bay of Bengal, offshore Rakhine, Myanmar.
The project is jointly owned by POSCO DAEWOO Corporation (PDC, 51%), Myanma Oil and Gas Enterprise (15%), ONGC Videsh (India) (17%), GAIL (India) (8.5%), and Korea Gas Corporation (8.5%). It is being developed in three phases with the first phase completed in 2013.
Current News International Bilateral, Regional And Global Groupings
US Extends Ban On Employment-Based Visas
---
On 23rd June 2020, the US President signed an executive order extending the ban on immigrant and non-immigrant worker visas.
Popular work visas including the much-coveted H-1B and H-2B, and certain categories of H-4, J, and L visas shall also remain suspended until December 31, 202
Background
After Trump took over as President in January 2017, the US government had started moving towards a more conservative work visa regime, alleging that Indian and Chinese IT companies had been sending workers on very low costs, which hurt prospects of skilled workers in the US.
In November the same year, the US House Judiciary Committee had, in a bid to deter Indian and Chinese companies from misusing H-1B visas, voted to pass a legislation to increase the minimum annual salary of H-1B visa holders to $90,000 from $60,000.
Finally, in April 2020, Trump had signed an executive order which had banned the entry of foreign workers in the country for a period of 60 days.
Reason for Ban
The move was to protect domestic workers who had been impacted due to a contraction in the economy in the wake of the Covid-19 pandemic.
American workers have to compete against foreign nationals for jobs in every sector of economy against millions of foreigners who enter the US to perform temporary work.
Work Visas
In order to fill a vacuum of highly-skilled low-cost employees in IT and other related domains, the US administration issues a certain number of visas each year which allows companies from outside the US to send employees to work on client sites.
Of these work visas, the H-1B remains the most popular among Indian IT companies.
Visa Categories Affected
H-1B
Issued to work in a specialty occupation.
Requires a higher education degree of its equivalent.
Includes fashion models of distinguished merit and ability and government-to-government research and development, or co-production projects administered by the Department of Defence.
They are generally valid for up to six years
H-2B
These are for seasonal non-agricultural labor.
They are generally valid for up to three years and are popular in industries like food processing, hotel work, and landscaping.
H-4
H-4 visas are for the spouses and children of H-1B and H-2B holders.
The proclamation does not explicitly address them, but does restrict entry for "any alien accompanying or following to join" restricted categories.
They are valid for the duration of the H-1B visa.
J-1
J-1 visas are for cultural and educational exchange.
The order applies to J-1 holders "participating in an intern, trainee, teacher, camp counselor, au pair, or summer work travel program."
They are valid for up to seven years, depending on program type, and there is no annual cap.
J-2
These visas are for the spouses and dependents of J-1 holders.
It is valid for the duration of the J-1 visa.
L-1
L-1 visas are for high-level and specialized company employees.
They are generally valid for up to seven years and there is no annual cap.
L-2
L-2 visas are for the dependents of L-1 holders.
They are valid for the duration of the associated L-1 visa.
Impact
Since the ban is effective immediately, the processing of all new H-1B, H-2B, J, and L visa categories stand suspended.
This means those who do not have a valid non-immigrant visa as of June 23, 2020 and are outside of the US, will not be allowed to enter the country until December 31, 2020.
The order also replaced the current system of awarding H1B visas by lottery with a system that privileges applicants who are paid more than others.
Immigration experts view that proposed regulations could impose more stringent norms for such visa and green card categories — by way of higher wages or a restrictive definition of specialty occupation that determines H-1B eligibility.
Exceptions
Workers in essential services in the food sector have been given some reprieve, and their entry shall be decided by the consular officer of immigration services.
H-1B, H-2B, J and L visa holders, and their spouse or children already present in the US shall not be impacted by the new worker visa ban.
Expected Benefit for US
The White House expects that the visa ban will free up 525,000 jobs and as such, make a dent in the high unemployment rate caused by the coronavirus pandemic.
Impact on Indian IT Companies
Negative
The ban on the entry of non-immigrant workers with H1B visas is likely to have the biggest impact globally, and especially on Indian information technology (IT) companies and workers.
Indian IT companies are amongst the biggest beneficiaries of the US H-1B visa regime, and have since 1990s cornered a lion's share of the total number of visas issued each year.
This could result in a significant impact on margins and worker wages of Indian IT companies that have sent thousands of low-cost employees to work on client sites in the US.
Positive
The US government move is expected to benefit the Indian offshoring industry with US clients and technology companies seen moving more work within the country.
Analysts foresee a case for more offshoring of work in coming months, given the impact of the coronavirus pandemic, travel restrictions, and, now, suspension of H-1B visas.
Further, retaining the skilled workforce to work within the country will provide boost to become more self-reliant (under Atmanirbhar Bharat) , paving the path towards the 5 trillion dollar economy.
Criticism
Critics of the measure say the US administration is using the coronavirus pandemic to achieve its goals to lower immigration to the US.
Businesses who depend on foreign workers have long opposed curbs to legal immigration, while the US Chamber of Commerce, the nation's largest business association, said that the policy will stifle the economic recovery.
The American Immigration Lawyers Association (AILA) has voiced its strong disapproval of this ban. This Presidential Proclamation ignores this reality and will make emerging from this crisis more difficult and expensive. It will harm employers, families, universities, hospitals, communities, and delay America's economic recovery.
Current News National Polity & Governance
Secrecy Of Ballots
---
On 21st June, 2022, in a significant judgment, the Supreme Court(SC) held that Secrecy of ballot is the cornerstone of free and fair elections.
Background
The judgment came on an appeal against the Allahabad High Court (HC) decision setting aside the voting of a no-confidence motion in a zila panchayat in Uttar Pradesh in 2018.
The High Court found that some of the panchayat members had violated the rule of secrecy of ballot.
The appellants in the SC contended that the principle of secrecy of ballots was not an absolute principle, and that voluntary waiver of the privilege was permissible.
They referred to Section 94 of the Representation of Peoples Act to state that voter can voluntarily chose to waive the secrecy of ballot.
Further, they argued that the HC has wrongly held that the voluntary waiver principle could not apply to the case in hand with respect to the members of the Zila Panchayat voting on a no confidence motion.
The SC referred to Section 28(8) of the Uttar Pradesh Kshettra Panchayat and Zila Panchayat Adhiniyam, 1961 and ordered a re-vote of the motion within the next two months, by the secret ballot system.
Key Points of SC Verdict
The Supreme Court has observed that the principle of secret ballot is an important postulate of constitutional democracy.
It is to be observed that one of the fundamental principles of election law pertains to the maintenance of free and fair elections, ensuring the purity of elections.
It referred to Section 94 of the Representation of People Act, which upholds the privilege of the voter to maintain confidentiality about her choice of vote.
It is the policy of law to protect the right of voters to secrecy of the ballot.
The choice of a voter should be free and the secret ballot system in a democracy ensures it.
Even a remote or distinct possibility that a voter can be forced to disclose for whom she has voted would act as a positive constraint and a check on the freedom to exercise of franchise.
However, a voter can also voluntarily waive the privilege of non-disclosure.
The privilege ends when the voter decides to waive the privilege and instead volunteers to disclose as to whom she had voted.
No one can prevent a voter from doing. Nor can a complaint be entertained from any, including the person who wants to keep the voter's mouth sealed as to why she disclosed for whom she voted.
Secret Ballot
The secret ballot, also known as Australian ballot, is a voting method in which a voter's choices in an election or a referendum are anonymous, forestalling attempts to influence the voter by intimidation, blackmailing, and potential vote buying.
The system is one means of achieving the goal of political privacy.
Representation of People's Act
The Parliament has enacted the Representation of the People Act (RPA), 1950 and Representation of the People Act, 1951.
Provisions of RPA, 1950
Seat allocation in the Lok Sabha and the Legislative Assemblies through direct elections.
The voters' qualifications for the elections.
The delimitation of constituencies for both Lok Sabha and Assembly elections. The extent of the constituencies would be determined by the Delimitation Commission.
Preparation of the electoral roll.
Provisions of RPA, 1951
All matters relating to the actual conduct of elections are governed by the provisions of the Representation of the People Act 1951.
Talks about corruption and other illegal activities related to elections.
The Act makes provisions for dispute redressal in matters connected to elections.
It specifies the qualifications and disqualifications for membership of the Houses.
Current News Indian Economy Plan Policy
Garib Kalyan Rojgar Abhiyaan
---
On 20th June, 2020, the government launched a massive employment -cum- rural public works Campaign named Garib Kalyan Rojgar Abhiyaan in order to boost employment and livelihood opportunities for migrant workers returning to villages, in the wake of COVID-19 outbreak.
The Abhiyaan was flagged off from village Telihar, Block Beldaur, district Khagaria, Bihar through Video-Conference.
Need
Due to the coronavirus outbreak, businesses across sectors were affected which led to the temporary shutdown of the industries, leaving migrants with no jobs.
As lakhs of migrants returned back, the government is obliged to provide employment to them closer to home.
Salient Features
Coverage
A total of 116 districts across six states, namely Bihar, Uttar Pradesh, Madhya Pradesh, Rajasthan, Jharkhand and Odisha have been chosen for the campaign.
These districts are estimated to cover about 2/3 of such migrant work
The chosen districts include 27 Aspirational Districts under Aspirational Districts Programme.
Duration and Outlay
This campaign will work in mission mode for 125 days with an outlay of Rs. 50,000 crore.
Ministries Involved
The Ministry of Rural Development is the nodal Ministry for this campaign and the campaign will be implemented in close coordination with the State Governments.
Twelve different ministries or departments—rural development, panchayati raj, transport, mines, drinking water, environment, railways, petroleum, new and renewable energy, border roads, telecom and agriculture—will participate in the programme.
Implementation Strategy
A total 25 work areas have been identified for employment in villages, for development of various works.
These 25 works or projects are related to meet the needs of the villages like rural housing for the poor, Plantations, provision of drinking water through Jal Jeevan mission, Panchayat Bhavans, community toilets, rural mandis, rural roads, other infrastructure like Cattle Sheds, Anganwadi Bhavans etc.
The Krishi Vigyan Kendras in villages will also help in imparting skills to the workers.
The workers will be paid according to the stipulated minimum wage in the respective schemes of the government.
Special Focus
Abhiyaan focuses on durable rural infrastructure and providing modern facilities like internet in the villages.
Saturate villages with public infrastructure and create livelihood opportunities viz. Roads, Housing, Anganwadis, Panchayat Bhavans, various livelihood assets and Community Complexes among others
Significance
The Abhiyaan will prepare for expansion and development of livelihoods over a longer-term.
With ith the release of money to villages such as allocation to rural local bodies as recommended by the 15th finance commission, It will provide work and enable asset creation in rural areas, powering rural development.
The basket of a wide variety of works will ensure that each migrant worker is able to get an opportunity of employment according to his skill, in the coming 125 days.
Aspirational Districts Programme
Launched in January, 2018, the 'Transformation of Aspirational Districts' programme aims to quickly and effectively transform the selected districts.
NITI Aayog in partnership with the Government of Andhra Pradesh has created a dashboard for monitoring the real-time progress of the districts.
Core Principles
The three core principles of the programme are - Convergence (of Central & State Schemes), Collaboration (among citizens and functionaries of Central & State Governments including district teams), and Competition among districts.
Driven primarily by the States, this initiative focuses on the strengths of each district, and prioritizes the attainable outcomes for immediate improvement.
Themes
The programme focusses on 5 main themes - Health & Nutrition, Education, Agriculture & Water Resources, Financial Inclusion & Skill Development, and Basic Infrastructure, which have direct bearing on the quality of life and economic productivity of citizens.
Current News Science & Technology Health & Disease
Rapid Antigen Test
---
Recently, the Indian Council of Medical Research (ICMR) approved the use of rapid antigen detection test in containment zones and healthcare settings in combination with the RT-PCR test.
The ICMR has allowed the use of antigen detection kits developed by the South Korean company S D Biosensor, which has a manufacturing unit in Manesar.
The kit, commercially called Standard Q COVID-19 Ag detection kit, comes with a with an inbuilt Covid antigen test device, viral extraction tube with viral lysis buffer and sterile swab for sample collection.
Rapid Antigen Detection Test for Covid-19
It is a test on swabbed nasal samples that detects antigens (foreign substances that induce an immune response in the body) that are found on or within the SARS-CoV-2 virus.
It is a point-of-care test, performed outside the conventional laboratory setting, and is used to quickly obtain a diagnostic result.
The test has to be performed onsite under strict medical supervision and maintaining the kit temperature between 2° and 30°C.
Rapid Antigen Test
It is a rapid diagnostic test suitable for point-of-care testing that directly detects the presence or absence of an antigen.
This distinguishes it from other medical tests that detect antibodies (antibody tests) or nucleic acid (nucleic acid tests), of either laboratory or point of care types.
Common examples-
Rapid strep tests (for streptococcal antigens)
Rapid influenza diagnostic tests (RIDTs) (for influenza virus antigens)
Malaria antigen detection tests (for Plasmodium antigens)
Antigens
An antigen is any substance that causes your immune system to produce antibodies against it.
An antigen may be a substance from the environment, such as chemicals, bacteria, viruses, or pollen.
Vaccines are examples of antigens in an immunogenic form, which are intentionally administered to a recipient to induce the memory function of adaptive immune system toward the antigens of the pathogen invading that recipient.
Difference from RT-PCR Test
Like RT-PCR, the rapid antigen detection test too seeks to detect the virus rather than the antibodies produced by the body.
While the mechanism is different, the most significant difference between the two is time.
RT-PCR test takes a minimum of 2-5 hours including the time taken for sample transportation. These specifications limit the widespread use of the RT-PCR test and also impede quick augmentation of testing capacity in various containment zones and hospital settings.
In a reliable rapid antigen detection test, the maximum duration for interpreting a positive or negative test is 30 minutes.
Accuracy of Rapid Antigen Test
The results revealed that the kit had a very high specificity, or the ability to detect true negatives, ranging between 99.3% and 100% at the two sites.
The sensitivity of the test, or its ability to detect true positives, ranged between 50.6% and 84%, depending upon the viral load of the patient.
The higher the ability to detect true negatives, the more reliable is any positive result.
A negative test result may occur if the level of an extracted antigen in a specimen is below the sensitivity of the test or if a poor quality specimen is obtained
A negative result may also occur if the concentration of antigen in a specimen is below the detection limit of the test or if the specimen.
Also, children tend to shed the virus for longer periods than adults, which may result in differences in sensitivity between adults and children.
Limitations
Antigen tests are very specific for the virus, but are not as sensitive as molecular PCR tests.This means that positive results from antigen tests are highly accurate, but there is a higher chance of false negatives, so negative results do not rule out infection.
With this in mind, negative results from an antigen test may need to be confirmed with a PCR test prior to making treatment decisions or to prevent the possible spread of the virus due to a false negative.
Further, once the sample is collected in the extraction buffer, it is stable only for one hour.
Therefore, the antigen test needs to be conducted at the site of sample collection in the healthcare setting.
Current News Ecology & Environment Agriculture & Allied Sector
Genetically Modified Seeds Debate
---
Recently, Shetkari Sanghatana — the farmers' union — announced fresh plans in its agitation for use of genetically modified seeds
In the current kharif season, farmers would undertake mass sowing of GM seeds for maize, soyabean, mustard brinjal and herbicide tolerant (Ht) cotton, although these are not approved.
What is the movement about?
The Sanghatana has announced that this year they are going to undertake large-scale sowing of unapproved GM crops like maize, Ht Bt cotton, soyabean and brinjal across Maharashtra.
Farmers who plant such variants will put up boards on their fields proclaiming the GM nature of their crop.
This action will draw attention to the need for introduction of the latest technology in the fields.
Farmers will not be deterred by any action taken against them by the authorities.
What are genetically modified seeds?
Conventional plant breeding involves crossing species of the same genus to provide the offspring with the desired traits of both parents.
Genetic engineering aims to transcend the genus barrier by introducing an alien gene in the seeds to get the desired effects.
The alien gene could be from a plant, an animal or even a soil bacterium.
What is the legal position of genetically modified crops in India?
In India, the Genetic Engineering Appraisal Committee (GEAC) is the apex body that allows for commercial release of GM crops.
In 2002, the GEAC had allowed the commercial release of Bt cotton. More than 95 per cent of the country's cotton area has since then come under Bt cotton.
Use of the unapproved GM variant can attract a jail term of 5 years and fine of Rs 1 lakh under the Environmental Protection Act ,1989.
Bt cotton, the only GM crop that is allowed in India, has two alien genes from the soil bacterium Bacillus thuringiensis (Bt) that allows the crop to develop a protein toxic to the common pest pink bollworm.
Ht Bt, on the other, cotton is derived with the insertion of an additional gene, from another soil bacterium, which allows the plant to resist the common herbicide glyphosate.
In Bt brinjal, a gene allows the plant to resist attacks of fruit and shoot borer.
In DMH-11 mustard, developed by Deepak Pental and colleague in the South Campus of University of Delhi, genetic modification allows cross-pollination in a crop that self-pollinates in nature.
Why are farmers rooting for GM crops?
In the case of cotton, farmers cite the high cost of weeding, which goes down considerably if they grow Ht Bt cotton and use glyphosate against weeds.
Brinjal growers in Haryana have rooted for Bt brinjal as it reduces the cost of production by cutting down on the use of pesticides.
Unauthorised crops are widely used. Industry estimates say that of the 4-4.5 crore packets (each weighing 400 gm) of cotton sold in the country, 50 lakh are of the unapproved Ht Bt cotton.
Haryana has reported farmers growing Bt brinjal in pockets which had caused a major agitation there.
In June, 2029, in a movement led by Shetkari Sanghatana in Akola district of Maharashtra, more than 1,000 farmers defied the government and sowed Ht Bt cotton.
Environmentalists argue that the long-lasting effect of GM crops is yet to be studied and thus they should not be released commercially.
Current News Indian Economy Infrastructure
Indian Gas Exchange
---
On 15th June, 2020, the government has launched Indian Gas Exchange (IGX) –first nationwide online delivery-based gas trading platform.
Need
Domestically produced natural gas currently accounts for less than half the country's natural gas consumption; imported Liquefied Natural Gas (LNG) accounts for the other half.
LNG imports are set to become a larger proportion of domestic gas consumption as India moves to increase the proportion of natural gas in the energy basket from 6.2% in 2018 to 15% by 2030.
About Indian Gas Exchange (IGX)
IGX will be a delivery-based trading platform for delivery of natural gas.
Incorporated as a wholly owned subsidiary of the Indian Energy Exchange (IEX) - India's energy market platform, IGX will enable market participants to trade in standardised gas contracts.
The platform is fully automated with web-based interface to provide seamless trading experience to the customers.
Mode of Working
The IGX will offer six market products beginning from day-ahead market and forward contracts including - Daily, Weekly, Weekday, Fortnightly and Monthly at three physical hubs in Dahej, Hazira in Gujarat and Kakinada in Andhra Pradesh.
The gas exchanges are expected to work on the lines of power exchanges, which determines the price based on supply and demand and market forces.
The exchange also allows much shorter contracts – for delivery on the next day, and up to a month – while ordinarily contracts for natural gas supply are as long as six months to a year.
Imported Liquified Natural Gas (LNG) will be re-gassified and sold to buyers through the exchange, removing the requirement for buyers and sellers to find each other.
Limitation
As the price of domestically produced natural gas is decided by the government, so, it will not be sold on the gas exchange.
Significance
Through IGX, India's vision on mega investments on Liquefied Natural Gas (LNG) terminals, gas pipelines, CGD infrastructure and permission for market driven price mechanism will be materialized.
Impact
IGX will play an instrumental role in transforming India's gas markets, positioning India as a sustainable economy and enhancing industry's competitiveness.
The exchange will help bring down the price of natural gas through competitive trade, boosting usage in the country that relies heavily on cheaper coal for its energy needs.
IGX will drive industrial competitiveness, sustainability, spur investments in the gas value chain, deliver efficient utilisation of the pipeline infrastructure as well as ensure revival of gas-based power plants.
It will architect India as a market-based gas economy, whilst also leading to sustainable environmental benefits.
It would also help small consumers to get short-term supply of fuel at competitive rates.
Liquefied Natural Gas (LNG)
LNG is natural gas (predominantly methane, CH4, with some mixture of ethane, C2H6) that has been cooled down to liquid form for ease and safety of non-pressurized storage or transport.
To enable maritime transport, the natural gas is cooled down by means of a refrigerated cycle (compression, condensation, expansion, evaporation) that transforms the gas into a liquid form at -160°C: this is known as Liquefied Natural Gas (LNG).
The combustion of natural gas primarily emits water vapour and small amounts of carbon dioxide (CO2).
This property means that associated CO2 emissions are 30 to 50% lower than those produced by other combustible fuels.
Russia has the world's largest supply of natural gas, followed by Iran and Qatar.
It is used as a feedstock in the manufacture of fertilizers, plastics and other commercially important organic chemicals as well as used as a fuel for electricity generation, heating purpose in industrial and commercial units.
Current News Indian Economy Organizations
Global Partnership On Artificial Intelligence
---
On 15th June, 2020, India joined the Global Partnership on Artificial Intelligence (GPAI), as one of the founding members to jointly work towards an ethical, human centric development and use of AI.
About Global Partnership on Artificial Intelligence
GPAI is the first worldwide initiative for better comprehension of the issues and potential around AI utilising the experience and diversity of participating countries.
It was first officially proposed by France and Canada at the Biarritz G7 Summit in August of 2019.
GPAI will look to close the gap between theory and practice on AI by leveraging cutting-edge research and applied action on AI-related objectives.
As a part of GPAI, participating nations will consider experimentation to create a controlled setting in which AI systems can be easily tested, and scaled-up, as needed.
The GPAI will comprise of four working groups each centred on responsible AI, the future of work, data governance, and commercialisation and innovation.
Other Members
This multi-stakeholder global coalition includes Australia, Canada, the European Union, France, Germany, Italy, Japan, Korea, Mexico, New Zealand, Singapore, Slovenia, the United Kingdom and the United States.
Role of OECD
Organization for Economic Cooperation and Development (OECD) will host Secretariat of the new Global Partnership on AI (GPAI) in Paris, along with two Centers of Expertise – one each in Montreal and Paris.
OECD will enable the GPAI to create a strong relationship between policy development and technical discussion on AI, by applying OECD's established expertise on AI policy as illustrated by its leadership on establishing the very first global standard for trustworthy AI – the OECD Principles on Artificial Intelligence.
Benefits for India
India is a founding member of GPAI and is expected to play a critical role in expanding the responsible utilisation of artificial intelligence for the world.
India has recently been very active in boosting National AI Strategy by putting in action committees and National AI Portal to bring the impact of the technology across various economic sectors like agriculture, healthcare, education, manufacturing, finance and telecommunication.
In the past, the Indian Government has come forward with an AI policy draft and stated its willingness to build an ecosystem in the nation that focuses on a fast shift from the research and development (R&D) phase to the deployment and operation phase for AI systems.
By working with other global nations, India will be a beneficiary of AI innovation and standardisation that are needed for this technology.
The initiative will help towards bridging the hiatus between theory and practice, and bolstering usage of AI in cutting-edge research for inclusive growth in the country.
Current News Indian Economy Infrastructure
Opposing Draft Electricity (Amendment) Bill, 2020
---
Recently several states like West Bengal, Punjab, Puducherry, Kerala, Rajasthan, Jharkhand, Chhattisgarh, Maharashtra, Delhi, Telangana and Andhra Pradesh have voiced their concerns against the proposed bill.
Why the Bill is being opposed?
According to the states, the proposed Electricity (Amendment) Bill undermines India's federal structure and attempts to privatise distribution could be the next flashpoint between the government and the Opposition.
The amendments will take away the autonomy of state-owned discoms and state electricity regulators.
One of the sweeping changes proposed in the Bill is an end to subsidies. All consumers, including farmers, will face a crisis if the subsidy on electricity given to them for irrigation is not continued and thereby, it will affect the production of food grains.
The Seventh Schedule of the Constitution provides powers to both the Centre and states to make appropriate laws on matters related to electricity.
But the proposed amendments will "centralise power" and make "states weaker in the matters related to power sector.
The draft "divests" the States of their power to fix tariff and hands over the task to a Central government-appointed authority.
This is discriminatory, since the tariff can be tweaked according to the whims and fancies of the Central government.
Further, the proposed provision makes it compulsory for the State power companies to buy a minimum percentage of renewable energy fixed by the Centre. This would be detrimental to the cash- strapped power firms.
About Draft Electricity (Amendment) Bill, 2020
Following are major changes that this Amendment proposes to introduce in the Electricity Act, 2003:
Policy Amendments
Renewable Energy: It seeks to promote a legal and administrative eco-system which harbours special attention to renewable energy. It delegates the Central Government with the power to prepare and notify a National Renewable Energy Policy "for promotion of generation of electricity from renewable sources", in consultation with State Governments. It must be noted that the Amendment seeks to give special attention to hydro power.
Cross Border Trade: The Central Government has been delegated with the power to prescribe rules and guidelines to allow and facilitate cross border trade of electricity.
Electricity Contract Enforcement Authority: The Amendment has inserted a new chapter in the Act which prescribes the creation and functioning of the Electricity Contract Enforcement Authority. The Authority has been proposed to be given sole jurisdiction to adjudicate upon matters on performance of obligations under a contract regarding sale, purchase and transmission of electricity, which exclusion of this specialized authority's jurisdiction on determination of tariff or any other dispute regarding tariff.
Functional Amendments
Payment Security: Lack of payment security mechanism has created a large pool of unpaid dues. To disrupt any future trickle down of such unrealized revenues, this Amendment proposes a mechanism wherein "no electricity shall be scheduled or dispatched under such contract unless adequate security of payment as agreed upon by the parties to the contract has been provided.
Constitution of Selection Committee to Recommend Members for Commissions/ Authorities: There are a slew of provisions for the constitution of a Selection Committee for making recommendations of members to the Appellate Tribunal and the Chairperson and Members of Central Commission, Electricity Contract Enforcement Authority, State Commissions and Joint Commissions.
Grant of Subsidy Mandated: The benefit of subsidy to be granted directly to the consumer and the licensee shall charge the consumers as per the tariff determined by the Appropriate Commission. The determination of tariffs shall be fixed by the commission without accounting for subsidies. Further, basis the tariff policies, surcharges and cross subsidies shall be progressively reduced.
Time Limit for Adoption of Tariff: It has prescribed a period of 60 days to adopt the determined tariffs. Failing such timeline of 60 days, the tariff would be deemed to be accepted. Such deemed acceptance is a good method to not allow red-tapism to impact the functioning of the sector.
Inclusion of Distribution Sub-licensee and Franchisee: To ease the burden of distribution licensees and in order to promote some form of demographic specialization, the distribution licensees, can appoint another entity for distribution of electricity on its behalf, within its area of supply.
Enhancement of Powers of The Appellate Tribunal of Electricity: APTEL is proposed to have the powers of a High Court to deal with wilful disobedience of persons and entities under the Contempt of Courts Act, 1971. Additionally, any person can appeal the decisions of the Authority which is introduced by this Amendment in front of the APTEL.
Applicable to the Whole of India: It is needless to mention, that in addition to the above mentioned broad themes that the Amendment seeks to cover, the Act shall now be applicable to the territory which was erstwhile exempted from the State of Jammu and Kashmir.
Current News Indian Economy Plan Policy
PM Svanidhi: Micro-Credit Facility Scheme
---
On 1st June, 2020, the Ministry of Housing and Urban Affairs has launched a Special Micro-Credit Facility Scheme - PM SVANidhi (PM स्वनिधि ) - PM Street Vendor's AtmaNirbharNidhi, for providing affordable loans to street vendors.
Earlier, the Scheme was announced as a part of the Economic Stimulus-II under the Atmanirbhar Bharat Abhiyan.
Aim
It is aimed at enabling the street vendors to resume their livelihoods that have been adversely affected due to COVID-19 lockdown.
Need
The lockdown has affected the lives and livelihoods of many especially daily wagers including street vendors who businesses were affected due to the restrictions.
They usually work with a small capital base taken on very high interest rates from informal sources.
Further, they might have consumed their savings and high cost capital during the lockdown.
In such a time, there is an urgent need to provide affordable credit to them to ensure their business gets a boost.
Salient Features
Applicability
The scheme would benefit vendors, hawkers and people involved in goods and services related to textiles, apparel, artisan products, barbers shops, laundry services etc. in different areas.
The scheme is valid until March 2022.
Loan Facility
The vendors can avail a working capital loan of up to Rs. 10,000, which is repayable in monthly instalments within a year. The loans would be without collateral.
There will be no penalty on early repayment of loan.
Interest Subsidy
On timely/ early repayment of the loan, an interest subsidy @ 7% per annum will be credited to the bank accounts of beneficiaries through Direct Benefit Transfer on six monthly basis.
Role of Urban Bodies
Urban Local Bodies will play pivotal role in the implementation of the scheme.
SIDBI to be Technical Partner
Small Industries Development Bank of India(SIDBI) is the technical partner for implementation of this scheme.
It will manage the credit guarantee to the lending institutions through Credit Guarantee Fund Trust for Micro and Small Enterprises.
Harnessing Technology for Empowerment
In line with the Government's vision of leveraging technology to ensure effective delivery and transparency, a digital platform with web portal/ mobile app is being developed to administer the scheme with end-to-end solution.
The IT platform will also help in integrating the vendors into the formal financial system.
This platform will integrate the web portal/ mobile app with UdyamiMitra portal of SIDBI for credit management and PAiSA portal of MoHUA to administer interest subsidy automatically.
Encouraging Digital Transactions
The scheme incentivises digital transactions by the street vendors through monthly cash back.
Focus on Capacity Building
Government in collaboration with State Governments, State Missions of DAY-NULM, ULBs, SIDBI, CGTMSE, NPCI and Digital Payment Aggregators will also launch a capacity building and financial literacy programme of all the stakeholders and IEC activities throughout the country.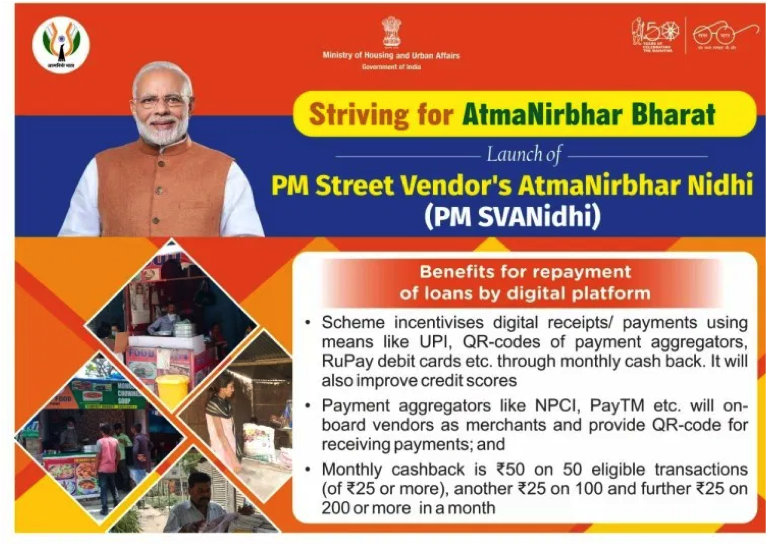 Significance
This is for the first time in India's history that street vendors from peri- urban/ rural areas have become beneficiaries of an urban livelihood programme.
It is for the first time that Microfinance Institutions, Non-Banking Financial Company, Self Help Groups have been allowed in a scheme for the urban poor due to their ground level presence and proximity to the urban poor including the street vendors.
Impact
This scheme will go a long way in enabling them to resume work and earn livelihoods.
Over 50 lakh people, including vendors, hawkers, thelewalas, rehriwala, etc. in different areas/ contexts are likely to benefit from this scheme.

The

scheme provides for escalation of the credit limit

on timely/ early repayment of loan to help the

vendor achieve his ambition of going up on the economic ladder.
Current News National Newsmakers
Naveen Patnaik
---
Animal rights body People for the Ethical Treatment of Animals (PETA) India has conferred Chief Minister of Odisha, Naveen Patnaik with 'Hero to Animals Award' for allocating funds to feed community animals in Odisha during the lockdown owing to the novel coronavirus pandemic.
Current News National Newsmakers
Raghuram Rajan
---
Raghuram Rajan, the former RBI governor has been named in a group of prominent individuals to serve as new External Advisory Group to assist Managing Director of International Monetary Fund (IMF), Kristalina Georgieva.
Current News National Newsmakers
Kim Jong-un
---
The absence from public appearances of Kim Jong-un led to speculation around his health. Kim had been absent on the Day of the Sun, 15 April.
The Day of the Sun is an annual public holiday in North Korea on 15 April, the birth anniversary of Kim Il-sung, founder and Eternal President of North Korea.
Current News National Newsmakers
June Almeida
---
June Dalziel Almeida was a Scottish virologist, who first discovered Coronavirus in 1964. The new virus Covid-19 is a variant of the Coronavirus.
Almeida was also responsible for the first visualization of the rubella virus.
She was also instrumental in figuring out that there are two distinct components of the Hepatitis-B virus, one on the surface of the particle, and one internally.
Current News National Newsmakers
Manisha Singh
---
US President Donald Trump has nominated senior Indian-American diplomat Manisha Singh as America's next envoy to the Organisation for Economic Cooperation and Development, OECD.
Headquartered in Paris, France, the OECD is an intergovernmental economic organisation with 36 member countries to stimulate economic progress and world trade.

Current News National Newsmakers
Madhabi Puri Buch
---
The Government of India has extended the term of Madhabi Puri Buch as a Whole Time Member (WTM) at Securities and Exchange Board of India (SEBI) by 6 months.
She is the first woman Whole Time Member of SEBI who is also the first from the private sector to be appointed as a board member in SEBI.
Current News National ON THE HOT SEAT
Sanjay Kothari
---
Sanjay Kothari has been appointed as the Central Vigilance Commissioner.
Central Vigilance Commission (CVC) is a statutory body.
It has the status of an autonomous body, free of control from any executive authority, charged with monitoring all vigilance activity under the Central Government, advising various authorities in central Government organizations in planning, executing, reviewing and reforming their vigilance work.
It was set up on the recommendations of the Santhanam Committee.
The Commission consists of a Central Vigilance Commissioner - Chairperson; and not more than two Vigilance Commissioners - Members.
The President may, by order, remove from office the Central Vigilance Commissioner or any Vigilance Commissioner.
Current News National ON THE HOT SEAT
New Chief Justices Of Three HCs
---
The Supreme Court (SC) Collegium led by the Chief Justice of India, Sharad Arvind Bobde has recommended the appointment of three chief justices for the Bombay, Odisha and Meghalaya High Courts (HCs).
Dipankar Datta: Bombay High Court
Biswanath Somadder: Meghalaya High Court
Mohammad Rafiq: Odisha High Court
Justice Dipankar Datta is presently a judge at the Calcutta High Court. He will replace the current Chief Justice of the Bombay High Court Bhushan Dharmadhikari.
Justice Biswanath Somadder is presently a judge at the Allahabad High Court. He will replace Mohammad
Justice Mohammad Rafiq is presently a Judge at the Meghalaya High Court. He will replace Sanju Panda as Chief Justice of Odisha High Court.
Current News National FACES ONLY IN MEMORY
Irrfan Khan
---
Noted film ActorIrrfan Khan known for his work in Hindi cinema passed away on 29th Aril 2020 after two-year battle with neuroendocrine tumor, at the age of 53. He had also worked in British films and Hollywood.
Irfan received many awards throughout his career spanning 30 years and was also bestowed with Padma Shri, India's fourth-largest civilian award in 2011.
He also won the National Film Award for his film Pan Singh Tomar in 2013.
Current News National FACES ONLY IN MEMORY
Rishi Kapoor
---
On April 30, the 67 year old veteran actor Rishi Kapoor died of Leukemia.
He was the second son of legendary actor-director Raj Kapoor and Krishna Kapoor.
He made his debut, as an adolescent, with the film Mera Naam Joker (1970), for which he won the National Film Award for Best Child Artist.
He won many awards throughout his career and released his autobiographical book 'Khullam Khulla: Rishi Kapoor Uncensored' in 2017.
Current News National FACES ONLY IN MEMORY
Mahmoud Jibril
---
Former Prime Minister of Libya Mahmoud Jibril who was the former head of the Libyan rebel government that ousted the long term ruler Muammar Gaddafi in 2011, passed away due to COVID-19.
Before joining the revolution in 2011, Jibril served the Gaddafi government as an economic advisor in its final years and later led the rebel National Transitional Council, the interim government that toppled and killed Muammar Gaddafi.
Current News National FACES ONLY IN MEMORY
Ashok Desai
---
Former Attorney General of India (from 9 July 1996 to 6 May 1998) and the Solicitor General of India (from 18 December 1989 to 2 December 1990) Ashok H. Desai has passed away.
He was awarded the Padma Bhushan for his contribution to the field of law and jurisprudence
He was involved in noted cases like Vineet Narain - about powers of a Court to monitor investigation against political leaders hence evolved the concept of "continuing mandamus" so that a Court could oversee whether its orders were being carried out.
Current News National FACES ONLY IN MEMORY
Virender Lal Chopra
---
Indian biotechnologist, geneticist, agriculturalist and a director-general of the Indian Council of Agricultural Research (ICAR), Virender Lal Chopra has passed away.
He is known to have contributed to the development of wheat production in India.
He was a recipient of a number of honors including Borlaug Award, FAO World Food Day Award and Padma Bhushan, in 1985, for his contributions to agricultural science.
Current News National FACES ONLY IN MEMORY
Shanti Hiranand
---
Noted vocalist, classical musician and writer, known for her proficiency as a ghazal singer Shanti Hiranand has passed away.
She was the author of the book Begum Akhtar: The Story of My Ammi, a biographical work on Begum Akhtar, a renowned Ghazal singer.
The Government of India awarded her its fourth highest civilian honour, the Padma Shri, in 2007, for her contributions to Hindustani music.
Current News National FACES ONLY IN MEMORY
Rifat Chadirji
---
Father of modern Iraqi architecture Rifat Chadirji has passed away due to COVID-19.
He was credited to design some of Iraq's most valuable structures and iconic "Freedom Monument" in the now protest hub of Baghdad's Tahrir Square.
Current News National FACES ONLY IN MEMORY
Devanand Konwar
---
Devanand Konwar who served as Governor of Tripura, Bihar and West Bengal has passed away.
Current News National FACES ONLY IN MEMORY
Usha Ganguly
---
Eminent theatre personality Usha Ganguly who is credited for introducing a new form of alternative Hindi theatre in Bengal has passed away. She founded the Rangakarmee group in 1976.
She was awarded the Sangeet Natak Akademi Award for direction in 1998
Current News National STATES IN NEWS
Jeevan Shakti Yojana
---
Madhya Pradesh Government has launched the 'Jeevan Shakti Yojana'. Under this scheme, women in urban areas can earn by making masks at home. The government will pay them Rs 11 per mask.
Women wishing to make masks will have to register themselves by calling on the Call Centre number through their telephone or mobile. After registration, they will get an order to make masks on their mobiles. They will get orders to make at least 200 masks at a time. The mask should be made of cotton cloth.
After making the mask, they will submit their masks to the nodal officer appointed by the government. Its payment will be credited to their account on the same day or the next day.

Current News National STATES IN NEWS
'Dhanwantari' Scheme
---
Assam government has launched a new scheme Dhanwantari under which locally unavailable medicines are provided to patients at home.
Medicines below 200 rupees will be provided free of cost to patients.
'Operation SHIELD'
Delhi Government has launched the 'Operation SHIELD' to curb the spread of COVID-19 in the national capital.
The Operation SHIELD is being implemented in containment zones as a necessary action to protect the people of Delhi from COVID-19.
In the Operation SHIELD: S stands for: Sealing of area; H stands for: Home quarantine; I stands for: Isolation of infected patients; E stands for: Essential services ensured; L stands for: Local sanitisation; D stands for: Door to door survey.
Current News National STATES IN NEWS
Sujalam Sufalam Jal Sanchay Abhiyan
---
It is a conservation plan of Gujarat Govt. to deepen water bodies (lakes, check dams and rivers) by removing silt before the monsoon.
Recently, the Government of Gujarat has given the approval of the third edition of the scheme.
The scheme was started in 2018 after a weak monsoon.
Current News National STATES IN NEWS
1st State With A Software Based In-House Facility Of Virtual Courts
---
Uttar Pradesh (UP) became the 1st state with a software based in-house facility of virtual courts, with requisite infrastructure in Allahabad High Court and all district courts of Uttar Pradesh to hear cases through video conferencing.

Current News National STATES IN NEWS
TIRANGA'
---
'Tiranga' (Total India Remote Analysis Nirogya Abhiyaan) is an initiative of the Administration of Pathanamthitta district in Kerala for rapid screening of COVID-19 symptoms.
It is a vehicle provided with thermal scanning, an infrared thermometer mounted on the bonnet, a two-way microphone system by which individuals inside and out of doors of the vehicle can ask one another and a mobile camera which will click photos of their identity cards.
The vehicle has been painted with tricolour so that people would immediately recognise it as an initiative of the government and leave the health workers alone
Current News National SUMMIT/SEMINAR
ASEAN Special Summit
---
Vietnam is chairing a Special Association of Southeast Asian Nations (ASEAN) summit via video-conference due to Coronavirus pandemic.
Headquartered in Jakarta, Indonesia, the ASEAN is a regional grouping of 10 countries (Indonesia, Thailand, Singapore, Malaysia, The Philippines, Vietnam, Myanmar, Cambodia, Brunei, and Laos) which was established in 1967 with the signing of the Bangkok Declaration.
East ASEAN Plus Three (APT)
It is a forum that was setup in 1997 to function as a coordinator of co-operation between the Association of Southeast Asian Nations (ASEAN) and the three East Asian nations of China, South Korea and Japan.
Current News National Survey/Study/Report
World Press Freedom Index 2020
---
India has dropped two places on a global press freedom index to be ranked 142nd out of 180 countries in the annual Reporters Without Borders analysis.
South Asia in general features poorly on the index, with Pakistan dropping three places to 145, and Bangladesh dropping one place to 151.
Norway is ranked first in the Index for the fourth year running. China at 177th position is just three places above North Korea, which is at 180th.
Paris-based Reporters Sans Frontieres (RSF), or Reporters Without Borders, is a non-profit organisation that works to document and combat attacks on journalists around the world.
Current News National ORGANISATIONS
Global Initiative On Sharing All Influenza Data (GISAID)
---
India has shared nine whole genome sequences of the coronavirus with the Global Initiative on Sharing All Influenza Data (GISAID).
Headquartered at Munich, Germany, the Global Initiative on Sharing All Influenza Data was created to promote international sharing of all influenza virus sequences related clinical and epidemiological data to understand how the viruses evolve, spread and potentially become pandemics.
Current News National ORGANISATIONS
National Shipping Board
---
The Ministry of Shipping has given its consent for the reconstitution of the 16-member National Shipping Board (NSB), the highest advisory body on matters related to Indian shipping and its development or other matters arising out of the Merchant Shipping Act, 1958.
The reconstituted board will be headed by former Director General of Shipping Malini Shankar.
Current News National PLACES IN NEWS
Matterhorn Mountain
---
Switzerland has expressed solidarity with India in its fight against the coronavirus pandemic by projecting the tricolour on the Matterhorn Mountain in the Swiss Alps.
The Matterhorn is a mountain of the Alps situated on the border of Switzerland and Italy.
It is the sixth highest mountain in the Alps and in Europe.
The Alps are a large mountain range that lie entirely in Europe.
It is spread over eight alpine countries: France, Switzerland, Monaco, Italy, Liechtenstein, Austria, Germany, and Slovenia.
It was formed over tens of millions of years as the African and Eurasian tectonic plates collided.
Current News National PLACES IN NEWS
Dhauladhar Range
---
Dhauladhar mountain range was recently in news as it was visible from Jalandhar, Punjab for the first time because of less air pollution caused by the lockdown.
Dhauladhar range is part of a Lesser Himalaya (The Middle or Lesser Himalaya, sometimes also called Himachal or Lower Himalaya lies between the Shiwaliks in the South and Greater Himalayas in the North. It runs almost parallel to both the ranges). It rises from the Indian plains to the north of Kangra and Mandi in Himachal Pradesh and ends near Badrinath, Uttarakhand.
Dhauladhar ranges are the extension of Pir Panjal into Himachal Pradesh. They are cut across by the river Ravi.
Current News National MISCELLANEOUS
Dekho Apna Desh'
---
The Ministry of Tourism, Govt. of India is organising a series of Webinars on the overall theme of 'Dekho Apna Desh'.
The objective of these Webinars is to create awareness about and promote various tourism destinations of India – including the lesser known destinations and lesser known facets of popular destinations.
Current News National MISCELLANEOUS
Masten Space Systems To Deliver Cargo To Moon
---
NASA has selected a California-based company called Masten Space Systems to deliver and operate eight payloads to the Moon's South Pole in 2022, to help lay the foundation for human expeditions to the lunar surface beginning in 2024.
The payloadsare being delivered under NASA's Commercial Lunar Payload Services (CLPS) initiative as part of the agency's Artemis programme.
Artemis– Acceleration, Reconnection, Turbulence and Electrodynamics of Moon's Interaction with the Sunis NASA's next mission to the Moon. Its objective is to measure what happens when the Sun's radiation hits our rocky moon, where there is no magnetic field to protect it.
Artemis was the twin sister of Apollo and goddess of the Moon in Greek mythology.
Current News National MISCELLANEOUS
Planetary Computer
---
Microsoft has announced a series of initiatives to protect and preserve biodiversity and ecosystems globally and developing a Planetary Computer to aggregate environmental data with the help of Artificial Intelligence (AI) and Machine Learning (ML).
Current News National MISCELLANEOUS
DD Retro
---
India's Public service broadcaster Prasar Bharti has rolled out a new channel called DD Retro.
The new channel "DD Retro" would be specifically dedicated to old classics of Doordarshan. The channel has been launched by Prasar Bharti in the wake of the COVID-19 pandemic to keep viewers engaged.
Current News National MISCELLANEOUS
'Bharat Padhe Online'
---
The Ministry of Human Resource Development has launched a campaign titled 'Bharat Padhe Online' for Crowd Sourcing of Ideas in order to improve the online education ecosystem of India.
To overcome constraints of online education while promoting the available digital education platforms, the campaign seeks to invite all the best brains of the country to share suggestions/solutions directly with HRD Ministry.
Current News National MISCELLANEOUS
International Delegate's Day
---
The United Nations (UN) organized the first official International Delegate's Day on April 25, 2020 in order to raise awareness of the role of representatives and delegates of the Member States to the United Nations.
This year it is a special observance because it also marks the 75th anniversary of the San-Francisco Conference, an event that laid the foundations of the United Nations (UN).
The agreement resulted in the creation of the United Nations, an organization that now comprises 193 Member States.
Current News National MISCELLANEOUS
International Day Of Conscience
---
5th of April has been declaredthe International Day of Conscience by the United Nations to remind people to self-reflect, follow their conscience, and do the right things.
April 5, 2020 marked the first International Day of Conscience and served to remind people to engage in self-reflection to improve themselves and their communities, stimulating a crucial turning point for transforming our world.
The preamble to the Universal Declaration of Human Rightsstates that "disregard and contempt for human rights have resulted in barbarous acts which have outraged the conscience of humankind, and the advent of a world in which human beings shall enjoy freedom of speech and belief and freedom from fear and want has been proclaimed as the highest aspiration of the common people." Moreover, article 1 of the Declaration states that "all human beings are born free and equal in dignity and rights and are endowed with reason and conscience and should act towards one another in a spirit of brotherhood."
Current News National MISCELLANEOUS
World Malaria Day
---
World Malaria Day is observed globally on 25 April every year. This day is observed to spread awareness among people globally to fight against malaria.
The theme of World Malaria Day 2020 is"Zero malaria starts with me."
Current News National WORLD OF AWARDS
Official Mascots Of 19th Asian Games
---
The official mascots of the 19th Asian Games (2022 Hangzhou Asian Games) are collectively known as the smart triplets- three robots - Congcong, Lianlian and Chenchen, which reflect the internet prowess of Hangzhou city and Zhejiang province.
The Olympic Council of Asia's 19th Asian Games will be held in Hangzhou, China from September 10 to 25, 2022.
It will be the third Asian Games to be hosted by China following Beijing in 1990 and Guangzhou in 2010, with the participation of 45 NOCs of Asia in 42 sports.
Current News National WORLD OF SPORTS
F1 Esports Virtual Grand Prix Series
---
Ferrari's Charles Leclerc has won the Formula One Esports Chinese Virtual Grand Prix championship.
Due to the COVID-19 pandemic, Formula 1 has announced new F1 Esports Virtual Grand Prix series.
The virtual races will run instead of each delayed Grand Prix.
Current News National WORLD OF SPORTS
India On FIFA Ranking
---
India football team retained its 108th spotin the latest FIFA rankings.
While Belgiumranked first and world champion France is in 2nd place and Brazil is at 3rd spot.
Current News National WORLD OF SPORTS
Wisden Leading Cricketer In The World 2020
---
Ben Stokes: England's all-rounder Ben Stokes has been named the leading cricketer in the world 2020 by Wisden.
Ellyse Perry: In Women's category, Australia's Ellyse Perry has been named the Wisden's Leading Female Cricketer in the World.
PIB News National India
E-Gram Swarajya App And Swamitva Scheme
---
Prime Ministerinteracted with Sarpanchs of Gram Panchayats throughout the country through Video Conferencing, on the occasion of National Panchayati Raj Day (24 April). During this event he launched a unified e-GramSwaraj Portal and mobile application and Swamitva Scheme.
e-GramSwaraj App: It helps prepare and execute Gram Panchayat Development Plans. The portal will ensure real time monitoring and accountability. The portal is a major step towards digitization down to the Gram Panchayat level.
Swamitva Scheme: It has been lunched in pilot mode in 6 states and helps to map rural inhabited lands using drones and latest survey methods. The scheme will ensure streamlined planning, revenue collection and provide clarity over property rights in rural areas. This will open up avenues for applying for loans from financial institutions by the owners. Disputes related to property would also be settled through the title deeds allotted through this scheme.
PIB News National India
Reverse Quarantine
---
Reserve quarantine is a practice of detaching the most vulnerable people, aged or people with co-morbidity conditions, from the rest and monitor their health indicators closely to protect them from infection.
The government is working on it as part of its multi-pronged strategy against COVID-19. Through this, in case of a community spread, it can isolate its large volume of grey population and check their mortality rate effectively unlike what occurred in some of the western countries.
According to expert opinion, only reverse quarantine is effective until half of the population recovers from COVID-19 and gains immunity or a vaccine or medicine is developed.
PIB News National India
VidyaDaan 2.0
---
Human Resources and Development Ministry has launched a national program VidyaDaan 2.0 for inviting e-learning Content contributions.
The programme has been launched due to the increasing requirement for e-learning content for students in both school and higher education especially in the backdrop of situation arising out of COVID-19.
VidyaDaan is conceptualised as a common national program for individuals and organizations across the country to contribute e-learning resources for both school and higher education to ensure continuity of quality learning.
The content will be used on the DIKSHA app to help millions of children across the country to continue their learning anytime and anywhere. Contributions can be made by educationists, subject experts, schools, colleges, Universities, Institutes, government and non-government organisations and individuals.
The DIKSHA Platform of the Ministry has been operating since 2017 with more than 30 States and Union Territories leveraging DIKSHA for augmenting teaching and learning processes.
PIB News National India
Ordinance To Amend The Epidemic Diseases Act, 1897
---
Amid several reports of attacks on healthcare personnel engaged in treating and tracking Covid-19 cases across the country, the Union Govt. has come out with an Ordinance making acts of violence against doctors and frontline personnel a cognisable and non-bailable offence punishable with prison terms from six months to seven years and a fine of up to Rs 5 lakh.
The ordinance provides for making such acts of violence cognizable and non-bailable offences and for compensation for injury to health care service personnel. Violence as defined in the ordinance will include harassment and physical injury and damage to property.
The Ordinance amends the Epidemic Diseases Act, 1897.
In case of damage of property or assets, violators would also have to pay as compensation double the market price.
PIB News National Economy
SC Ruling On Sugarcane Pricing
---
Deciding on a plea filed by Western Uttar Pradesh Sugar Mills Association, which questioned the power of the state government to fix a minimum price for sugarcane when the Centre had already set a price for the same, a Constitutional bench of the Supreme Court ruled that:

The price which is fixed by the central government is the "minimum price" and the price which is fixed by the state government is the "advised price" which is always higher than the "minimum price" fixed by the central government and therefore, there is no conflict.
It is only in a case where the "advised price" fixed by the state government is lower than the "minimum price" fixed by the central government, the provisions of the central enactments will prevail.
So long as the "advised price" fixed by the state government is higher than the "minimum price" fixed by the central government, the same cannot be said to be void as per the provisions of the Constitution of India.
PIB News National Economy
Counter-Cyclical Capital Buffer
---
Recently, to manage the economic situation, which is hampered by COVID-19, governments and central banks world over are deploying unusual weapons aside from reductions in the Cash Reserve Ratio (CRR) and repo rates.
The Bank of England mentioned one such unusual tool, announcing a cut in the counter-cyclical capital buffer (CCCB) to 0 per cent, from 1 per cent currently. On April 2, the financial regulatory authority of Germany also followed suit and cut the CCCB to 0 per cent from 0.25 per cent. The RBI, however, has decided that it is not necessary to activate the CCCB at this point in time.
Following Basel-III norms, central banks specify certain capital adequacy norms for banks in a country. The CCCB is a part of such norms and is calculated as a fixed percentage of a bank's risk-weighted loan book.
However, one key respect in which the CCCB differs from other forms of capital adequacy is that it works to help a bank counteract the effect of a downturn or distressed economic conditions. With the CCCB, banks are required to set aside a higher portion of their capital during good times when loans are growing rapidly, so that the capital can be released and used during bad times, when there's distress in the economy.
The CCCB is supposed to be in the form of equity capital, and if the minimum buffer requirements are breached, capital distribution constraints such as limits on dividends and share buybacks can be imposed on the bank.
PIB News National Economy
1st Non-Bank Company To Receive RBI Nod To Enter Into Co-Branding
---
Leading forex and payment solutions provider Transcorp International Ltd (TIL) became the 1st non-bank company to receive Reserve Bank of India (RBI) nod to enter into co-branding arrangements for prepaid Instruments.
It has also launched its multi-wallet RuPay-powered prepaid cards which allow corporate houses to pay wages, incentives, reimbursements & recurring payments to their employees or beneficiaries
PIB News National Economy
Banking Industry As Public Utility Service
---
Government has declared banking industry as a public utility service for six months till October 21 under the provisions of the Industrial Disputes Act.
Bringing banking services under the provisions of this Act means that the banking sector would not see any strikes by employees or officers during the operation of the law starting from April 21.
The notification was issued by the Labour Ministry against the backdrop of the coronavirus pandemic which has significantly impacted economic activities.
PIB News National Economy
Developing Country Status
---
The US President has accused China of taking advantage of the US through the World Trade Organisation (WTO) saying that if China is considered a 'developing country', the US should be called one too.
There are no WTO definitions of developed and developing countries. Members announce for themselves whether they are developed or developing countries.
However, other members can challenge the decision of a member to make use of provisions available to developing countries.
The WTO Agreements contain Special and Differential Treatment (S&D) provisions which give developing countries special rights.
PIB News National World
UNSC Resolution 2518 (2020)
---
The United Nations Security Council has passed Resolution 2518 to safeguard its peacekeepers.
The resolution asks host countries to prosecute those behind attacks against peacekeepers.
PIB News National World
Global Military Expenditure
---
Total global military expenditure rose to $1917 billion in 2019, according to new data from the Stockholm International Peace Research Institute (SIPRI).
The total for 2019 represents an increase of 3.6 per cent from 2018 and the largest annual growth in spending since 2010.
The five largest spenders in 2019, which accounted for 62 per cent of expenditure, were the United States, China, India, Russia and Saudi Arabia.
This is the first time that two Asian states have featured among the top three military spenders.
PIB News National World
China Renames Islands/ Geographical Features In South China Sea
---
China has unilaterally renamed 80 islands and other geographical features in the South China Sea on which are claimed by neighbouring countries.
This time the focus of its acquisitory attention are the two disputed archipelagos of the Spratly Islands and the Paracel Islands in the middle of the South China Sea waters, between the territory of Vietnam and the Philippines. With this unilateral action China drew criticism from neighbouring countries who have also laid claim to the same territory.
There has been an ongoing territorial dispute between China, Taiwan, Vietnam, the Philippines, and Malaysia concerning the ownership of the Spratly Islands archipelago and nearby geographical features like corals reefs, cays, etc.
The Paracel Islands dispute is slightly more complex. This archipelago is a collection of 130 islands and coral reefs and is located in the South China Sea, almost equidistant from China and Vietnam. Beijing says that references to the Paracel Islands as a part of China sovereign territory can be found in 14th century writings from the Song Dynasty. Vietnam on the other hand, says that historical texts from at least the 15th century show that the islands were a part of its territory.
PIB News National World
New Reform Measures Of Saudi Arabia
---
Saudi Arabia has abolished death sentence on individuals who committed crimes while still minors. Instead, the individual will receive a prison sentence of no longer than 10 years in a juvenile detention facility. Capital punishment for crimes committed by people under the age of 18 runs contrary to the United Nations Convention on the Rights of the Child, which Saudi Arabia has ratified.
It has also abolishedflogging as punishment. The punishment will instead be replaced by prison time or fines.
PIB News National World
Noor: Iran's First Military Satellite
---
Iran has launched the nation's first military satellite "Noor" into space.
S. officials have long feared that Iran's pursuit of developing satellite technology is a cover for ballistic missile activity.
The latest incident comes a week after Iranian fast boats harassed U.S. Navy ships in the Persian Gulf following which US Presidentwarned that the US would destroy Iranian gunboats that harass American ships at sea.
PIB News National World
US Ammunition For India
---
The United States has announced the sale of Harpoon air-launched anti-ship missiles and Mark 54 lightweight torpedoes to India in order to enhance India's deterrent capabilities against "regional threats" and also to strengthen its homeland defence.
The sale of 10 AGM-84L Harpoon Block II air-launched missiles, 16 MK 54 All Up Round Lightweight Torpedoes and three MK 54 Exercise Torpedoes are estimated to cost USD 155 million.
PIB News National World
Operation Sanjeevani
---
Indian Air Force (IAF) with the assistance of Indian army has conducted Operation Sanjeevani to supply essential medicines and hospital consumables to Maldives.
PIB News National World
Operation Decisive Storm
---
Operation Decisive Storm has declared ceasefire in Yemen for 2 weeks.
Operation Decisive Storm is a Saudi-Arabia led military intervention in Yemen which began in 2015 to restore legitimacy of the legally chosen leader of Yemen.
It is being carried out with the support of nine countries - Sudan, UAE, Bahrain, Qatar, Kuwait, Egypt, Jordan, Morocco and Senegal. All Gulf countries except Oman are supporting the initiative.
PIB News National World
Pitch Black 2020
---
Pitch Black is a multilateral air combat training exercise of Australia.
Pitch Black 2020 scheduled from July 27 to August 14 has been cancelled due to the COVID-19 situation.
In the last edition of Pitch Black in 2018, the Indian Air Force for the first time deployed fighter aircraft.
The bilateral naval exercise between Australia and India is known as AUSINDEX.
PIB News National Science & Technology
Tianwen 1
---
China's space agency - China National Space Administration (CNSA) has named its first Mars exploration mission as "Tianwen 1" meaning "quest for heavenly truth."
The program has been named after a long poem by ancient Chinese poet Qu Yuan.
China's Mars mission includes complete orbiting, landing, and roving in one mission.
So far, the United States and the former Soviet Union are the only two countries to land a spacecraft on Mars, but the European Space Agency and India have successfully sent spacecraft to enter the planet's orbit.
PIB News National Science & Technology
Vertical Transmission
---
Vertical transmission refers to the transmission of an infection from a pregnant woman to her child. It can be antenatal (before birth), perinatal (weeks immediately prior to or after birth) or postnatal (after birth).
The infections of which vertical transmission has been known to happen are HIV, Zika, Rubella and the Herpes Virus.
Recently, the Indian Council of Medical Research (ICMR) has laid down the need for healthcare workers to factor in the consequences of the probable vertical transmission of COVID-19.
PIB News National Science & Technology
Sodium Hypochlorite
---
Recently, the Health and Family Welfare Ministry has issued advisory against spraying of chemical disinfectants on individual or group which is physically and psychologically harmful.
The Ministry said that inhalation of sodium hypochlorite (NaOCl or NaClO) can lead to irritation of mucous membranes of nose, throat, respiratory tract and may also cause bronchospasm.
Sodium hypochlorite is most often encountered as a pale greenish-yellow dilute solution commonly known as liquid bleach, a household chemical widely used as a disinfectant or a bleaching agent.
PIB News National Science & Technology
COVSACK
---
The "COVSACK" is a kiosk developed byDRDOfor the COVID-19 sample collections.
This newly made kiosk can make the process of collecting samples free of infection spread and will help in combatting the Coronavirus (COVID-19).
PIB News National Science & Technology
CollabCAD
---
CollabCAD is an indigenous three dimensional computer aided design system which helps the used to build models in virtual 3d space and create and engineering drawings for shop floor which makes it a complete package for smart manufacturing.
It is jointly launched by Atal Innovation Mission, NITI Aayog and National Informatics Centre (NIC).
CollabCAD initiative aims to provide a great platform to students of Atal Tinkering Labs (ATLs) across country to create and modify 3d designs with free flow of creativity and imagination.
PIB News National Science & Technology
TriboE Mask
---
A team of researchers at the Centre for Nano and Soft Matter Sciences (CeNS), Bangalore, has come up with a recipe for making face masks, termed as TriboE Mask that can hold electric charges to restrict the entry of infections but interestingly, without any external power.
The innovation relies on electrostatics. When two non-conducting layers are rubbed against each other, the layers develop positive and negative charges instantly and continue to hold the charges for some time. This electric field, quite strong at proximity, has been used to deactivate or possibly even kill the germs.
The idea comes from physics textbooks on triboelectricity (The triboelectric effect is a type of contact electrification on which certain materials become electrically charged after they are separated from a different material with which they were in contact). In this case they used two outer layers of polypropylene and inner material –Nylon.
PIB News National Ecology & Environment
Coal Mining In Dehing Patkai Elephant Reserve
---
National Board for Wild Life (NBWL) has approved to a proposal recommending usage of 98.59 hectares of land at Saleki (which falls under Dehing Patkai Elephant Reserve in Assam) proposed reserve forest for coal mining project under North-Eastern Coal Field (NECF), a unit of Coal India Limited.
PIB News National Ecology & Environment
Hydrogen Fuel Cell Based Vehicles
---
To decarbonizing mobility segment, Global EoI has been issued by NTPC's wholly owned subsidiary, NTPC Vidyut Vyapar Nigam (NVVN) Limited to provide 10 Hydrogen Fuel Cell (FC) based electric buses and an equal number of Hydrogen Fuel Cell based electric cars in Leh and Delhi.
The move to procure Hydrogen Fuel Cell based vehicles is first of its kind project in the country, wherein a complete solution from green energy to the fuel cell vehicle would be developed.
The initiative, which has been undertaken with support of Ministry of New and Renewable Energy, will also harness renewable energy for generation of hydrogen and develop it's storage and dispensation facilities as part of pilot projects at Leh and Delhi.
PIB News National Ecology & Environment
Lesser Adjutant Stork Multiplying In Fields
---
In a first-of-its kind study in Asia, researchers have found the lesser adjutant stork that was thought to avoid human-modified areas like agricultural landscapes is multiplying there.
The study in lowlands of Nepal highlights the high value that agricultural areas can have for conserving even large water birds like the lesser adjutant stork.
It is Vulnerable according to IUCN Red List.
It is a widespread species found from India through Southeast Asia to Java.
PIB News National Ecology & Environment
Bug Sniffer
---
Researchers at the Agharkar Research Institute (ARI), Pune have developed a sensitive and low-cost sensor to rapidly detect bacteria.
The 'bug sniffer,' which is a biosensor that uses synthetic peptides, magnetic nanoparticles, and quantum dots to detect the presence of bacteria, providing a cost- and time-effective way of screening water and foodborne pathogens.
The conventional techniques available for pathogen detection are less sensitive and cannot detect low cell numbers, besides being time-consuming and laborious whereas the ARI device, can detect pathogens with a limit of detection of 10 cells per 1 mL within 30 minutes.
The most common disease-causing bacteria Escherichia coli and Salmonella typhimurium can be detected individually and simultaneously.
PIB News National Ecology & Environment
Anthurium
---
D Vasini Bai, a women innovator from Thiruvananthapuram, Kerala, has developed 10 varieties of Anthurium.
National Innovation Foundation-India (NIF)has facilitated mass multiplication and large scale production of four highly demanded varieties through tissue culture technique at the Indian Institute of Horticultural Research (IIHR), Bangalore, for the diffusion of the varieties in similar agro-climatic zones of the country.
Anthurium is one of the best domestic flowering plants in the world. It purifies the surrounding air and remove harmful airborne chemicals like formaldehyde, ammonia, toluene, xylene, and allergens.
NASA has placed it in the list of air purifier plants.
PIB News National Ecology & Environment
National Policy On Biofuels, 2018 On Surplus Food Grains
---
In a recent meet of National Biofuel Coordination Committee (NBCC) it was approved that the surplus rice available with Food Corporation of India (FCI) may be converted to ethanol for utilization in making alcohol-based hand-sanitizers and in blending for Ethanol Blended Petrol (EBP) programme.
National Policy on Biofuels, 2018 envisages that during an agriculture crop year when there is projected over supply of food grains as anticipated by the Ministry of Agriculture & Farmers Welfare, the policy will allow conversion of these surplus quantities of food grains to ethanol, based on the approval of National Biofuel Coordination Committee (NBCC).
---