Current Affairs - PIB News
To nurture responsible vulnerability research in the country, CERT-In has partnered with the Common Vulnerabilities and Exposures (CVE) Program.
In this regard, Indian Computer Emergency Response Team (CERT-In) has been authorized by the CVE Program, as a CVE Numbering Authority (CNA) for vulnerabilities impacting all products designed, developed and manufactured in India.

About CVE Program
The mission of the CVE Program is to identify, define, and catalog publicly disclosed cybersecurity vulnerabilities. It is an international, community-based effort and relies on the community to discover vulnerabilities. The vulnerabilities are discovered then assigned and published by organizations from around the world that have partnered with the CVE Program. Partners publish CVE Records to communicate consistent descriptions of vulnerabilities.
About CNAs
CNAs are organizations responsible for the regular assignment of CVE IDs to vulnerabilities, and for creating and publishing information about the Vulnerability in the associated CVE Record.
The CVE List is built by CVE Numbering Authorities (CNAs).
Every CVE Record added to the list is assigned by a CNA. The CVE Records published in the catalog enable program stakeholders to rapidly discover and correlate vulnerability information used to protect systems against attacks.
On 29th October 2021, NITI Aayog released a comprehensive report titled Health Insurance for India's Missing Middle, which brings out the gaps in the health insurance coverage across the Indian population and offers solutions to address the situation.
50%: The Ayushman Bharat - Pradhan Mantri Jan Arogya Yojana—a flagship scheme towards Universal Health Coverage, and State Government extension schemes—provides comprehensive hospitalization cover to the bottom 50% of the population.
20%: Around 20% of the population is covered through social health insurance, and private voluntary health insurance primarily designed for high-income groups.
The 'Missing Middle'
30%: The remaining 30% of the population, devoid of health insurance, is termed as the "missing middle".
The missing middle contains multiple groups across all expenditure quintiles and is spread across both urban and rural areas.
What the report Suggests
The report highlights the need for designing a low-cost comprehensive health insurance product for the missing middle.
It primarily recognizes the policy issue of low financial protection for health for the missing middle segment and highlights health insurance as a potential pathway in addressing that.
In doing so, the report offers a starting point for broader discussions on solutions, and specific products, to improve insurance coverage for the missing middle.
The report proposes wider industry and government stakeholder consultations, and discussion with consumer groups to delve deeper into the specifics of the problem, and potential solutions.
Krishi UDAN 2.0 was launched on 27th October 2021. The scheme proposes to facilitating and incentivizing movement of Agri-produce by air transportation.
The enhanced version of the Krishi UDAN scheme was formulated with support from AAICLAS - a 100% subsidiary of the Airports Authority of India and Invest India, India's national Investment Promotion & Facilitation Agency, under the Ministry of Commerce and Industry.

Key Highlights of KRISHI UDAN 2.0
Facilitating and incentivizing movement of Agri-produce by air transportation: Full waiver of Landing, Parking, TNLC and RNFC charges for Indian freighters and P2C at selected Airports of Airport Authority of India. Primarily, focusing on NER, Hilly and tribal regions.
Strengthening cargo related infrastructure at airports and off airports: Facilitating the development of a hub and spoke model and a freight grid. Airside transit and transshipment infrastructure will be created at Bagdogra and Guwahati airports, and at Leh, Srinagar, Nagpur, Nashik, Ranchi, and Raipur airports as a part of focus on NER, Tribal and Hilly Districts.
Concessions sought from other bodies: Seek support and encourage States to reduce Sales Tax to 1% on ATF for freighters / P2C aircraft as extended in UDAN flights.
Resources-Pooling through establishing Convergence mechanism: Collaboration with other government departments and regulatory bodies to provide freight forwarder, airlines and other stakeholders with Incentives and concessions to enhance air transportation of Agri-produce.
Technological convergence: Development of E-KUSHAL (Krishi UDAN for Sustainable Holistic Agri-Logistics). Platform to be developed facilitate in information dissemination to all the stakeholders. Furthermore, integration of E-KUSHAL with National Agriculture Market (e-NAM) is proposed.
Total 53 airports are select for the first phase of Krishi UDAN 2.0. – the majority of them are operated by AAI.
The strategic selection of the airports is primarily focused on northeast region. Additionally covers North, entire western coast and southern India (including two islands).
Airports for implementation of KrishiUdan 2.0 are selected with the aim of providing benefit to the entire country Opted airports not only provide access to regional domestic market but also connects them to international gateways of the country.
Development of E-KUSHAL (Krishi Udaan for Sustainable Holistic Agri-Logistics). Proposed to develop a platform which will facilitate in information dissemination to all the stakeholders. This will be a single platform which will provide relevant information at the same time will also assist in coordination, monitoring and evaluation of the scheme. Proposed convergence of E-Kushal with National Agriculture Market (e-NAM).
Identified Locations for Cargo Terminals
| | |
| --- | --- |
| Proposed Timeline | Locations |
| 2021 – 2022 | Agartala, Srinagar, Dibrugarh, Dimapur, Hubballi, Imphal, Jorhat, Lilabari, Lucknow, Silchar, Tezpur, Tirupati, Tuticorin |
| 2022 – 2023 | Ahmedabad, Bhavnagar, Jharsuguda, Kozhikode, Mysuru, Puducherry, Rajkot, Vijayawada |
| 2023 – 2024 | Agra, Darbhanga, Gaya, Gwalior, Pakyong, Pantnagar, Shillong, Shimla, Udaipur, Vadodara |
| 2024 – 2025 | Holangi, Salem |
7 Focus Routes & Products
| | |
| --- | --- |
| Routes | Products |
| Amritsar – Dubai | Babycorn |
| Darbhanga - Rest of India | Lichis |
| Sikkim - Rest of India | Organic produce |
| Chennai, Vizag, Kolkata - Far East | Seafood |
| Agartala - Delhi & Dubai | Pineapple |
| Dibrugarh – Delhi & Dubai | Mandarin & Oranges |
| Guwahati - Hong Kong | Pulses, fruits & vegetables |
India has extended support for protecting the Antarctic environment and for co-sponsoring the proposal of the European Union for designating East Antarctica and the Weddell Sea as Marine Protected Areas (MPAs) at a high-level ministerial meeting conducted on 30 September 2021.
The two proposed MPAs are essential to regulate illegal unreported and unregulated fishing.
India urged the Commission for the Conservation of Antarctic Marine Living Resources (CCAMLR) member countries to ensure that India remains associated with the formulation, adaptation and implementation mechanisms of these MPAs in future.
This is the first time India is considering co-sponsoring an MPA proposal at the CCAMLR and getting aligned with countries such as Argentina, Brazil, Chile, Korea, New Zealand, South Africa and the USA, which are also proactively considering supporting the MPA proposals.
India's decision to consider extending support and co-sponsoring the MPA proposals is driven by conservation and sustainable utilization principles and adhering to the global cooperation frameworks (such as Sustainable Development Goals, UN Decade of Oceans, Convention on Biodiversity, etc.) to which India is a signatory.
CCAMLR
CCAMLR is an international treaty to manage Antarctic fisheries to preserve species diversity and stability of the entire Antarctic marine ecosystem. CCAMLR came into force in April 1982. India has been a permanent member of the CCAMLR since 1986. Work pertaining to the CCAMLR is coordinated in India by the Ministry of Earth Sciences through its attached office, the Centre for Marine Living Resources and Ecology (CMLRE) in Kochi, Kerala.
MPA
An MPA is a marine protected area that provides protection for all or part of its natural resources. Certain activities within an MPA are limited or prohibited to meet specific conservation, habitat protection, ecosystem monitoring, or fisheries management objectives.
The iconic Indian superhero - Chacha Chaudhary has been declared as the mascot of the Namami Gange Programme.
The decision was taken during the 37th Executive Committee meeting of the National Mission for Clean Ganga, NMCG.
NMCG has tied-up with Diamond Toons to develop and distribute comics, e-comics and animated videos.
Initially, the comics will be launched in Hindi, English and Bengali.
The content will be designed with the objective of bringing about behavioral change amongst children towards Ganga and other rivers.
This year is important for Aadhaar, as it is transitioning to the next decade of its existence, with a renewed objective to further improvise resident experience and various services offered by the UIDAI.
To celebrate this momentous occasion, UIDAI is hosting a Hackathon titled "Aadhaar Hackathon 2021" targeted at young innovators - who are still at various Engineering institutes and eager to step into the real world.
The hackathon is starting on 28 Oct 21 at 0000Hrs and would continue till 31 Oct 21 up to 2300Hrs.
Aadhaar Hackathon 2021 is themed around two topics. The first theme is around "Enrolment and Update", which essentially covers some of the real-life challenges being faced by the residents while updating their address.
The second theme of the Hackathon is around the "Identity and Authentication" solution offered by UIDAI. Under this theme, UIDAI is soliciting innovative solutions to prove Identity without sharing the Aadhaar number or any demographics information. Also, it is looking for innovative applications around face authentication API - the newly launched authentication modality of UIDAI. The objective is to popularize some of the existing and new APIs to solve the needs of residents.
To solve these challenges through innovative technological solutions, UIDAI is reaching out to the young minds of all the Engineering colleges.
On 18th October 2021, Niti Aayog launched 'Geospatial Energy Map of India'.
NITI Aayog in collaboration with Indian Space Research Organisation (ISRO) has developed a comprehensive Geographic Information System (GIS) Energy Map of India with the support of Energy Ministries of Government of India.
The GIS map provides a holistic picture of all energy resources of the country which enables visualisation of energy installations such as conventional power plants, oil and gas wells, petroleum refineries, coal fields and coal blocks, district-wise data on renewable energy power plants and renewable energy resource potential, etc through 27 thematic layers.
The map attempts to identify and locate all primary and secondary sources of energy and their transportation/transmission networks to provide a comprehensive view of energy production and distribution in a country.
It is a unique effort aimed at integrating energy data scattered across multiple organizations and to present it in a consolidated, visually appealing graphical manner. It leverages latest advancements in web-GIS technology and open-source software to make it interactive and user friendly.
Benefits
The Geospatial Energy Map of India will be useful in planning and making investment decisions. It will also aid in disaster management using available energy assets.
GIS-mapping of energy assets will be useful for ensuring real-time and integrated planning of energy sector of India, given its large geographical distribution and interdependence.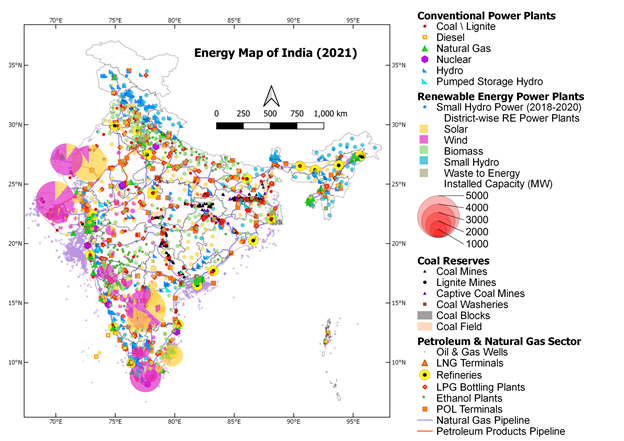 On 2nd October 2021, the Minister of Environment, Forest and Climate Change (MoEFCC) launched a web portal – 'Wetlands of India Portal'.
The portal is a single point access to all information relating to wetlands.
Importantly, a dashboard for each State and UT has been developed to access the portal and populate it with information of wetlands in their administration.
Registered citizens can opt to take the pledge to become 'wetland mitra' and indicate their State/UT and areas of interest.
The portal has been developed under a Technical Cooperation project "Wetlands Management for Biodiversity and Climate Protection" (Wetlands Project) of Ministry of Environment, Forest and Climate Change (MoEFCC) in partnership with Deutsche Gesellschaft für Internationale Zusammenarbeit (GIZ) GmbH.
The project is commissioned by the German Federal Ministry for the Environment, Nature Conservation and Nuclear Safety (BMU) under the International Climate Initiative (IKI).
On 27th September 2021, the Ministry of Food Processing Industries, in association with the Ministry of Housing and Urban Affairs, under the Pradhan Mantri Formalisation of Micro food processing Enterprises (PMFME) Scheme, virtually launched the Seed Capital Module on Deendayal Antyodaya Yojana-National Urban Livelihoods Mission (DAY-NULM) MIS Portal for seed capital assistance to members of urban Self Help Groups working in the food processing sector in India.
The seed capital portal can be accessed by Self Help Groups to avail the seed capital assistance of Rs.40,000 per SHG member under the PMFME Scheme.
Urban SHG members which are engaged in Food Processing activities would be sensitized and motivated about the PMFME scheme to avail the benefits of seed capital for purchasing small tools and working capital.
Launched under the Aatmanirbhar Bharat Abhiyan, the PMFME Scheme aims to enhance the competitiveness and promote formalization of the unorganized micro—food processing enterprises in India. The scheme aims to empower the self-help groups by:

Seed capital support of Rs.40,000 per SHG member;
Credit linked subsidy for capital investment up to 35% with a ceiling of Rs. 10 lakh;
Credit linked grantsupport up to 35% for establishing common infrastructure;
Handholding support for DPR preparation and;
Capacity building and training support.
About the PMFME Scheme
Launched under the Aatmanirbhar Bharat Abhiyan, the Pradhan Mantri Formalisation of Micro food processing Enterprises (PMFME) Scheme is a centrally sponsored scheme
It aims to enhance the competitiveness of existing individual micro-enterprises in the unorganized segment of the food processing industry and promote formalization of the sector and provide support to Farmer Producer Organizations, Self Help Groups, and Producers Cooperatives along their entire value chain.
With an outlay of Rs.10,000 crore over a period of five years from 2020-21 to 2024-25, the scheme envisions to directly assist the 2,00,000 micro food processing units for providing financial, technical, and business support for upgradation of existing micro food processing enterprises.

On 27th September 2021, the Ministry of Labour and Employment released the report of first quarter of Quarterly Employment Survey (QES) part (April to June 2021), of the All-India Quarterly Establishment-based Employment Survey (AQEES) prepared by the Labour Bureau.
The AQEES has been taken up by the Labour Bureau to provide frequent (quarterly) updates about the employment and related variables of establishments, in both organised and unorganised segments of nine selected sectors. These sectors altogether account for a majority of the total employment in the non-farm establishments. These nine selected sectors are Manufacturing, Construction, Trade, Transport, Education, Health, Accommodation and Restaurant, IT/ BPO and Financial Services.
Findings
Total Employment: The estimated total employment in the nine selected sectors from the first round of QES is 3 crores and 8 lakhs approximately against a total of 2 crores and 37 lakhs in these sectors taken collectively, as reported in the sixth Economic Census (2013-14) reflecting a growth rate of 29 percent.
Sectoral Performance: Of the total employment estimated in the selected nine sectors, Manufacturing accounts for nearly 41 percent followed by Education with 22 percent, and Health 8 percent. Trade as well as and IT/BPO each engaged 7 percent of the total estimated number of workers.
Pandemic Induced Employment Retrenchment/ Decline: It was found that the impact was evident in 27 percent of the establishments however the silver lining was that 81 percent of the workers received full wages during the lock-down period (March 25–June 30, 2020).
Key Highlights of the first round of Quarterly Employment Survey
Impressive Growth: The most impressive growth of 152 percent has been recorded in the IT/BPO sector, while growth rates in Health is 77 percent, in Education it is 39 percent, in Manufacturing it is 22 percent, in Transport it is 68 percent and in Construction it is 42 percent . However, employment in Trade came down by 25 percent and in Accommodation & Restaurant the decline was by 13 percent. Financial services saw a growth rate in employment of 48 percent.
No of Workers to Establishment: Nearly 90 percent of the establishments have been estimated to work with less than 100 workers, the corresponding figure during EC 6 being 95 percent. Nearly 35 percent of the IT/ BPO establishments worked with at least 100 workers, including about 13.8 percent engaging 500 workers or more. In the Health sector, 18 percent of the establishments had 100 or more workers.
Participation of Female Workers: The over-all participation of female workers stood at 29 percent, slightly lower than 31 percent reported during 6th EC.
Regular & Casual Workers: Regular workers constitute 88 percent of the estimated workforce in the nine selected sectors, with only 2 percent being casual workers. However, 18 percent of workers in the Construction sector are contractual employees and 13 percent are casual workers.
Formal/Non-Formal Establishments: Only 9 percent of the establishments (with at least 10 workers) were not registered with any authority or under any act. While 26 percent of all the establishments were registered under the Companies Act with 71 percent registration in IT/ BPO, 58 percent registration in Construction, 46 percent in Manufacturing, 42 percent in Transport, 35 percent in Trade and 28 percent in Financial Services.
Skill Training: Around 18 percent of the establishments have provision of on-job skill training programmes.