Current Affairs - Wrestling
Indian women wrestlers exhibited exceptional skill and determination at the U17 World Championships in Istanbul, leaving a lasting impression with an impressive medal haul of one gold, three silver, and one bronze.
Key Points
India's Impressive Standings: The Indian Women's team secured a commendable third place in the U17 World Championships, amassing 118 points.
This achievement underscores the young athletes' promising talents and their determination to excel on the global stage.
Japan Dominates: Japan emerged as the dominant champion with a remarkable 200 points, showcasing their prowess across various sporting disciplines.
Strong US Presence: The United States secured second place with 122 points, highlighting the depth and strength of their young athletes in multiple sports.
The World Wrestling Championships was held in Belgrade, Serbia.
Two Indian wrestlers won bronze medal each following repechage.

Men's
Indian wrestler Bajrang Punia became the only Indian to claim four medals at the World Wrestling Championships by clinching a bronze in the current edition, in Belgrade, Serbia.
It is Bajrang's third bronze at the worlds. The celebrated Indian wrestler had earlier won a bronze at in 2013, silver in 2018 and bronze in 2019.
Women's
Earlier, in the women's category Vinesh Phogat became the only Indian Woman to win 2 World Wrestling Championship Medals. She won a bronze medal in 53kg.
Star Indian wrestler Vinesh Phogat beat Sweden's Jonna Malmgren to win a bronze medal in 53kg at the World Wrestling Championships 2022 in Belgrade.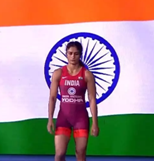 This is Vinesh's second medal at the Worlds after she won her maiden world medal in 2019.
She is the only Indian woman who had achieved this feat.
She made a qualification round exit at the hands of Mongolia's Khulan Batkhuyag. The eventual silver medallist triumphed in the bout 7-0 against Vinesh. However, luck favoured the Indian soon as she entered the bronze medal rounds via repechage.
Vinesh dominated the repechage rounds as she pinned two-time World Championship medallist Zhuldyz Eshimova of Kazakhstan in the first bout, followed by a walkover win over Azerbaijan's Leyla Gurbanova, to set up a final clash with reigning European champion Malmgren.
What is Repechage?
The word repechage comes from a French term, repecher. It means fish out or rescue. Generally, the rule allows competitors who have lost early to get a second chance. Wrestlers who lose in pre-quarterfinals or at a later stage get a chance to fight for bronze medals.
The idea behind the rule is that a good wrestler who loses out to a top rival early on should not suffer just because of the tough draw.
Wrestlers can enter the repechage round if an opponent they have lost to reaches the final. They fight on the basis of mini-draws that involve wrestlers of their respective halves. The losing semifinalists fight only in the bronze medal playoffs.
Apart from wrestling, the repechage system is used in several other disciplines including baseball, softball, beach volleyball, cycling, fencing, rowing, rugby, sailing, track and field athletics, taekwondo, and karate.
Taking a leaf from Odisha Govt.'s support for Hockey, the Uttar Pradesh government has adopted wrestling sport and is expected to pump in an investment of Rs 170 crore in infrastructure and support to the wrestlers till the 2032 Olympics.
The WFI had also roped in Tata Motors in 2018 as principal sponsors of Indian wrestling, a partnership which had brought with it a financial support of Rs 12 crore that allowed the federation to give away central contracts to wrestlers till the Tokyo Games.
This deal with the UP government will allow WFI to plan exposure trips to foreign countries even for India's Cadet level wrestlers. As of now, only the senior and elite level wrestlers have personal coaches and guidance of foreign coaches.
Wrestler Bajrang Punia won the Bronze medal at Tokyo 2020 in the men's freestyle 65 kg game.
He beat Daulet Niyazbekov of Kazakhstan in the repechage round at the Tokyo 2020 Olympics.
With Bajrang's medal, Indian wrestlers have matched their best performance at the Olympic Games by earning two podium finishes. Ravi Dahiya had won an inspiring silver medal in the 57kg category.
At the 2012 London Games, Sushil Kumar had won a Silver and Yogeshwar Dutt returned with a Bronze.
He has been awarded with Arjuna Award (2015), Padma Shri Award (2019), and Major Dhyan Chand Khel Ratna award (2019).
Indian wrestler Ravi Kumar Dahiya from Haryana has bagged the silver medal after losing in the final of men's 57kg freestyle category to Russian Olympic Committee's (ROC) Zavur Uguev.
This is India's fifth medal at the Tokyo Olympics and the second silver of the campaign.
Ravi Kumar is the fifth Indian wrestler after KD Jadhav, Sushil Kumar, Yogeshwar Dutt, and Sakshi Malik to finish on the Olympic podium.
Indian junior wrestler Priya Malik won a gold medal in the 73-kg category Cadet World Championship held in Budapest, Hungary.
The Cadet World Championship is a tournament where the best Greco-Roman, Freestyle and Women wrestlers worldwide below the age of 17 compete.
Priya had won gold at the Khelo India youth games in Pune in 2019.