---
PRAGYATA Guidelines On Digital Education
---
On 14th July, 2020, the Ministry of Human Resource Development (MHRD) released guidelines on digital education titled 'PRAGYATA'.
The guidelines have been prepared by the National Council of Educational Research and Training (NCERT).
Meant for faculty and students, the guidelines include eight steps of online/digital learning i.e. Plan- Review- Arrange- Guide- Yak (talk)- Assign- Track- Appreciate.
These steps guide the planning and implementation of digital education step by step with examples.
Need for Such Guidelines
The ongoing COVID-19 pandemic has led to closure of schools and has impacted over 240 million children of the country who are enrolled in schools.
Further, extended school closures may cause loss of learning.
So in order to mitigate the impact of the pandemic, schools will not only have to remodel and reimagine the way teaching and learning, but will also need to introduce a suitable method of delivering quality education through a healthy mix of schooling at home and schooling at school.
Key Points
Priority Areas for Suggestions
The guidelines outlines suggestions for administrators, school heads, teachers, parents and students on the following areas:
Need assessment
Concerns while planning online and digital education like duration, screen time, inclusiveness, balanced online and offline activities etc level wise
Modalities of intervention including resource curation, level wise delivery etc.
Physical, mental health and wellbeing during digital education
Cyber safety and ethical practices including precautions and measures for maintaining cyber safety
Collaboration and convergence with various initiatives
Digital Access
Over 25 crore students across the country have been out of school since mid-March. The guidelines acknowledge that these students live in households which fall into different categories:
Those who have computers or smartphones with 4G internet access.
Those with smartphones but limited or no internet access.
Those with television with cable or DTH.
Those with a radio set or a basic mobile phone with FM radio.
And those with no communication devices at all.
Recommended Screen Time
For classes 1 to 8, it has recommended two online sessions of up to 45 minutes each while for classes 9 to 12, four sessions of 30-45 minutes duration have been recommended.
Survey Advised
It advises schools to first survey their own students before making decisions about the mode of teaching.
Synchronous & Asynchronous Teaching
There are two kinds of online learning and teaching that schools will need to balance based on the feasibility:
Synchronous: This is real-time teaching and learning that can happen collaboratively and at the same time with a group of online learners or even individually, and usually a teacher, or some method of instant feedback; examples are online teaching through video conference ,audio conference using satellite or telecommunication
Asynchronous: This is anytime, anywhere learning but not connected on real time, for example, emails, SMS, MMS, surfing e-content on DIKSHA, listening to radio, podcasts, watching TV channels, etc.
Cyber Safety and Privacy Measures
It recommends ethical practices including precautions and measures for maintaining cyber safety.
Physical Health and Mental Wellness
Adequate physical and mental health practices need to be adopted while pursuing digital education. Poor ergonomic practices, prolonged exposure to digital devices and lack of physical activities can have a negative impact on the physical and mental wellbeing of a person.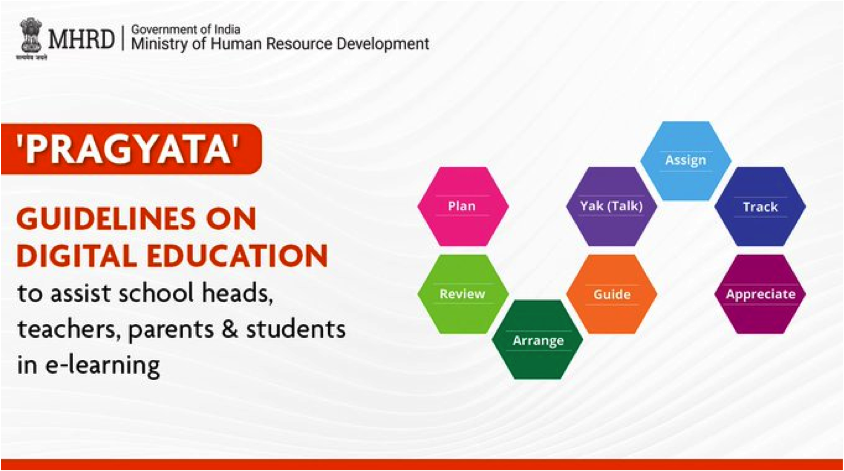 Significance
These guidelines on Digital/ Online Education provide a roadmap or pointers for carrying forward online education to enhance the quality of education.
The Guidelines emphasize the need to unify all efforts related to digital/ online/on-air education, benefitting school going children across the country.
This will help students, teachers, parents, heads and other stakeholders to learn online safety practices and provide a safe and secure digital learning environment.
National Initiatives for Digital Education and Teacher Preparation
PM e-Vidya Program
It was launched on 17th May, 2020. As a comprehensive initiative, PM eVIDYA envisions to unify all efforts related to digital/ online/on-air education, benefitting nearly 25 crore school going children across the country. The initiative includes:
DIKSHA- One Nation One Digital Platform
DIKSHA, a globally unique, made in India initiative for effective teaching and administration has increased its footprints manifold since the time of its inception. The primary audience of DIKSHA is students, teachers and parent communities due to the ability of DIKSHA to break the barrier of access and provide contextualized content in 18 languages.
TV Channels- SWAYAM PRABHA
SWAYAM PRABHA is a group of 32 DTH channels devoted to telecasting high quality educational programmes.
The programmes cover school education across grades providing modules for teacher's training as well as teaching and learning aids for children of India through 4 channels to help them understand the subjects better and help them in preparing for competitive examinations for admissions to professional degree programmes.
It focuses on providing one channel per grade with a sample weekly schedule to help teachers and students understand the modules to be emphasized upon during the week.
Radio and Community Radio
Mukt Vidya Vani (MVV) i.e. Open Education Radio facility will provision educational and informational content for better learning. The web radio will ensure learners with a stream of audio that can be paused/replayed.
Radio Vahini FM 91.2 MHz, the Community Radio Station of NIOS is a means of extending education to school dropouts, learners enrolled through ODL, urban women and to marginalized sections of the society with access to radio.
CBSE Podcasts: Shiksha Vaani is an audio-based learning initiative of CBSE and is available via Android App store. The podcasts cover various subjects of secondary and senior secondary level and are available in English and Hindi.
Special eContent for Visually and Hearing Impaired
NIOS offers content for specially abled students such as content in Indian sign language for hearing impaired learners and ePub and DAISY enabled 'talking books' for visually impaired learners.
Online Coaching
The Department of Higher Education has provisioned for online learning for preparation of competitive examinations to bridge the divide among the students due to private coaching.