Current Affairs - Social Issue & Social Justice
Recently, the Supreme Court agreed to examine whether a transgender woman can claim maintenance under the Protection of Women from Domestic Violence Act, 2005.
About the Act
It is basically meant to provide protection to a wife or female live-in partner from violence at the hands of the husband, a male live-in-partner, or his relatives.
Domestic violence under the Act includes actual abuse or the threat of abuse, whether physical, sexual, verbal, emotional, or economic.
Harassment by way of dowry demands is also covered under the definition of domestic violence.
Any woman who alleges to have been subjected to any act of domestic violence by the offender or any person may file a complaint on her behalf.
A child is also entitled to relief under the Act. The mother of such a child can make an application on behalf of her minor child (whether male or female).
In cases where the mother makes an application to the court for herself, the children can also be added as co-applicants.
However, no female relative of the husband or the male partner can file a complaint against the wife or the female partner.
Coverage
The Act covers all women who may be mother, sister, wife, widow, or partners living in a shared household.
The relationship may be in the nature of marriage or adoption.
In addition, relationships with family members living together as a joint family are also included.
Remedies available under the Act
Section 18 -Protection Order
Section 19-Residence Order for residing at Matrimonial House
Section 20 -Monetary Orders which includes maintenance for herself and her Children
Section 21-Temporary Custody of Children
Section 22-Compensation order for the damages caused to her
Protection Officers
Under the Act, Protection Officers have been appointed by the Government to help the aggrieved woman in filing the case.
They are to be attached to the Magistrates of the courts for the area notified for each protection officer.
The Protection Officer facilitates the women to approach the court by providing legal aid and get appropriate relief from the courts
Further, they execute the orders of the Court wherever necessary with the help of the police.
Options are also available to the aggrieved person to file the petition before the Judicial Magistrate Court, or with the service provider, or at a nearby police station.
On 30th August, the Ministry of Social Justice & Empowerment and the National Safai Karamcharis Finance and Development Corporation (NSKFDC) signed a Memorandum of Understanding (MoU) for the fiscal years 2023-24 and 2024-25.
This partnership is dedicated to improving the socio-economic conditions of Safai Karamcharis, manual scavengers, waste pickers, and their dependents.
Key Points:
Complete Mechanization: The collaboration aims to achieve complete mechanization of sewer and septic tank cleaning operations.
It will provide soft loans with low-interest rates to Sanitation Workers and Urban Local Bodies.
Capital Subsidy: Sanitation workers engaged in mechanized cleaning work under Swachhta Udyami Yojana (SUY) will receive capital subsidies ranging from 32 to 50 percent.
Training: Free training on safety precautions, the use of PPE kits, and the operation and maintenance of cleaning machines and equipment will be provided to sanitation workers.
Mahila Samridhi Yojana: NSKFDC offers loans up to Rs. 1.00 lakh under this scheme, with an overall interest rate of 4%.
Micro Credit Finance Scheme: Loans up to Rs. 1.00 lakh are available under this scheme, with an interest rate of 5%.
General Term Loan and Green Business Schemes: NSKFDC provides loans up to Rs. 15.00 lakhs and up to Rs. 30.00 lakhs, respectively, with an interest rate of 6%. Women beneficiaries receive a 1% interest rate rebate.
Loan Disbursements: In FY 2022-23, NSKFDC disbursed loans totaling Rs. 261.49 crores, benefiting 43,862 individuals, with around 80% being women.
Target for Beneficiaries: NSKFDC aims to cover 52,634 new beneficiaries in FY 2023-24 and 63,161 new beneficiaries in FY 2024-25.
Skill Development: In FY 2022-23, NSKFDC provided skill development training to 20,686 sanitation workers and their dependents under SRMS and PM DAKSH Yojana.
It plans to train 11,000 and 12,500 beneficiaries in FY 2023-24 and FY 2024-25, respectively, under PM DAKSH Yojana to support the government's initiatives for Safai Karamcharis' welfare.
On 29th August, Union Tribal Affairs Minister Arjun Munda inaugurated an 'Awareness Campaign and Training of Trainers' initiative to educate grassroots workers about sickle cell anaemia, especially in tribal areas.
The initiative is part of the National Sickle Cell Anaemia Elimination Mission, aiming to eradicate the disease by 2047.
Key Points
Educational Initiative: Union Minister inaugurated an 'Awareness Campaign and Training of Trainers' initiative to educate grassroots workers about sickle cell anaemia, focusing on tribal regions.
National Mission: The National Sickle Cell Anaemia Elimination Mission, introduced in the 2023-24 budget, aims to eradicate sickle cell anaemia from India by 2047.
Comprehensive Strategy: The mission involves a multi-faceted approach, including public awareness campaigns, screening of seven crore individuals aged 0-40 in affected tribal areas, and counselling. Central ministries and state governments collaborate in this effort.
PM's Involvement: Prime Minister formally launched the mission on July 1 in Madhya Pradesh's Shahdol district, aligning with his vision of a sickle cell disease-free India through community participation.
Healthcare Database: The minister emphasized the need to establish a healthcare database for affected populations to support research and sustainable solutions for tackling sickle cell anaemia.
Community-Driven Vision: The minister's statement underscores the mission's focus on fostering public awareness and participation to achieve the goal of eradicating sickle cell anaemia by 2047.
Recently, the Home Minister introduced the Bharatiya Nyaya Sanhita (BNS) in the Lok Sabha, a bill intended to replace the Indian Penal Code (IPC).
Key Points
Reform Bill's Scope and Replacements: The Bharatiya Nyaya Sanhita (BNS) aims to replace the Indian Penal Code (IPC) and introduces several reforms. Among the proposed changes, the BNS also eliminates sections related to unnatural sex and adultery, which were invalidated by the Supreme Court in 2018.
Adultery Section Repeal: The proposed Bharatiya Nyaya Sanhita eliminates the contentious Section 497 of the IPC, which previously criminalized adultery.
Unnatural Sex Provision Removal: The BNS also removes the section related to unnatural sex, which is governed by Section 377 of the Indian Penal Code.
Bharatiya Nyaya Sanhita's Focus: This comprehensive overhaul seeks to address outdated provisions while aligning with contemporary legal and societal perspectives.
What Does Section 377 of IPC Mean?
Section 377 of the Indian Penal Code (IPC) defines the criminal offense of engaging in voluntary carnal intercourse against the order of nature with a man, woman, or animal.
The section prescribes penalties for this act, including life imprisonment or imprisonment for up to ten years, along with the imposition of a fine.
Legal Explanation of Section 377
According to the legal explanation provided, the act of penetration is sufficient to fulfill the requirement of carnal intercourse for the offense specified in this section.
Historical Context of Section 377 of IPC
The origins of this law trace back to the historical prohibition of sodomy or buggery, which was considered a crime during medieval times.
In 1533, during the reign of Henry VIII, the Parliament of England passed a law punishing the vice of buggery committed with humans or animals.
In 1861, during British rule in India, a similar provision, Section 377, was introduced under the Indian Penal Code.
Supreme Court Rulings on Article 377
For a long time, the outdated law deemed consensual same-sex intercourse as an "unnatural offense" that went against the natural order.
Members of the LGBTQ community had challenged this law through petitions, seeking legal protection against harassment and violence.
In 2009, a High Court bench declared that Section 377 was unconstitutional, violating several articles of the Constitution.
However, in 2013, the Supreme Court overturned this decision, re-criminalizing consensual same-sex intercourse by terming the previous judgment as legally unsustainable.
The turning point came in 2018 when the Supreme Court ruled Section 377 unconstitutional, deeming it discriminatory against the LGBTQ community based on their sexual orientation.
The apex court decriminalized same-sex intercourse, emphasizing its significance as a matter of personal privacy.
Issues in the Bill
Impact on Male Victims of Sexual Assault: The current form of the proposed Bharatiya Nyaya Sanhita (BNS) has raised concerns about potential loss of legal protection for groups, including male victims of sexual assault.
This apprehension stems from the gendered nature of the proposed offence of "rape," which is defined as an act committed by a man against a woman.
The existing protection accorded to non-minor males under IPC Section 377 might be omitted in the new BNS.
Grey Areas from 'Navtej Johar' Verdict: The 2018 'Navtej Johar' Supreme Court verdict created ambiguity, leading to a need for guidelines to handle scenarios where a gay man withdrew consent and filed a complaint against their partner.
Notably, India's current laws on sexual assault don't recognize men as victims of rape. The proposed BNS introduces the term "unnatural lust" in two instances, but it doesn't provide a clear definition for this term.
Concerns for Male Victims: The shift of the definition of rape to being gendered in the BNS raises concerns about male victims' protection under the law.
This change might inadvertently exclude non-minor males from the legal framework that previously existed in IPC Section 377, which granted protection against certain forms of sexual assault.
Recently, the United Nations Development Programme (UNDP) and the Deendayal Antyodaya Yojana-National Urban Livelihoods Mission (DAY-NULM) have joined forces in a collaborative partnership aimed at empowering women in entrepreneurship.
Key Highlights of the Partnership
Empowering Women in Entrepreneurship: The partnership aims to empower women by providing support for starting or expanding their own enterprises.It focuses on sectors such as the care economy, digital economy, electric mobility, waste management, food packaging, and more.
Three-Year Project: The collaborative project has a duration of three years, with the possibility of extension beyond 2025.
Initial Phase Coverage: The partnership's initial phase will cover eight cities, targeting specific urban areas to implement interventions and support women entrepreneurs effectively.
Inclusive Entrepreneurship Ecosystem: The partnership aims to create an inclusive entrepreneurship ecosystem that enables women to make well-informed career choices in the field of entrepreneurship. It seeks to address gender disparities in entrepreneurship and promote economic growth.
National-Level Capacity Building: UNDP, with its experience in linking over 200,000 women to better employment opportunities, will provide national-level capacity building support to DAY-NULM.
This support includes knowledge generation and management, compiling best practices related to urban poverty, and enhancing the implementation of national-level schemes.
Innovative Solutions in the Care Economy: The partnership will collaborate on piloting innovative solutions, with a particular focus on the care economy domain.
Leveraging the sectoral expertise of UNDP and DAY-NULM, the project aims to contribute to the development and growth of women-led enterprises.
On-Ground Mobilization Activities: The partnership will engage in on-ground mobilization activities to identify areas of urban poverty and potential women entrepreneurs.
It will facilitate access to Business Development Services, providing handholding support to help formalize businesses, establish bank linkages, and secure access to finance and markets.
Community Business Mentors: UNDP will contribute by developing community business mentors called Biz-Sakhis in selected project locations.
DAY-NULM's Outreach Efforts: DAY-NULM has already mobilized over 8.4 million urban poor women across India, forming more than 831,000 Self-Help Groups (SHGs) in over 4,000 towns.
The mission's grassroots initiatives have effectively facilitated economic empowerment and amplified the voices of marginalized sections of the urban population.
The Ministry of Tribal Affairs and TB division of Ministry of Health and Family welfare organized a national conclave on 24th August at the National Tribal Research Institute (NTRI), New Delhi to disseminate the learnings of the 100-day Aashwasan Campaign under 'Tribal TB Initiative'.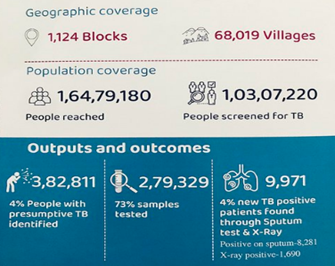 Tribal TB Initiative
It is a joint initiative of the Ministry of Tribal Affairs and Central TB Division, Ministry of Health, supported by USAID as technical partner and Piramal Swasthya as implementing partner.
Aashwasan Campaign
The Aashwasan Campaign started on 7th January this year for active case finding for TB in 174 tribal districts of India, under the ambit of the Tribal TB Initiative.
It was flagged off in Nandurbar District, Maharashtra.
The Initiative
Under the initiative, door-to-door screening for TB was undertaken covering 68,019 villages.
Based on verbal screening of 1,03,07,200 persons, 3,82,811 people were identified for Presumptive TB. Of these, 2,79,329 (73%) samples were tested for TB and 9,971 people were found to be positive for TB and put on treatment as per GoI protocols.
Findings
The data indicates that the tribal communities are more vulnerable to respiratory diseases and TB, compared to other population groups.
Charting Future Course
With the data which has emerged through the Aashwasan Campaign, Central TB Division will map TB hotspots and use that as the starting point.
75 high burden tribal districts have been selected for focused interventions in the coming months.
The Ministry of Social Justice and Empowerment (MoSJ&E) is preparing to undertake a nationwide survey to enumerate all people engaged in hazardous cleaning of sewers and septic tanks.
The enumeration exercise is part of the Union government's National Action Plan for Mechanised Sanitation Ecosystem (NAMASTE).
It will streamline the process of rehabilitating sanitation workers and eventually merge with and replace the Self-Employment Scheme for the Rehabilitation of Manual Scavengers (SRMS), which was started in 2007.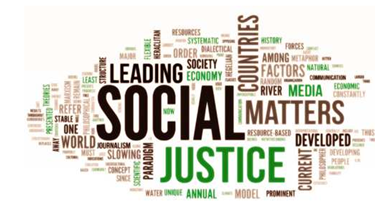 About NAMASTE
National Action for Mechanised Sanitation Ecosystem (NAMASTE) is a Central Sector Scheme of the Ministry of Social Justice and Empowerment (MoSJE) as a joint initiative of the MoSJE and the Ministry of Housing and Urban Affairs (MoHUA) that envisages safety and dignity of sanitation workers.
Outlay & Period of the Scheme: The scheme comes with an outlay of Rs. 360 crore for four years from 2022-23 to 2025-26.
Implementing Agency: National Safai Karamchari Financial Development Corporation (NSKFDC) would be implementing agency for NAMASTE.
Aim of the Scheme
NAMASTE aims to achieve the following outcomes:
Zero fatalities in sanitation work in India
All sanitation work is performed by skilled workers
No sanitation workers come in direct contact with human faecal matter
Sanitation workers are collectivized into SHGs and are empowered to run sanitation enterprises
All Sewer and Septic tank sanitation workers (SSWs) have access to alternative livelihoods
Strengthened supervisory and monitoring systems at national, state and ULB levels to ensure enforcement and monitoring of safe sanitation work
Increased awareness amongst sanitation services seekers (individuals and institutions) to seek services from registered and skilled sanitation workers
Coverage
In the first phase, five hundred cities (converging with AMRUT cities) will be taken up under NAMASTE.
The category of cities that will be eligible are:

All Cities and Towns with a population of over one lakh with notified Municipalities, including Cantonment Boards (Civilian areas),
All Capital Cities/Towns of States/ Union Territories (UTs)
Ten Cities from hill states, islands and tourist destinations (not more than one from each State).
Enumeration
NAMASTE envisages identifying the Sewer/Septic Tank Workers (SSWs) with a focus on informal workforce who are engaged in hazardous cleaning operations.
The database will enable MoSJE, NSKFDC and MoHUA (including DAY-NULM, SBM 2.0 and AMRUT) to reach to the SSWs and their families and provide them necessary support for collectivization, skill building and linking with social and financial benefits.
The Survey would be conducted by the City NAMASTE Managers and validated by the concerned ULB.
Assistance under the Scheme
Extending Insurance Scheme Benefits
Identified SSWs and their families will be covered under the Ayushyaman Bharat- Pradhan Mantri Jan Arogya Yojana (AB-PMJAY).
The premium for AB-PMJAY for those identified SSWs families who are not covered earlier shall be borne under NAMASTE.
Livelihood Assistance
The Action Plan will promote mechanization and enterprise development.
Funding: National Safai Karamchari Financial Development Corporation (NSKFDC) will provide funding support and subsidy (capital +interest) to the sanitation workers, SHGs of SSWs and private sanitation service organizations (PSSOs) to procure sanitation related equipment and vehicles under SUY for total mechanization of cleaning operations.
Livelihood Choices: Identified SSWs and their dependants will be given counseling on available livelihood choices and an opportunity to acquire alternative skills, if they so desire. Depending on their personal preference, a SSW may choose to continue working in the sanitation sector, thereby becoming eligible for receiving capacity building training. Alternatively, the worker may choose to explore an alternative livelihood option or an entrepreneurial venture. In case the workers decide to adopt an alternate livelihood of their choice, skilling and EDP support will be provided to these workers. The workers may start a new livelihood project as an individual or as a group interested in same option.
Saturation with Social Security Schemes' Benefits
The identified sanitation workers and their family members will be extended benefits of all the social security schemes being implemented by various departments in the area.
Governing Structure
The scheme will be governed by National NAMASTE Management Unit (NNMU) at the Centre as the apex body and in states there will be State Namaste Management Units (SNMUs). Further, at in cities City NAMASTE Monitoring Units (CNMUs) will carry out the implementation and other activities.
National NAMASTE Management Unit (NNMU)
Apex Body: At the apex of the structure will be the National NAMASTE Monitoring Unit (NNMU) under Managing Director, NSKFDC, which will report to concerned Division head in the MoSJE, Government of India.
Coordinating Body: A Technical Support Unit (TSU) consisting of team of IT Professional, Experts of implementation of similar programmes, SHG expert, IEC expert, Banking expert, etc., will be established in the NNMU to support the implementation of NAMASTE and facilitate coordination between MoSJE and MoHUA.
State Namaste Management Unit (SNMU)
Head - State Namaste Director: The State Govt. will decide a suitable officer to be designated as State Namaste Director to head State Namaste Management Unit (SNMU).
He will be assisted by: State NAMASTE Manager - to be deployed under the Scheme as per requirement.
City NAMASTE Monitoring Unit (CNMU)
Head- NAMASTE Nodal Officer: At the City level, City NAMASTE Monitoring Unit (CNMU) shall consist of NAMASTE nodal officer of the city to be designated by the concerned ULB
He will be assisted by: City NAMASTE Manager.
On 16th August 2022, the Union Minister of State for Health Bharati Pravin Pawar virtually launched the Early Childhood Development Conclave, Paalan 1000 National Campaign, and Parenting App in Mumbai.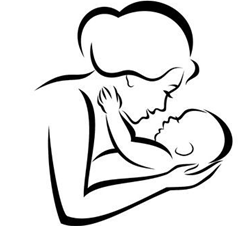 Paalan 1000 National Campaign
'Paalan 1000 - Journey of the First 1000 Days', focuses on the cognitive developments of children in the first 2 years of its life.
The campaign is centered on the fact that the first 1000 days of a child's life is when a platform is established for its physical, mental, emotional, cognitive and social health.
Paalan 1000 combines early years coaching for parents, families and other caregivers with services designed to meet families' basic needs. Infants and toddlers are shaped by their experiences – and those experiences are shaped by their caregivers. Caregivers are crucial for a strong start in the first years of life.
The programme is aligned the mission of the Rashtriya Bal Swasthya Karyakram (RBSK), emphasizing responsive care and focusing interventions on the first 1000 days.
Focus Area of PAALAN 1000

Cognitive development of children under 2 years is a major focus area of this PAALAN 1000.


It isfocused on the 6 principles:
Maximize Love,
Talk & Engage,
Explore through Movement and Play,
Read and Discuss Stories,
Mother's Engagement with the Child while Breastfeeding, and
Managing Stress and Staying Calm.
PAALAN 1000 Parenting App
It will provide caregiver with practical advice on what they can do in their everyday routine and will help resolving the various doubts of parents and will direct our efforts in the development of child.
Fact Sheet: India has taken rapid strides in reducing child mortality since 2014 from 45 per 1000 live births to 35 per 1000 live births in 2019.
On 22nd April 2022, the Union Minister for Social Justice and Empowerment and Chairman of Dr. Ambedkar Foundation (DAF) launched the Dr. Ambedkar Centres of Excellence (DACE) Scheme from Banaras Hindu University.
The scheme will be implemented in 31 Central Universities across the country.
Aim
The DACEs are being set up to provide high quality free coaching facilities to the Scheduled Caste students for the Civil Services examinations, conducted by Union Public Service Commission (UPSC).
Finer Points of the Scheme
Under the DACE Scheme, a total of 100 seats will be sanctioned for coaching per centre.
Of the total sanctioned seats for coaching, 33% seats will preferably be given to the eligible female candidates of Scheduled Castes.
If eligible female candidates are not available in sufficient numbers for the coaching, the concerned University will allocate the vacant seats to the male/transgender candidates (SC Candidates only).
The coaching benefits, under the scheme, will only be utilized by a student once regardless of the number of chances he/she is entitled for a particular competitive examination.
It will be mandatory for a student to submit an affidavit to the University stating that he/she has not received any monetary benefit from any of the other schemes of Government of India, State/UTs or any funding agency.
The concerned University will widely publicize the scheme through open advertisement and make a public notice for a Common Entrance Test.
The students will be selected through an entrance test conducted by the University as per merit.
In order to conduct the coaching classes, the Universities will have to possess necessary infrastructure such as separate classrooms, Library, Hi-Speed Wi-Fi connectivity, and other requisite equipment etc.
Funding
Dr. Ambedkar Foundation (DAF) shall fund the entire expenditure incurred on the establishment of Dr. Ambedkar Centre for Excellence.
Rs. 75,000/- per annum / per student will be provided to the University for 100 students.
Total amount of Rs. 75.00 lakh per year would be provided to the University for running the Scheme.
Dr. Ambedkar Chairs
Dr. Ambedkar Foundation is running another Scheme called "Dr. Ambedkar Chairs" in Universities/Institutions all over the country.
Dr. Ambedkar Chairs aim to provide advanced Centres of learning in the premier universities and educational institutes, where academicians, scholars and students would enrich and advance studies and research to understand, assess, disseminate and implementthe ideas and thoughts of Dr. B.R. Ambedkar.
The Chairs also aim to conduct advanced research and teaching on the present and past of the deprived sections of Indian society to provide justice and empower them.
On 21st April 2022, NITI Aayog and UNICEF India signed a Statement of Intent (SoI) on the Sustainable Development Goals (SDGs) with a focus on children.
The SoI seeks to formalize a framework of cooperation to launch the first report on the 'State of India's Children: Status and Trends in Multidimensional Child Development'.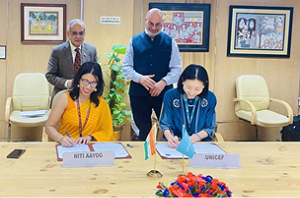 Aim
To analyze the status of children around critical child related SDGs to establish recent trends.
Finer Points of this Initiative
To achieve the child development priorities under the SDGs, UNICEF India and NITI Aayog are developing a comprehensive measure to understand the multidimensional attainments and deprivations among children.
Various parameters that will be considered are - health and nutrition, education, water and sanitation, household living standards; and protective environment.
Approach
This project will undertake a whole-of-society approach of involving all stakeholders ranging from Union Ministries, State Governments, Civil Society Organizations, and child rights collectives.
Benefit
This effort will contribute to the realization of India's commitments on the 2030 Agenda and provide a set of policy recommendations for concerted action in terms of accelerating progress towards the SDGs to 'leave no child behind' and achieving their holistic development.
India's Initiative: SDG India Index and Dashboard
This child-focused SDG initiative builds on India's effort of monitoring progress through the SDG India Index and Dashboard, brought out by the Niti Aayog - a unique data-driven initiative for triggering policy action.
Why focus on Children is Significant?
One in every third person in India is a child below the age of 18, while one in every fifth person is an adolescent between the ages of 10 to 19. This process looks forward to engaging with various stakeholders particularly children, adolescents and young people.