---
Cabinet Approves Proposal For Review Of FDI Policy
---
Recently, the Union Cabinet approved the proposal for Review of Foreign Direct Investment(FDI) in four different sectors-Coal Mining, Contract Manufacturing, Single Brand Retail Trading (SBRT) and Digital Media.
Coal Mining
It has been decided to permit 100% FDI under automatic route for sale of coal, for coal mining activities including Associated Processing Infrastructure (API) subject to provisions of Coal Mines (special provisions) Act, 2015 and the Mines and Minerals (development and regulation) Act, 1957. API would include coal washery, crushing, coal handling, and separation (magnetic and non-magnetic).
Contract Manufacturing
The extant FDI policy provides for 100% FDI under automatic routein manufacturing sector. There is no specific provision for Contract Manufacturing in the Policy. In order to provide clarity on contract manufacturing, it has been decided to allow 100% FDI under automatic route in contract manufacturing in India as well.
Single Brand Retail Trading (SBRT)
With a view to provide greater flexibility and ease of operations to SBRT entities, it has been decided that all procurements made from India by the SBRT entity for that single brand shall be counted towards local sourcing, irrespective of whether the goods procured are sold in India or exported.
The extant FDI Policy provides that 30% of value of goods has to be procured from India if SBRT entity has FDI more than 51%. Further, as regards local sourcing requirement, the same can be met as an average during the first 5 years, and thereafter annually towards its India operations. Further, the current cap of considering exports for 5 years only is proposed to be removed, to
It also mandates that SBRT entities have to operate through brick and mortar stores before starting retail trading of that brand through e-commerce.
Digital Media
The extant FDI policy provides for 49% FDI under approval route in Up-linking of 'News &Current Affairs' TV Channels.
It has been decided to permit 26% FDI under government route for uploading/ streaming of News & Current Affairs through Digital Media, on the lines of print media.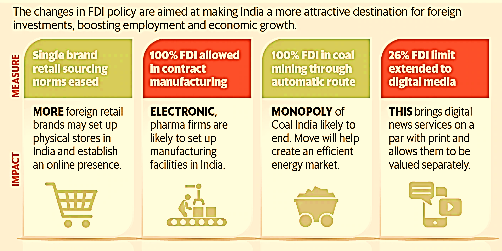 Need
Slowing Economic Growth: After rapidly expanding in last couple of years, India's economic growth momentum has been slipping since the last 3-4 quarters. Not only did GDP growth fall to a 20-quarter low of 5.8 percent in January-March, 2019, telltale signs of distress are visible in sectors like Non-Banking Financial Companys (NBFCs), automobile, real estate, and Fast-Moving Consumer Goods (FMCG).
Global Dip in FDI Flow: According to the World Investment Report 2019, released by the UN Conference on Trade and Development (UNCTAD), global FDI flows slid by 13 percent in 2018 to USD 1.3 trillion from USD 1.5 trillion the previous year the third consecutive annual decline.
Foreign Direct Investment (FDI)
It records the value of cross-border transactions related to direct investment during a given period of time, usually a quarter or a year.
Financial flows consist of equity transactions, reinvestment of earnings, and intercompany debt transactions.
FDI flows are measured in USD and as a share of GDP.
FDI under sectors is permitted either through Automatic route or Government route:
Under the Automatic route, the non-resident or Indian company does not require any approval from government.
Whereas, under the Government route, approval form the government is required prior to investment. Proposals for foreign investment under the Government route are considered by the respective Administrative Ministry/Department.
During 2018-19, India received the maximum FDI equity inflows from Singapore (US$ 16.23 billion), followed by Mauritius (US$ 8.08 billion), bUS$ 3.87 billion), USA (US$ 3.14 billion), and Japan (US$ 2.97 billion).
Significance
Apart from being a critical driver of economic growth, foreign direct investment (FDI) is a major source of non-debt financial resource for the economic development of the country.
FDI creates stable and long-lasting links between economies.
Impact
More FDI Inflow: The changes in FDI policy will result in making India a more attractive FDI destination, leading to benefits of increased investments, employment and growth.
Boost to Make in India: Further, manufacturing through contract contributes equally to the objective of Make in India. FDI now being permitted under automatic route in contract manufacturing will be a big boost to Manufacturing sector in India.
Ease of Doing Business:This will lead to greater flexibility and ease of operations for SBRT entities, besides creating a level playing field for companies with higher exports in a base year.
Creating Competitive Coal Market: In the coal sector, for sale of coal, 100% FDI under automatic route for coal mining, activities including associated processing infrastructure will attract international players to create an efficient and competitive coal market.
Boosting Investor Sentiment: This will boost investor sentiment and signal that the government is proactively responding to voices of distress in the industry.
Support to Digital India Initiative: Allowing single brand retailers to start online stores, while meeting local sourcing norms, aligns well with the 'Digital India' initiative, giving them time to build their brick-and-mortar presence in parallel.
More Employment:Online sales will also lead to creation of jobs in logistics, digital payments, customer care, training and product skilling.
Making India $5 Trillion Economy: It will help in achieving the government's goal of making India a $5 trillion economy by 2024.
Way Forward
The steps taken are meant to liberalize and simplify the FDI policy in order to provide ease of doing business in the country, leading to larger FDI inflows and thereby contributing to growth of investment, income and employment.
Despite the dim global picture, India continues to remain a preferred and attractive destination for global FDI flows. However, it is felt that the country has the potential to attract far more foreign investment which can be achieved inter-alia by further liberalizing and simplifying the FDI policy regime.
India needs to actively address implementation issues and policy irritants that arise for companies looking to use the FDI route to invest in the country-competition for FDI has been intensifying.
Besides the legislative aspect, the government must also step up to the challenge of convincing businesses of the certainty of its policies which will finally help the government to meet the target of attracting $100 billion in FDI over the next two years.