---
14th National Health Profile, 2019
---
On 30th October, 2019, Ministry of Health and family Welfare released the 14th National Health Profile (NHP)-2019 & its e-book (digital version).
Central Bureau of Health Intelligence (CBHI) has been publishing the National Health Profile since 2005 and its digital version since 2015.
Major Highlights of NHP, 2019
Life Expectancy
Life expectancy has increased from 49.7 years in 1970-75 to 68.7 years in 2012-16.
For the same period, the life expectancy for females is 70.2 years and 67.4 years for males.
There has been consistent decrease in the birth rate, death rate and natural growth rate in India since 1991 to 2017.
The population, however, continues to grow, as the decline in the birth rate is not as rapid as the decline in the death rate
Demographics
The survey found the high incidence of the young and economically active population.
27% of the total estimated population of 2016 were below the age of 14 years and majority (64.7%) of the population were in the age group of 15-59 years i.e. economically active, and 8.5% population were in the age group of 60-85 plus years.
Infant Mortality Rate (IMR)
IMR has declined considerably (33 per 1,000 live births in 2016), however differentials of rural (37) and urban (23) are still high.
Total Fertility Rate (TFR)
TFR for the country was 2.3 whereas in rural areas it was 2.5 and 1.8 in urban areas during 2016 as per the latest available information.
Communicable and Non- communicable Diseases
Under communicable diseases, maximum number of cases and deaths due to malaria has been reported in Chhattisgarh (77,140 cases and 26 deaths).
The overall prevalence of the disease has diminished in 2012 and 2013 but there was a slight increase in 2014 and 2015 before it started decreasing again from 2016.
On the non-communicable diseases (NCD), the survey notes that out of 6.51 crore patients who attended NCD clinics, 4.75% people are diagnosed with diabetes, 6.19% are diagnosed with hypertension, 0.3% are diagnosed with cardiovascular diseases, 0.10% are diagnosed with stroke and 0.26% are diagnosed with common cancers.
Major Concerns
Between 2009-10 and 2018-19, India's public health spend as a percentage of GDP went up by just 0.16 percentage points from 1.12% to 1.28% of GDP, and remains a far cry from the 2.5% GDP health spend that has been India's target for some years now.
The cost of treatment has been on rise in India and it has led to inequity in access to health care services.
There are wide disparities in the health spend of states.The Northeastern states had the highest and the Empowered Action Group (EAG) states plus Assam had the lowest average per capita public expenditure on health in 2015-16.EAG states are the eight socio-economically backward states of Bihar, Chhattisgarh, Jharkhand, Madhya Pradesh, Odisha, Rajasthan, Uttarakhand and Uttar Pradesh.
Impact
Key to Efficient Health System: This national reference document shall be of immense support to all concerned government departments & institutions, public sector enterprises, non-government organizations, policy makers, planners, administrators, managers, researchers and academicians for a strong and efficient health system in India.
Tool of Assessment: NHP – 2019 provides information regarding the significant progress has been made in the country for various health outcomes. This information is essential for health system policy development, governance, health research, human resource development, health education and training, service delivery and financing.
Way to Universal Health Coverage (UHC):It helps in understanding the goals, strengths and weaknesses and is also an important means to strategize area specific interventions in order to achieve universal health coverage.
Realization of Digital India Vision: The e-book of NHP-2019 is a step towards realizing government's vision of Digital India, as digital documents give us an opportunity for wider dissemination of information.
National Health Profile (NHP)
NHP, an annual publication of the CBHI, is an initiative which is at par with international standards of data publications.
It aims to provide relevant information for planning and decision making on an informed basis to the planners, policy makers, health administrators, research workers and others engaged in raising the health and socio-economic status of the community.
Objective
To create a versatile data base of health information of India and making it available to all stakeholders in the healthcare sector.
Major Indicators of NHP
The NHP highlights substantial health information under following major indicators-
Demography Indicators: It provides population statistics and vital statistics like size and growth of population, sex ratio, density,birth rate, death rate, and natural growth rate, life expectancy at birth, mortality and fertility rates.
Socio-Economic Indicators: It provides data on education, gender, poverty, housing, amenities, employment and other economic indicators.
Health Status Indicators: It provides incidence and prevalence of common communicable and non-communicable diseases, morbidity & associated mortality, health risks and performance of related national health programs in the country.
Health Finance Indicators: It provides an understanding of patterns of investments, expenditure, sources of funding and proportion of allocation vis-à-vis other total allocations.
Human Resources for Health: It provides an overview of availability of trained and specialized medical, nursing and paramedical personnel in the country. These also give an idea regarding regional distribution and disparities.
Health Infrastructure: It provides details of medical colleges, course, post graduate degree/diploma in medical and dental colleges, AYUSH Institutes, allopathic hospitals, hospital beds, Indian System of Medicine & Homeopathy hospitals, etc.
Significance
Delivering Quality Health Services: NHP provides relevant information to the planners, policy makers, health administrators, research workers and others engaged healthcare sector to take informed decisions, contributing to better and quality delivery of health services.
Contribution to National Health Policy: NHP contributes towards providing better universal and equitable healthcare to its people as envisaged in National Health Policy 2017, as it helps in informed decision making on policies and initiatives of various stakeholders in healthcare sector in the country.
Interoperability of Data: Following the standard coding from Family of International classification (FIC) in presenting the diseases, NHP will improve interoperability of the data internationally.
Central Bureau of Health Intelligence (CBHI)
Established in 1961, it is the health intelligence wing of the Director General of Health Services in the Ministry of Health, with the vision to have a strong Health Management Information System in entire country.
Mission
To strengthen Health Information system in each of the district in the country up to facility level for evidence based decision making in the Health Sector.
Family of International Classification (FIC)
FIC is maintained by World Health Organisation(WHO) through an international Network, which consists of a global range of collaborating centres and experts. This confers a worldwide consensus, targeting consistent, high quality health data for both national and international purpose.
WHO-FIC comprises the Reference Classifications, the Related Classifications and the Derived Classifications.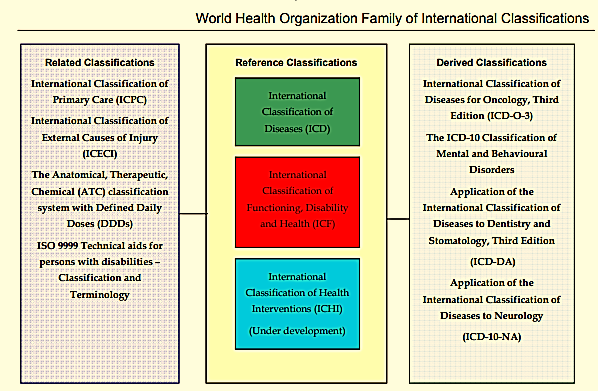 Source: WHO
Way Forward
For resource constraint country such as India, having comprehensive information on both public and private health sector is prerequisite for planning resource allocation. Generation and adoption of such evidence will help in driving judicious health resource planning and allocation to reduce the disparities and inequitiesin order toachieve the Universal Health Coverage.
An updated and reliable health database is the foundation of decision-making across all health system building blocks, and is essential for health system policy development and implementation, governance and regulation, health research, human resources development, health education and training, service delivery and financing.
It is important that larger policy decisions are taken based on latest and reliable information on the available healthcare resources, their deployment and trends that can address entrenched problem of health system with real time solutions.