---
Global Peace Index 2021
---
The Global Peace Index (GPI) 2021 which ranked 163 independent states and territories according to their level of peacefulness was released by the Institute for Economics and Peace (IEP), Australia.
Highlights
This year's results show that the average level of global peacefulness deteriorated by 0.07 per cent.
Iceland remains the most peaceful country in the world, a position it has held since 2008. It is joined at the top of the index by New Zealand, Denmark, Portugal, and Slovenia.
Afghanistan is the least peaceful country in the world for the fourth consecutive year, followed by Yemen, Syria, South Sudan, and Iraq.
Eight of the ten countries at the top of the GPI are located in Europe.
The only non-European countries to make an appearance are New Zealand (2) and Canada (10).
South Asia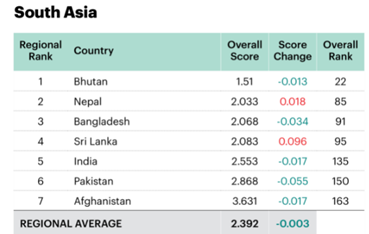 India has moved up two places from its previous year's ranking to become the 135th most peaceful country in the world and the 5th in the region.
Bhutan, Nepal and Bangladesh are the first, second, and third most peaceful countries respectively in this region.
Sri Lanka has slipped down 19 rungs from 2020, to become 95th globally in this year's rankings, and the 4th in South Asia.
Pakistan improved its rank by two notches to 150th globally and 6th in the region.