---
Dilution Of Labour Laws
---
As the economy struggles with the lockdown and thousands of firms and workers stare at an uncertain future, the states of Uttar Pradesh, Madhya Pradesh and Gujarat made key changes in the application of labour laws.
Labour is a concurrent subject under the Constitution of India, states can frame their own laws but need the approval of the Central government.
Need
These changes are being brought about to incentivise economic activity in the respective states.
To provide employment to workers who have migrated back to the state and to protect the existing employment, some flexibility has to be given to business and industry.
To bring about transparency in the administrative procedures and convert the challenges of a distressed economy into opportunities.
To increase the revenue of states which have fallen due to closure of industrial units during Covid-19 lockdown.
Changes Made
MADHYA PRADESH
Hire & Fire
Establishments with up to 100 workers can hire according to needs.
No registration for contractors with 50 labourers.
End of Inspector Raj
No factory inspection for 3 months
No inspection for firm with less than 50 workers
Third-party inspection allowed.
Easier Licenses and Registration
Registration and licenses to be issued in a day
Renewal of a factory license once in 10 years
startups need one time legislation; no renewal.
Shift Hours
Raised to 12 hours from 8 hours in factory
Overtime of up to 72 hours permitted; flexibility in changing shifts
Shops and establishments can operate from 6 am till midnight
UTTAR PRADESH
Industry exempted from all labour laws barring the following:
Building and Other Construction Workers' Act, 1996
Workmen Compensation Act, 1923
Bonded Labour System (Abolition) Act, 1976
A section of Payment of Wages Act to apply.
GUJARAT
New industrial establishments exempted from all labour laws barring the following:
Minimum Wages Act
Industrial Safety Rules
Employees' Compensation Act
Ordinance to roll out benefits that will be available for 1,200 days
100% online approvals within 15 days.
33,000 hectares set aside; land to be allocated in 7 days.
Impact
The relaxation of rigid and archaic labour laws by is expected to help restart economic activity, attract investments, and in the long create more jobs by ushering in labour market flexibility.
Will allow more factories to operate without following safety and health norms and give a free hand to new companies to "keep labourers in service as per their convenience".
No labour inspection or govt intervention.
No role of unions, leading to the smooth function of the industries.
These new reforms will promote ease of doing business in the state and will promote competition among states for reforms.
Criticism
The Bharatiya Mazdoor Sangh (BMS) has opposed the slew of changes in the labour laws by these states.
It has, however, attacked the relaxations as retrograde and warned of erosion of rights of workers.
These changes to the labour laws are violation of the international labour law conventions and it will create a situation where there is no rule of law.
Safety will be compromised as the provisions of the Factories Act will no longer be there.
The new labour law changes are also seen as a bane for the workers desperately looking for a job to end their financial nightmare.
Instead of providing protections to the most marginalised and vulnerable, as exposed by the covid crisis, and thus an opportunity to rectify the fractured economic system, these moves will further exacerbate the crisis for those who are worst affected by it.
Way Forward
Theoretically, it is possible to generate more employment in a market with fewer labour regulations.
However, as the experience of states that have relaxed labour laws in the past suggests, dismantling worker protection laws have failed to attract investments and increase employment, while not causing any increase in worker exploitation or deterioration of working conditions.
There is already too much unused capacity. Firms are shaving off salaries up to 40% and making job cuts. The overall demand has fallen.
According to the experts, instead of creating exploitative conditions for the workers, the government should have —partnered with the industry and allocated 3% or 5% of the GDP towards sharing the wage burden and ensuring the health of the labourers.
Indian Labour Laws
Estimates vary but there are over 200 state laws and close to 50 central laws. And yet there is no set definition of "labour laws" in the country.
Broadly speaking, they can be divided into four categories, shown in the image below.
The main objectives of the Factories Act, for instance, are to ensure safety measures on factory premises, and promote health and welfare of workers.
The Shops and Commercial Establishments Act, on the other hand, aims to regulate hours of work, payment, overtime, weekly day off with pay, other holidays with pay, annual leave, employment of children and young persons, and employment of women.
The Minimum Wages Act covers more workers than any other labour legislation.
The most contentious labour law, however, is the Industrial Disputes Act, 1947 as it relates to terms of service such as layoff, retrenchment, and closure of industrial enterprises and strikes and lockouts.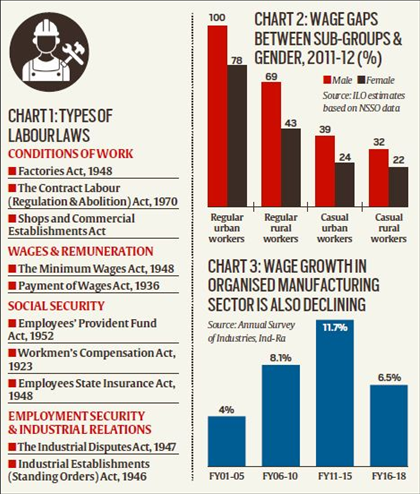 Source: Indian Express
Criticism of Labour Laws
Indian labour laws are often characterised as "inflexible". In other words, it has been argued that thanks to the onerous legal requirements, firms (those employing more than 100 workers) dither from hiring new workers because firing them requires government approvals.
Even the organised sector is increasingly employing workers without formal contracts. This, in turn, has constrained the growth of firms on the one hand and provided a raw deal to workers on the other.
Further, there are too many laws, often unnecessarily complicated, and not effectively implemented. This has laid the foundation for corruption and rent-seeking.