COP26 Summit in Glasgow: India's Pledge and 'Mantra' to World
---
COP26 Summit in Glasgow: India's Pledge and 'Mantra' to World
---
The Prime Minister of India addressed the Cop26 Glasgow Summit on 1 November 2021.
He provided facts on India's recent initiatives towards environment; proposed the world community to follow two unique movements to meet the climate goal; and also put forth India's own targets in this regard. He also advocated for early climate finance for developing countries.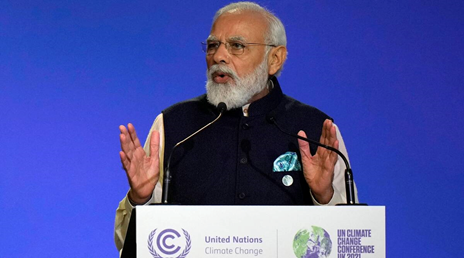 India's Initiatives/Achievements
Today India is at number four in the world in installed renewable energy capacity.
India's non-fossil fuel energy has increased by more than 25% in the last 7 years. And now it has reached 40 percent of our energy mix.
Indian railway system has set itself a target of making itself 'Net Zero' by 2030. This initiative alone will lead to a reduction of 60 million tonnes of emissions annually.
LED bulb campaign is reducing emissions by 40 million tonnes annually.
In solar power, India has initiated the International Solar Alliance.
India has created a coalition for disaster resilient infrastructure for climate adaptation- vital initiative to save crores of lives.
India's 'Mantra' to the World
LIFE: One-Word Movement: Indian PM proposed One-Word Movement – LIFE (L, I, F, E, i.e. Lifestyle For Environment) recognizing that lifestyle has a big role in climate change.
MindFul and Deliberate Utilization: What is needed today is MindFul and Deliberate Utilization, instead of Mindless and Destructive Consumption.
These movements together can set goals that can revolutionize many sectors such and diverse areas such as fishing, agriculture, wellness, Dietary Choices, Packaging, Housing, Hospatility, Tourism, Clothing, Fashion, Water management and Energy.
Panchamrit: India's Pledge at Glasgow
India offered five nectar elements, 'Panchamrit', to deal with the climate challenge:
First- India will reach its non-fossil energy capacity to 500 GW by 2030.
Second- India will meet 50 percent of its energy requirements from renewable energy by 2030.
Third- India will reduce the total projected carbon emissions by one billion tonnes from now onwards till 2030.
Fourth- By 2030, India will reduce the carbon intensity of its economy by less than 45 percent.
Fifth- By the year 2070, India will achieve the target of Net Zero.
Climate Finance: India advocates for Developing Countries
India showed its concern for the developing countries' task to meet climate risk and asked developed countries to provide climate finance of $1 trillion at the earliest that was promised earlier with emphasis on tracking climate finance.