Global Bribery Risk Index 2021
---
Global Bribery Risk Index 2021
---
India has slipped to 82nd position in 2021, five places down from 77th rank last year, in a global list that measures business bribery risks.
According to this year's data, North Korea, Turkmenistan, Venezuela and Eritrea pose the highest commercial bribery risk, while Denmark, Norway, Finland, Sweden and New Zealand present the lowest.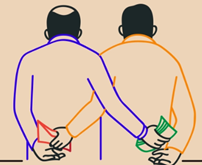 (Image Source: Ides.ted.com)
About the Index
The list by TRACE, an anti-bribery standard setting organisation, measures business bribery risk in 194 countries, territories, and autonomous and semi-autonomous regions.
This score is based on four factors
Business interactions with the government
Anti-bribery deterrence and enforcement
Government and civil service transparency
Capacity for civil society oversight which includes the role of the media