Silambam Practitioners to get 3% Sports Quota for Govt., PSU Jobs
---
Silambam Practitioners to get 3% Sports Quota for Govt., PSU Jobs
---
On 18th November 2021, the Government of Tamil Nadu designated 'Silambam' as one of the games to be included for the 3% sports quota recruitment in government departments and public sector undertakings (PSUs).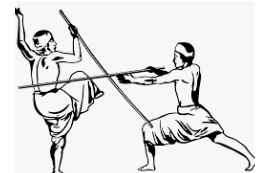 About Silambam
It's an ancient weapon-based martial art.
The Tamil Sangam literature has the early records of Silambam.
Silambam is a popular variant of martial arts which is performed with the aid of some specific weapons, primarily with bamboo sticks.
It is widely performed in the regions of Tamil Nadu (India) which is also the birthplace of the game, where it emerged in around 1000 years BCE.
The word Silambam etymologically means "staff from the hills" with the word meaning of "Silam" being "hills" and "Kambu" being "staff or sticks".
The game is usually played on an even hard surface where the players use a bamboo stick with its length equivalent to their heights.
Overall, there are 16 forms of footwork present in this martial art.
Initiatives to promote Silambam
State
Recognised as a State Sports: The Government of Tamil Nadu had recognised it as one of the State sports.
Quota in Admission to Professional Courses: Silambam was also included as one of the sports disciplines for consideration under sports quota for admission into professional courses like medical, engineering, law etc.
Courses in PET Course: Postgraduate diploma, diploma and certificate courses in Silambam have been included in the curriculum of the Tamil Nadu Physical Education and Sports University.
Inclusion in state-level School Games: It was included as one of the sports disciplines in State-level school games and has been recognised by the School Games Federation of India as one of its competitions.
Central Govt.
Inclusion in Khelo India Scheme: The Government of India has also approved the inclusion of Silambam under the component of 'Promotion of Inclusiveness through Sports' of the New Khelo India Scheme.