---
Buxa Tiger Reserve
---
Recently, a Royal Bengal tiger was sighted at the Buxa reserve - a first such sighting in 23 years.
Buxa Tiger Rserve (BRT)
Location
It is situated in the Alipurduar Sub-division of Jalpaiguri District, West Bengal.
Its northern boundary runs along the international border with Bhutan.
The Sinchula hill range lies all along the northern side of BTR and the eastern boundary touches that of the Assam state.
It is the easternmost extension of extreme bio-diverse North-East India and represents highly endemic Indo-Malayan region.
The fragile "Terai Eco-System" constitutes a part of this reserve.
The Phibsoo Wildlife Sanctuary of Bhutan is contiguous to the north of BTR. Manas National Park lies on east of BTR. BTR, thus, serves as international corridor for Asian elephant migration between India and Bhutan.
Flora
The forests of the reserve can be broadly classified as the 'Moist Tropical Forest'.
Fauna
Some important species found in the reserve are Indian Tiger (Panthera tigris tigris), Leopard (Panthera pardus), Clouded Leopard (Neofelis nebulosa), Hog badger (Arctonyx collaris), Jungle Cat (Felis chaus) etc.
Tribe
Dukpa(people from the land of thunderstorm) are the ancient ethnic group among the other inhabitants of Buxa Tiger Reserve.
Dukpas used live in the hamlets of Buxa Hills from east to west.
Rivers
The main rivers flowing across the Tiger Reserve are Sankosh, Raidak, Jayanti, Churnia, Turturi, Phashkhawa, Dima and Nonani.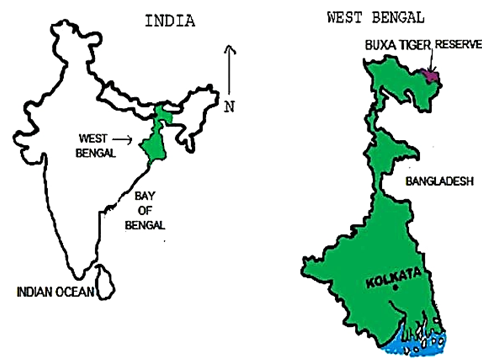 Tiger
Conservation Status
Indian Wildlife (Protection) Act, 1972: Schedule I
International Union for Conservation of Nature (IUCN) Red List: Endangered
Convention on International Trade in Endangered Species of Wild Fauna and Flora (CITES): Appendix I