IMD Launches Climate Hazards and Vulnerability Atlas & Doppler Radars

---
IMD Launches Climate Hazards and Vulnerability Atlas & Doppler Radars
---
On 14th January 2022, the India Meteorological Department (IMD) launched India's first Climate Hazards and Vulnerability Atlas and four Doppler Weather Radars.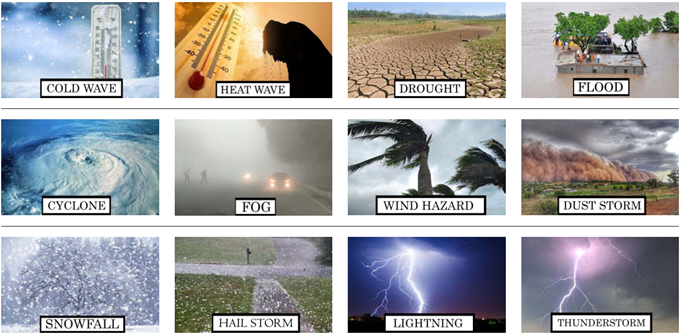 Climate Hazards and Vulnerability Atlas
The Climate Hazards and Vulnerability Atlas of India has been developed by the scientists at Climate Research and Services (CRS) office of the India Meteorological Department (IMD), Pune.
The Atlas is based on 12 extreme weather events and the risks they pose to the local population, livelihoods and economy of each district.
The atlas features extreme rainfall, drought, coldwave, heatwave, dust storms, hail storm, thunderstorm, cyclones, snowfall, lightning, winds and fog.
The atlas provides climate vulnerability information at district level on five types of hazards:
Cold Wave
Heatwave
Flood
Lightning
Snowfall
The atlas provides a range of vulnerability with risks ranging from nil, low, moderate, high and very high categories for every Indian district.
The atlas provides pie charts representing the percentage of districts and population affected by disastrous weather events in different vulnerability categories.
Benefits of this Atlas
The hazard and vulnerability atlas can be used as reference points to issue Impact Based forecasts with respect to different weather hazards. It can also be utilized as a guide in planning socio-economic activities and in preventing and mitigating disasters.
Doppler Weather Radars
IMD launched four new Doppler weather radars, one each in Mumbai, Delhi, Chennai, and Leh, to further improve the weather forecast system in these cities/region.
Now, the number of such radars in the country reached 33. The IMD's has plans to increase this to 90 for covering the entire country under the DWR network for better forecasting.
Special Feature the New Radars
The dual-polarization technology used in this radar will provide improved rainfall monitoring and hydrometeor classification by distinguishing between rain, snow, and hail.
This will also help in monitoring, nowcasting and short-range forecasting.