National Conference on Localisation of Sustainable Development Goals
---
National Conference on Localisation of Sustainable Development Goals
---
The Vice President of India recently inaugurated National Stakeholders Conference on Localization of Sustainable Development Goals organized by the Ministry of Panchayati Raj.
The Ministry is organising the Iconic Week from 11th April to 17th April, 2022, to commemorate Azadi Ka Amrit Mahotsav (AKAM) as a Jan-Utsav in the spirit of Jan-Bhagidari.
The theme of Iconic Week is "Panchayaton ke Navnirman ka Sankalpotsav".
The Vice President released the Logo of Localisation of Sustainable Development Goals and Compendium of Joint Advisories to the States on Operationalisation of Localisation of Sustainable Development Goals and Compendium of Thematic Presentations.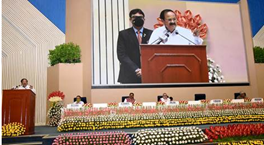 Key Highlights of the Vice President's Address
The Union Government and various States should facilitate the devolution of the 3 Fs, i.e., Funds, Functions and Functionaries to Panchayati Raj Institutions for efficient and effective functioning of local self-governments for the holistic development in rural areas and to achieve Sustainable Development Goals (SDGs).
The Rural Local Bodies have to be revitalised and rejuvenated by strengthening and empowering them.
People's participation is must for the development of the country. To make the country poverty free we must start with villages and provide connectivity, education, employment opportunity and entertainment for the development of villages and stop migration.
Given that nearly 70% of India is rural India (68.84% as per the 2011 census), attainment of Sustainable Development Goals at the national level will require actions at the grassroots level, i.e., at the Panchayat level.
The legal framework on the number of Gram Sabhas to be held in a year is necessary and needs to be formulated.
Called for people's participation in implementation of all the schemes and programmes at the grassroots level.
Stressed the need for concerted efforts from all stakeholders to ensure comprehensive and all-round development of the Panchayats and achieve various targets in local context.
Called for bringing all Panchayats onto e-GramSwaraj platform to meet the digital mission of governance.
Empowering villages is the crux of development. Panchayats have a pivotal role to play in integrated rural development by focusing on the 17 SDGs which are subsumed under nine themes to ensure poverty-free, clean, healthy, child-friendly, and socially secured well-governed villages.