---
Global Pledge at UNCCD COP15
---
The 15th Conference of Parties (COP15) of the UN Convention to Combat Desertification (UNCCD), held in Abidjan, Cote d'Ivoire.
At this two-week long meeting on the future of land management, a united global pledge to boost drought resilience and invest in land restoration for future prosperity was taken.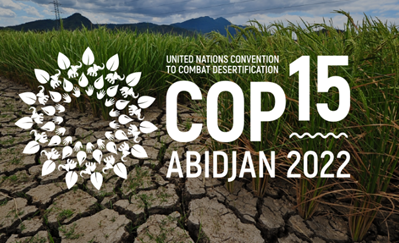 Highlights among the New Commitments
Accelerate the restoration of one billion hectares of degraded land by 2030 by improving data gathering and monitoring to track progress against the achievement of land restoration commitments and establishing a new partnership model for large-scale integrated landscape investment programmes;
Boost drought resilience by identifying the expansion of drylands, improving national policies and early warning, monitoring and assessment; learning and sharing knowledge; building partnerships and coordinating action; and mobilizing drought finance.
Establish an Intergovernmental Working Group on Drought for 2022-2024 to look into possible options, including global policy instruments and regional policy frameworks, to support a shift from reactive to proactive drought management.
Address forced migration and displacement driven by desertification and land degradation by creating social and economic opportunities that increase rural resilience and livelihood stability, and by mobilizing resources, including from the diaspora, for land restoration projects;
Improve women's involvement in land management as important enablers for effective land restoration, by addressing commonly encountered land tenure challenges by people in vulnerable situations, and collecting gender-disaggregated data on the impacts of desertification, land degradation and drought;
Address sand and dust storms and other escalating disaster risks by designing and implementing plans and policies including early warning and risk assessment, and mitigating their human-made causes at source;
Promote decent land-based jobs for youth and land-based youth entrepreneurship and strengthen youth participation in the UNCCD process; and
Ensure greater synergies among the three Rio Conventions, including complementarities in the implementation of these treaties through nature-based solutions and target-setting at the national level.
Other Initiatives at COP 15 Abidjan
Major Declarations
Abidjan Declaration on achieving gender equality for successful land restoration: It recognized that securing women's access to land and control over land, and access to finance for land-based economic activities are central components of women's economic empowerment and women's rights, generating opportunities for economic prosperity and autonomy.
The COP15 "Land, Life and Legacy" Declaration: It responds to the findings of the UNCCD's flagship report, Global Land Outlook 2, a five-year study with 21 partner organizations, and with over 1,000 scientific references. Released 27 April, it reported up to 40% of all ice-free land is already degraded, with dire consequences for climate, biodiversity and livelihoods.
Major Reports Launched during COP15
"Drought in Numbers 2022," a compendium of drought-related facts and figures, including a 29% a rise in droughts since 2000 and a projection that three-quarters of the world's population will be affected by drought by 2050 unless urgent action is taken.
Points to Remember
UNCCD's COP15 is the first Conference of the Parties of the three Rio Conventions taking place in 2022, ahead of the UN Framework Convention on Climate Change COP27 and the UN Convention on Biological Diversity COP15.
Future meetings of the Conference of the Parties to the UNCCD and its subsidiary bodies will be held in Saudi Arabia (COP16 in 2024), Mongolia (COP17 in 2026), and Uzbekistan (Committee for the Review of the Implementation of the Convention in 2023).