Indo-Pacific Economic Framework for Prosperity
---
Indo-Pacific Economic Framework for Prosperity
---
A day before the QUAD leaders' meeting in Tokyo on May 24th, 2022, India and 12 other countries joined the Indo-Pacific Economic Framework for Prosperity (IPEF) unveiled by US President Joe Biden.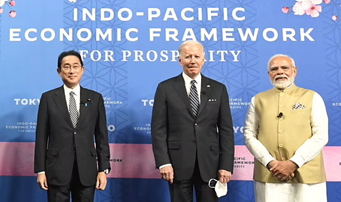 The framework envisions a free, open and secure Indo-Pacific Region.
The IPEF seeks to strengthen economic partnership among participating countries with the objective of enhancing sustainability, resilience, inclusiveness, economic growth, fairness and competitiveness in the Indo-Pacific region.
President Biden announced that a dozen Indo-Pacific countries that represent 40 percent of the global GDP will join the US in a sweeping economic initiative that has been designed to counter China's influence in the region.
The countries include all those falling in the Indo Pacific Region including Indonesia, Australia, Brunei, Malaysia, Thailand, Japan, Republic of Korea, New Zealand, the Philippines, Singapore and Vietnam.
Prime Minister Narendra Modi participated in the event and underlined that the foundation of resilient supply chains must be 3Ts - Trust, Transparency and Timeliness.