UNESCO's King Hamad Bin Isa Al-Khalifa Prize 2021

---
UNESCO's King Hamad Bin Isa Al-Khalifa Prize 2021
---
Central Institute of Educational Technology (CIET), a constituent unit of National Council of Educational Research and Training (NCERT) under Department of School Education and Literacy (DOSEL), MoE, Government of India has been awarded with the UNESCO's King Hamad Bin Isa Al-Khalifa Prize for the Use of ICT in Education for the year 2021.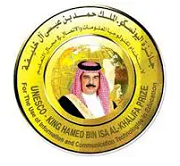 The Ministry of Education through 'PM eVidya' scheme (started in May 2020) imparted learning across digital, online, and on-air platforms for minimum learning losses.
Established in 2005 with the support of the Kingdom of Bahrain, the prize rewards individuals and organisations that are implementing outstanding projects and promoting the creative use of technologies to enhance learning, teaching and overall educational performance in the digital age.
"Digital Educational Programme" implemented by Ubongo from the United Republic of Tanzania also won this award for 2021.