Current Affairs - Awards In News
A seven-year-old Indian-origin girl, Moksha Roy, has been honoured with the British Prime Minister's Points of Light award for her exceptional work as a sustainability advocate.
Key Points:

Early Volunteering: Moksha started her volunteering journey at the young age of three, contributing to a United Nations' sustainability initiative against microplastic pollution.
Youngest Sustainability Advocate: She holds the remarkable title of being the world's youngest sustainability advocate, reflecting her dedication and passion for environmental causes.
Recognition for Volunteering Efforts: Moksha has been recognized for her involvement in multiple sustainability campaigns, including fundraising to support underprivileged children.
Positive Impact on School Environment: Her impactful efforts have led to positive changes in her school's practices, such as eliminating plastic glitter, confetti, and plastic art supplies.
Points of Light Awards: The British Prime Minister's Points of Light awards recognize individuals making a significant difference in their communities and inspiring others with innovative solutions to social challenges.
Recently, Professor Thalappil Pradeep, a distinguished scientist from IIT Madras, has been awarded the prestigious Eni Award for his exceptional research in energy and environment.
Key Points:

Innovative Clean Water Solutions: The Eni Award acknowledges Professor Pradeep's ground-breaking work in developing affordable clean water solutions through the use of advanced nanoscale materials.
Upcoming Presentation: The President of Italy is expected to present the award to Professor Pradeep in an upcoming ceremony, highlighting the global recognition for his contributions.
Esteemed Recognition: The Eni Award holds immense global significance, with previous recipients including distinguished Nobel laureates and renowned scientists.
Rigorous Selection Process: A selection committee, comprising Nobel laureates and experts, ensures that only exceptional individuals who have made significant contributions are honoured with the prestigious award.
Nanotechnology and Water Purification: Professor Pradeep's expertise in nanotechnology has led to remarkable advancements in sustainable water purification methods.
Impactful Work: His pioneering efforts have had a profound impact on providing accessible and clean water, making him a deserving recipient of the Eni Award.
As part of its annual Goalkeepers campaign, the Bill & Melinda Gates Foundation honoured four winners of its Goalkeepers Global Goals Awards this year.
The foundation recognized the work of four remarkable changemakers to advance progress towards the Sustainable Development Goals (SDGs) in their communities and around the world.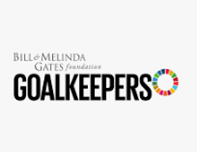 Awardees
Radhika Batra, co-founder of the nonprofit organization Every Infant Matters, which provides last-mile health solutions to disadvantaged children in India
Zahra Joya, a journalist from Afghanistan who founded and self-funded Rukhshana Media, an online news agency focused exclusively on covering issues that affect the women of Afghanistan.
Vanessa Nakate, a climate justice activist from Uganda and founder of the Africa-based Rise Up Movement and the Green Schools Project.
Ursula von der Leyen, president of the European Commission who has shown determination in leading both the EU and global response to the COVID-19 pandemic.
Renowned film actress, director and producer and an accomplished Indian classical dancer Ms Asha Parekh was awarded the Dadasaheb Phalke Award for the year 2020.
Starting her career as a child actor she made her debut as lead heroine in Dil Deke Dekho and has gone on to act in over 95 movies.
She has acted in celebrated films like Kati Patang, Teesri Manzil, Love in Tokyo, Aya Saawan Jhoom Ke, Aan Milo Sajna, Mera Gaon Mera Desh.
Ms Asha Parekh was conferred the Padma Shri in 1992. She has also served as the head of Central Board for Film Certification from 1998-2001.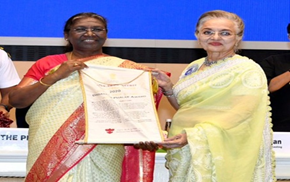 The Jury
The jury for the selection of 52nd Dadasaheb Phalke award consisted of five members from the film industry: Ms Asha Bhosle, Ms Hema Malini, Ms Poonam Dhillon, Shri T. S. Nagabharana, and Shri Udit Narayan.
About the Award
The Dadasaheb Phalke Award is India's highest award in the field of cinema.
Presented first in 1969, the award was introduced by the Government of India to commemorate Dadasaheb Phalke's contribution to Indian cinema. He is regarded as "the father of Indian cinema", who directed India's first full-length feature film, Raja Harishchandra (1913).
It is presented annually at the National Film Awards ceremony by the Directorate of Film Festivals, an organisation set up by the Ministry of Information and Broadcasting.
The award comprises a Swarna Kamal (Golden Lotus) medallion, a shawl, and a cash prize.
The first recipient of the award was actress Devika Rani (1969).
In 2019 it was awarded to Rajnikanth.
Former German Chancellor Angela Merkel received the 2022 Peace Prize "in recognition of her efforts to welcome refugees".

In 2015, she welcomed more than 1.2 million refugees, notably from Syria, Iraq, Afghanistan and Eritrea.
The Indian-American professor Kaushik Rajashekara, a distinguished Professor of Engineering at the University of Houston has been awarded the most coveted prize in the field of international energy – Global Energy Prize 2022.

Rajashekara was declared winner in the 'New Ways of Energy Applications' category for outstanding contributions to transportation electrification and energy efficiency technologies while reducing power generation emissions.
The other two winners of this year's prize are:
Viktor Orlov (Russia) in the 'Conventional Energy' category, for the fundamental research on development of innovative energy technologies based on the fast-neutron reactors with a heavy alloy coolant and a closed fuel cycle.
Mercouri Kanatzidis (USA) in the Non-Conventional Energy category, for the major advances made in solar energy conversion with the use of novel perovskite halides.
About the Prize
The Global Energy Prize is bestowed by the Global Energy Association (Russian Federation).
The prize honors "outstanding scientific research and scientific-technical developments in the field of energy which promote greater efficiency and environmental security for energy sources on Earth in the interests of all mankind."
On 22nd July 2022, the jury of the 68th National Film Awards announced the winners for the year 2020.

Tamil film Soorarai Pottru has bagged five national awards in different categories.
Madhya Pradesh was awarded the Most Film–friendly State award.
Major Awards in Feature Films
Best Feature Film: Soorarai Pottru (Tamil); Director:Sudha Kongara Prasad
Best Lyrics: Manoj Muntashir [Film: Saina (Hindi)]
Best Actress: Aparrna Balamurali [Film: Soorarai Pottru (Tamil)]
Best Actor: Suriya [Film: Soorarai Pottru (Tamil)] & Ajay Devgn [Film: Tanhaji: The Unsung Warrior (Hindi)]
Best Direction: Sachidanandan KR[Film: Ayyappanum Koshiyum (Malayalam)]
Best Children's Film: Sumi (Marathi) [Director: Amol Vasant Gole]
Best Film on Environment Conservation/Preservation: Taledanda (Beheading a Life)(Kannada)
Best Film on Social Issues: Funeral (Marathi)
Best Popular Film Providing Wholesome Entertainment: Tanhaji: The Unsung Warrior (Hindi)
Indira Gandhi Award for Best Debut Film of a Director: Mandela (Tamil); Director:Madonne Ashwin
Maharashtra Governor Bhagat Singh Koshyari presented the Mother Teresa Memorial Award for 2021 to Dia Mirza and Afroz Shah.

The award is conferred by the Harmony Foundation in recognition of outstanding work for the protection of the environment.
About the Winners
Dia Mirza
Ms Dia Mirza was awarded for her astounding and notable efforts in leading pivotal environmental campaigns across India as the Goodwill Ambassador of UNEP, India.
Afroz Shah
He is an Indian environmental activist and lawyer from Mumbai.
He is best known for organizing the world's largest beach clean-up project, which has grown into a movement that has inspired people around the world to clean up their surrounding environment.
In 2016, Shah was named by the 'United Nations as a Champion of the Earth' for leading the clean-up of Mumbai's Versova Beach.
Ukrainian mathematician Maryna Viazovska has been named as one of four recipients of the 2022 Fields Medal, an honour that is often described the Nobel Prize in mathematics.
Maryna is only the second woman to receive the award. The other female laureate was Iran's Maryam Mirzakhani.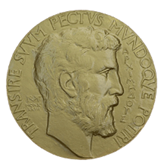 Awardees of 2022
Hugo Duminil-Copin (France)
June Huh (Korean-American)
James Maynard (UK)
Maryna Viazovska (Ukraine)
About the Award
The Fields Medal is awarded by the International Mathematical Union (IMU), an international non-governmental and non-profit scientific organisation.
It is awarded every four years to one or more mathematicians under the age of 40 in recognition of "outstanding mathematical achievement for existing work and for the promise of future achievement".
The winners are announced at the International Congress of Mathematicians (ICM), which was supposed to be held in Russia this year, but was moved to Helsinki.
Indians who won this Award
Manjul Bhargava (2014)
Akshay Venkatesh (2018)
Lucknow University geologist Prof Dhruv Sen Singh has been selected for the National Geoscience Award (NGA), 2019, for his outstanding contributions in geo-environmental studies.

Instituted in 1966, NGA, the highest award in the field of earth sciences, is given annually by the Union Ministry of Mines to encourage geoscientists. The award is given for work done in the past 10 years