---
10 New Wetlands of India get 'Ramsar Sites' Tag
---
On 3rd August 2022, the Union Environment Ministry announced the inclusion of 10 more wetlands, taking the total Ramsar sites to 64.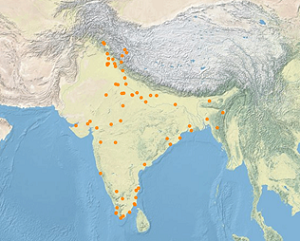 The new sites include six wetlands from Tamil Nadu and one each from Goa, Karnataka, Madhya Pradesh and Odisha.
In July 2022, India designated five new wetlands of international importance – the Karikili Bird Sanctuary, Pallikaranai Marsh Reserve Forest and Pichavaram Mangrove in Tamil Nadu; Pala wetland in Mizoram and Sakhya Sagar in Madhya Pradesh.
State-wise Distribution of the 10 new Sites
Tamil Nadu
Koonthankulam Bird Sanctuary
It is a man-made wetland in Tirunelveli district of Tamil Nadu.
This is the largest reserve for breeding resident and migratory water birds in south India and an important bird and biodiversity area forming part of the central Asian flyway.
Gulf of Mannar Biosphere Reserve
The Gulf of Mannar Biosphere Reserve (GoMBR) is located on the southeastern coastline.
The reserve area is home to several globally important and highly threatened species such as the Dugong, whale shark, seahorses, balanoglossus, green sea turtle, hawksbill turtle, dolphins, sacred chanks, etc.
This is the first Marine Biosphere Reserve in South and South-East Asia.
Vembannur Wetland Complex
It is a human-made irrigation tank which forms the southernmost tip of peninsular India.
This wetland forms part of the Important Bird and Biodiversity Area and hence part of the BirdLife International Data Zone.
It provides suitable habitat to several species of waterbird in the breeding and non-breeding seasons.
Vellode Bird Sanctuary
It is located in the Vadamugam Vellode village in Tamil Nadu's Erode district and locally known as 'Periyakulam Yeri'.
This human-made tank is an ideal habitat for birds.
It is an important staging and breeding ground for migratory birds on the Central Asian Flyway.
Vedanthangal Bird Sanctuary
It is one of the oldest bird-protected areas in Chengalpattu district of Tamil Nadu.
This freshwater wetland is a people-protected waterbird area.
This Site is an Important Bird and Biodiversity Area (IBA) due to the presence of several species. Vedanthangal is well known for nature tourism.
The Sanctuary also provides educational and research opportunities.
Udhayamarthandapuram Bird Sanctuary
It is located in the Tiruthuraipoondi taluk of Tiruvarur district of Tamil Nadu.
It is an important staging and breeding ground for several species of waterbirds.
Note: With the latest addition of six Ramsar Sites, now Tamil Nadu and Uttar Pradesh are states with highest number of Ramsar Sites (10 each).
Goa
Nanda Lake
It is the first Ramsar site of Goa.
It is located in Curchorem (South Goa).
The Nanda Lake in Goa has freshwater marshes that lie adjacent to one of the major rivulets of the Zuari River.
This wetland supports a wide variety of migratory waterbirds and many other important plants and animals.
Odisha
Satkosia Gorge
The Satkosia gorge spreads along the Mahanadi river in Odisha.
Established in 1976 as a wildlife sanctuary, Satkosia is the meeting point of two biogeographic regions of India – the Deccan Peninsula and the Eastern Ghats, contributing immense biodiversity.
The Satkosia gorge wetland is a mosaic of marshes and evergreen forests. The forests of these catchments play a vital role in the prevention of the gorge siltation. They also help in maintaining a desirable depth of water crucial for the endangered gharial population.
It is the 3rd Ramsar site of Odisha after Bhitarkanika Mangroves and Chilka Lake.
Karnataka
Ranganathittu Bird Sanctuary
It is the first and only Ramsar site of Karnataka.
It is located in Mandya district of Karnataka.
The wetland was earlier enlisted as one of the Important Bird Areas in Karnataka and India by the Bombay Natural History Society.
Ranganathittu is an ecologically important riverine wetland, rich in biodiversity, with 188 species of plants, over 225 species of birds, 69 species of fishes, 13 species of frogs, and 30 species of butterflies.
Madhya Pradesh
Sirpur Wetland
Sirpur Lake is located in Indore city.
It has a wealth of plants and animals including threatened species.
Sirpur Lake was created by the Holkars of Indore State in the early 20th century.
The lake was recognized by BirdLife International as one of the Important Bird Areas (IBAs) of Madhya Pradesh in 2015.
Now, Madhya Pradesh has three Ramsar Sites (Bhoj Wetlands, Sakhya Sagar Lake, Sirpur Lake).