'Radio Jaighosh': UP Launches Community Radio
---
'Radio Jaighosh': UP Launches Community Radio
---
The Department of Culture (Uttar Pradesh Govt.) has launched 'Radio Jaighosh' on 9th August 2022 to mark the anniversary of Kakori Train Action Day.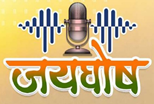 The community radio channel will promote folk art, performing art, regional delicacies of Uttar Pradesh and gallantry award winners.
Radio Jaighosh will broadcast programmes from 6 a.m. to 10 p.m. daily from the newly renovated studio of the Sangeet Natak Akademi in Lucknow.
Daily shows on the radio will include:
'Parakram': It will revolve around gallant soldiers of the pre and post-Independence era and unsung heroes.
'Shaurya Nagar': It will promote folktales from all the 75 districts of the state.
'Kala Yatra': It will be based on art.
'Rajya ki Rasoi': Based on the delicacies of Uttar Pradesh.
'Rang Shala': On theatre artists.
'Rajya ki Raftaar': On government schemes.
'Rang Yatra': On performing arts.